Aug 19, 2020
Introducing the easiest way for marketers to move data from Snowflake into Google Data Studio, Google Sheets, and Excel
4-MINUTE READ | By Anna Shutko
[ Updated Feb 1, 2023 ]
As the volume of marketing data grows, more and more businesses are moving their data to a data warehouse. Snowflake is a great choice for many as it can be built on top of any existing cloud platform, whether it's Google, Amazon Web Services, or Microsoft Azure.
That's why we built a Snowflake connector for Google Data Studio, Google Sheets, and Microsoft Excel. With this connector, marketers can effortlessly export all their data from Snowflake and combine it with data from other sources to create reports in Data Studio or their to-go spreadsheet tool.
In this post we want to share some of the benefits you'll get with our Snowflake connector and show you how to get started.
Need your Snowflake data in Google Data Studio? Now it's a breeze
Google Data Studio is one of the best ways to visualize marketing data from Snowflake since it's a free tool with nearly endless opportunities for customizing reports. Until now, Snowflake users have had to use a clunky workaround to get their data to Data Studio. Instead of pulling data directly from their data warehouse, they were forced to export data to Google Sheets and use the spreadsheet as a data source in Data Studio.
Our Snowflake connector works fully in Data Studio's UI. You don't need to go to another website or tab to create queries or select which metrics and dimensions you want to pull.
Another benefit of the Snowflake connector is that it's very easy to use since you don't have to learn complex SQL or scripts to get the data you need into Data Studio. All you need to do is select the tables you'd like to fetch. And selecting tables is easy as you can just pick them from the drop down menu.
However, if you want to use SQL to build more complex queries and blend various data sets, you can totally do that as well. ?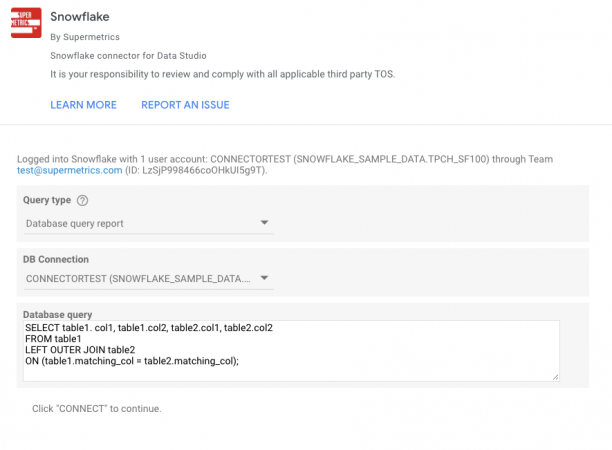 In addition, you can easily combine Snowflake data with data from other sources. For example, if you're storing your call, SMS, email interaction, and other customer information in Snowflake and you want to combine this data with metrics coming from your paid advertising platforms, like Google Ads, Facebook Ads or LinkedIn Ads, then that's also possible.
Simply connect to each data source with Supermetrics' connectors and pull the data you need into your Google Data Studio reports. There's no need for separate data extractions as each time you are building a new report in Data Studio you can easily configure multiple data sources in one go and use them in your future reports.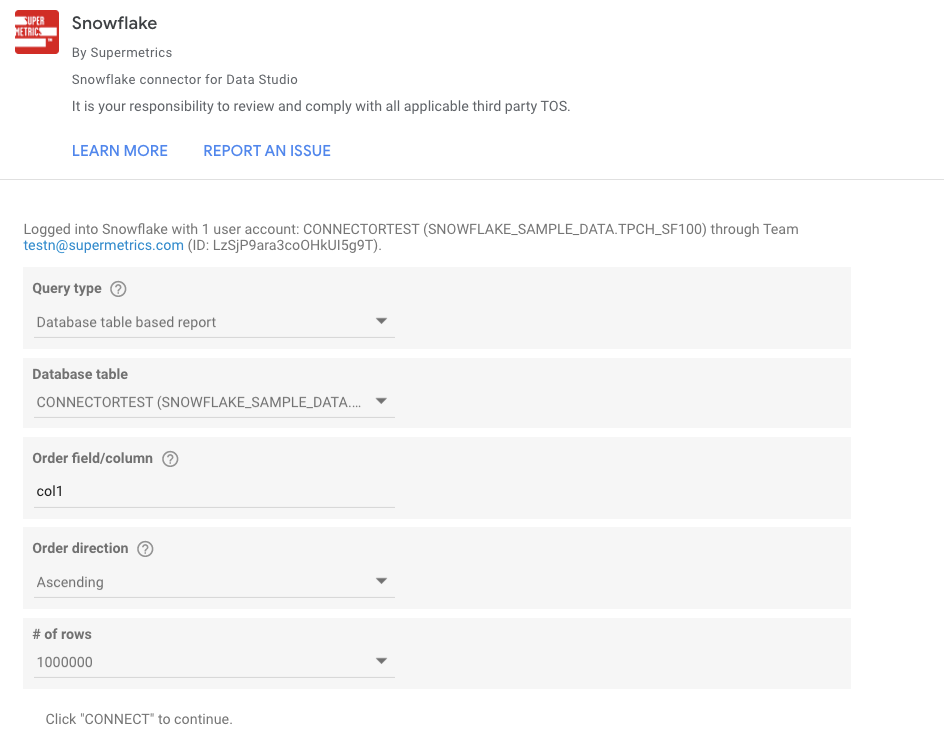 The Snowflake to Data Studio connector is created with security in mind. Using OAuth, you only need a single sign-in to access all your data. OAuth does not pass any credentials, opting to use security tokens and in turn makes sure no malicious logins are done to any of your sources or destinations. All data transfers are end-to-end encrypted, making sure your data will not be intercepted by a third party.
Crunch your Snowflake data in spreadsheets
You can also get Snowflake data to Google Sheets or Microsoft Excel. Just like with the Data Studio connector, you can add data from other sources to build comprehensive reports.
This is a great option for those marketers who want to combine the best of both worlds: storing data in a data warehouse and crunching it in your favourite spreadsheet tool without it slowing down.
In addition to blending marketing data from multiple sources, you can use Supermetrics to create financial models in spreadsheets using your business data, as one of our pilot customers did. For example, you can fetch your revenue and purchase data and create reports in spreadsheets to share with your management team.
Getting started with the Snowflake connector
The best way to see what the Snowflake connector for Google Sheets, Google Data Studio or Microsoft Excel can do for you is to give it a try. Simply create a new data source by logging in to each product and start building your dashboards and reports. For detailed instructions, check out this article.

The Snowflake connector is included in the Pro package for Google Sheets, Microsoft Excel and Data Studio and it will be available for purchasing as an individual connector in Google Data Studio.
Happy reporting!
Turn your marketing data into opportunity
We streamline your marketing data so you can focus on the insights.