Aug 1, 2023
Bring your marketing data to Power BI
5-MINUTE READ | By Jessica Wei
[ Updated Aug 22, 2023 ]
Microsoft Power BI is a powerful platform where you can connect and visualize multiple data sets for interactive online reports. With Supermetrics for Power BI, connecting to this data becomes quick and easy.
In this guide, we'll explore the vital role of Power BI in digital marketing, teach you about the current data import methods, and discover how Supermetrics simplifies bringing your marketing data to Power BI.
Skip ahead >>
What is Power BI?
Microsoft Power BI is a data visualization and reporting platform primarily used for business intelligence purposes. It allows you to visualize and report data in various styles, including graphs, charts, maps, scatter plots, etc.
With Power BI, you can visualize marketing data and derive meaningful insights from it that you can't get elsewhere. Visual reports and automated dashboards make it easy to get insights into your business operations, and with just a few clicks these views can be exported and shared to all of your colleagues, putting an end to siloed operations.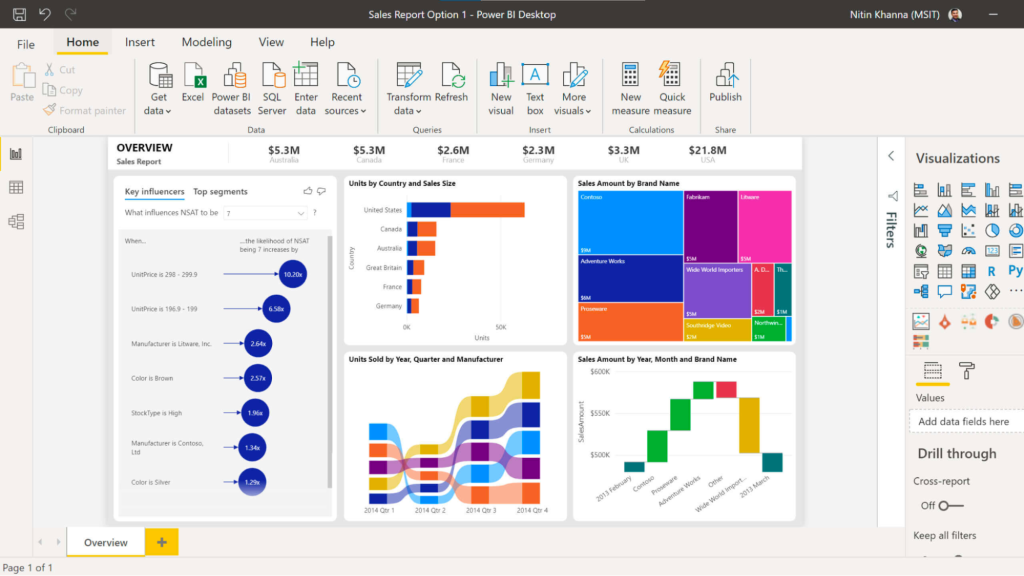 Source: Power BI at Microsoft.com
Power BI advantages and limitations
Much like anything else in life, Power BI has its fair share of pros and cons.
Advantages of Using Power BI
Microsoft Power BI is the perfect choice for any business—big or small—looking for analytical and reporting capabilities beyond Excel. This tool offers easy data visualization and analysis across the entire business, providing deep insights into business performance and operations.
Here are the pros of implementing Power BI for your business:
Allows analysis and sharing of big data.
Gives interactive and visually appealing dashboards and reports to make it easy to analyze data from multiple sources.
Gives access to image recognition and text analytics to make data available without time-consuming data entry.
Integrates with a wide range of data sources.
Cost savings — Power BI is affordable for businesses of all sizes.
Offers powerful collaboration and sharing features.
Limitations of Power BI
Power BI is an excellent tool for data analysis and discovering valuable insights. But it's not perfect. Here's the dull side of Microsoft Power BI:
Low data handling capacity for the free version (1GB)
Rigid formulas — the DAX language isn't the most flexible or easy to work with
You can only share reports with people under the same domain name.
Now that you understand the pros and cons of Power BI let's look at its importance for marketing data and the methods you can use to bring it to Power BI.
Why is it important to use Power BI for marketing data?
The world is bigger than it used to be, and your business has had to keep up. This means growing to scale with massive global audiences, mountains of data, and datasets split across dozens of platforms. Your teams are bigger and doing more — but they need access to vital data to collaborate on unified goals.
To deal with these changes, your data needs to be accessible and simple to work with — and that's what Power BI excels at. Power BI acts as a central point for your data, brings teams together, makes insights available across the organization, and unifies your mission.
Here's how it does it.
Power BI gives intuitive dashboards and powerful data visualization, helping marketers and analysts to identify and share insights hidden in raw data.
Power BI consolidates marketing data from over a hundred different sources — social media, websites, email, and even data from proprietary applications — into a centralized location. Everything is in one place so that all your teams can do what they do best.
Different teams can use Power BI's data integration to combine marketing data with other business data. This allows a smooth marriage between teams and datasets for even more effective campaigns and strategic decisions.
Power BI's high degree of customization lets marketers and analysts tailor reports and dashboards to meet specific requirements and preferences. No more 'one size forces all' data solutions; everyone can deal with data in the best way for them.
Power BI lets you share templates, reports, and entire dashboards with whomever you want. This means faster onboarding, easier collaboration, and data-driven operations.
Current methods to bring data to Power BI
There are various ways to load data to Power BI.
Import: Importing data is the most popular method. You can import from spreadsheets or data models. To do this, navigate to the Home tab in Power BI Desktop, select Get Data, and click Connect to Power BI platform.
DirectQuery: Connect directly to a data flow without importing it. To use DirectQuery, select 'Get Data' from the Homegroup, choose a supported source (e.g., SQL Server), and select DirectQuery under Data Connectivity Mode.
Live Connection: This option is exclusive to analysis services. It doesn't import data but connects to the underlying data source, utilizing Power BI Desktop for visualization. Supported data sources include SQL Server Analysis Services (Tabular and Multidimensional).
The struggle to bring marketing data to Power BI
One of the primary challenges marketers face when utilizing Power BI for data analysis is the limited means to import marketing data. The most common methods used include importing data from a file or querying it from a data warehouse. These are either very manual or require advanced skills for data querying.
The first problem is a big one for marketers: Power BI does not have native connectors for major marketing platforms such as Facebook, Instagram, Twitter, and other social media data sources. If you want to pull data from these sources, you have to use an API or a third-party data connector.
Second, Power BI's connectors for Google Analytics (that other touchstone of marketing) aren't user-friendly and lack full support for the new GA4 integration. Consequently, marketers need either a highly technical team or lots of manual workarounds to get and use their invaluable GA4 data.
The easiest solution to bring your marketing and sales data to Power BI
Supermetrics for Power BI is the easiest way to move your marketing and sales data to Power BI. It combines flexibility with power to let you get data your way. Whether you want to pull data from Facebook Ads, Google Analytics 4, Salesforce, or HubSpot, Supermetrics will connect to all your data sources in minutes.
Here are some benefits of using our Power BI integration:
Over 100 marketing and sales data sources.
Shape and mold your data according to your preferences with Customized data.
Get consistent data and shared queries across your entire team.
Preview your selected dimension and metrics before loading them to Power BI.
Like with all Supermetrics connectors, the setup process is fast and simple and requires no coding or other technical skills.
The Supermetrics Power BI connector works in Power BI Desktop and helps you connect granular marketing data from marketing sources that matter to you.
How to bring GA4 data to Power BI using Supermetrics
As mentioned before, the selection of native marketing connections provided by Power BI is very limited. For example, there's no GA4 connection for Power BI at the moment. Let's use GA4 as an example to show you how to get data from GA4 to Power BI.
Overview:
Create a query on Supermetrics Hub (Supermetrics's data interface)
Download an installation file on your computer
"Get data" from GA4 to Power BI
You're all set to use metrics and dimensions in your reporting.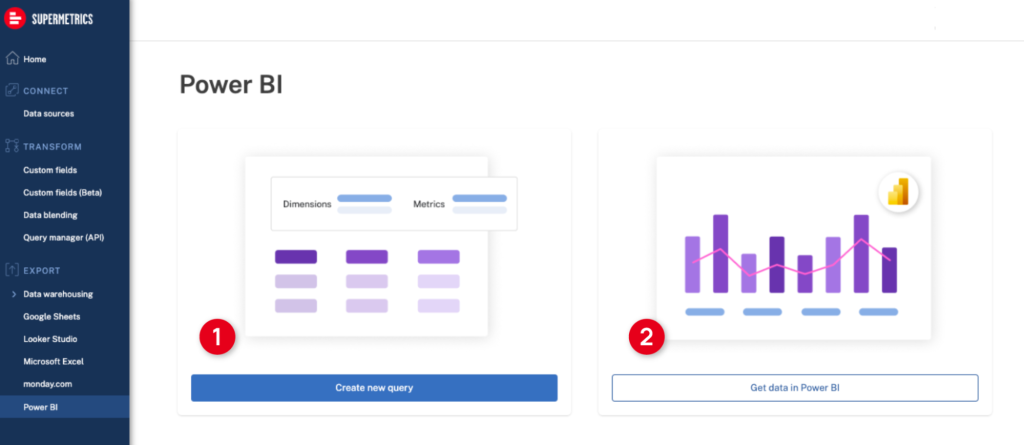 How to create a Supermetrics query for Power BI
1. Log in to the Supermetrics Hub using your Microsoft or Google email.
2. Navigate to Power BI on the left-side menu.
3. Click the "Create new query" option.
4. Select GA4, then log in to your GA4 account to create a connection between the data source and Supermetrics.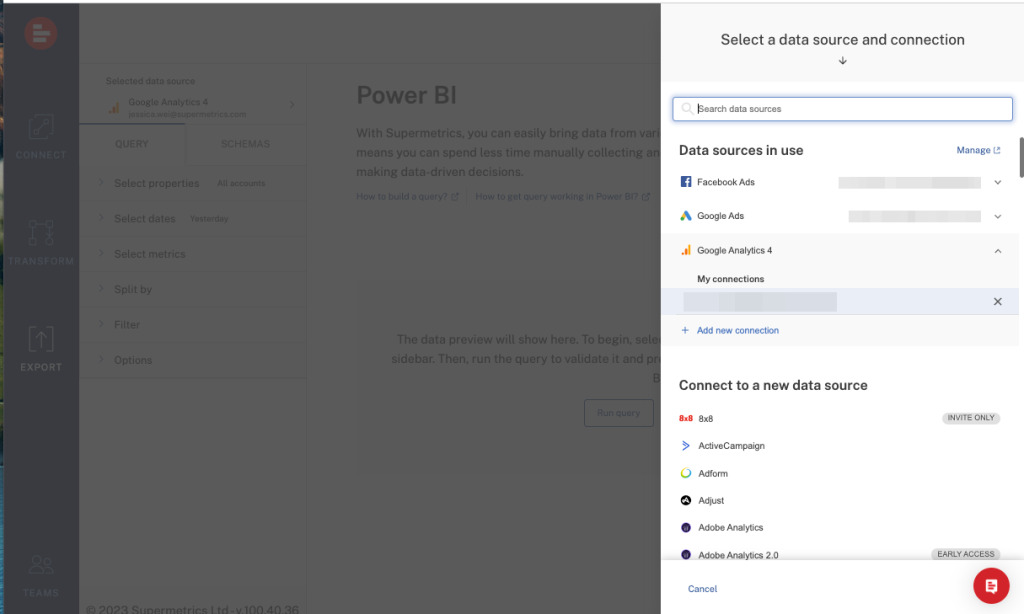 5. Define the query settings (data range, metrics, etc.) for the data you want displayed in your reports. For instance, I want to know the active user situation for this month to date. I will select metrics — in this case, active users, 7-day active users, total users, and new users — and then go to the 'Split by' tab to choose 'This month to date' as the dimension.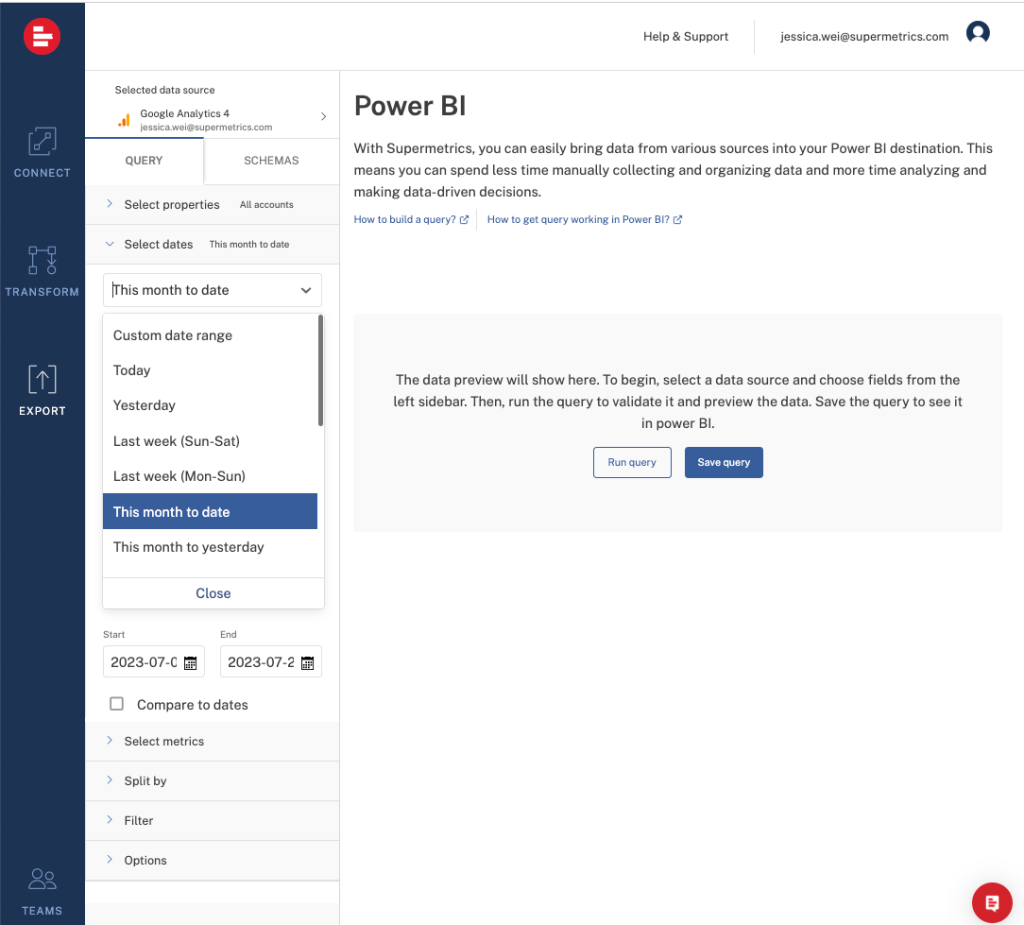 6. Lastly, click Run to see what your report will look like, then Save. Name your query and query group, and you're good to go. You can find out how to create a Supermetrics query for Power BI by reading these instructions.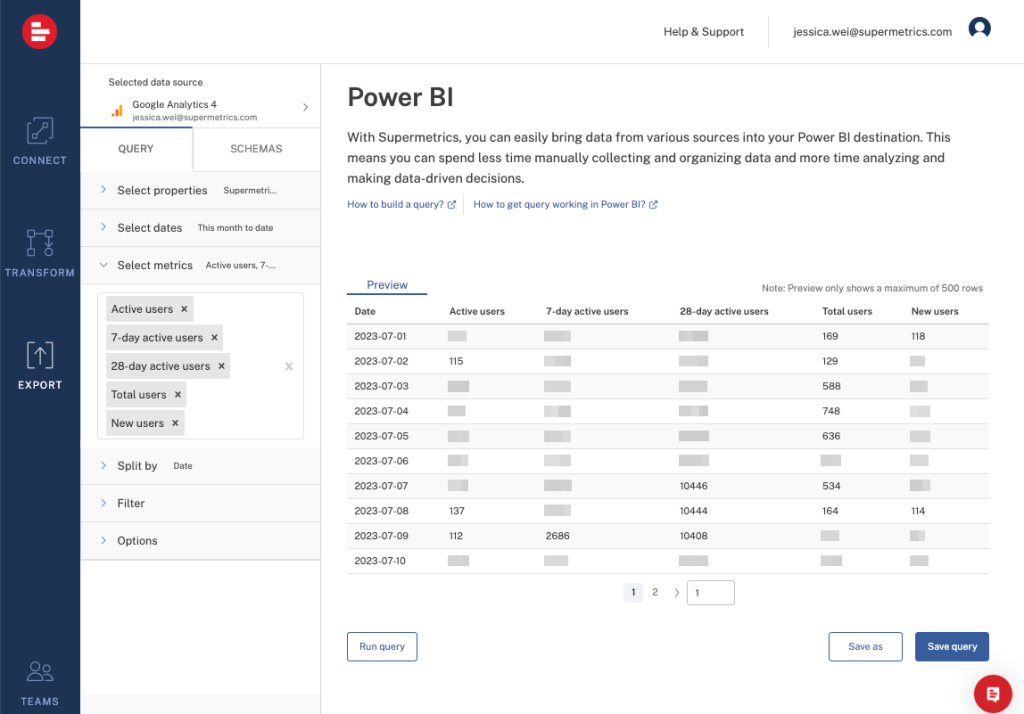 How to install Supermetrics for Power BI
After creating your first Power BI query on the Supermetrics Hub, you're ready to install the Supermetrics connector to Power BI.
Create the following path on your PC:
[Documents]\Power BI Desktop\Custom Connectors
Make sure you use the documents folder for the current user under disk C.
Go to the Supermetrics Hub, and click Export → Power BI in the menu.
Click Connect to Power BI. You'll see an installation file in Step 1.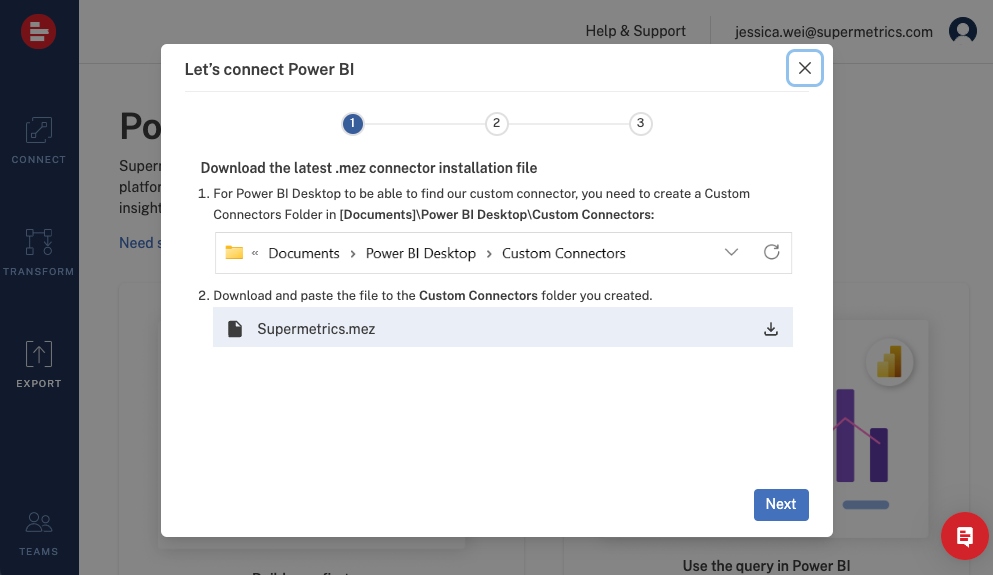 Download and save the Supermetrics file to the Custom Connectors folder you created.
Please contact our support team if you don't have the file.
Adjust the Power BI settings to allow custom connectors to load. Open Power BI Desktop, go to 'File' → 'Options' and 'Settings' → 'Options', and find the 'Security' tab.(As described in this Microsoft article)
Under 'Data Extensions', select '(Not Recommended) Allow any extension to load without validation or warning'. If you'd like to keep this setting and would like an alternative method of installation, please get in touch with our support team.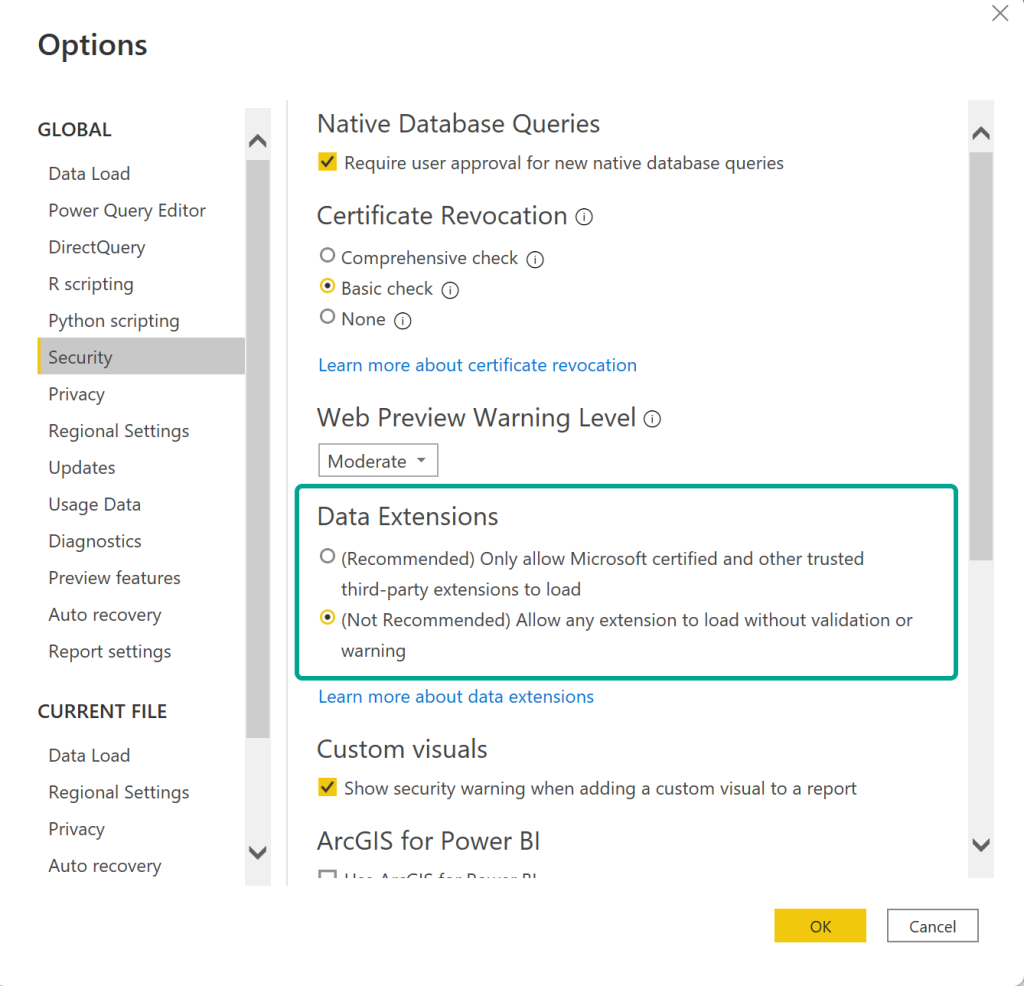 Click OK.
Restart your Power BI Desktop.
Now when you open Power BI and click 'Get data', you'll already be able to find Supermetrics.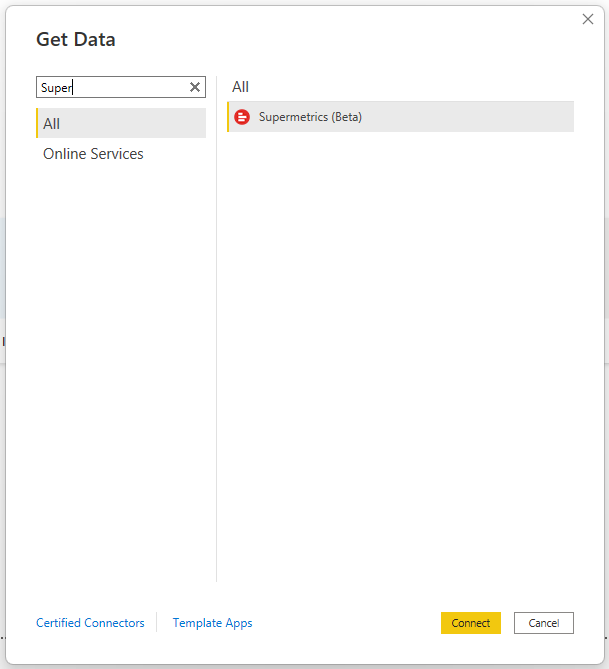 How to load your data to Power BI using Supermetrics
Once you've set up the Supermetrics connector for Power BI, it's time to load your data to Power BI.
Instructions
Open Power BI Desktop.
In the Home ribbon, click 'Get Data'.
Search and select 'Supermetrics', and click 'Connect'.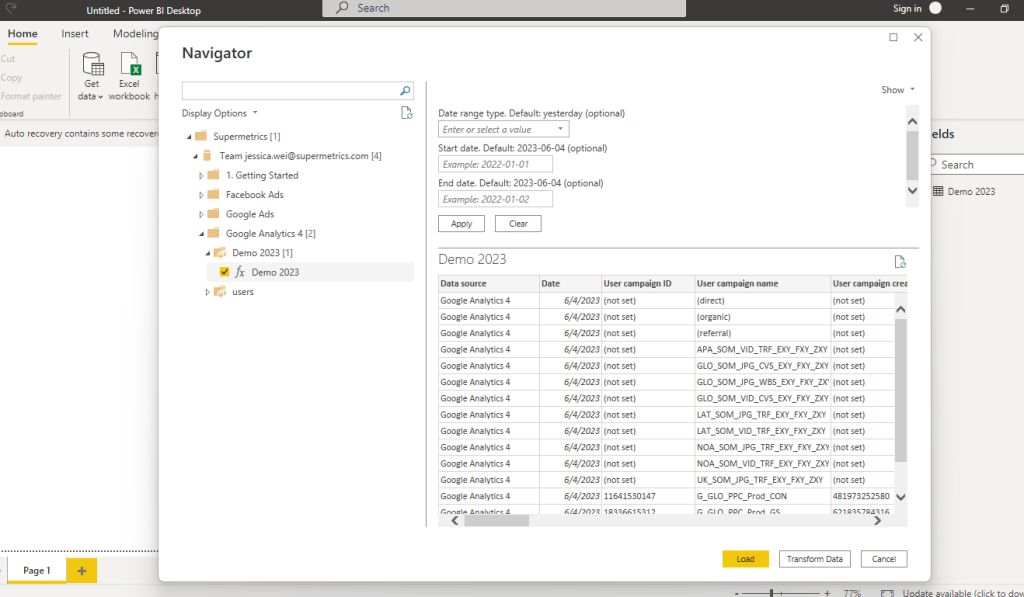 Click 'Sign in to log in to your Supermetrics account' (the same one you used in the Hub).
Once you've signed in, click 'Continue'.
Click 'Connect'.
Once the Navigator dialog box loads, you can preview all queries you've saved in your Supermetrics account on the Hub. They're organized by the data source in the folders on the left.
Select the checkboxes next to any queries with data you'd like to use for your report.
In this preview, if you still want to modify the query, you can use the options in the window. After you're done, click 'Apply and Load'.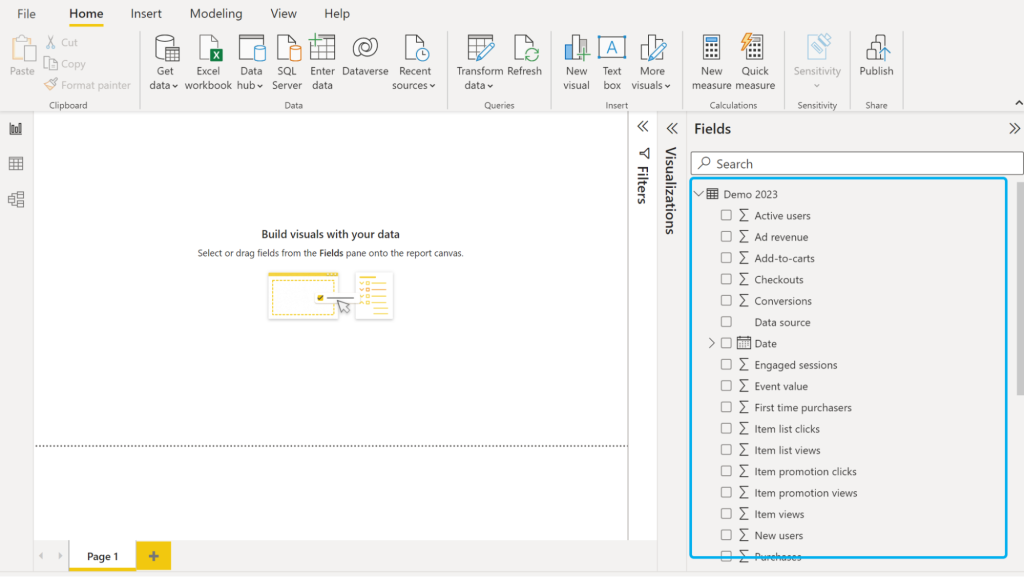 Once your data is loaded into Power BI, your dimensions and metrics are ready for reporting.
In short, Supermetrics for Power BI offers a simple and powerful solution to integrate marketing and sales data into Power BI. By connecting to over 100 data sources, including Facebook Ads, Google Analytics 4, Salesforce, and HubSpot, users can easily shape and customize their data according to their preferences.
Start a free trial
Want to give Supermetrics a try? Start a 14-day trial or book a demo with us.
Start free trial
Jessica Wei
About the author:
Jessica works in product marketing at Supermetrics. She help marketers and analysts learn how to use Supermetrics to get better at analytics and reporting.
Turn your marketing data into opportunity
We streamline your marketing data so you can focus on the insights.