Mar 30, 2022
How to use Google Search Console for SEO audit and keyword research [free template]
10-MINUTE READ | By Palash Nag
[ Updated Oct 31, 2023 ]
Many people think that search engine optimization (SEO) is all about keywords.
But there's more to getting your site ranked higher on Google's search results than just using the right keywords.
It's also about learning how to combine those keywords on a page and site-wide basis to establish yourself as an authority and optimizing them frequently to be at the top.
That's where Google Search Console comes in handy!
GSC has several features designed specifically for SEO purposes, including an option for finding untapped keyword potential, optimizing your old content, and identifying potential SEO issues on your site.
Here's how you can use Google Search Console to conduct keyword research and a site-wide audit using SEO.
Skip ahead.
Let's start with finding the low-hanging fruit and untapped potential keywords for your blog.
Analyze the keywords you currently rank for
The most underused SEO technique is to track your old blog articles to identify untapped keywords your site has the authority to rank for.
It's a great way of learning what kind of material people are looking for when they search for certain phrases and what kinds of content you should be producing—or not.
How does it work?
When Google displays your blog results in the SERP for a keyword you haven't targeted directly, it implies that Google considers your blog an authority on the main subject.
As a result, if you blog about that particular sub-topic on your site, you'll have a very high probability of ranking for that corresponding term because Google has already certified your site as an authoritative source for that subject.
To extract all such—easy—keywords for a particular blog post, follow the steps below:
1. Select a page or blog post you want to find untapped keywords for.
For this example, I'll select this page of mine.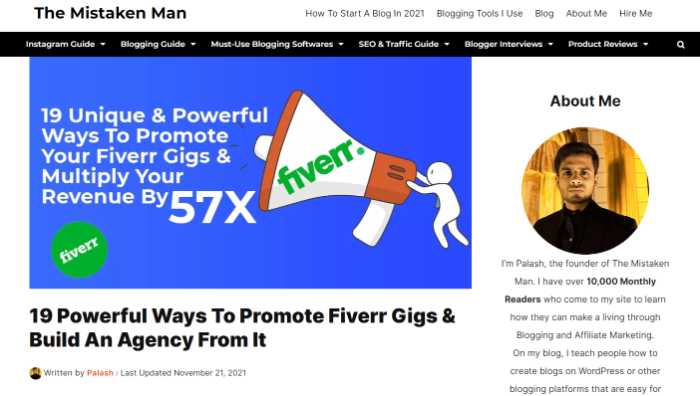 2. Go to Google Search Console
Navigate to -> 'Performance' -> click '+New' -> 'Page' -> Enter the page's URL you've selected, and hit 'Apply'.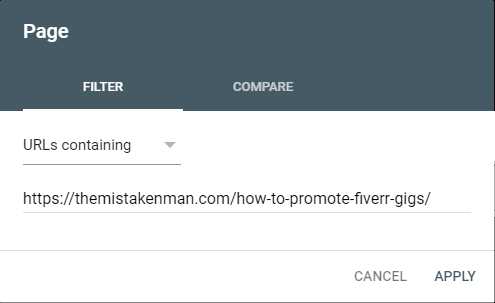 After clicking 'Apply', you'll see a report similar to the one below.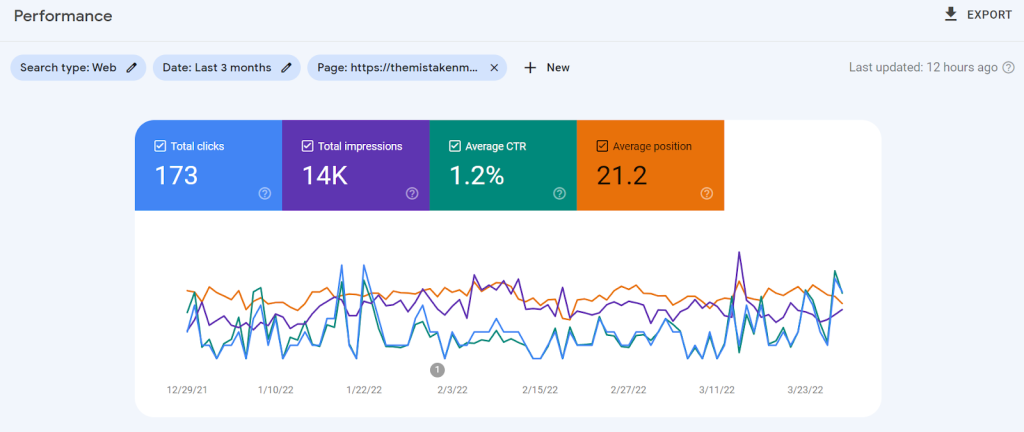 3. Scroll down further, and you'll see a section named 'Queries'.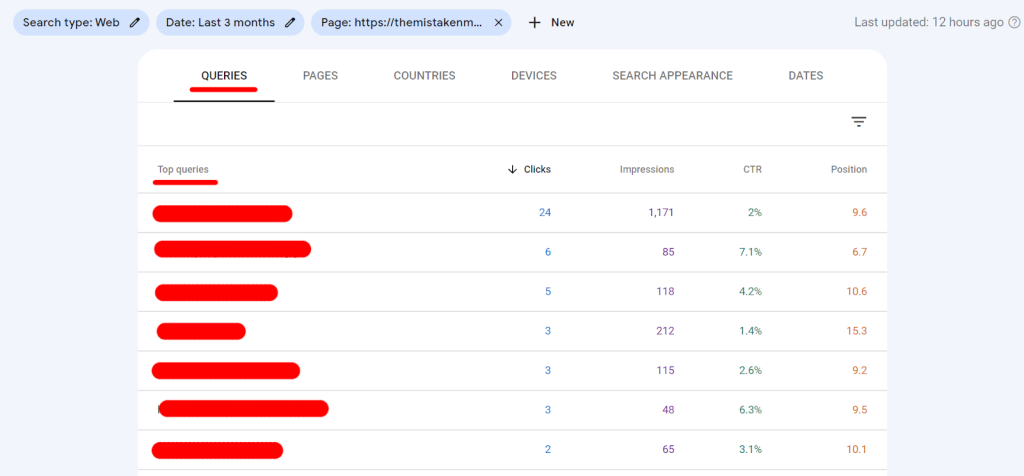 Under the sub-section labeled as 'Top queries', you'll see a list of all the terms people search that Google is showing your selected page for.
These queries imply that people looking for the keywords above are being shown my target page in the SERP.
4. Now you have to export all the terms—in a Google Sheet—and then conduct keyword research.
Now, all of this can be cumbersome, but Supermetrics can assist you in automating the process and saving you a lot of time and work.
Follow the steps here to get these metrics in place.
You'll need:
Select Dates: Range within you want the data
Select Metrics: Impressions, Clicks, CTR, Average Position
Split by Dimensions: Search query, Full URL
Filter: Full URL—enter the URL you want to analyze
Then click "Get Data To Table".
Supermetrics will automatically fetch your data from GSC, eliminating the need to visit it and exporting/importing data repeatedly.
After you've got our data in a spreadsheet, you can start analyzing.
Track queries with the most impressions
You'll find many keywords here for which you haven't written an article, yet you're receiving impressions for.
All you have to do now is copy all of those queries and do a keyword research for each of them.
You'll find many keywords worth targeting because they have a high average monthly search volume which you haven't covered so far on your blog.
You can use these keywords to write new articles around the topic.
After you've come up with several ideas, now is the time to start planning.
How to create content clusters
But what the heck is a content cluster? Why is it so important for SEO?
A content cluster is a group of web pages around a specific topic interlinked together.
They're important for SEO since they show Google that your site is an expert in a certain area, which will earn you higher rankings in the SERP.
A great example of a content blog that's leveraging the power of clusters is EmailToolTester.
You must have guessed by the name what they do.
They post everything related to email marketing on their blog, and as a result, they've established themselves as an authority on the topic.
Check out the results for 'best email marketing software'.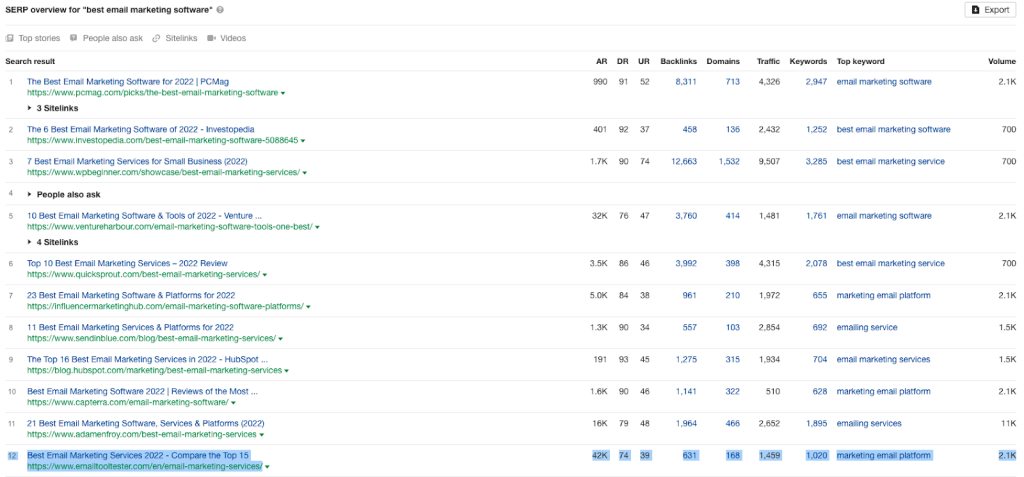 Despite having a domain rating of just 74 and a backlinks count of only 631, they're top ranking for this topic.
If you notice other competitors in the SERP, you'll notice that to rank higher for this keyword, their DR is usually higher than 80, or they have backlinks of at least 1k and up.
But EmailToolTester can still rank with a DR of just 74 and a backlinks count of only 631.
Thanks to content clustering.
If you take a close look at their website, they've covered reviews of each and every email marketing software available.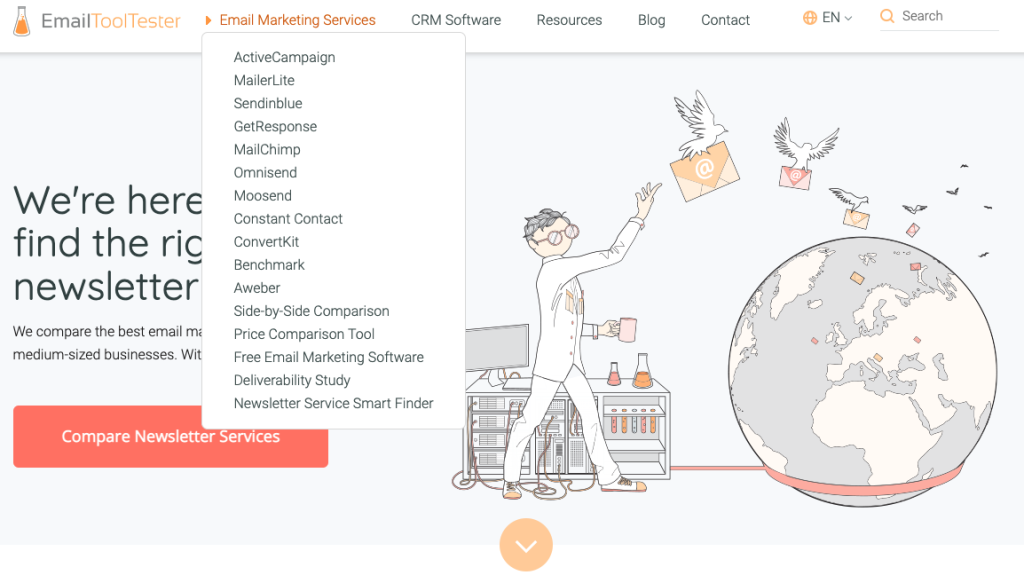 Since they've covered every email marketing tool on their blog, Google perceives them as an authority on the main subject and thus rewards their site with a higher position in the SERP despite low DR or backlinks count.
This is what a content cluster looks like.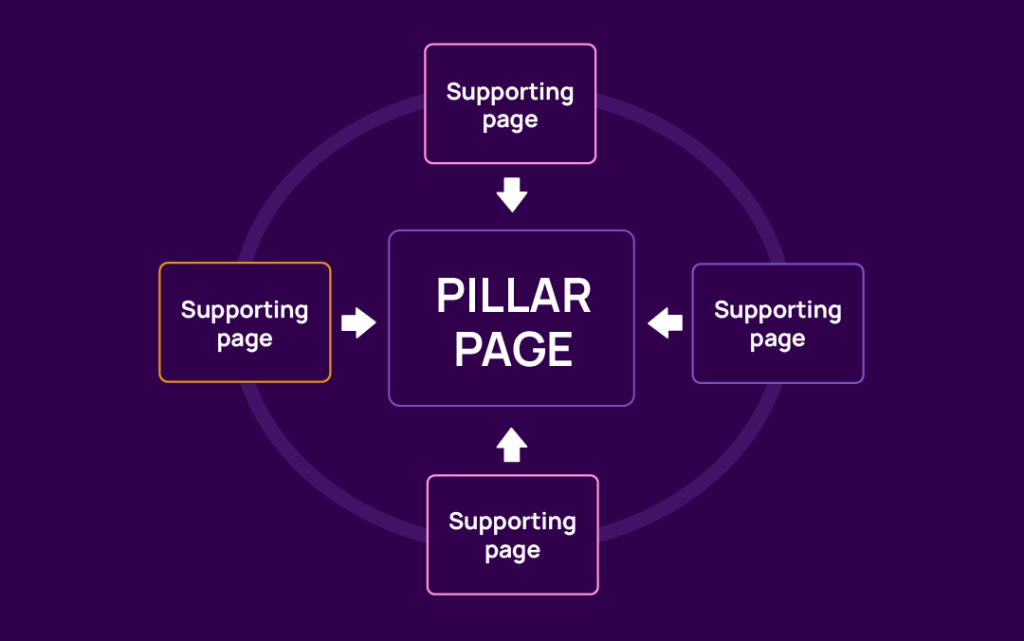 Now that you know what a content cluster is, it's time to start creating your own.
With all those keywords you're getting impressions for you've found via GSC, start grouping them to create clusters.
By taking the above example as a reference, here's how I'll create a content cluster for my target keyword, 'How to promote Fiverr gigs'.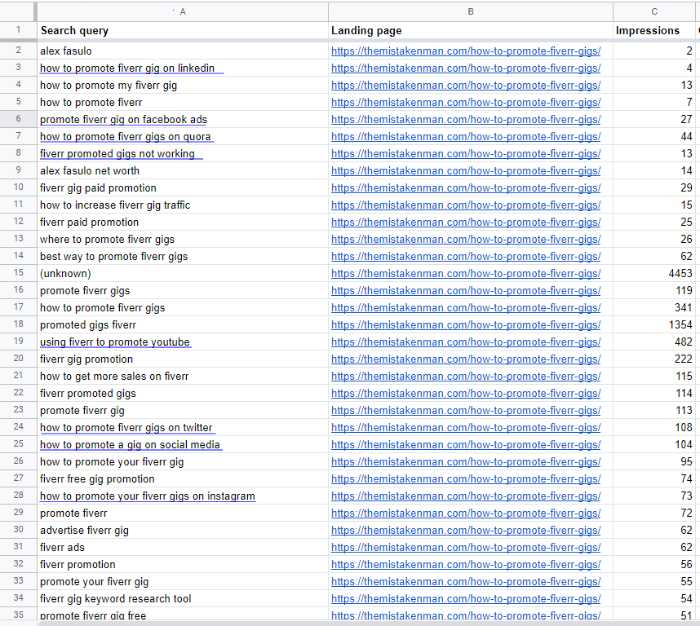 I'll take the keywords from the above Google Sheet and create a cluster for them:
How To Promote Fiverr Gigs on LinkedIn
How To Promote Fiverr Gigs on Quora
How To Promote Fiverr Gigs on Instagram
How To Promote Fiverr Gigs on Twitter
How To Promote Fiverr Gigs on Social Media
How To Promote Fiverr Gigs on YouTube
Fiverr Promoted Gigs Not Working
You can also use 'Related searches' and 'People also ask' sections to strengthen your cluster.


To find more sub-topics to support your pillar page and strengthen your cluster, you can take the help of Quora questions or Answer The Public.
And if you're targeting only commercial intent keywords (because there's the money), I'd advise you to add some informational pieces also.
Doing this will help build your topical authority, and you can still make money by partnering with blog advertising networks.
While grouping your subtopics, make sure they're narrowed enough, and you're not becoming a victim of keyword cannibalization.
To speed up your content publishing game, you can leverage GPT-3 based AI writers on the market that'll help scale your content production and achieve topical authority faster.
You've completed the procedure for creating a content cluster by following the above steps.
One thing that Google Search Console doesn't really help you with is splitting up brand-related keywords from non-brand keywords. But Supermetrics has a ready-made template that's got you covered.
With this Google Data Studio template, you can quickly compare the performance of your brand keywords and non-brand keywords.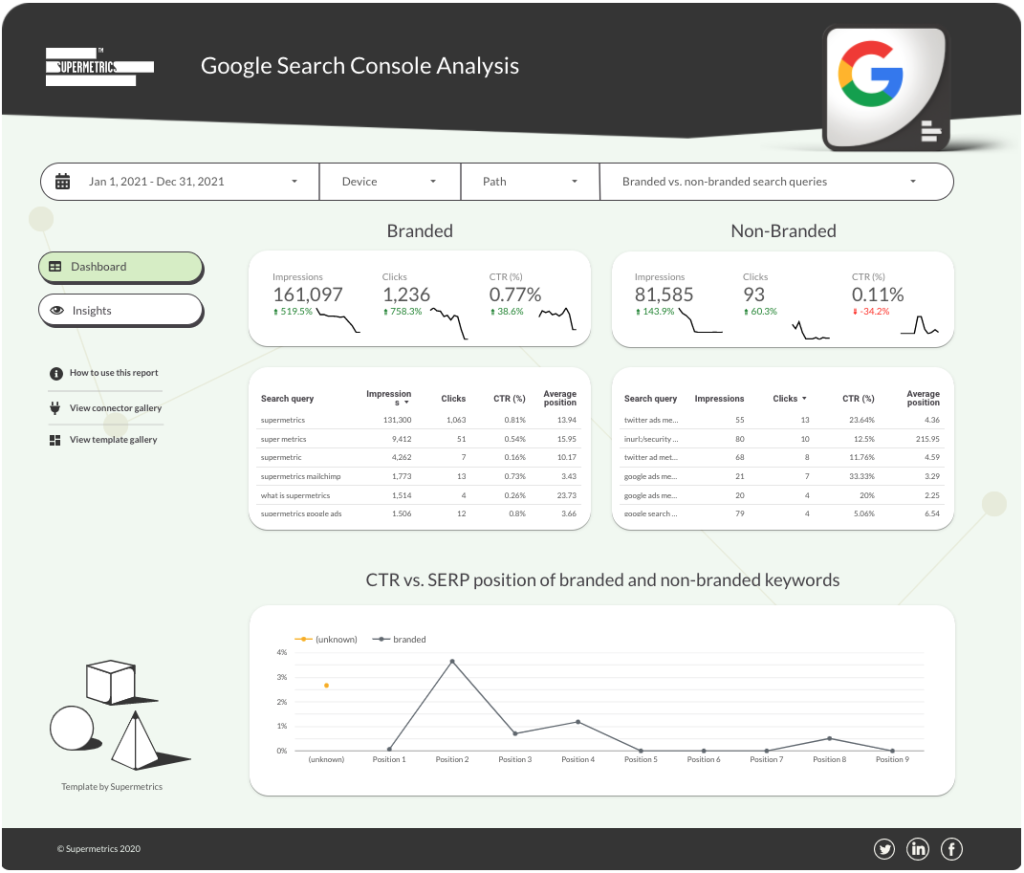 Now back to our content clusters. You'll also need to start auditing and optimizing your content.
How to do SEO audits and content optimization
Your website's traffic is a direct result of the quality and effectiveness of your content.
The more engaging and well-optimized your content is, the more likely it'll rank high in SERP and the more visitors you'll attract.
But what can you do if you feel like your content isn't up to par?
One solution is to conduct a full SEO content audit and optimization process.
This will help you to identify any areas that need improvement and take steps to optimize them.
The good part is, Google Search Console can help you achieve that too.
First, we need to identify the pages that require optimization. Here is how to get started.
Start optimizing pages with high keyword rankings but low CTR
To find such pages, click 'Performance', and you'll see results similar to the one below.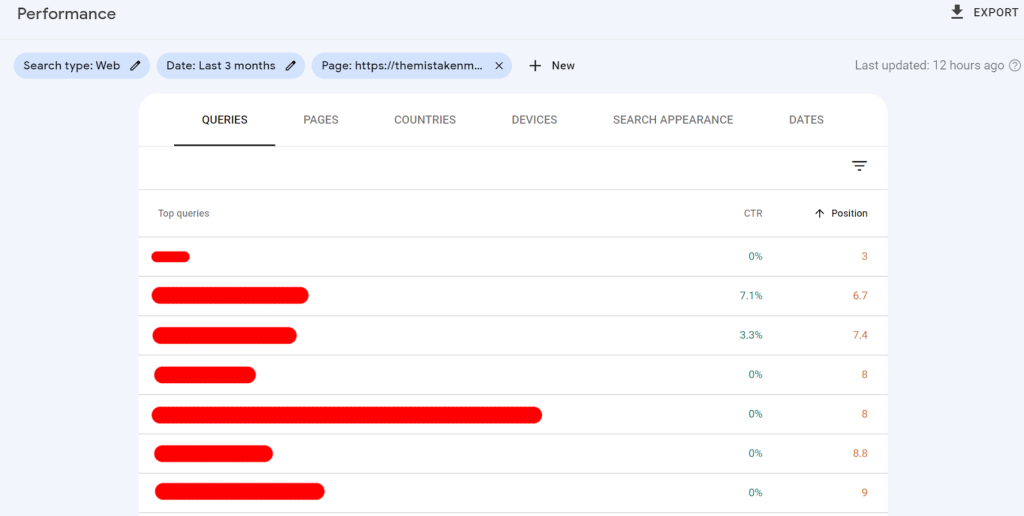 From this report, you can sort the 'Position' and 'CTR' columns in ascending order to show you which keywords are ranking high but are not being clicked at all.
Optimizing pages with high rankings but low CTR is a good place to start because they offer the most potential for improvement involving only 2 minor tweaks.
Having a poor CTR, despite having high rankings, can mean only these things:
Your SEO title or your meta description aren't catchy enough or are being stripped down.
Optimizing page titles is really important because they're basically the first part of your content that visitors will see in search results.
And this means you need to optimize it enough so that people would actually click your result despite the presence of other more appealing pages with higher rankings.
Also, make sure you're verifying your title isn't getting stripped down in the SERP with this tool.
Additionally, pay attention to your meta description as well.
This is the text that appears under the title in the search results, and it's your last chance to persuade people to click your page.
Make sure your meta description is interesting and persuasive, and also accurately reflects the content of your page.
Update pages that are losing organic traffic
To find pages that need to be updated go to 'Performance' -> 'Date' -> 'Compare' -> select the date range -> 'Apply'.
You'll see a report similar to the one below.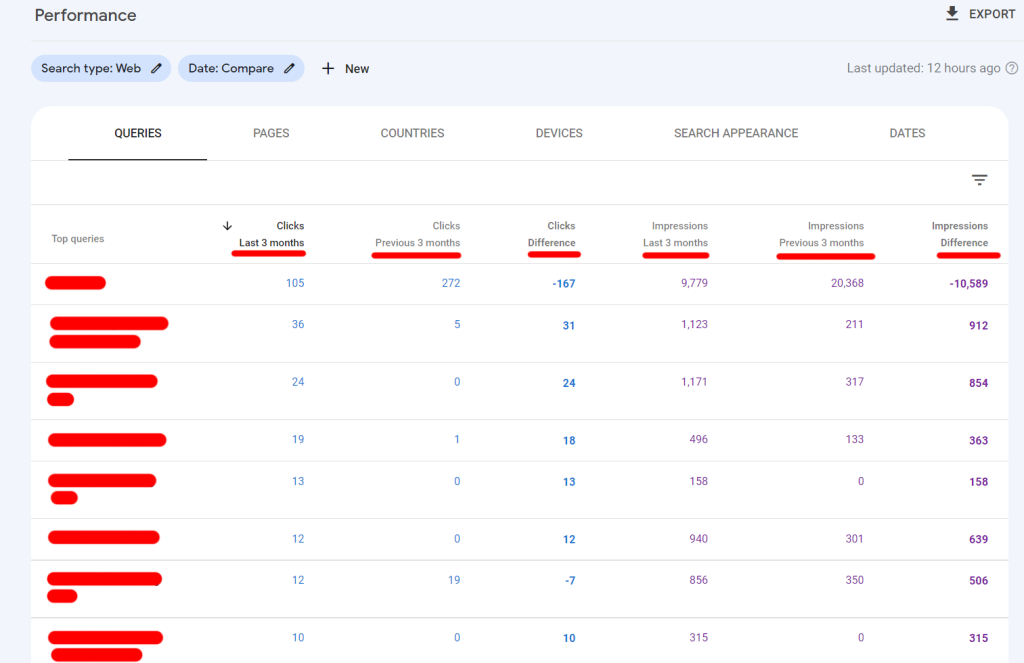 You'll see the 'Clicks Difference' and 'Impressions Difference' columns.
If the number of clicks and impressions has declined, it's time to update your blog with fresh content.
If the information above looks intimidating to you, you can use a rank tracking tool to help you with this.
Once you've figured out which pages need optimization, you can use Surfer's On-Page Audit to find out where you're falling short in each stage.
Adding structured data—such as FAQs—optimizing images for SEO, and incorporating NLP phrases to your blog post can all help you stay ahead of the curve.
Additionally, if you don't see any positive outcomes yet, it's time to get links for your blog.
With just a little bit of email hunting and blog outreach, you can expect to get a few backlinks in no time.
This will help you develop a strong backlinks profile and also help improve your rankings.
The most important thing is to keep experimenting with your content and keep track of it all using Google Search Console.
With just a little bit of diligence, you will be fine-tuning your SEO and keyword research in no time!
Your turn
Now that you understand the basics of how to use Google Search Console for keyword research and SEO audit, it's time to put this information into practice.
In your next blog post or article, try using the keywords you discovered in your research.
And don't forget to track your results!
About the author
Palash Nag is a B2B and SEO freelance content writer who loves to write about SaaS, online marketing, and productivity for companies and also sales emails and newsletters. If he's not reviewing SaaS products on his main blog, The Mistaken Man, you can find him binge-watching TV shows.
Turn your marketing data into opportunity
We streamline your marketing data so you can focus on the insights.