When it comes to building SEO reports, no one knows their stuff like agency marketers.
After all, clients are paying agencies not only for services like keyword research, on-page optimization, content marketing, and link building but also for proving the value of those services with clear reports.
And that's why for this article, we interviewed three agency-side SEO pros. According to them, here are the 11 tips you should follow when you're building SEO reports.
1. Aim for transparency and set realistic expectations from the get-go
Laura Iliescu and the team at SureOak have a ton of experience in onboarding and retaining long-term clients. According to Laura, full transparency is one of the keys to successful collaboration.
Laura says, "Most clients who come to us know what to expect from SEO in broad strokes. They know that SEO is a long game and they're willing to do the work to get results. It's up to us to educate them about all the different things that impact SEO."
She continues, "It's important to be transparent. SEO is a trial and error process and the fact that metrics aren't shooting through the sky after only a month or two is in most cases normal. And even if something is off the charts in a negative way, it's best to be transparent with the client so you can work together and address any issues. Open communication is key and your report should reflect the actual state of things."
Without a common understanding of what's possible and what isn't, reporting can get difficult. Unrealistic expectations can make a client feel unhappy about the results they're seeing.
Laura explains, "For example, we have some clients that are only buying link building services from us. But as you can probably imagine, it's hard to improve business metrics with link building only. Reporting is an awesome way to help the client understand what other resources they might need to get the results they're after."
So, before you share your first report with a new client, make sure you've helped them set realistic expectations for the collaboration.
2. Choose the right reporting cadence based on the services you're offering
Not all SEO services are created equal. And that's why your reporting cadence should depend on the type of services you're offering to your clients.
Citta Paramita from Hawke Media says, "We use monthly reports to connect with our clients and keep us accountable."
Pat Ahern and his team at Inter rely on a combination of weekly and monthly reports. He explains, "We're hyper-focused on creating content and building high-quality backlinks that help our clients rank for strategically important keywords. Our focus is on monthly reports but we also send out weekly keyword ranking reports, which help us react faster to any possible changes in ranking."
The SureOak team, on the other hand, has developed a reporting structure that consists of monthly reports that are sent to the client and quarterly reviews that take the form of a meeting.
Laura says, "In addition to our monthly reports, we also have a quarterly review meeting with our clients so they can give us feedback and brief us on the business priorities for the upcoming quarter."
In general, the consensus between our three experts is that monthly reports are typically the best fit for showing the value of SEO work. Like Laura said, SEO is a long game and that's why tracking results on a daily or even weekly basis typically isn't productive.
3. Set SEO goals in ranges instead of absolute values
The biggest issue with goal setting in SEO is that search engine algorithms change frequently, making it difficult to reliably predict future performance.
As a solution to this inherent volatility, Laura recommends setting goals in ranges rather than absolute values. She explains, "It's not always possible to set strict goals but ranges are easier to agree upon. If we have benchmark data from similar niches and keywords, we can, with a certain degree of confidence, predict that 8-10 backlinks will move a client's ranking to anywhere between positions 3 and 12."
Laura and her team also vouch for avoiding overly ambitious stretch goals during the first couple of months of the collaboration with a new client. She says, "For the first month, our goal might just be a small rise in the client's domain authority. For the second month, we might set a goal to build 10-15 high-quality backlinks. And only for the third month, our goal might be to get the client to rank on the first page for a specific keyword. Setting goals is always a bit tricky but the key is clear communications and transparency."
When a new client sees you hitting those conservative goals month after month, you'll be able to build trust over time.
4. Use a reporting template to get started — and customize the rest for each client
Instead of reinventing the wheel for every single client, it's a better idea to create a master reporting template that gives you a solid place to start every time.
Pat says, "We've built a standard reporting template that accounts for approximately 80% of the scenarios we want to report on. We always start with the template and then customize the report over time based on client feedback."
So instead of letting blank page syndrome slow down your reporting, don't be afraid to start from a generic template and tweak it to each client's needs.
Psst! If you need any help in getting started with SEO reporting, check out our template gallery for inspiration.
5. Build automated SEO reports with Google Data Studio
Having a static reporting template is great and everything, but in the name of saving time, it's an even better idea to automate data transfers into those reports.
Google Data Studio is a free tool that allows you to quickly build interactive dashboards. With Supermetrics, you can directly connect your dashboard with different data sources like Google Analytics, Google Search Console, Ahrefs, Semrush, Moz, and more.
Pat says, "We use Supermetrics for Google Sheets to pull all the data we need into a single spreadsheet. That Google Sheet acts as our data source for our client-facing Google Data Studio dashboards. We have some pretty advanced formulas running in the Google Sheets, and that's why we ended up automating the data transfers through Sheets."
Laura is also a fan of Google Data Studio. She says, "Most of our reports are done in Google Data Studio. We pull data from a variety of sources like Google Search Console, Google Analytics, Ahrefs, Semrush, and Moz."
The main benefits of Google Data Studio are that a) it's free, b) it's easy to use, and c) once you've connected all your data sources and added all the metrics you want to track to your dashboard, the data updates automatically.
This allows you to share a link to the dashboard with your client so they can access fresh data whenever they want.
6. Break your report down to 3 key components
When it comes to the structure of your report, Laura recommends that you pay attention to three things:
Making sure the reports are thorough and easy to understand
Reporting on all relevant data
Including an explanation of said data with conclusions and next steps
Laura says, "It's important to compress the data into charts and graphs to make it easier to understand. It should also be laid out in a logical order, so one part provides the information necessary to interpret the other."
Taking this one step further, Citta prefers breaking up her reports into three components. She says, "Our reports are structured based on the client's business goals and metrics that are important to their business. In general, our SEO reports communicate these 3 components:
Performance
Insights and opportunities
Next steps and action plan."
This way, you'll make sure that your report is not just a data dump but that it also works as a decision-making tool for the client. But more on that later.
7. Start each report with an executive summary
While you would normally want your full SEO reports to be as thorough as possible, it might also make sense to create a one-page summary report to offer an overview of your performance. This way, the client's CEO, CMO, or other higher up stakeholders can quickly get an idea of the work you're doing without having to read through a 12-page report.
Pat says, "By default, we start every report with what we call the executive summary. This is the core place to go to to get a high-level view of what your online performance looks like during any given time frame."
He continues, "On this page, we normally include things like total goal completions from Google Analytics, website traffic, organic traffic, keyword rankings, and ads performance if the client has any advertising channels they want us to monitor."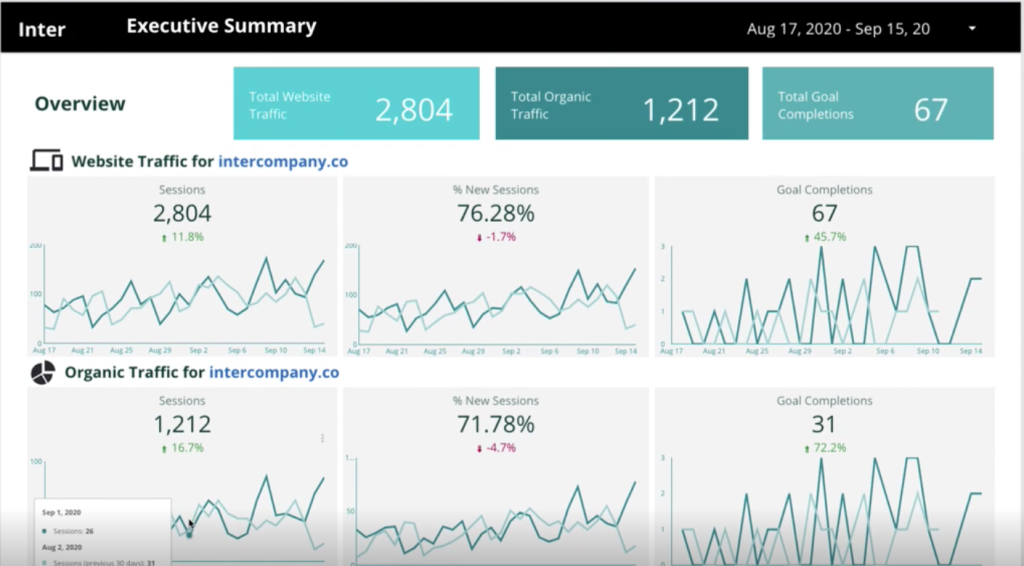 The key to building a great executive summary is knowing your audience. By understanding what the audience's level of SEO understanding is, you can customize this one-pager to show the exact data points the executive team is likely to care about.
8. Focus on reporting key metrics — and try to get as close to revenue as possible
Pat points out that setting the right SEO KPIs to monitor can be especially tricky for agencies. After all, including a certain metric in your report can make it look like your agency drove all the possible developments in that number (even when that's not necessarily the whole truth).
Pat says, "Setting KPIs is tricky because ideally, the numbers we track would show the value of partnering with us. At the end of the day, though, we're always trying to tie SEO back to revenue."
He continues, "If we start ranking on the first page in Google, it might not have any business value. But if we can get leads through that — that's great. And so that's what we're trying to focus on in our reports."
Citta emphasizes that it's important to set KPIs based on the client's business goals. She says, "Our SEO reports provide metrics on the client's business goals, whether that is traffic, monthly revenue, or conversion indicators. On top of that, we provide reports on organic keywords: latest positions, month-to-month position changes, new keywords, and lost keywords. We also look at competitor data, including domain authority, share of voice, and ranking comparison."
Laura and the SureOak team typically divide their SEO KPIs into on-page and off-page metrics.
On-page metrics include things like:
Tracked keywords' SERP position
Conversions from tracked pages
CTR
Bounce rate
Impressions
While off-page metrics include things like:
Domain rating
MoM traffic growth
Page authority
Social media metrics
If you're struggling to decide on (or limit the number of) SEO metrics to track, our friend Ross Tavendales, SEO KPI framework may come in handy.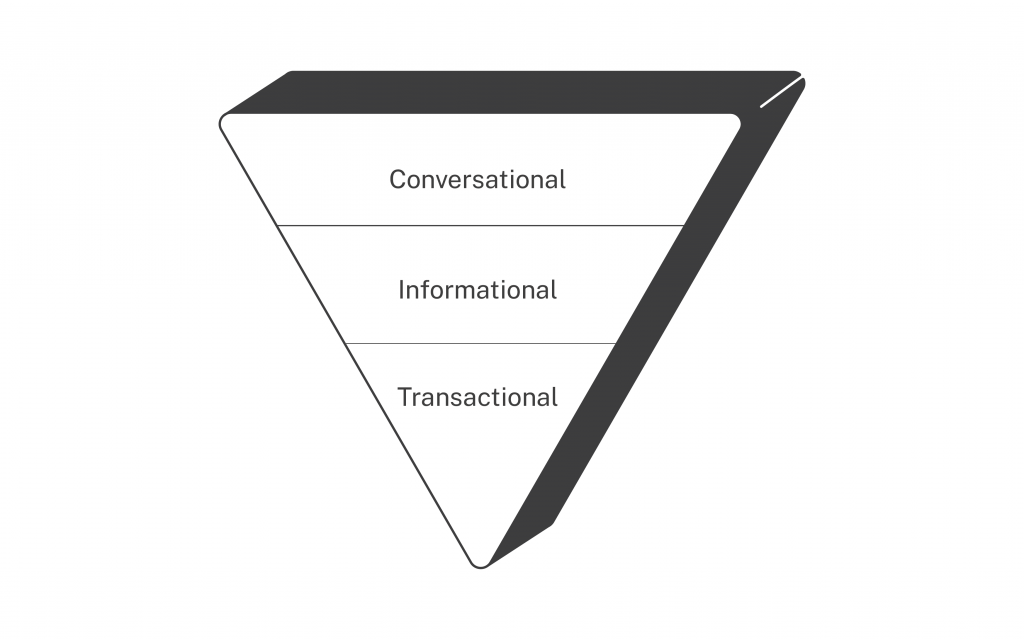 In short, you can split your SEO KPIs into three categories:
Conversational goals (e.g. ranking & backlinks)
Informational goals (e.g. newsletter subscribers, webinar signups & content downloads)
Transactional goals (e.g. trials, demos & sales)
This categorization may help you structure your report in a more meaningful way.
9. Don't forget to include analysis and recommendations in your report
Getting the right data into your report is only half the battle. As hinted earlier, our three SEO experts also emphasize that you'll want to include analysis and action plans or recommendations in your reports.
Citta says, "At Hawke Media, we believe that data is just numbers. It doesn't tell the story on its own if we don't turn the data into actionable insights. We create dashboards for clients to check on a monthly basis. Our dedicated SEO experts also analyze data and turn it into action plans. We talk to our clients on a regular basis to discuss results and updates, as well as what works and what doesn't."
Laura agrees. She explains that, "The reports should by no means be just a data dump. Data without an accurate interpretation is virtually useless. In a report, data is just the basis on which conclusions are drawn and hypotheses are formulated."
In addition to the Google Data Studio dashboard, Pat and his team at Inter also share a monthly Google Doc with analysis and recommendations with their clients.
He explains, "We also manually break down the why, what, and how in a separate Google Doc. It typically comes out to 3-5 pages typed out. A lot of the document is pre-formatted, so after compiling these insights, it doesn't take us long to add them into the document. But it helps us highlight the most important findings and make recommendations based on those insights."
Long story short, data without analysis is just numbers. The most valuable SEO reports include not only data but also analysis, and recommendations of the next steps.
10. Communicate your findings to the client
So you've pulled your data and presented it visually in a dashboard. You've also spent some time on analyzing the data and coming up with actionable recommendations. Now, all that's left for you to do is to clearly communicate your findings to your client.
And according to our three experts, there are three effective ways to do this:
By organizing a call or meeting to walk through the report and recommendations together
By sending a written report over to the client
By recording a quick video walkthrough of report
Laura says, "If a report is good enough, a meeting is only necessary when the results discovered don't match the strategy set forth at the beginning of the project. Any trends in the wrong direction should be discussed as a shift in strategy may be needed, or the client may simply need a better understanding of why that is happening."
She continues, "While monthly calls may not always be necessary, quarterly calls definitely are, regardless of progress. In addition to these quarterly calls, we also perform a quarterly strategy review evaluating progress at the macro level."
Pat and his team, on the other hand, send their clients short video recordings with report walkthroughs.
Pat explains, "Ideally we'd hop on a phone call with the client. But some clients are going to have a bit more on their mind. And since we don't want to be a burden, we started recording these quick videos for them which they can watch whenever they have 5 minutes."
In fact, Pat was kind enough to demonstrate his video reporting abilities with this quick recording, which also gives you an idea of what Inter's standard SEO reporting template in Google Data Studio looks like.
11. Turn SEO reporting into a competitive advantage
Finally, instead of thinking of reporting as a necessary evil, think of it as a strategic asset that'll help you not only retain existing customers but also win new ones.
Laura explains, "For us, reporting is more than just a data dump. We want to provide our clients with all the information and ammunition they need to get better results from SEO, regardless of whether we're the ones implementing those changes."
The SureOak team also has a unique parting gift to those clients who do decide to leave eventually.
Laura says, "We always give our leaving customers a free strategy review because we've set certain goals together. And when the collaboration ends, it's only fair that we summarize the things we've done and the results we've achieved. It's not even a selling thing, it's just us trying to do everything in our power to help the client succeed."
Wrapping up
I'm not going to sugarcoat it: SEO reporting is anything but easy.
But broken down to its core, successful SEO reporting comes down to these three things:
Tracking the right KPIs — depending on the services your offering and the client's expectations
Analyzing the results and making recommendations of next steps
Communicating your results and recommendations to the client — including visualizing the data and spelling out the recommended next steps
And with these best practices up your sleeve, you should be well on your way to building better SEO reports.
If you have any questions or additional tips, please let me know on Twitter or LinkedIn.
Happy reporting!
Turn your marketing data into opportunity
We streamline your marketing data so you can focus on the insights.