How to build digital marketing reports in Excel (including 5-minute video tutorials)
More from Excel
Excel is a powerful tool that supports in-depth analysis and reporting for your digital marketing campaigns. You can leverage the built-in functions of Excel to get more insight from your data. Its rich formatting options allow you to create engaging and beautiful reports easily. In addition, what makes Excel a real beast is the capability to handle large data amounts faster and more efficiently than any other spreadsheet tools.
To bring your marketing reporting game to the next level you can use Supermetrics for Excel, a simple and easy to use marketing data pipeline that lets you:
Get all the marketing data you want into Excel without copying and pasting CSV files.
Combine data from different marketing sources to make cross-channel reports.
Automate your entire reporting process.
In this article, I'll show you how to build reports in Excel with data from the most common marketing platforms.
Building Excel marketing reports with Google Analytics data
Marketers love Google Analytics.
Why? Because it's a great web analytics tool which requires minimal effort to set up. You only need to create a Google Analytics account and add a simple tracking code to your site and then you can track where your traffic comes from and what actions people take on your site.
However, using Google Analytics can be problematic for several reasons.
Firstly, you're missing the complete picture of your PPC performance. Even though Google Analytics lets you know which PPC sources your traffic comes from, there is no detailed data on ad spend and ad performance. You can link Google Ads to Google Analytics to get the missing information. But, you can't do the same with a non-Google platform, like Facebook Ads or Twitter Ads.
Secondly, seeing the overview performance of your website is quite inconvenient in Google Analytics. You have to jump between the tabs or do multiple CSV exports to spreadsheets in order to combine all the data you need. This whole process is arduous, inconvenient and time consuming. Additionally, the native connector of Google Analytics may not provide in-depth metrics for your reports.
Thirdly, you will face the sampling issue. Since Google Analytics has to process so much data, in order to return the result faster, it will only analyze a sample of the data collected. As a result, you won't see 100% of the data. This ambiguity may affect the reliability of your data and reports.
However, with Supermetrics for Excel integration, you can avoid all of those problems.
Now, let's explore different ways to build Google Analytics reports in Excel.
Post-click analysis
As a PPC marketer, you often invest a great amount of time figuring out how to target the right audience, and which titles, images or CTA can trigger people to click on your ads. The truth is, what happens on your site after the ad click determines an ending to your conversion story.
With post-click analysis, you can:
Gain an overview of user conversion paths.
Identify difficulties users may have on your site.
Compare traffic and conversions generated from different PPC campaigns.
Such information helps you understand user behavior, improve website performance and see how your PPC campaigns drive traffic.
For instance, if your landing page has a high bounce rate, it may indicate that its content is not relevant to your users and you should dig further to find out which information you could include.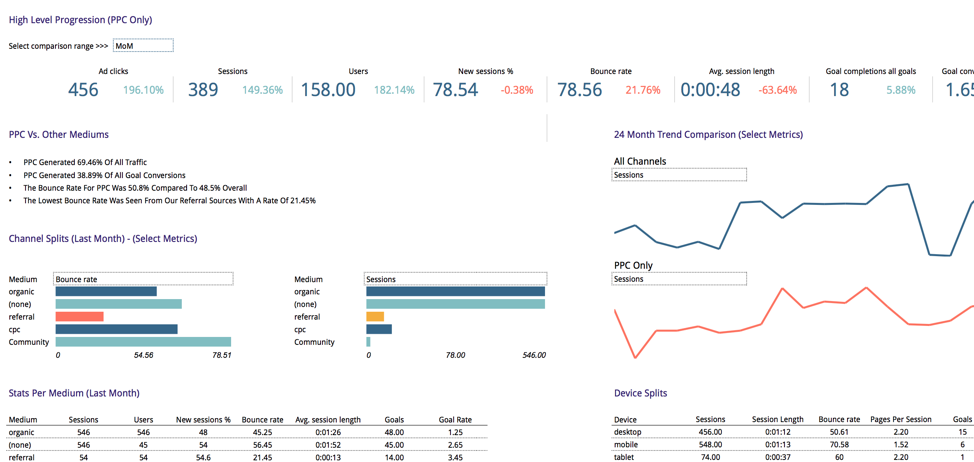 Traffic reporting
Traffic equals opportunities.
The more visitors you have to your site, the more opportunities you have to add them as new customers. Analyzing the traffic helps you identify:
How visitors behave on your site
What are your top traffic sources
Which content performs well
The duration visitors spend on certain pages
With such knowledge, you have a better picture of who your target customers are, what they are interested in, what challenges they are trying to solve and whether they find what they need after visiting your site.
A comprehensive traffic report allows marketers to compare the performance of different traffic sources and identify the mediums which need more investment. You should pay attention to key metrics such as bounce rate, average session length, transactions to optimize your website performance.
Cohort analysis
A Cohort Analysis is a powerful tool to analyze user behavior in-depth. A cohort is a set of users who share similar characteristics or behaviors. In Google Analytics, a cohort is grouped based on acquisition date, i.e. when users started the first session.
Since cohort analysis studies the user behavior users over time, it provides a more comprehensive picture of your user journey. This information not only helps you evaluate the performance of your past campaigns, but also fuels your future campaigns.
For instance, your campaign offered a sweet deal to urge new trials. What may interest you is whether people acquired from your campaign come back to your website and make purchases. You can also compare different groups of cohort to decide whether it's a good idea to periodically repeat this kind of campaign. You can measure different metrics such as user retention rates, goal completions or sessions duration, etc.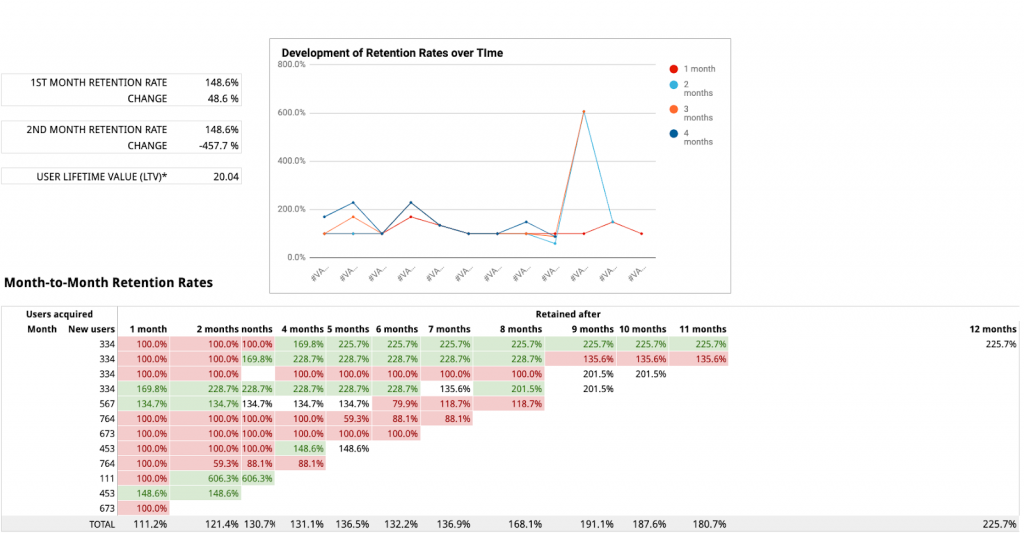 These reports can be created in no time once you have your Google Analytics data ready in Excel. Here is a step by step guide on how to do it:
Building reports with Instagram data
Photos and videos tell better stories. Or more specifically, Instagram tells better stories. It's by far one of the most engaging and interactive platforms with 58x more engagement per follower than Facebook. Instagram continuously introduces new features that benefit marketers and help them create the highest level of brand engagement and visibility.
If you're on Instagram, good. But it doesn't guarantee you have more advantages than the fellow who is not yet on Instagram. Unless you do it right. Monitoring your Instagram data makes sure your Instagram strategy is not a hit-and-miss and helps you understand how the platform is contributing to your overall marketing ROI improvement.
Though there is no one-size-fits-all Instagram report, it's important to pay really good attention to some certain type of analytics.
Content analytics
Since Instagram allows marketers to deliver content in different formats, keeping track of what is and isn't working is essential for building an engaging content strategy.
Content analytics lets you know what type of post your audience is more likely to engage with, whether it's a carousel or video. Furthermore, the number of unique saves hints which content resonates with your audience the most. This understanding allows you to improve your content performance.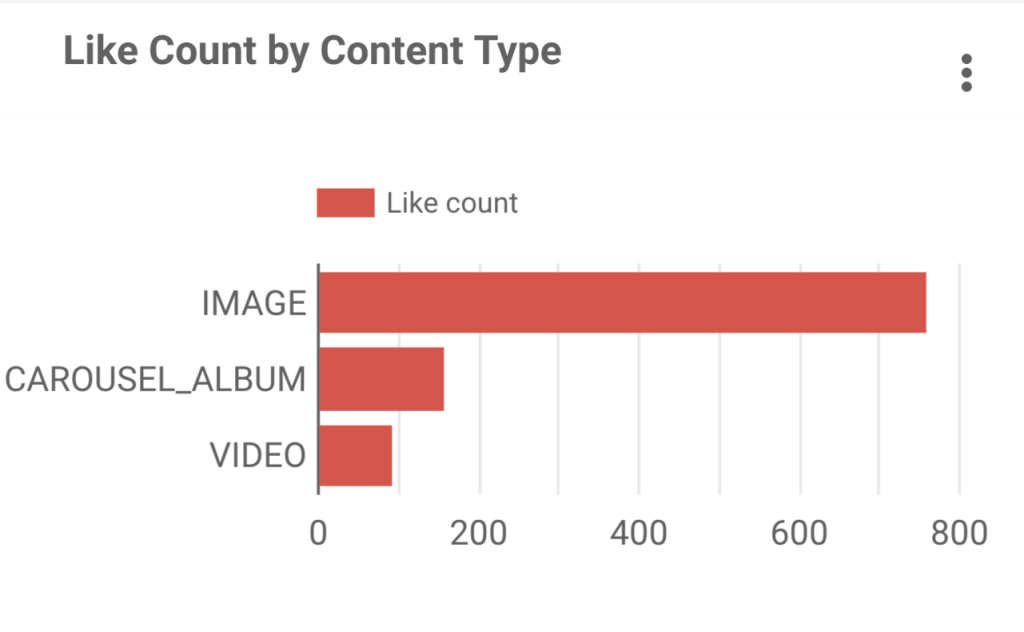 Profile analytics
Your profile is obviously your landing page in the Instagram world, but bear in mind you have a shorter amount of time and words to impress and turn a visitor into a follower. In that case, your description, brand hashtag and call-to-action, altogether, need to create the "love at first sight" moment.
Observing what actions have frequently taken place on your profile helps you develop a roadmap to better approach your audience. Do they click on the link in your bio? You may want to change your CTA to get better results. Do you get lots of calls or emails? Then, it would be good to have someone handling all of these requests.
If you have an impressive number of profile visitors but a small number of followers, you may want to re-polish your profile: does your bio inform people about your core business? Does it reflect your business personality? Is your feed photogenic and appealing enough?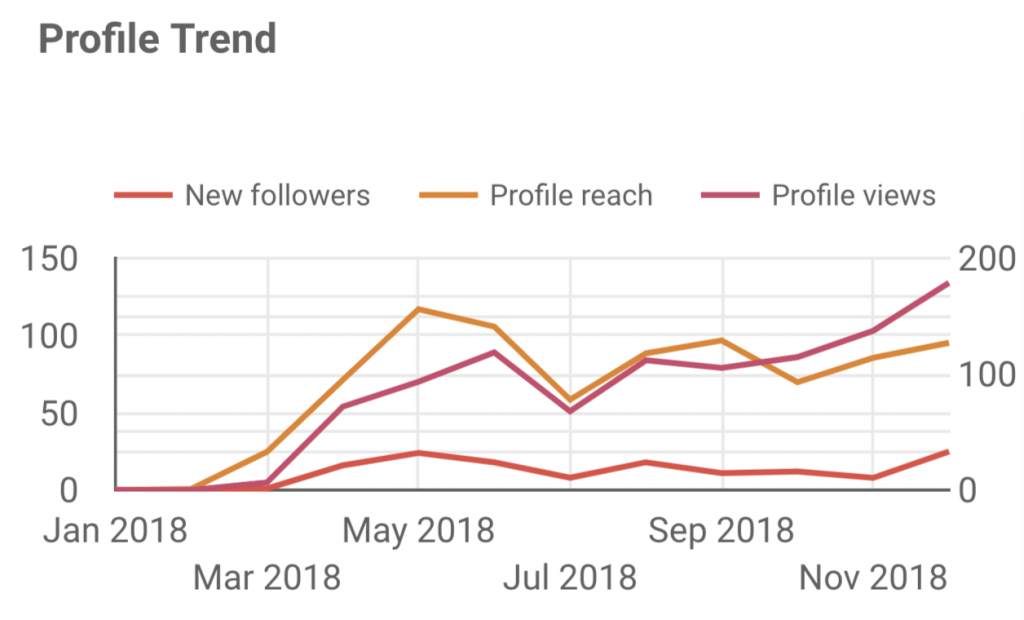 In addition to all of that, by monitoring brand hashtags, you have a better idea how well your Instagram account is doing and what your audience is talking about. Monitoring trends with hashtags also helps you identify potential topics for your content.
Audience demographic data
Understanding your audience is always the first and foremost step in any marketing strategy. You can easily get this insight from Instagram and leverage it in whichever way that benefits your business.
For example, knowing where most of your followers come from allows you to schedule posts better, based on their time zone. Integrating some of the most discussed topics in their niches also creates more engagement. However, keep in mind that the content should also be relevant to your business.
Information such as age and gender also helps you be more accurate in targeting your audience: does your content hit the right audience? Besides, checking when is your followers are the most active is extremely important when it comes to delivering your content at the right time.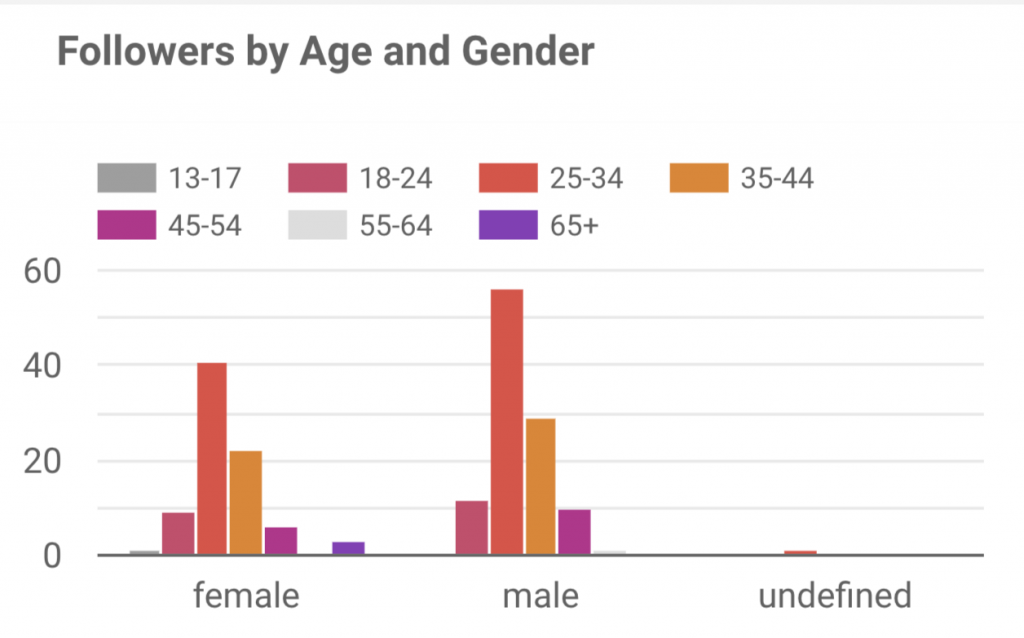 Stories reporting
Instagram Stories is a feature that allows users to post content such as images and video in slideshow format. Stories will be available within 24 hours on user's feed. However, you can make your Stories last longer by saving it as highlights.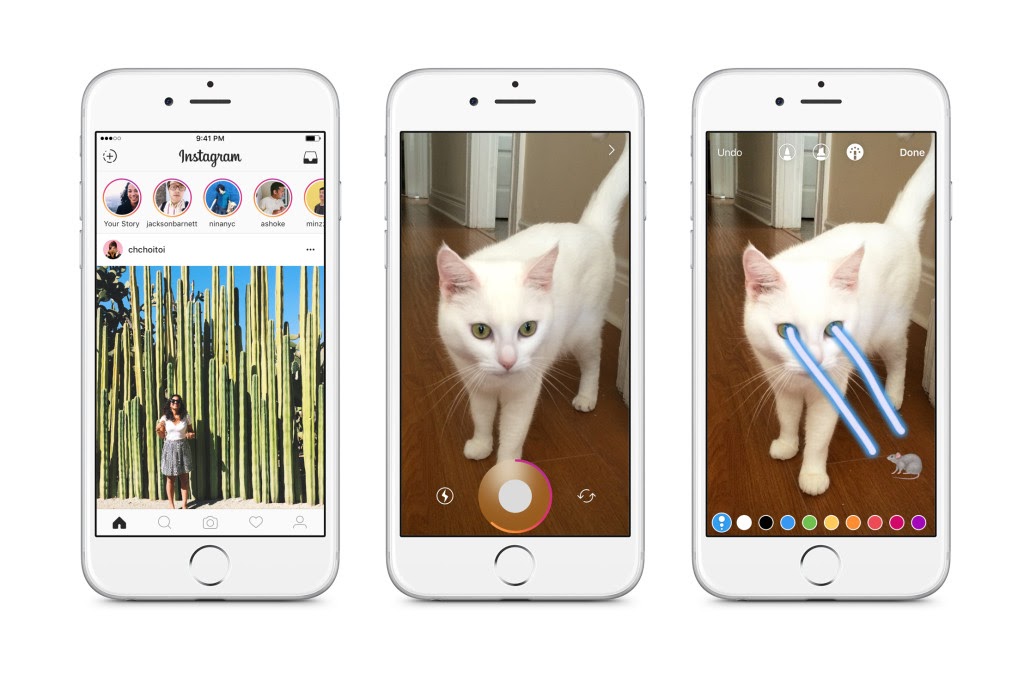 Stories is the most interactive type of content on Instagram. Grouping Stories/highlights by themes makes your profile more appealing and aesthetic.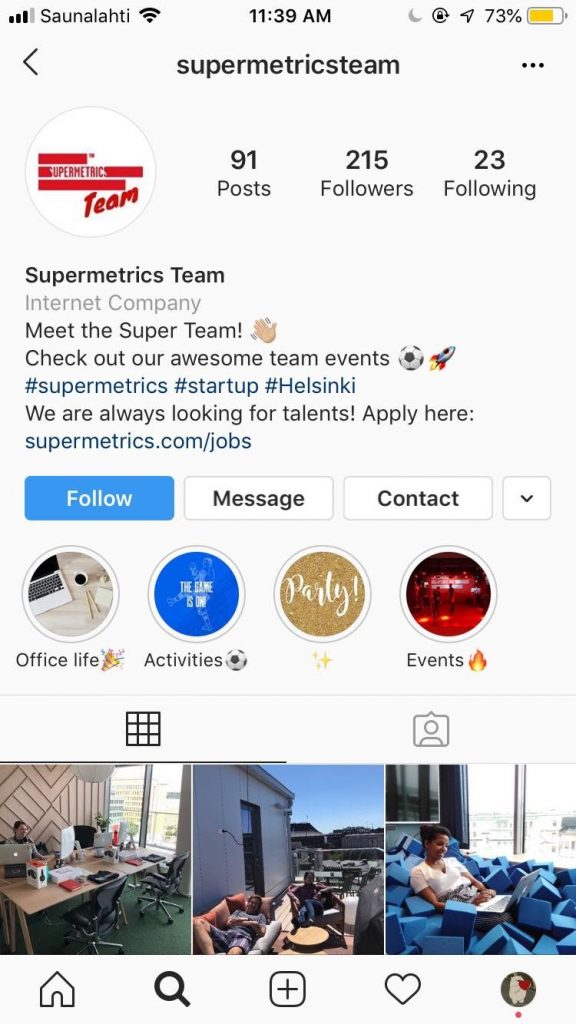 However, this ocean of creativity may either drown your Instagram boat or move it forward. Only by monitoring the key stats of your Stories' performance you know which creative content works best.
For example, an audience who finds the content you share helpful and interesting is likely to tap back to your Stories a lot, or even share it. In this case, you may want to deliver more content on this topic to make sure your audience gets what is meaningful to them. Or perhaps, your boomerang is so entertaining to watch you may want to invest in this format more
You can effectively report this data with Supermetrics' Instagram Insight connector. Besides Stories performance metrics, you can also create reports with more in-depth data such as demographics and audience engagement over time.
Once you have all your Instagram data fetched in Excel, you have more time to analyze and visualize your data. Check out our tutorial on how to get Instagram Insights data to Excel in a few clicks:
Building reports with Google Ads data
Fish where the fish live is a golden rule for any PPC campaign.
When people have a question, they turn to Google first. It's fair to say, Google is the platform where you can find most of your fish.
If you want to get in front of customers when they search for products or services similar to yours, you should invest into running your Google Ads campaigns effectively
Monitoring your Google Ads data allows you to act promptly to sudden changes and keep track of your PPC performance.
Here are some use cases on how you can build reports with Google Ads data:
High-level monthly PPC report
Whether you are an agency or an in-house marketer, your clients and managers want to see actionable and readable PPC reports, not just a bunch of numbers. This is where a high-level monthly PPC report comes in handy. It provides a complete overview, allows you to evaluate your PPC efforts more comprehensively and uncover sudden changes in your campaign performance.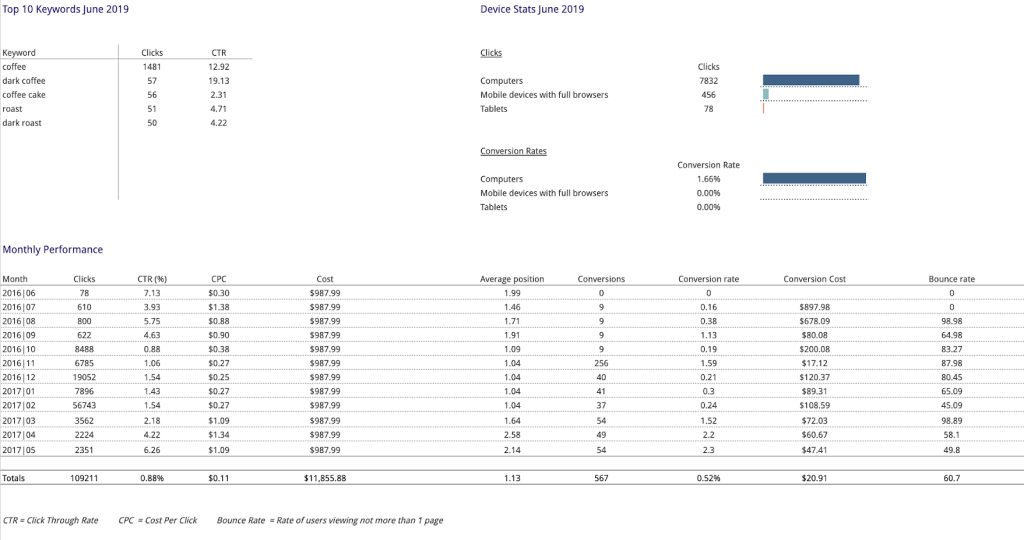 You can create a monthly performance table which includes key PPC metrics such as CTR, CPC, conversion rate, and bounce rate. It's always a good idea to compare historical performance to keep track of changes. With this month-over-month tracking, you can easily see how your PPC has evolved over time and evaluate whether your effort to improve PPC performance did its job.
You also get an insight into the top-performing keywords that stimulate clicks. This information can also be used to improve your content strategy.
For agencies: client budget tracker and alert
As an agency, you run multiple PPC campaigns for different clients, and your job is to deliver high ROI PPC campaigns within a budget. Imagine it's the end of the campaign and you're underspending. Your client may doubt whether you have maximized the PPC capacity. On the other hand, the overspending can also make your heart skip a beat.
The only way to avoid those unwanted scenarios is to set up a client budget tracker and alert. You want to start your campaign knowing that you're in control of everything, especially the budget.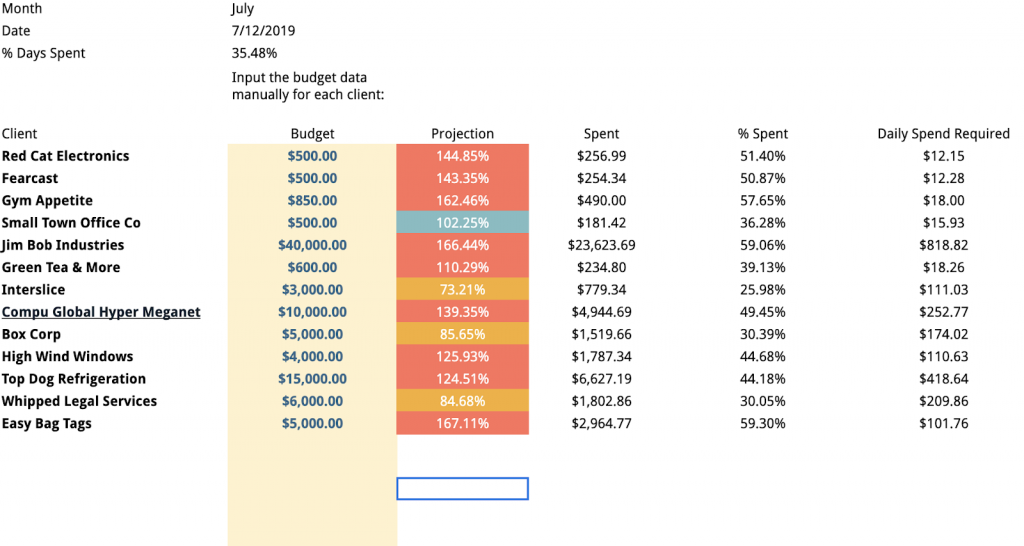 A budget tracker and alert helps you keep up with the budget, projections and the actual spend. Since it's easy to set up an automatic refresh with the Supermetrics trigger, you can effortlessly observe how much you spent and adjust efficiently for the rest of the campaign.
These reports can be done easily with the help of Supermetrics integrations and Excel. Check out our tutorial on "How to pull Google Ads data to Excel" and start optimizing your marketing reporting.
Building reports with Facebook Ads data
2.38 billion people are active on Facebook.
While the massive number of users on this social network sounds super appealing to marketers, its matured ads platform is what makes it truly a gold-mine.
Facebook offers different types of ad formats which allow marketers to create customizable and engaging ads. Depending on your campaign objectives, you can choose the suitable format for your ads: image, photo, slideshow, carousel or collection ads.
You can also use Facebook to reconnect with users who have interacted with you before. Custom Audience Targeting feature allows you to optimize your remarketing campaigns and generate more conversions.
Facebook Ads indeed opens up a world of opportunities for marketers. However, mastering the use of Facebook Ads' fabulous features alone is not enough to nail your PPC campaigns. You need to efficiently monitor and measure your ad performance.
Supermetrics for Excel allows you to get all Facebook Ads data you need and leverage the powerful functions of Excel to create beautiful reports.
Let's see what types of reports you can create with Facebook Ads data.
Facebook Ads overview
Facebook Ads overview report is a pretty solid starting point to monitor how your ads are performing. This type of report gives you a holistic view into your campaign performance. Depending on your campaign objective, you would want to select the metrics that matter.
For instance, you're running a campaign which emphasizes brand awareness. You may want to include related metrics such as ad frequency, CPM and CTR. If your campaign has a high CPM and a low CTR, you may assume that audiences find your ads irrelevant. In that case, you can try to narrow down the audience, improve ad messaging or increase your ad relevance score. In other cases, if you have a high ad frequency and a low CTR, you may want to change your ad image or targeted audience to avoid ad fatigue.
You can also see what are the top performing ads, discover the highest ROAS campaign that you may want to scale and detect low ad performance that needs further investigation.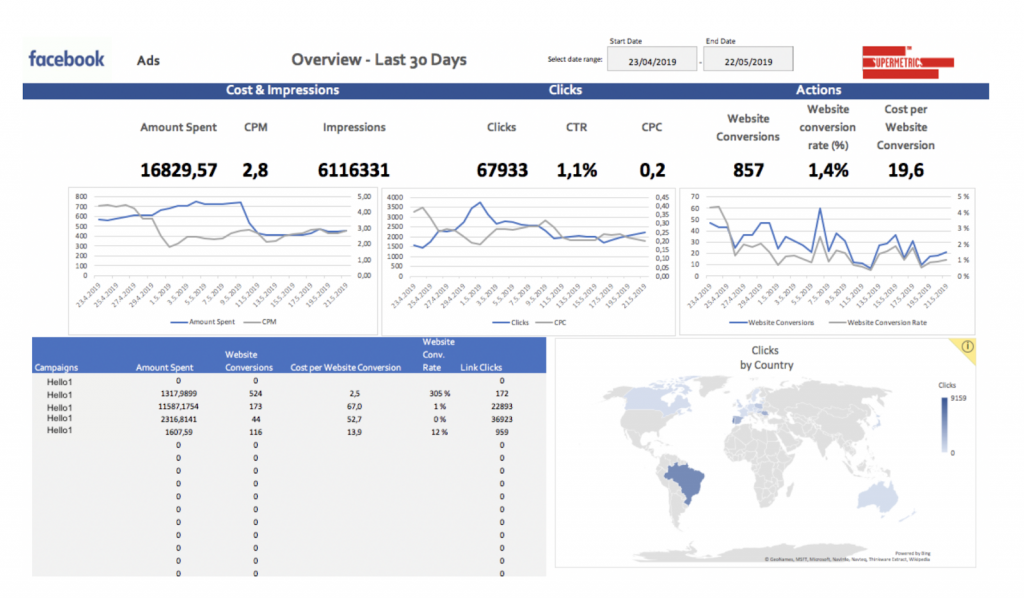 Google Ads vs Facebook Ads comparison
If Facebook is the king of social networks then Google is the king of search engines. Google Ads and Facebook Ads are two gorillas in the PPC world. There is no "either – or" rule when it comes to deciding on which platform you want to run ads. Marketers are free to use both.
Is Facebook better for a high-level targeting? Does Google drive more traffic to your website? From which platform people tend to convert faster? All of these questions can be easily answered by Google Ads vs Facebook Ads comparison report.
Using Supermetrics for Excel, you can easily pull data from Facebook Ads and Google Ads into the spreadsheet and visualize it in whichever way you want.
Since you've got data from both platforms in a matter of a few clicks, it shouldn't be a problem to compare how well they are doing in general. You don't need to jump from one platform to another to look for the metrics you want, therefore, you have more time to analyze data.
Check out how to pull Facebook Ads data to Excel:
Building reports with Facebook Insights data
Your page is your presence on Facebook. Just like with a physical store, you want to create an exceptional experience that can engage and make people want to come back. You can take care of your page and improve its performance by spending a bit of time looking at some of the key performance metrics.
Facebook Insights is designed to help you keep track of user behavior on your business page and evaluate your content strategy performance.
Digging deeper into the data can help you develop your content strategy, boost engagement and cultivate a loyal customer base.
Especially, with the support from Supermetrics Facebook Insights integration, you can:
Go beyond the native Facebook Insights reporting UI and get more meaningful data.
Get your Facebook Insight data into Excel and split metrics by various dimensions to look at your data from different angles.
Combine data from Facebook Insights with other platforms to evaluate your content performance across all channels.
Wondering where to start? Here are our suggestions
Facebook Page overview
Let's start painting the big picture with Facebook Page overview report.
This actionable report reveals the most important metrics about your Facebook Page and allows you to see significant changes in your page performance over a certain period of time. I suggest you include the following metrics in your overview report:
New likes/Net likes growth rate: page likes is a good metric to indicate the growth of your Facebook page follower base. Your content strategy should get the audience to like your page and become a part of your Facebook community.
Impressions/Reach: you should also be aware of which form of reach performed better. Is it organic or paid?
Engagement rate: getting more likes means you're growing but having a high engagement rate means you're growing in a sustainable way.
Top posts: it's important to understand what content interests your audience the most and what type of engagement they had with your content.
With these key metrics, it should be easy to evaluate whether your strategy to increase likes or enhance engagement on Facebook is a hit or miss.
Facebook Page content analysis
What you're posting on your Facebook Page affects how people view your brand and whether they want to become your followers.
Content Analysis reveals how the content on your Facebook page affects your audience. This knowledge, in turn, helps you analyze the performance of your Facebook marketing strategy.
Content Analysis should answer these questions:
What is the most engaging content type? Is it a long-post, link, photo or video?
What is the typical engagement type? Is it a like, click, share or comment?
What is the typical reaction? While likes and dislikes directly reflect how your audience thinks about your content, reactions, such as "angry" and "haha" allow the audience to express more emotions and feelings.
You can also split the metrics by country or time for more in-depth insight that can be used to fuel your content strategy or optimize your posting time.
Facebook Page audience analysis
Facebook Audience Insights provides data about your target audience which you can leverage to improve content and PPC performance. Building Audience Analysis helps you understand your audience better and easily find people who are similar to your target.
So, what insights Audience Analysis can provide marketers?
Demographics overview: insights about age and gender, job titles, educational level, and relationship status.
Interests and hobbies: insights about pages and topics people are talking about.
Location: where your audience comes from.
You can utilize this valuable knowledge to create content that is not only relevant and meaningful to your audience, but also attracts new followers.
Here's our step-by-step guide on how to get Facebook Insights data to Excel:
Combining data from multiple data sources: paid channel mix
What makes Supermetrics a true life safer for marketers is its capability to bring data from different marketing platforms under one roof.
Without jumping from one platform to another and doing manual copy-paste, all marketing data can be combined together in Excel in a few clicks. You can level up your marketing reporting game using the powerful functionality, formulas and advanced charting options of Excel. Paid Channel Mix report is a good example of what you can do with the data from multiple data sources.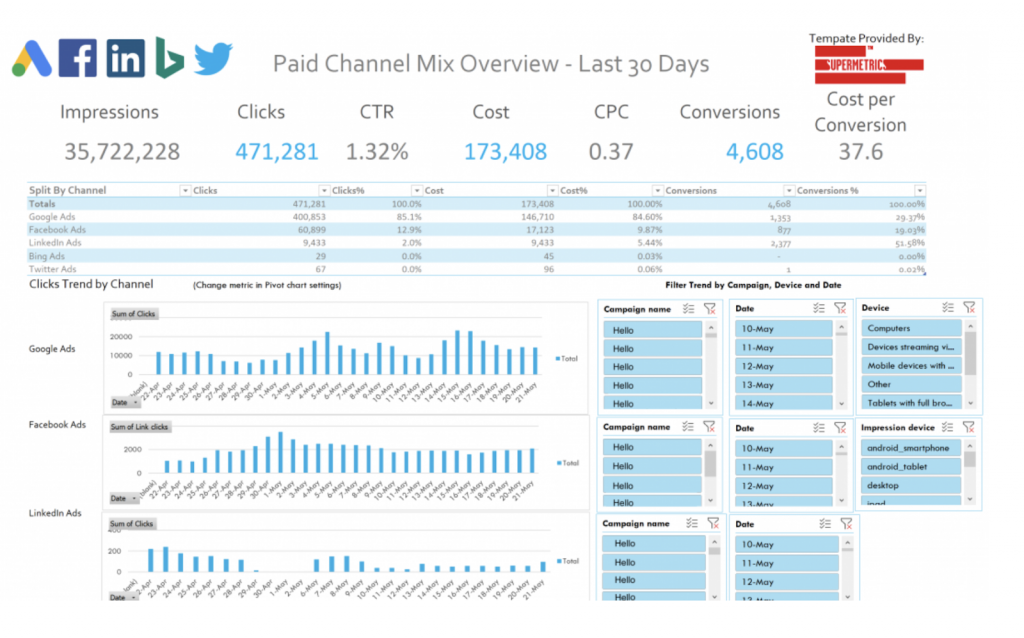 In this example, we combined ads data from Google, Facebook, LinkedIn, Bing and Twitter. You can see the total impressions, clicks, CTR, cost, CPC, conversions and cost per conversion for the last 30 days across all channels. It's a good way to compare your total ad spending and measure your campaign performances on every channel.
Automating your report
Supermetrics for Excel helps you automate the entire reporting process effortlessly. After creating your report, you can easily schedule refresh and emailing.
This feature allows you to keep your data up-to-date. You can also send the report to your managers and clients.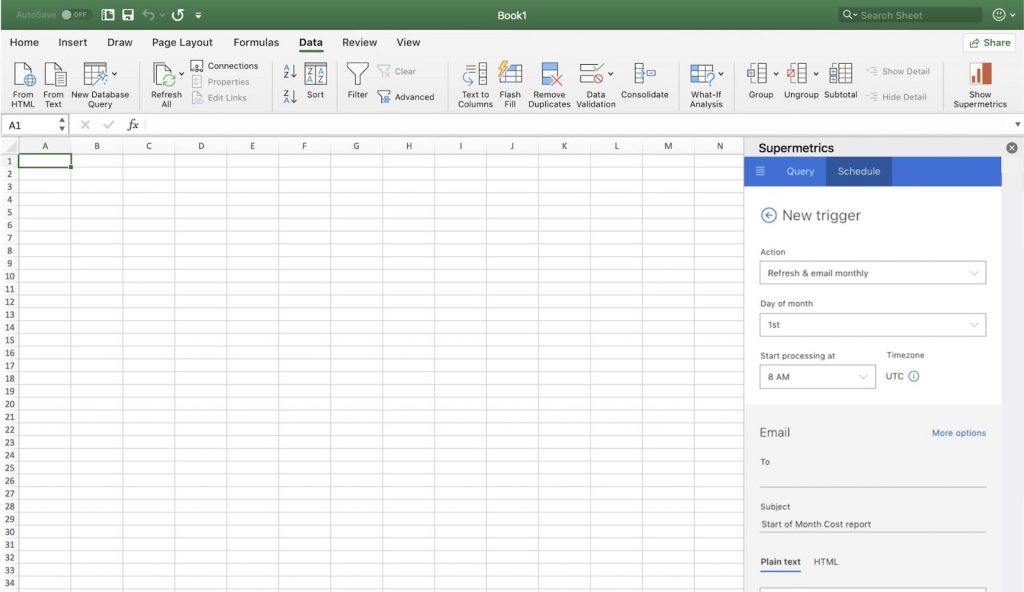 Start your marketing reporting with Supermetrics for Excel
In this article, we discussed how to build marketing reports in Excel with data from:
Google Analytics
Instagram
Google Ads
Facebook Ads
Facebook Insights
Multiple paid ad platforms
The Supermetrics add-in has turned Excel into a powerful reporting weapon. From combining data from different marketing sources and creating visually attractive reports to automating the entire reporting process, you can step up your reporting game with Supermetrics for Excel.
Start your free 14-day of Supermetrics for Excel today.
Turn your marketing data into opportunity
We streamline your marketing data so you can focus on the insights.