Stride-up: Learn how this marketing agency is optimizing spending through a data-driven approach
Key takeaways
Stride-up is a marketing agency specialized in paid acquisition working with around 130 brands out of which 75-80% are ecommerce.

They used to manually pull all the data from different platforms to Google sheets and then create reports in Looker studio (formerly Data Studio).

The agency quickly came to the realization that their clients' true needs extended beyond platform KPIs to encompass macro business KPIs.

With all the data centralized using Supemertrics, Stride-up created a data-driven approach called 'Global Vision' with a focus on KPIs that matter more to the clients.

After this integration, it enabled them to make informed decisions about which products to promote and which ads to run.
Quick facts
Industry: Marketing Agency
Founded: 2019
Size: 60 employees
Markets: France
Products: Supermetrics for Google Sheets, Supermetrics for Looker Studio
Stride-up is a three-year-old marketing agency based in Paris, France specializing in paid acquisition. With a team of 60 people, they manage Meta ads, Google Ads, and all paid media platforms.
Their main objective is to help their clients grow. They focus on driving qualified traffic that will convert to their client's websites. They're highly data-driven and use Supermetrics to merge data. They work with 130 brands and around 100 for their paid media services. Stride-up strongly focuses on ecommerce and around 75-80% of their clients belong to this industry.
Sophian Petitprez, the CEO and co-founder of Stride-up, has seven years of experience in acquisition, specifically in the ecommerce and SaaS application industries. Boris Valenzuela, Head of Data at Stride-up, joined the company almost two years ago and doubled up as an Account Manager. The agency's goal is to increase revenue for e-commerce and generate leads for SaaS businesses.
Stride-up's journey began with paid acquisition, a field in which the co-founders already had experience. But, they have since expanded their services to include a creative studio, SEO, TikTok, email, and data and tracking.
Identifying the real KPIs
Supermetrics has helped Stride-up to expand their focus beyond conventional KPIs into what truly matters to their clients. According to Sophian, "Many agencies tend to focus primarily on the KPIs of advertising platforms such as Facebook and Google. These KPIs include metrics such as cost-per-click (CPC) and conversion rates, which are undoubtedly important and are often tracked daily." He also points out that relying exclusively on Google Analytics for Macro KPIs is also no longer sufficient, and due to legal changes, the accuracy of Analytics has decreased over time.
Sophian recognised that, "It's essential to understand what truly matters to a startup's founder and marketing manager. For them, the most significant figures are the website's overall revenue, the number of new clients acquired, the lifetime value of clients, and the percentage of new vs. returning clients. These metrics hold greater value as they contribute towards revenue growth, which is the ultimate goal for these stakeholders. That's why it's crucial for agencies to keep these metrics in mind while working towards achieving the desired outcomes, and not just focus on reducing CPCs."
Access to this data is crucial for Stride-up to give value to its clients. Leveraging Supermetrics' capabilities to extract and analyze data from various sources helped them understand their clients' businesses on a deeper level to make more informed decisions. This also enabled Stride-up to take a different approach, using both Ad Platform KPIs and also the KPIs that matter to the clients and deliver exceptional value and insights to their clients. This unique approach has helped Stride-up to scale.
Sophian explains, "We extract the data from Shopify and other platforms using Supermetrics. This gives us the most precise data to make good decisions and to work like a profit and loss vision like a financial team; our clients know that we're doing well and that we're not making a bad decision."
Improving the agency's efficiency
The Stride-up team had two main goals: first, to save time on manual work and use it on the clients, and second, to standardize reporting templates to maintain consistency throughout all their clients.
Invest more time in clients
The first and most important thing for Stride-up as an agency is to sell time. Sophian says, "We sell time." Their vision is to have each account manager handle an average of four clients, as they have calculated this to be the limit for optimal performance. By limiting the number of clients each manager works with, Stride-up ensures that each account receives the attention it deserves.
He states, "Basically, big brands have traffic managers and every morning they go to Google and Facebook and you make an export. It takes 20 to 30 minutes just for this and I think Supermetrics is incredible to automate this task. It's a master app for a company in my opinion."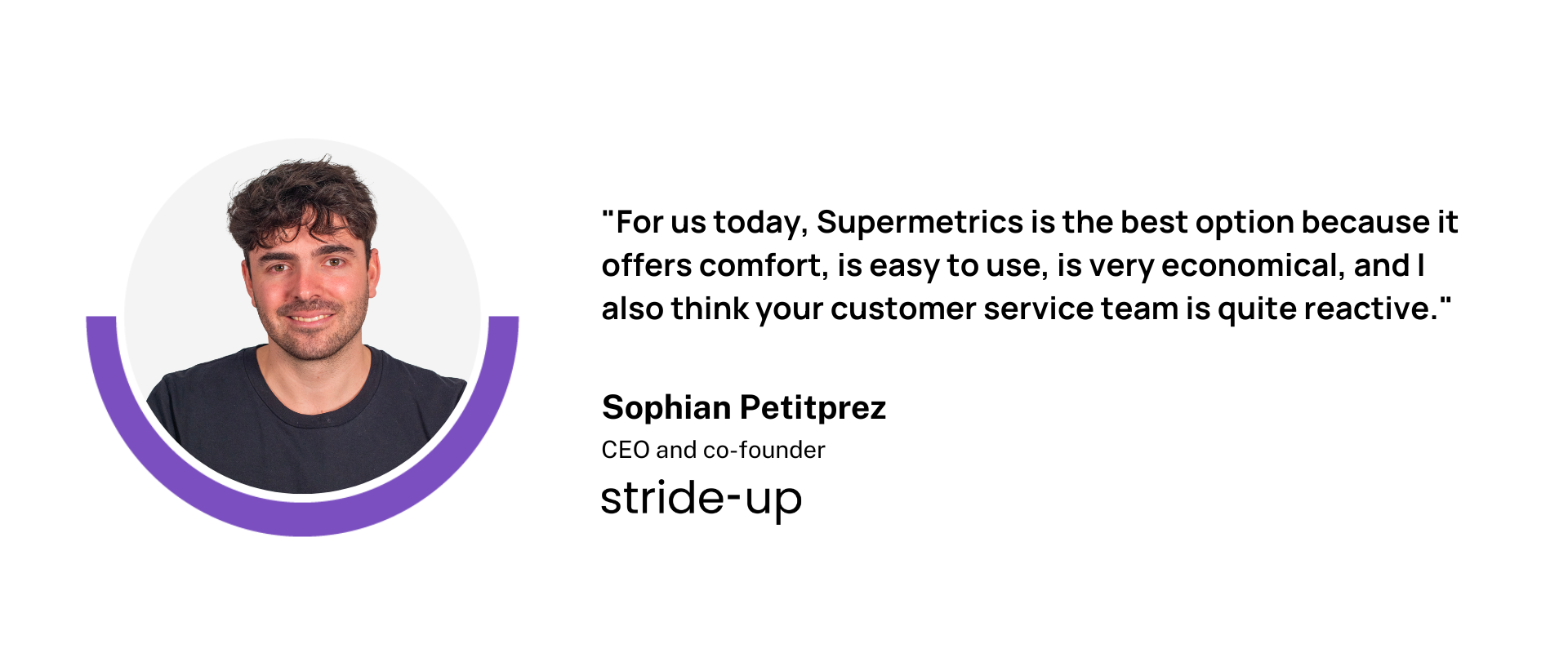 "We don't want to extract data manually because this task has no value for development and the clients," Sophian says. By saving time, they can offer more valuable services to their clients, which is the ultimate goal.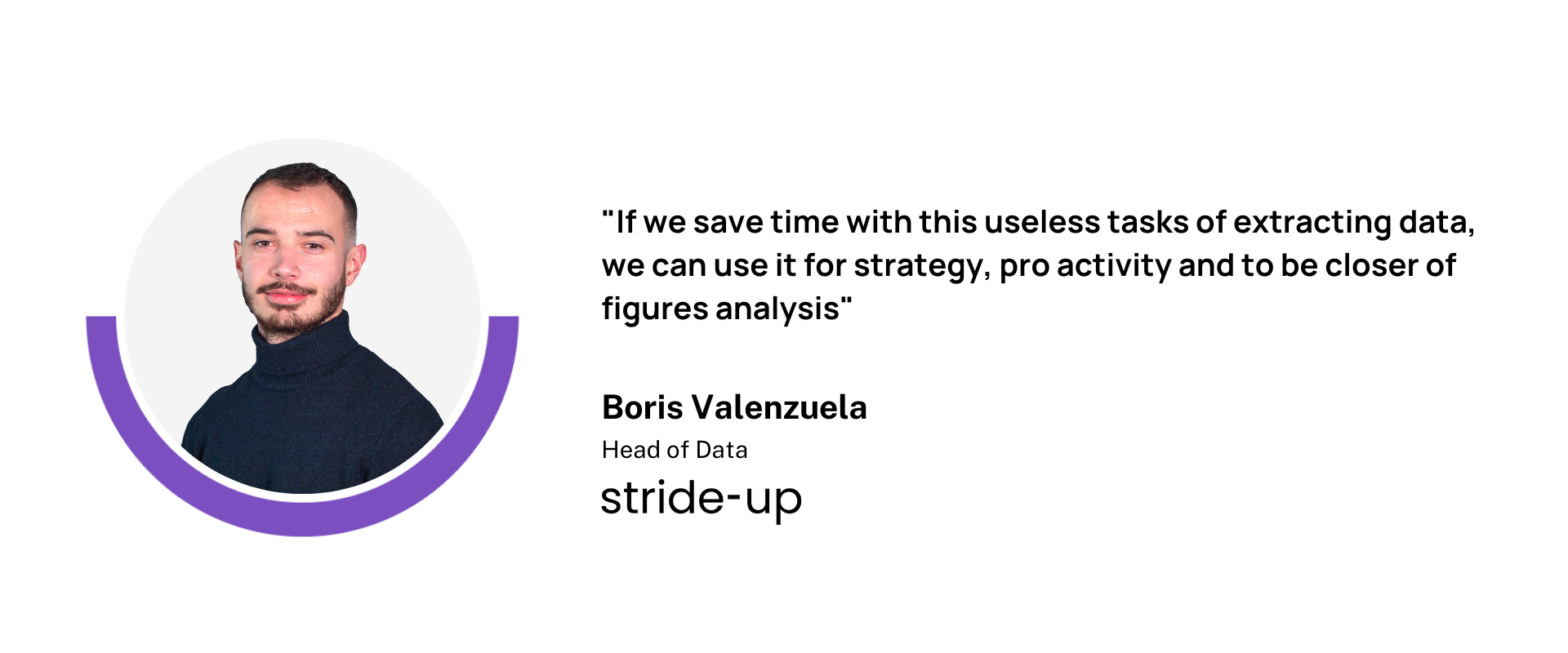 Standardized reporting templates
The second most important goal for Stride-up is to standardize all of its dashboards. Instead of spending at least 1 day of work on creating a dashboard of 50 Slides, Stride-up has created templates for all their data sources. "There is a lot of time in research and development, but now the return on investment is huge for us," Sophian says. "We have a lot of time saved," he adds.
Standardized templates are another way Stride-up saves time and ensures consistency across their teams. "Everybody at Stride-up uses the same report and the same KPI with the same color, same column orders and with the same refresh," Sophian mentions. Using standardized templates, Stride-up can easily transfer knowledge between team members, quickly adapt to new accounts, and easily duplicate reporting for multiple clients, saving even more time.
Internal dashboards
Stride-up uses a dashboard that serves two purposes. The first is to pilot campaigns internally. The dashboard allows them to look at the reporting two or three times a day and analyze the figures of the global revenue of the Shopify store.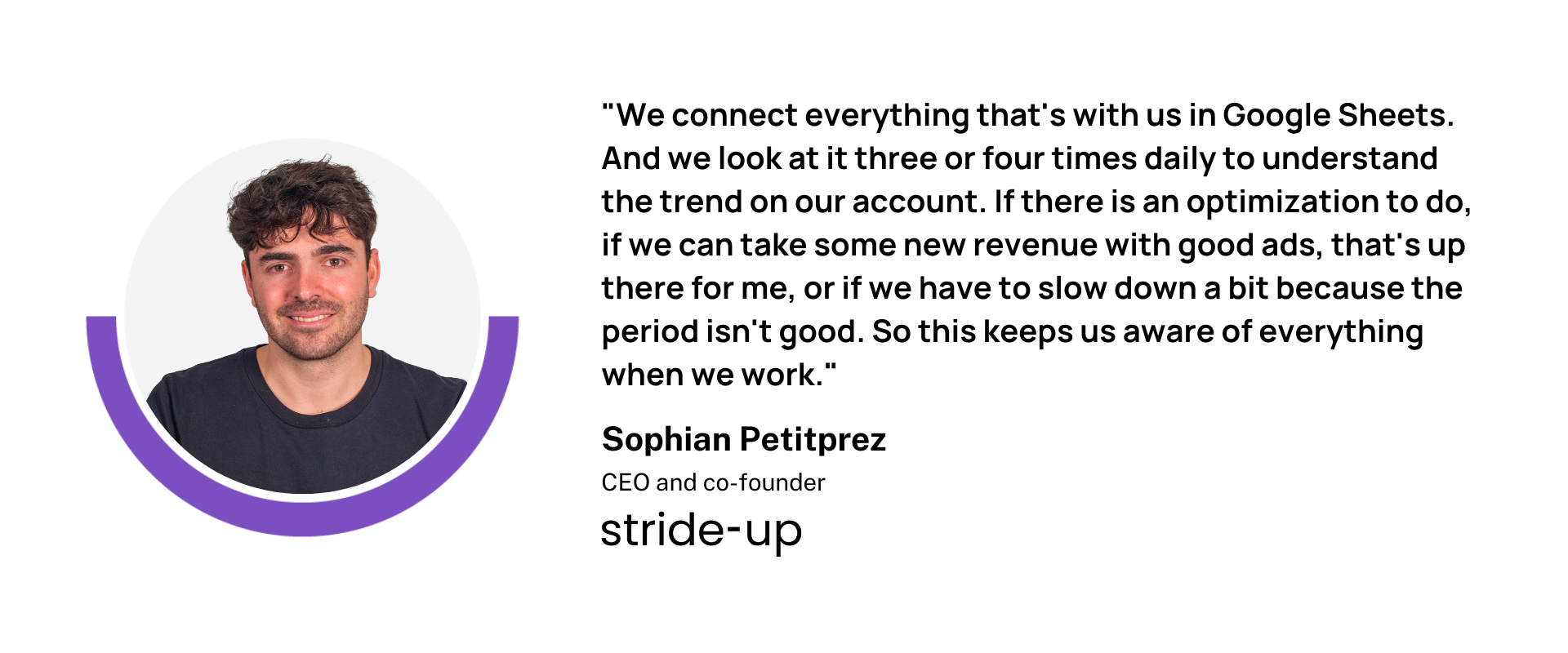 External dashboards
The second purpose of the dashboard is to share it with their clients allowing them to pilot their campaigns. Stride-up's clients appreciate the dashboard. Sophian states, "most of them, they like it, and they say, 'Oh, this is exactly the dashboard I needed. Thank you.'"
A dashboard is an essential tool for Stride-up's clients, giving them a complete cycle of their money in and out. It helps them understand their revenue, cost of production, margin, and profit, enabling them to make informed decisions about which products to promote and which ads to run.
Achieving a "Global Vision"
Global Vision is a data-driven approach Stride-up uses to analyze the performance of a business, with a focus on KPIs such as sales, return rates, average basket size, and seasonality.
The first step in their process is extracting data from the back office, which provides unsampled data in real-time. This allows for a return on investment to be matched with all spending. Sophian explained, "You have a pure vision in real-time, and we can match it with all spend to have a return on investment."
Their approach involves analyzing KPIs such as the average basket, return rate, and sales figures. By examining returning clients vs. new clients, they can better understand the cost of acquisition and retention. "This is one of the best KPIs brands have to use, and many brands don't," Sophian says.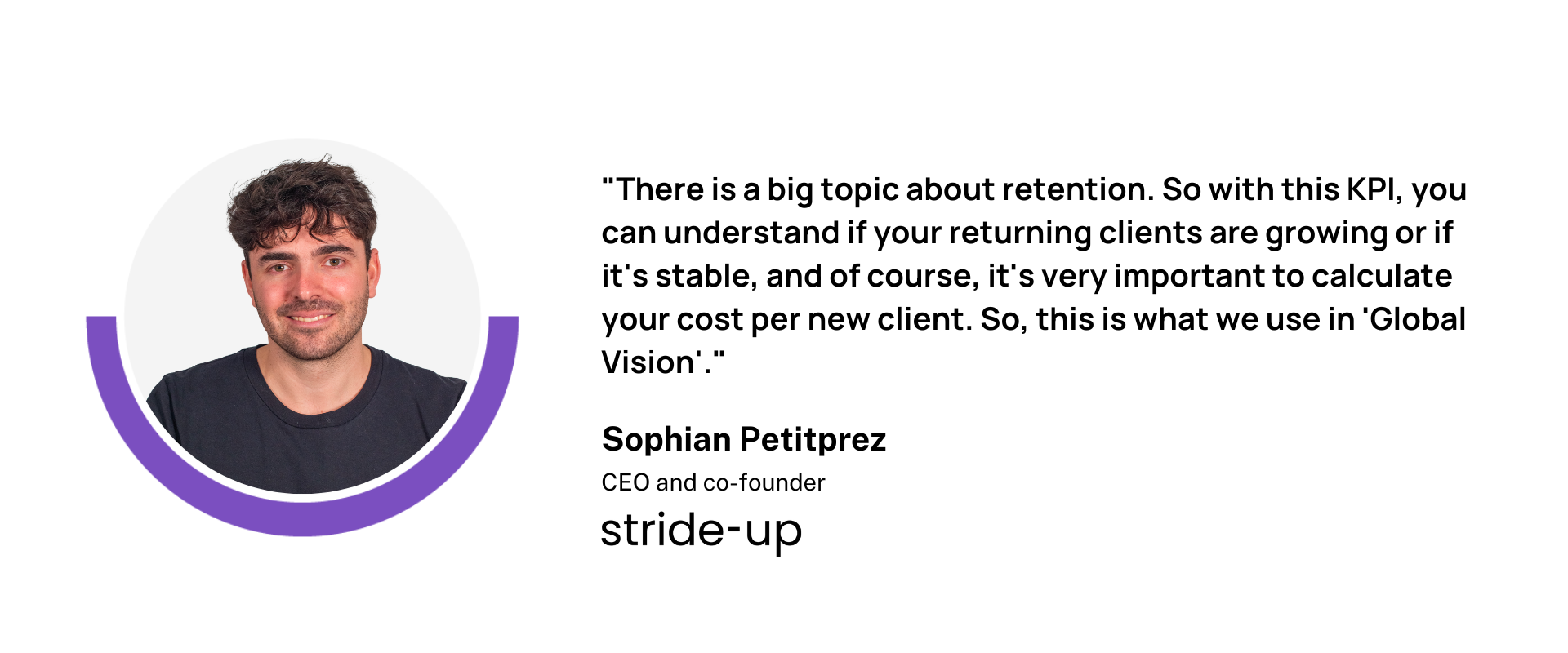 Sophian says, "We analyze KPIs for each product category, comparing their performance over time to identify the most successful products. This analysis includes factors such as which products are most profitable, based on their cost of goods sold (COGS), and their potential margin."
At Stride-up, they also take seasonality into account. They determine the most effective time to sell each product. This data-driven approach allows practical decisions to be made for clients, such as reducing advertising for products that are not performing well during specific periods.
By analyzing this data globally, companies can gain insights into which products perform well, which categories are most profitable, and which marketing strategies drive the most return. This approach can help companies make more informed decisions about allocating resources and optimizing their operations.
The impact
When running a successful agency, one of the key factors is understanding the value perceived by clients. As an agency, they have always been able to see this impact, even if they can't see the before and after. Although they're not the most expensive option, they fall within the high price range, a crucial factor in the first contact with potential clients. As they explain to clients, this exchange helps them understand that they're experts in their field.
Boris states, "When making the first call with potential clients, we showcase an example of the data we use and the direction is always towards understanding their business and providing them with a strategic approach." During initial discussions with clients, this helps them understand Stride-up's expertise in the field.
They don't just offer execution services like launching ads; they offer a more comprehensive approach. Sophian explains, "Understanding our clients' businesses takes a lot of time and experience." Using data and tools, they can quickly show clients the value they can bring.
The agency prioritizes research and development, even though it takes time to template everything. When the agency started, the founders had to save time, make tests, and learn to develop their methods. Today, the team is organized with a group of three data experts led by Boris, who has fewer clients to manage to focus on processing data and creating templates for everyone. Boris states, "We keep research and development as our top priority."
Future scope
In the future, they plan to take the next step. Sophian says, "We want to go to the next level with a BigQuery or data warehouse to extract data faster and get more time to talk."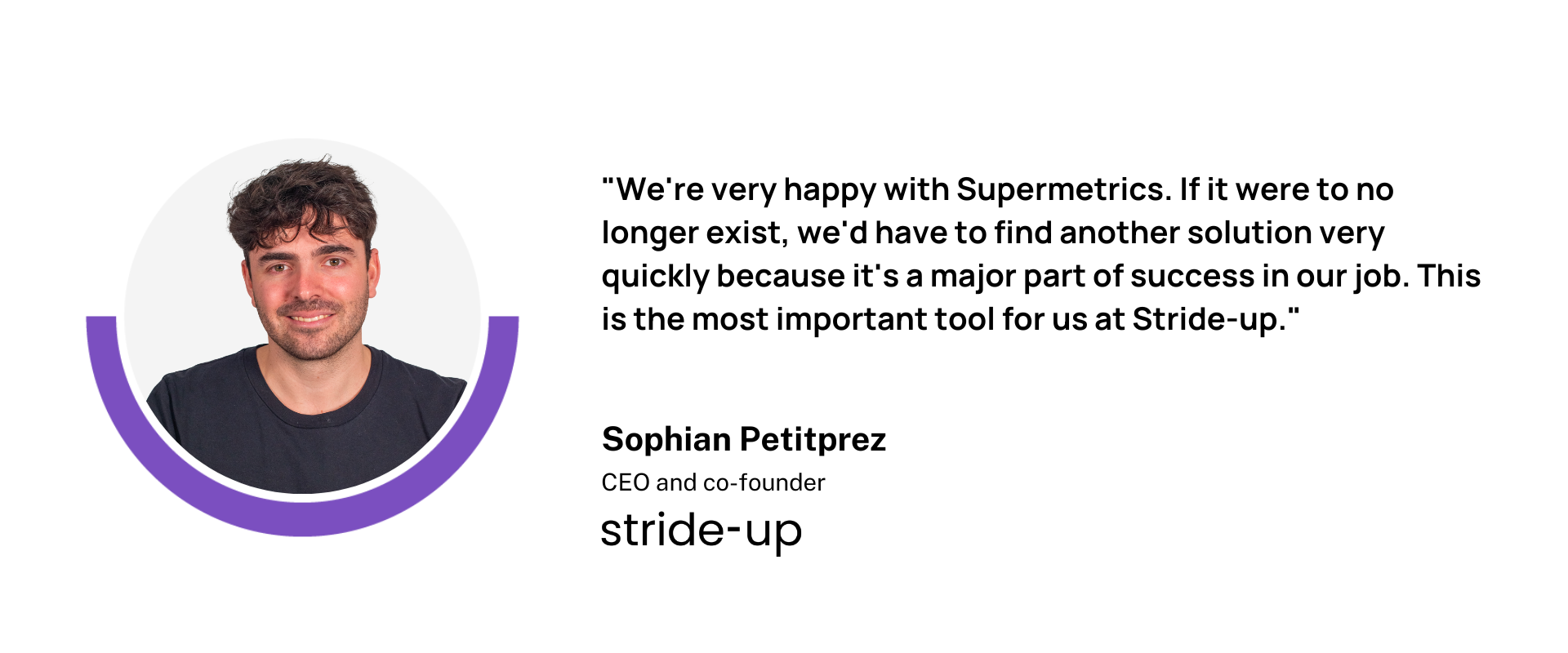 "Our ultimate goal at Stride-up is to evolve as a 360 digital partner integrating Paid Media, SEO, Creative and Email in all strategies. In a perfect world, we would integrate charges like COGS, logistics and human resources in order to have a global Profit and Loss approach for brands" Sophian explains.
Want to optimize your marketing spending using data-driven insights like Stride-Up? Start your 14 day free trial today!
Turn your marketing data into opportunity
We streamline your marketing data so you can focus on the insights.