Sep 11, 2020
Twitter Ads reporting in Google Data Studio [template and tutorial]
5-MINUTE READ | By Joy Huynh
[ Updated Oct 31, 2023 ]
TL;DR: If you want to hit the ground running with a free Twitter Ads reporting template, steal ours with pride. ? But if you want some tips and tricks for better paid social reporting, keep reading.
If someone told me: "Here's an empty Google Data Studio dashboard. Here's a bunch of metrics. Now go build a marketing reporting dashboard," my blank page syndrome would probably creep in, and I'd freeze.
While Google Data Studio is great for building reports, getting started is not always easy.
That's why today I'm going to show you how to build a Twitter Ads report in Data Studio using Supermetrics' connector.
Let's get into it.
Step 1: Decide what you want to report on
Once you have your Twitter Ads up and running, you'll have a ton of data to keep track of. And while it's tempting to include everything in your report, you shouldn't.
Like all your marketing activities, your dashboard should serve your audience. In this case, think about who you're reporting to and what kinds of information may be relevant to them.
If you're creating a report for your own use, you may want to include data that can help you optimize and improve your campaigns. On the other hand, if you're reporting to your executive team, your dashboard should show the impact to the business. (And yes ma'am/sir, I'm talking about $$ here.)
Now, let's pretend we're building a report for your team and they want to know:
How your Twitter Ads campaigns are performing in general
What the top campaigns are
The metrics you add to this part should reflect your ad performance and campaign ROAS. Typical metrics to include:
Impressions: The number of times people have seen your ads. Either on their feed or search results.
Clicks: The number of times people have clicked on your ads. It could be clicks on pictures, details, hashtags, or links.
Click-through-rate: The ratio of total clicks/total impressions. This will reflect the quality of your ads. If your ads are relevant and attractive to your audience, you should see a high CTR.
Conversions: Actions people take on your website after they've seen your ads. Conversions tell you if your landing page is working. Compare this data with Google Analytics data to see the path users take from your ads to your website and from your website to conversion.
Conversion rate: The ratio of total conversions/total clicks.
Cost-per-acquisition (CPA): How much you're paying for each conversion on your website. CPA helps you optimize your budget. For example, if you spot a campaign that drives most conversions at the lowest price, you can allocate more budget to that campaign or create similar campaigns.
Cost: How much you've spent so far.
Cost-per-click (CPC): How much you're paying for each click on your ad. It's total spend/total clicks.
Cost-per-impression (CPM): How much you're paying for every thousand impressions. It's a good metric to track if you're running a brand awareness campaign.
Next, let's see how we can visualize these metrics and build a dashboard.
Step 2: Build a Twitter Ads dashboard in Google Data Studio
It's a good idea to kick off your report with an account overview then drill down to your campaign performance.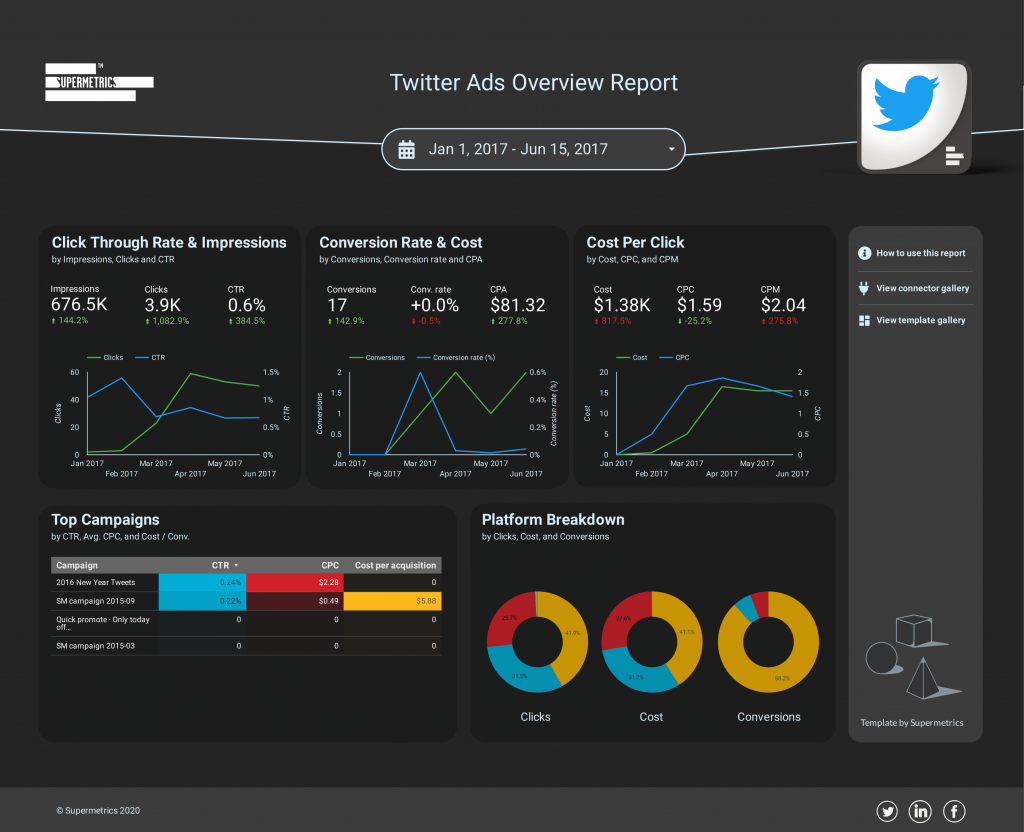 Account overview
Use scorecards to present the most important metrics to your account health. Compare current vs. past performance to emphasize whether the number has gone up or down and in what percentage.

For a more granular view, you can use sparkline charts to show how your account has evolved over time and spot any sudden changes.

Pro tip: When presenting campaign performance to your team, don't just read from the dashboard. Quickly explain what has changed, why you think it has changed, and what your action plan is.
Campaign performance
When reporting on your top campaigns, you can create a table with important metrics broken down by campaign.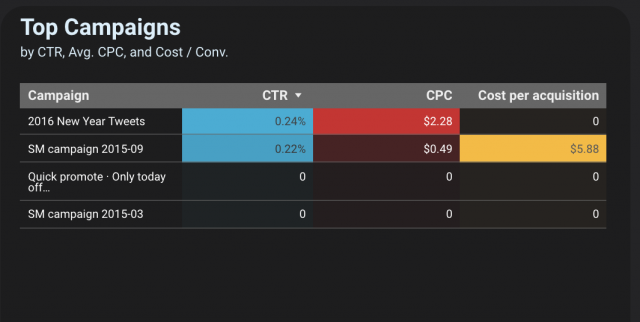 This table helps you identify your best and worst campaigns. Let's say you've been running a brand campaign for a while and decided to pause it last month. You can use the data from this table to explain what happened to your team.
Is it because the audience is bored with your ads? (If your CTR is low).
Or is it because the audience doesn't convert anymore? (If your CPA is low).
One step further to your dashboard, you can also include some insights about your audience. For example:
Do people convert better on their phones or computers?
Are there any differences between different demographics like age groups?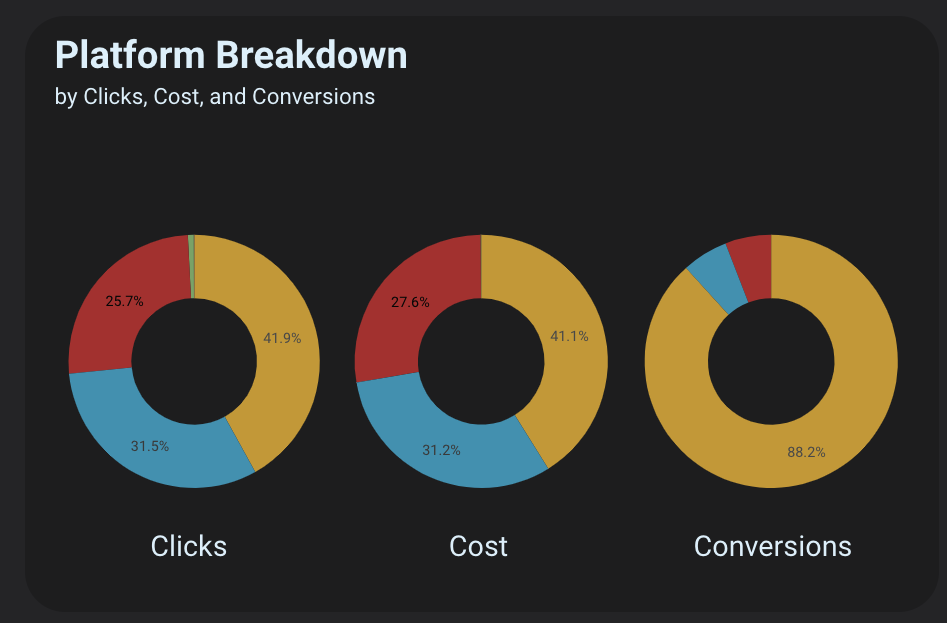 Getting started with this template
Now, I'm going to show you how to get started with this template.
After opening the template, click "Use template" on the top left corner.
Next, you'll want to connect to your Twitter Ads account, so it can automatically pull your data.
To do that, simply click on the drop-down menu and choose "Create new data source."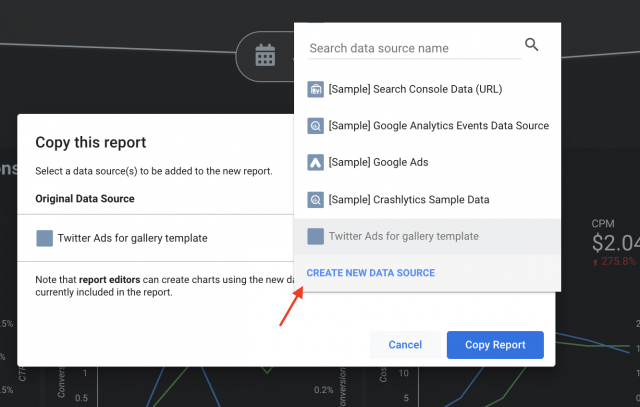 Then on the connector gallery page, search for a connector called "Twitter Ads by Supermetrics."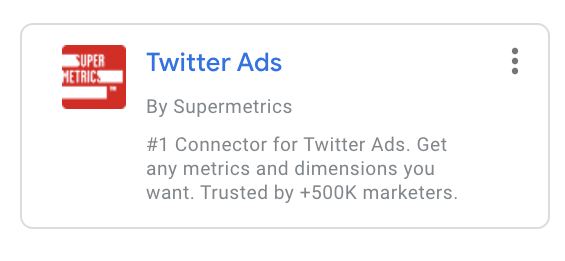 Connect and authorize all the ad accounts you want to get data from. Then, click "Connect."

(Psst! Authorizing the data source will automatically start your free 14-day trial of Supermetrics for Data Studio — unless you already have a license.)
After that click "Add to report" → "Copy report."

And that's it. Your Twitter Ads dashboard is ready. Simple as that.
If you want to share the report with your team, click on "Share" and enter their email addresses.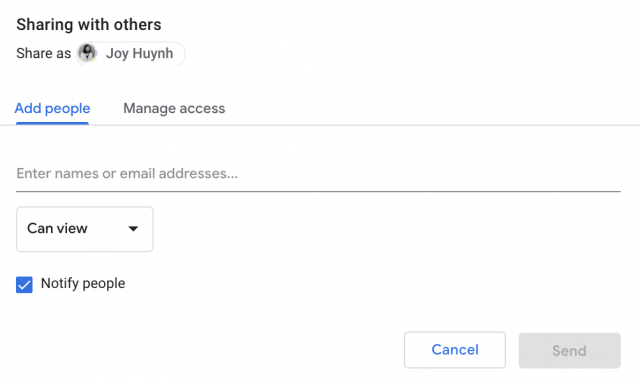 Once you get used to Supermetrics for Google Data Studio, feel free to customize the dashboard according to your needs.
And if you need any help getting started with Supermetrics for Google Data Studio, you can reach out to me on LinkedIn or Twitter.
Turn your marketing data into opportunity
We streamline your marketing data so you can focus on the insights.