Jun 24, 2021
How to set up, analyze, and optimize your TikTok ad campaigns
10-MINUTE READ | By Joy Huynh
[ Updated Jan 31, 2023 ]
Here's a fun challenge for you: list the top five hottest social media channels.
We bet there's a good chance TikTok will end up on your list.
Despite being the new kid on the block, TikTok can already join the big kids' table with Facebook and Instagram. So if you want to test a new paid platform, TikTok seems to be a good choice.
In this article, we're going to show you how to run and optimize your TikTok ad campaigns successfully.
Fast forward.
Sounds good? Let's dive in.
What kinds of brands should use TikTok?
With 689 million global active users, TikTok seems like a goldmine for brands who want to get their products to new audiences.
But marketers know it best. Being on a new and shiny platform isn't always the best approach. So unless you're confident that your ideal customers love hanging out and buying stuff on TikTok, it's okay to stay out of the game.
According to Savannah, typically, TikTok is really good for brands with impulse products — inexpensive products that are likely to be purchased on impulse or without a lot of consideration — whose average order value is under $50.
Now, take a moment to think about your brand and products. Is TikTok the right platform for you? If you nod 'yes,' let's start setting up your account.
5 simple steps to running ads on TikTok
Step 1: Create a TikTok ad account
To kick things off, you first need to create a TikTok Ads account.
On the TikTok for Business page, you should fill in your email address and choose your password. Then, you need to click 'Send code.' After that, you'll find the verification code in your email. Next, agree to TikTok terms and conditions.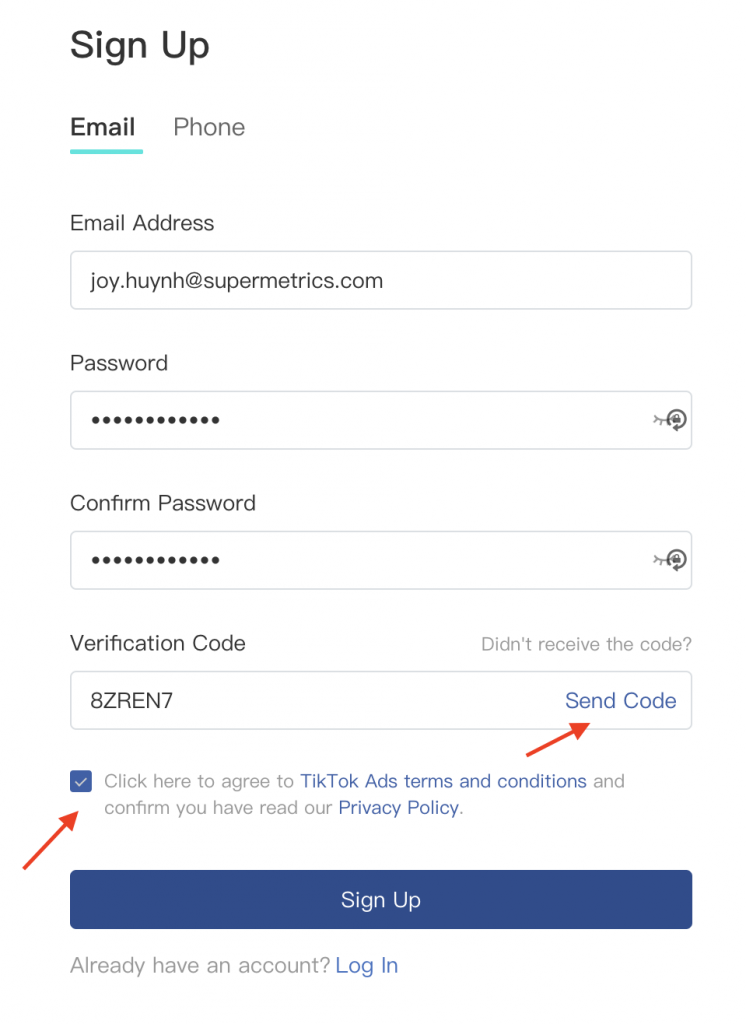 On the next page, you should fill in:
Country/region
Industry
Business name
Time Zone
Phone
Currency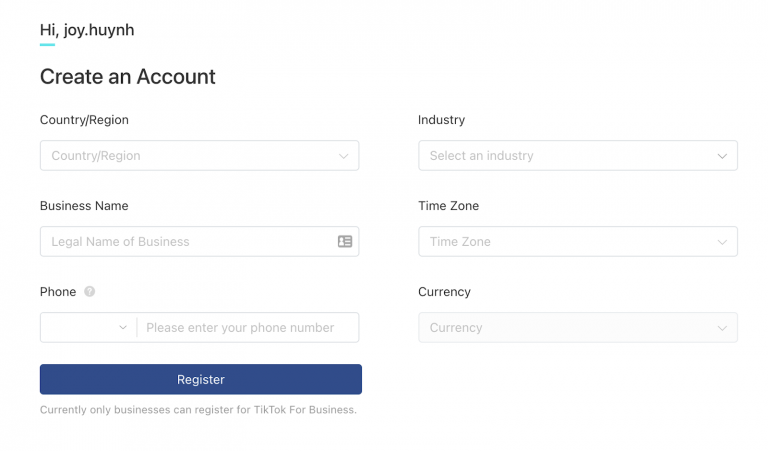 After that, click 'Register.' It may take a while for TikTok to approve your company account. After getting the approval, you can access your dashboard and start creating your first campaign.
Step 2: Set up and install the TikTok pixel on your website
Okay, my bad! We're not quite there yet. There's an important step we need to get right before creating the first campaign. It's setting up and installing the TikTok pixel on your website.

The pixel helps you:
Measure your campaign performance. You'll see if your campaigns attract high-buying intent visitors.
Optimize and improve ad delivery. For example, you can show ads to people who are likely to convert.
Build custom audiences. You can use the data from your website to create audiences for retargeting.
Step 3: Decide on your campaign objective
To begin, you need to choose your campaign objective. There are five objectives that you can choose from:
Reach: shows your ad to as many people as possible.
Traffic: sends people to a destination, for example, your website or your app.
App installs: get people to install your app.
Video views: get people to watch your videos
Conversions: get people to take the desired action on your site, such as making a purchase or filling a form.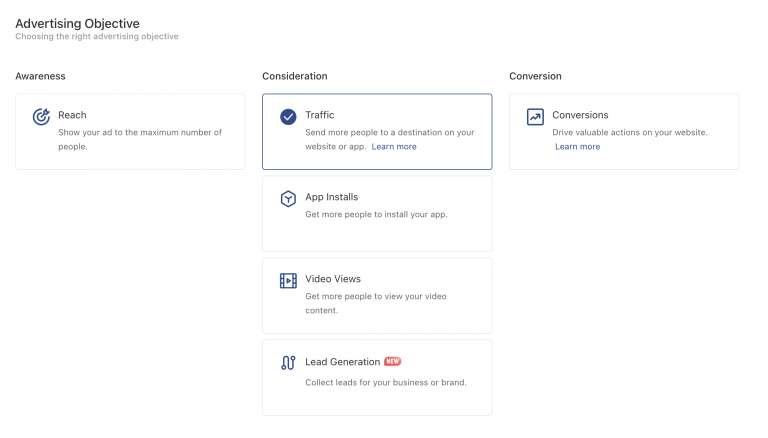 Step 4: Set up your ad group
Once you're done choosing your campaign objective, it's time to set up your ad group. There are several things you need to figure out here.
Setting
Here, you'll want to give your ad group a name.

Promotion type
Next, select a destination you want your audience to visit, for example, your website. Then, you should choose the Pixel and the event you want to optimize your campaign for.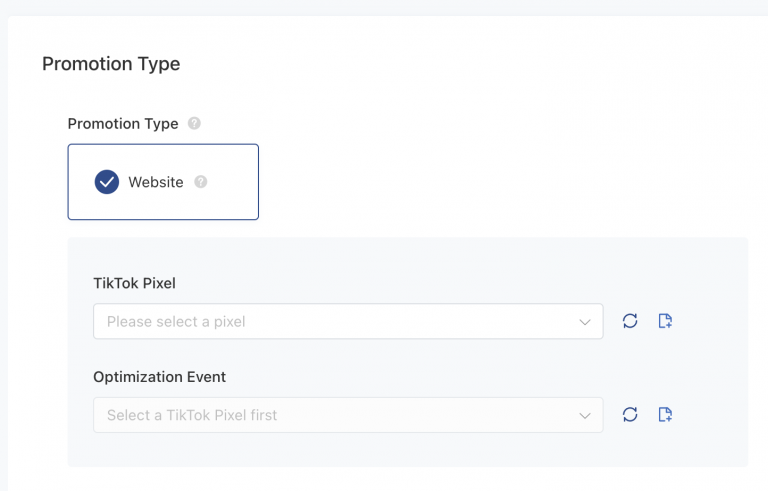 Tip: To make the most of your advertising dollar, you should start optimizing toward 'add to cart' or 'purchase'. Because you want your ads to reach people who are likely to buy from you.
Placement & creative type
Here, you can choose where you want your ads to appear on TikTok. You can manually select your ad placement or choose automatic placement. TikTok will automatically show your ads across all TikTok partner apps, including TikTok, News Feed App Series, and Pangle.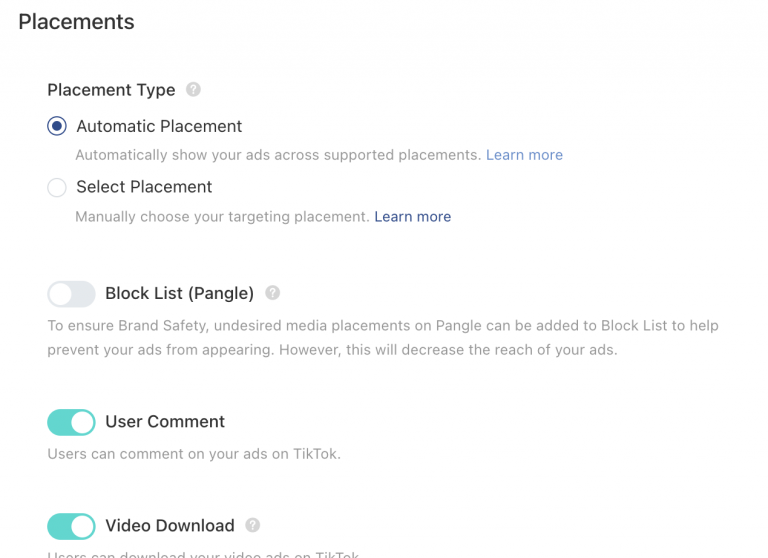 Or, you can choose automated creative optimization so TikTok will automatically select some combinations of your ads — including images, videos, and text — and deliver the best-performing combinations.
Targeting
Based on your brand and your products, you should already know the audiences you want to target. In this section, you can target your audiences based on their interests and behaviors.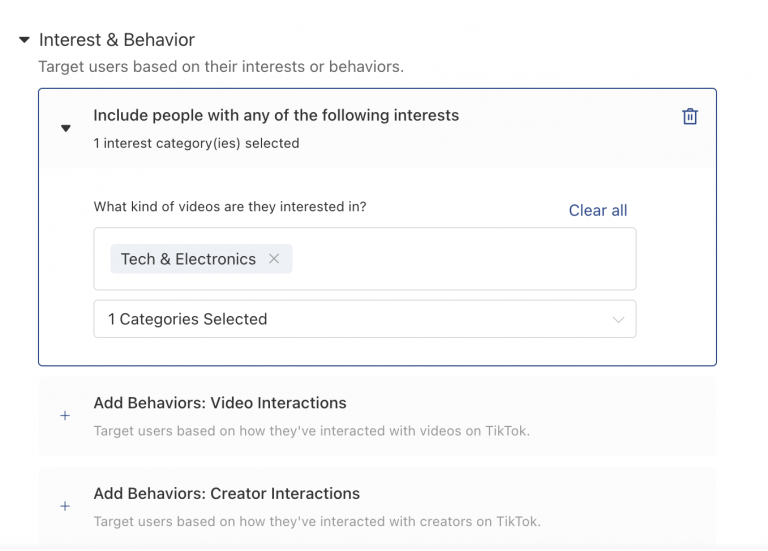 Tip: When you first started, you don't want to keep your audiences too specific. Instead, go with broad audiences, around 5-10 million, and refine the audiences later on.
Budget & schedule
Then, select your ad budget and schedule.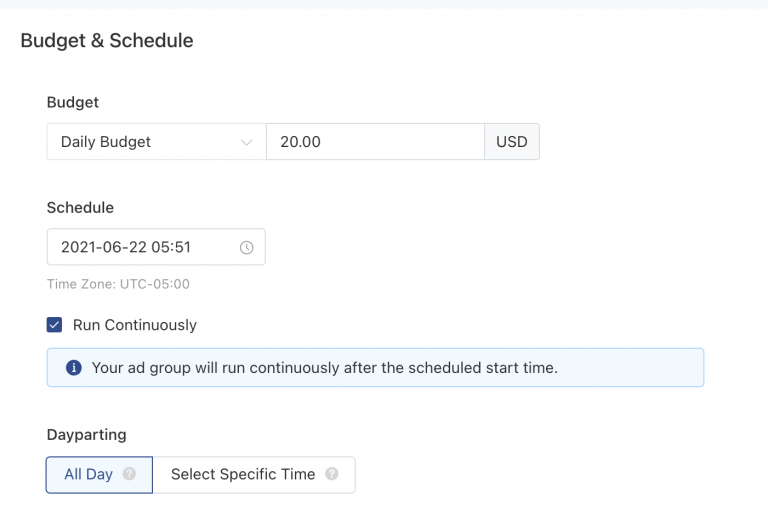 Bidding & optimization
What you want to do here is tell TikTok how much you're paying to pay for a click or a purchase.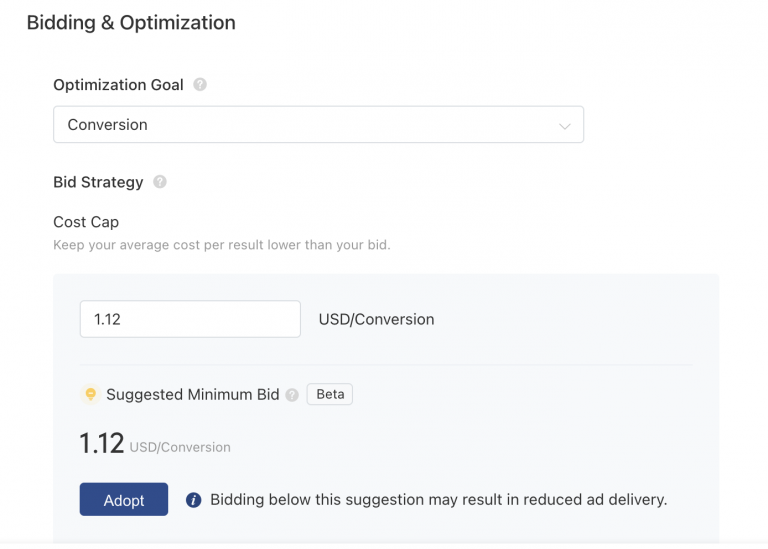 Tip: Base on your campaign settings, TikTok will recommend a minimum bid. According to Savannah, you should try to go with TikTok's suggestion.
Step 5: Create your ads
It's time to create an ad. Here, you can choose to upload your existing ads or create a new one from TikTok's template gallery.
When it comes to creating effective TikTok ads, we can learn a thing or two from Savannah:
Create TikTok content, not an ad. Keep in mind that people usually scroll away from ads. So it's a good idea to use vivid color or text on the screen to make your ads look like organic content from TikTok.
Keep your ads short and sweet. Get the most important message or place the hook in the first few seconds of your video. It's also a good practice to keep your ads between 9-15 seconds.
Let your product shine. Place your product in the center of the video. Avoid covering it with the overlay text.
Stay ahead of the new trends. Participate in relevant TikTok challenges, use trendy background or transitions to make your video more captivating. Also, you can benefit from partnering with influencers on TikTok. We'll talk more about this in a bit.
Next, you'll write your caption, CTA, and select a URL.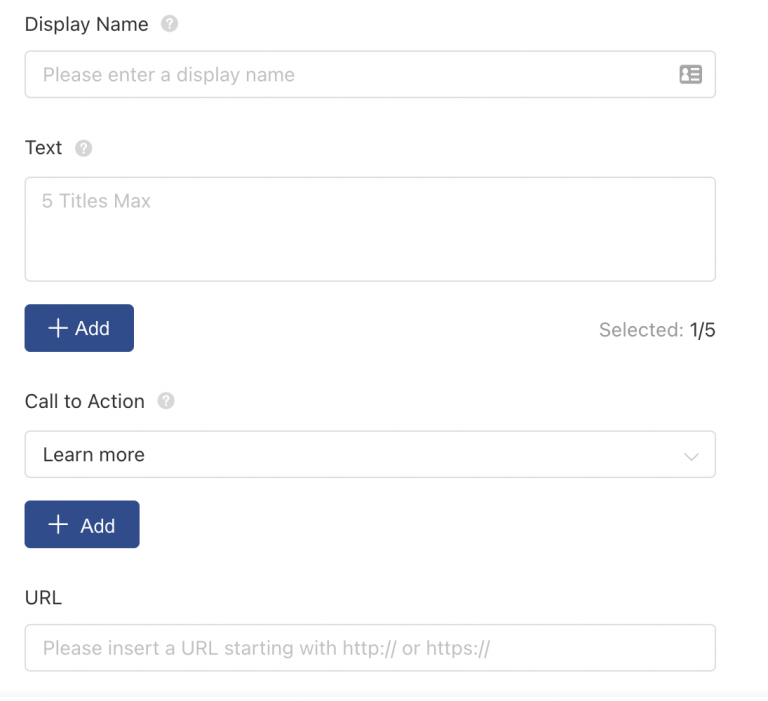 Tip: Broad audience + creative FTW. According to Savannah, you should've at least 3-5 creatives in an ad group to maximize your campaign performance.
Take advantage of TikTok influencer campaigns
It's fair to say that no one knows TikTok better than the TikTok creators. They know how to create visually appealing content, stay on top of new trends, and engage with their audience. In other words, they speak the TikTok language.
Let's take a look at some best practices for creating an influencer campaign.
Find the right influencers for your brand
If you're from the US, you can already test out the TikTok Creator Marketplace where you can search for and connect with influencers. With this platform, you can even see their profiles, audience demographics, engagement metrics, and previous partnerships.
Alternatively, you can also find influencers by using relevant hashtags on TikTok. Let's say your brand sells vegan bags. You can search for #sustainability, #sustainableliving, or #ecofriendly. You'll see the most popular video within that category.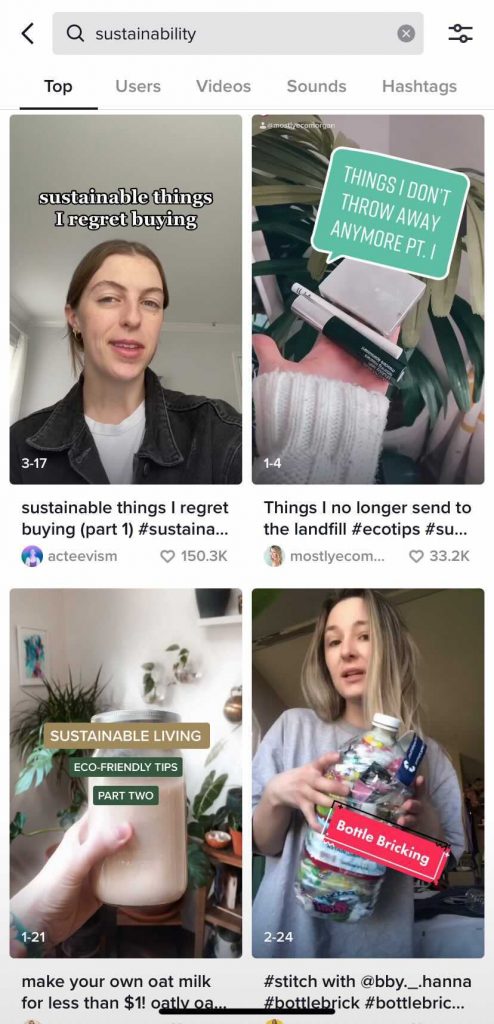 You can also use ecommerce related hashtags such as #amazonfinds or #tiktokfinds.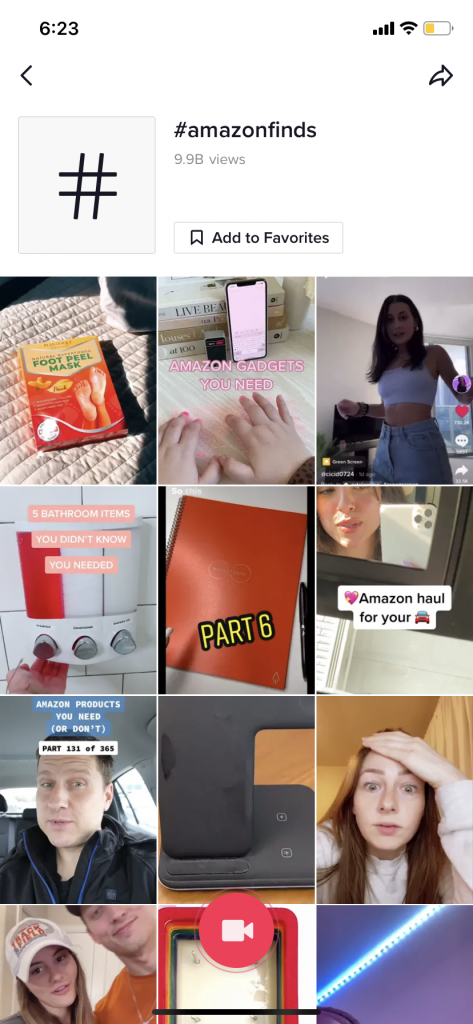 When choosing influencers for your brand, you may want to check some of their videos to see if they're comfortable in the camera or if they understand how to create captivating videos.
If you can't afford big influencers with a million followers, you can work with influencers with less than 10k followers but still have great engagements.
Creating the brief
Instead of controlling the content, you should give influencers the freedom they need to create good content. Isn't authentic content what you're looking for?
TikTok influencers can create great ads for your brand with some guidelines. That's where a creative brief comes in handy. With the brief, you can let the influencers know what content you expect them to deliver. For example, your brief can include:
The main value proposition. What you want them to mention.
Some dos and don'ts. For example, do show the product label or don't mention the competitors.
Length of the ads. How long do you want ads to last?
Some examples. You can include some videos or trending challenges for their inspiration.
How to analyze your TikTok campaign performance
To analyze your campaign performance, you need to do two things:
Decide on the metrics you want to measure
Put those metrics together in a report
Choose your metrics
The last thing you want to do is measure every metric that is available to you. Because you can't possibly pay attention to all of them, and the worst part is, some proxy metrics may mislead your decisions.
Good metrics often tell you if you're achieving your goal and help you improve your performance. For ecommerce advertising, a good indicator for your campaign's success is:
Return on ad spend (ROAS): tells you if you're bringing more revenue than what you're spending on ads.
If you want to understand your ad performance, you can check:
Click-through rate: shows how often people click on your ads. According to Savannah, on TikTok, a good click-through rate is above 1%. If your click-through rate falls below 1%, you may want to test different creatives or audience groups.
Cost per click: shows how much you're paying for each click on your ad.
Going further down to the funnel, you can see if your visitors have high buying intent by tracking:
Cost per add to cart: tells you how much you're paying when someone adds an item to their shopping cart.
Cost per checkout initiated: tell you how much you're paying when someone starts a checkout.
Build a report
Now that you've got a list of metrics you want to track. The next step is to build a report.
While the native report of TikTok provides good insights about your campaign performance, you probably need to pull your data to a spreadsheet or a BI tool for more in-depth analysis. Especially if you're in ecommerce, you may want to analyze TikTok ad data with data from other paid channels, Google Analytics, and Shopify.
When it comes to building automated marketing dashboards, Savannah has been a super user of Supermetrics for years.
To get you started with TikTok Ads reporting, we created a TikTok Ads overview performance dashboard for Google Data Studio. You can swipe it and make some tweaks according to your needs.
The overview page provides a high-level view of your performance. From here, you can quickly understand:
The overall health of your TikTok Ads account.
What your best-performing campaigns are.
Which countries bring in the most revenue.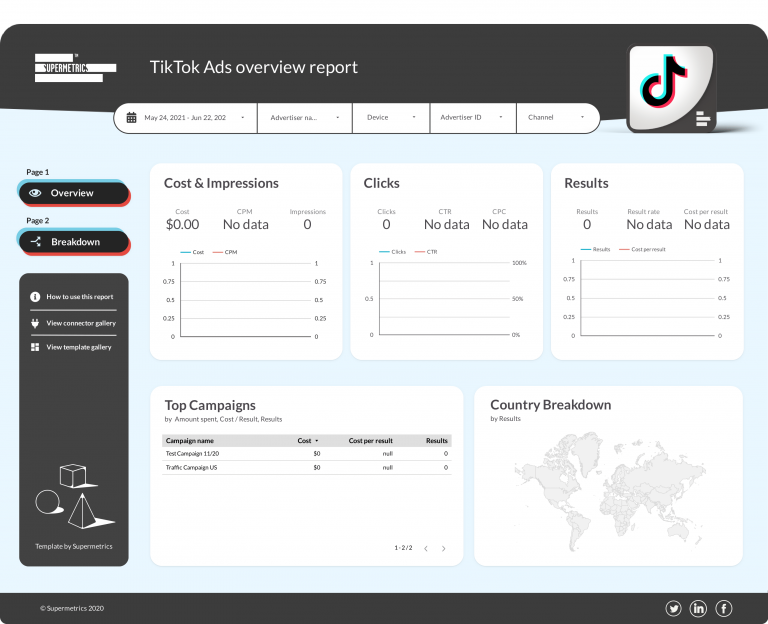 The second page of the dashboard gives you a more granular view of your performance. For example, you'll see breakdowns of:
Device by cost, clicks, and impressions.
Age and gender by impressions.
Campaign objective by cost, cost per result, conversions, impressions, and clicks.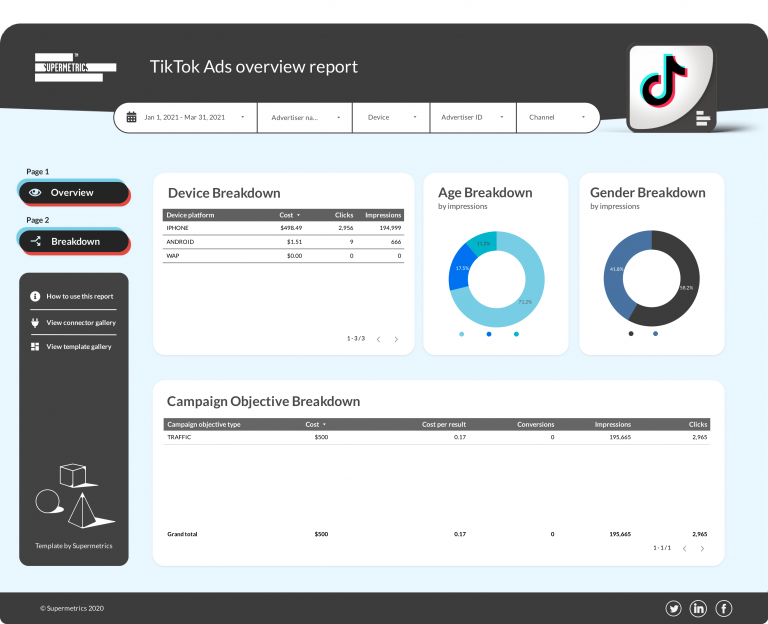 Get started with the template
If you're unfamiliar with Google Data Studio, here's a quick tutorial on using the TikTok overview performance template.
First, open the template and click 'Use template.'
Then, click the 'New data source' drop-down menu and choose 'Create new data source.'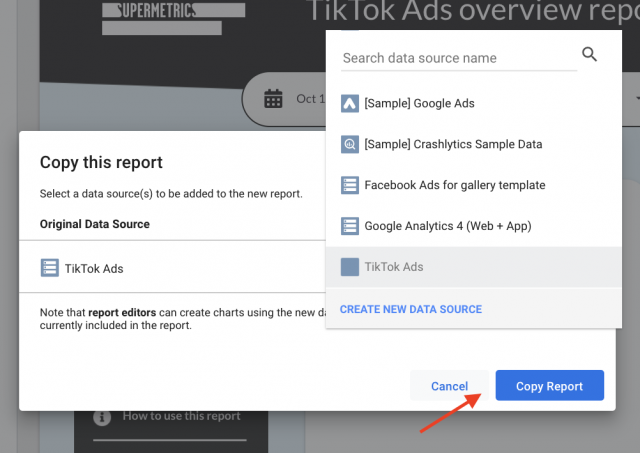 On the Google connectors page, search for a connector called 'TikTok Ads by Supermetrics.'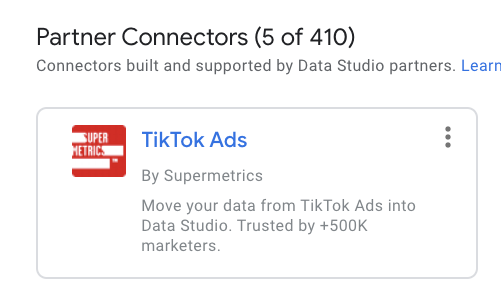 Next, authorize your accounts —both Google and TikTok Ads — and give Supermetrics all necessary permissions.
By authorizing your accounts, you'll automatically start your 14-day free Supermetrics trial.
After that, select the account(s) you want to pull data from. Then click 'Connect' → 'Add to report' → 'Copy report.'
And tada! Your report is ready. Simple as that. If you'd like to share the report with your teammates or clients, simply click 'Share' and enter their email addresses.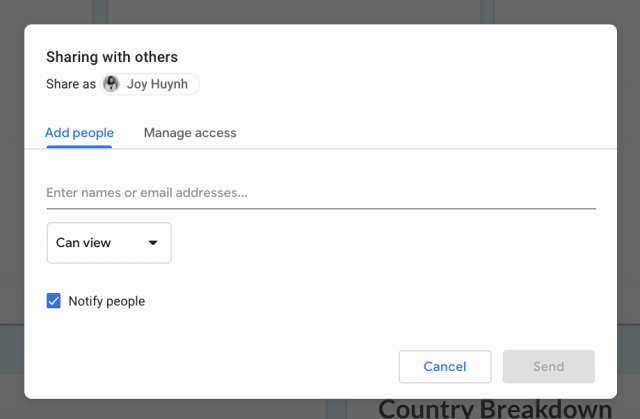 Wrapping up
As you can see, running successful ads on TikTok isn't as hard as you think. Once you understand how to set up paid campaigns, create ads, and optimize your performance, you should see good results in no time.
If you need help with TikTok Ads reporting, check out the 14-day free Supermetrics trial.
Turn your marketing data into opportunity
We streamline your marketing data so you can focus on the insights.