Mar 16, 2020
Measure the performance of your native ad campaigns with our new Taboola connector
3-MINUTE READ | By Anna Shutko
[ Updated Jan 31, 2023 ]
Our new connector will help you make the most of your native ad campaigns.
Taboola is one of the biggest discovery platforms, counting 1.4 billion unique monthly visitors. With Supermetrics, marketers can now export data from Taboola to spreadsheets, Google Data Studio, BI tools, and data warehouses to build automated reports.
What can you do with Supermetrics' new Taboola connector?
This new integration allows you to build reports with relevant metrics from Taboola in a few clicks. This means that you don't have to download CSVs, merge spreadsheets together, or use complicated formulas to extract the data you want. Here are the benefits of the connector in a nutshell:
Improve the quality of your Taboola reports
Our connector has 34 metrics and 85 dimensions that allow you to slice and dice the data however you want. You can easily bring campaign, publisher, budget, promoted link, geo, and other performance data into the same report.
Get an overview of your marketing funnel
Combine data from Taboola with metrics from 50+ other platforms in the same report. For example, you can pull data from Taboola and Google Analytics together to get a better understanding of your on-site user behavior.
Quickly answer your questions with data
This connector allows you to fetch data fast so you can build reports in a few clicks. Want to see which publisher has performed best this month? Break down your key metrics by publisher and see the answer in seconds.
Taboola reporting template for Google Data Studio
If you want to jumpstart your Taboola reporting,  check out our free, plug-and-play reporting template for Google Data Studio.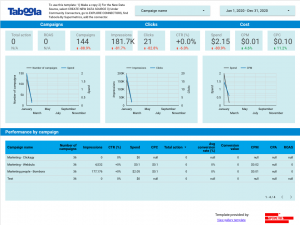 To get the template, select "Use report template for new reports" option when connecting to Taboola by Supermetrics data source in Google Data Studio. Click here to start with Taboola connector for Data Studio.
Getting started with the connector
With our newest connector, you can build granular reports fast and combine data from Taboola with metrics from 50+ other platforms in a few clicks. No more copy-pasting, downloading CSV files, or merging spreadsheets. 
If you're interested in hassle-free Taboola reporting, you can start your free, 14-day trial of Supermetrics now.
Turn your marketing data into opportunity
We streamline your marketing data so you can focus on the insights.