Jun 28, 2023
4 ways the Supermetrics integration with HubSpot enhances data reporting
6-MINUTE READ | By Aleksander Cardwell
[ Updated Jun 28, 2023 ]
Today, the average business department relies on around 40 to 60 different SaaS apps just to get by; for the whole business, that number can be as much as 250.
That's a lot of data.
Niche software platforms and tools can save marketing and sales teams time, energy, and effort in working with this mountain of numbers, but when you have dozens of platforms generating hundreds of scattered datasets, this efficiency you get is rendered obsolete. The heart of great, time-efficient data analysis is in a unified data environment: you can only identify patterns and trends that help your business grow more efficiently when you remove data silos and unify your data.
Supermetrics was designed to do just that. It's the great unifier: an all-in-one tool that turns data from disparate sources into actionable dashboards with up-to-date metrics from all business units. It reduces your organizational complexity, cuts down the time between gathering and using data, and takes the busy work out of managing mountains for data from hundreds of sources; and when you bring HubSpot data into Supermetrics, you can access the big picture across your organization, clients, or global enterprise.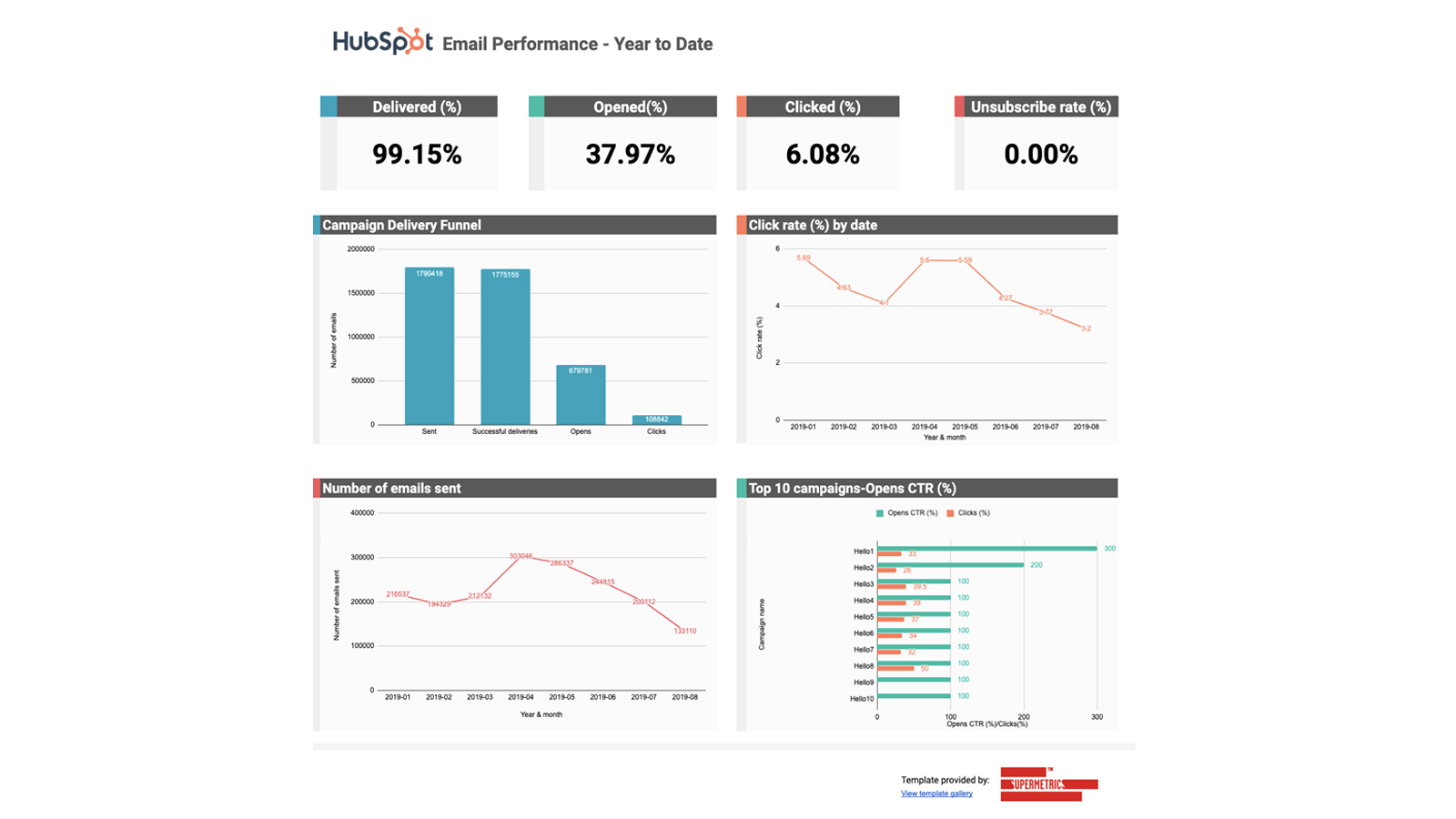 More than 7,500 businesses are already using Supermetrics with HubSpot — here's how this integration is helping align teams and surfacing meaningful data trends.
Why integrate Supermetrics with the HubSpot CRM?
The first and most important benefit is also the one that's most important to you: no more manual data transfer. However, users also see benefits like:
Accessing automated HubSpot reporting in the user's preferred tool, like Google Sheets, Looker Studio, Excel, Power BI, and more.
Combining HubSpot data with other marketing data to see a full customer journey report that reflects conversion points across sales and marketing channels.
Enabling multi-portal reporting for agencies or businesses with multiple products. Easily select what data you want to pull into a report, then pull it from as many portals as you want.
Benchmarking data across portals automatically.
Reducing manual data management and surfacing insights across your collective marketing efforts that span hundreds of channels.

"[This integration] has helped us take reporting and data analysis to the next level. As the main Google Data Studio connector for client reporting for all digital marketing campaign data sources, content marketing efforts reporting, SEO reporting, etc, and analyzing all efforts, integrating various data sources helps us correlate and get insights." Maricarmen Vargas, an integration user, shared.
"We even use it to get more metrics and visualizations regarding sales team performance. It has all the data sources any agency needs. Supermetrics Template Gallery and Measure School YouTube tutorials are a good start."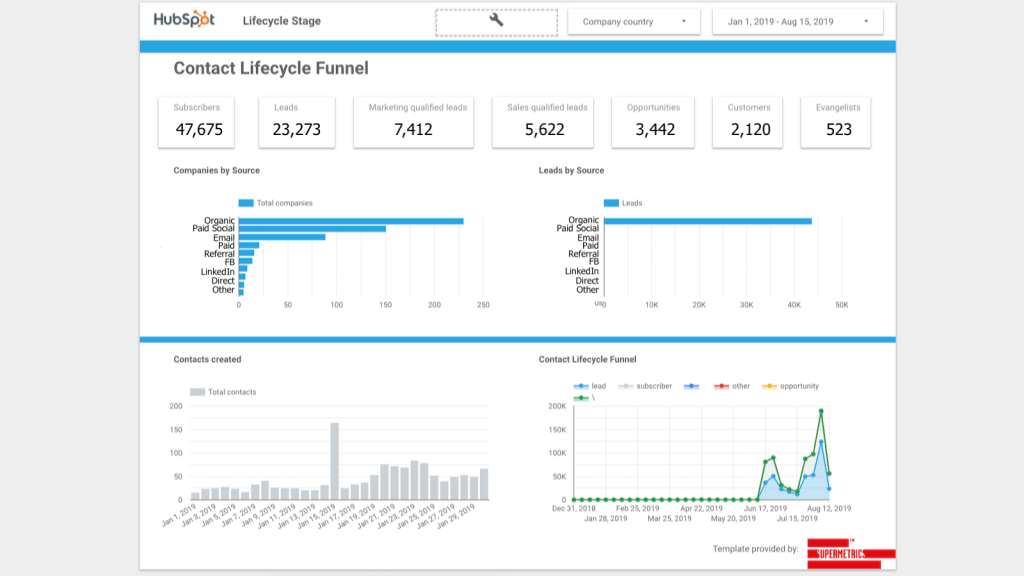 4 ways to use Supermetrics and HubSpot to enhance data reporting across your organization
Here's how marketing, sales, and analytics teams at agencies, retail brands, software companies, ecommerce brands, and more can use the Supermetrics integration with HubSpot to enhance data reporting across all of your customer-facing channels.
1. Send all your data (from every tool) to your preferred reporting tool
Streamline data from multiple sources, including HubSpot, into your preferred reporting tool. This integration has the flexibility to structure data however you want, and it makes data more accessible to more teams, helping to eliminate data silos and blind spots.
When there's data transparency across departments, business leaders and marketers can fine-tune campaign spending, flag winners and losers to focus on in their quarterly goals, and determine their next campaign activities based on how their customers are responding.
2. Automate reporting on the entire customer lifecycle by combining HubSpot data with data from other marketing and sales platforms.
Successful businesses have aligned sales and marketing teams — which starts with aligned data. If your marketing team can't link campaign performance with influenced contact data or closed won data, how will they calculate the ROI on marketing spend?
HubSpot revolutionized the idea of full-funnel reporting and lifecycle marketing. Now, this integration is taking omnichannel marketing and sales reporting even further.
See the full view of a customer's journey with your brand, from paid advertising or their original source all the way through to purchase.
Cut down on time spent manually consolidating and cross-referencing data from multiple sources.
Spend more time on activities that help enhance the customer experience.
Quickly access customer lifecycle reporting dashboards that help you decide on marketing and sales spend.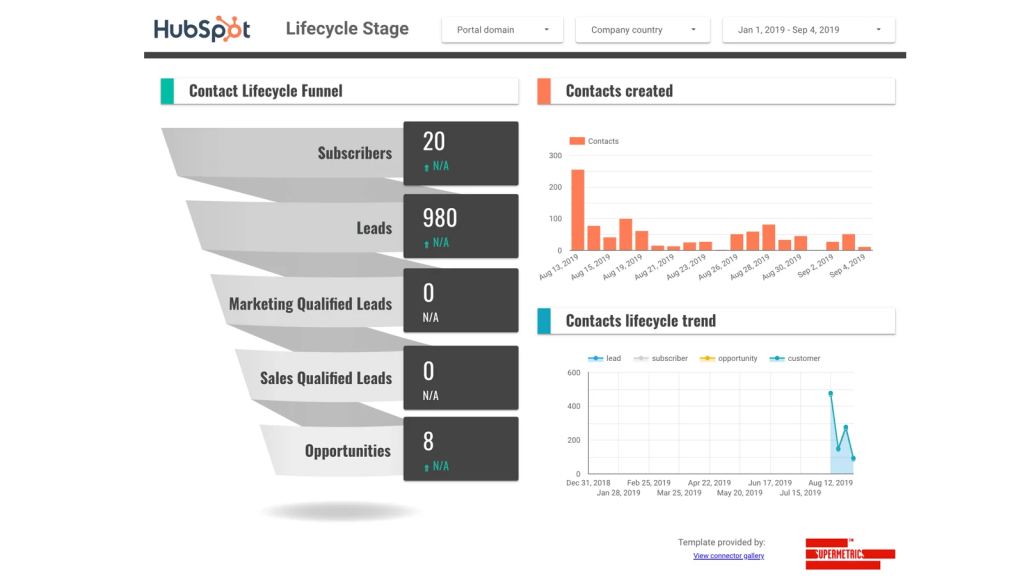 3. Analyze data from multiple HubSpot portals, clients, or segments all in one place.
Create benchmarking reports to compare different portals or segments against each other and see how certain teams or regions are performing. Identify areas for improvement and big wins in terms of influenced revenue, engagement, and reach.
We even built a HubSpot Cross-Portal Performance Reporting Template that you can set up in minutes in Looker Studio (formerly Google Data Studio).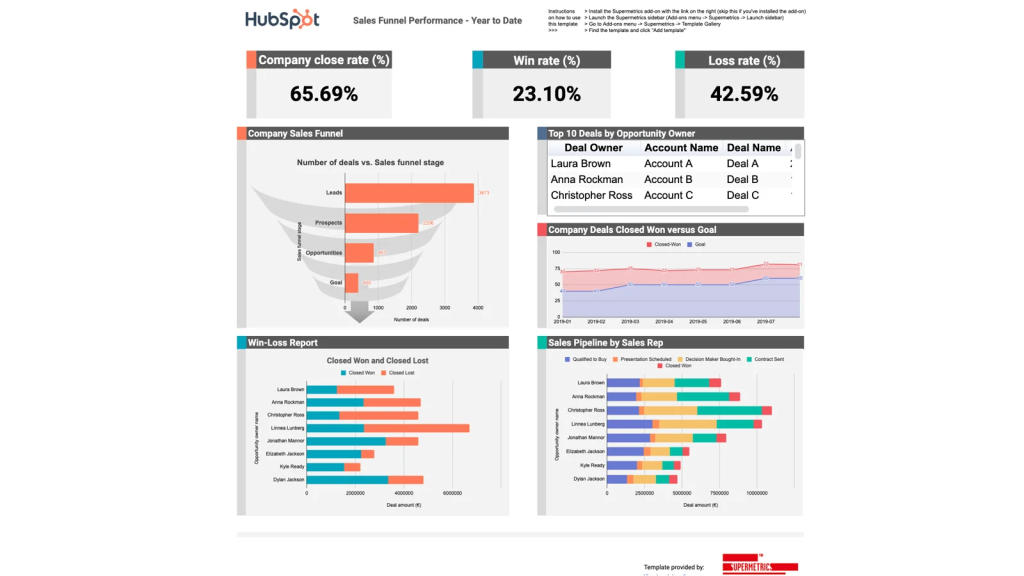 4. Sync HubSpot data into data warehouses and BI tools like Snowflake, Looker, and Looker Studio
Supercharge HubSpot's reporting capabilities with a flexible business intelligence dashboard. Sync your HubSpot data into data warehouses and reporting tools like Snowflake, Looker Studio, and Google Sheets to uncover insights and improve reporting accuracy.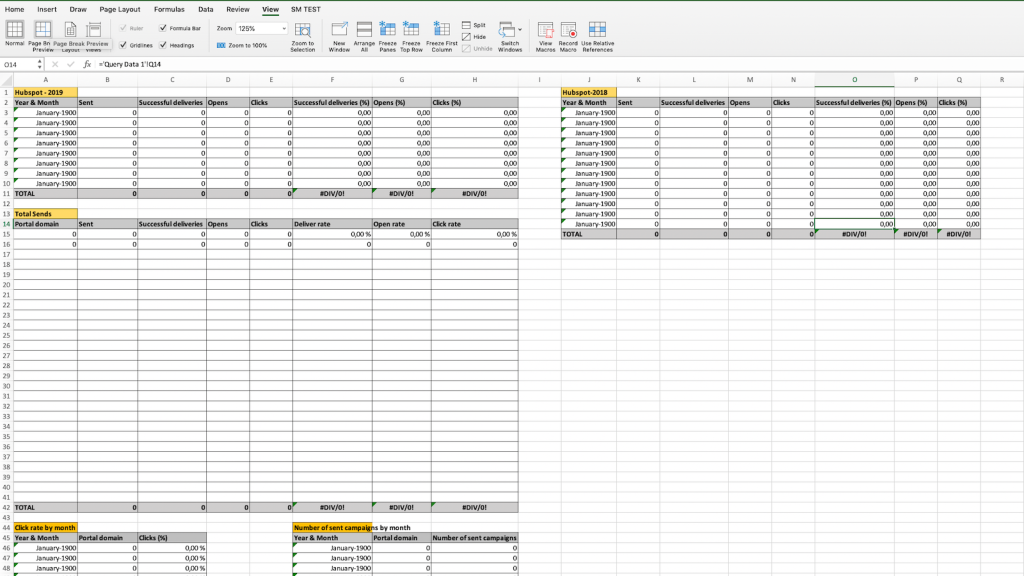 How Gravital uses Supermetrics and HubSpot to achieve 100% reporting automation and cut down on client reporting time by 50%+
Gravital, a performance marketing agency based in Puerto Rico, was facing challenges with manual client reporting and data management. After implementing the Supermetrics integration with HubSpot and setting up automated reporting dashboards, the Gravital team achieved 100% automated reporting. By doing so, they reduced client reporting time by 53%, giving them more time to spend solving client challenges and focusing on strategy.
"[This integration] has changed our entire business model. Now, we're really able to focus on performance. We've scaled up beyond just marketing or digital marketing, but data-driven performance marketing," shared Maricarmen Vargas, Digital Account Manager at Gravital.
Explore the data features of the Supermetrics integration with HubSpot and see what current users think
For teams with lots of data sources who are spending too much time wrangling data, take a look at the Supermetrics integration with HubSpot. In 2023, manual data management can cost your business hundreds of thousands of dollars in labor costs.
"Supermetrics is a gem when you need to dig deep into data and analytics and combine different sources. We needed a tool which can show, analyze, & combine MRR data with other data and automate the process as much as possible. If not for [this integration] our MRR reporting would have required manual steps," shared Samuli Ahola.
Take a look at the Supermetrics HubSpot connector and see how your team could benefit from an all-in-one data management dashboard.
Aleksander Cardwell
About the author:
Aleks is the Head of Product Marketing at Supermetrics with a passion for streamlining marketing data and reporting. He focuses on helping marketing departments worldwide spend less time moving data and more time using it.
Turn your marketing data into opportunity
We streamline your marketing data so you can focus on the insights.