Nov 25, 2020
Get your Shopify data to Google Data Studio [template included]
6-MINUTE READ | By Joy Huynh
[ Updated Oct 31, 2023 ]
TL;DR If you're already familiar with Google Data Studio, you can simply swipe our Shopify dashboard template for free. For more tips on growing your online store with data, keep reading.
Once you have your Shopify store up and running, you'll have a ton of data to track. From marketing to sales and from customer to inventory data.
And if you feel overwhelmed with your ecommerce data, I've got something you might need: a Shopify reporting dashboard that helps you stay on top of your key metrics.
In this article, I'll show you how to build a Shopify dashboard in Google Data Studio. This dashboard will help you understand:
How your store is performing
What you can do to improve your performance
Now roll up your sleeves and let's get right into it.
Shopify dashboard template for Google Data Studio
The Shopify dashboard consists of two pages:
Performance overview
Order and customer tables
Now, let's take a look at each page and see how you can use these insights to grow your online store.
Performance overview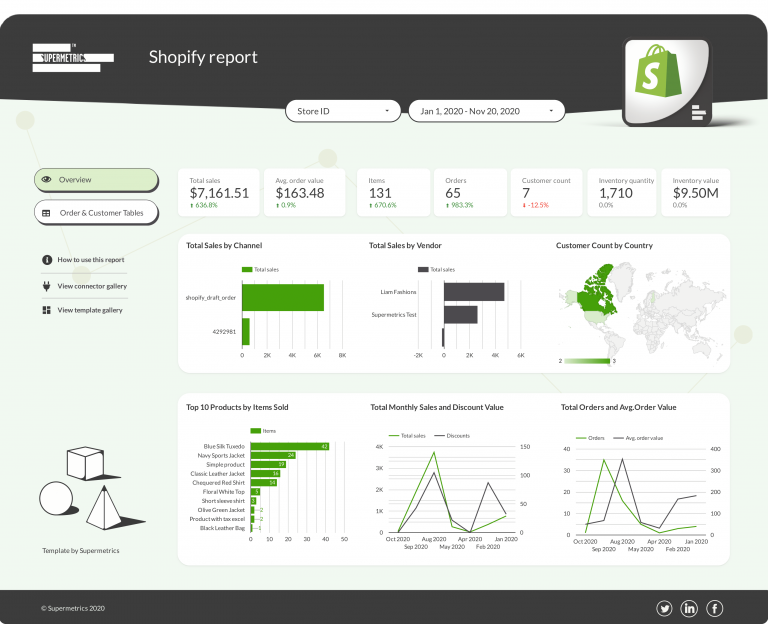 On the first page of this dashboard, you'll see an overview of your store's performance. From this page, you can quickly check:
Total sales
How many items you've sold
What your best selling products are
First, you'll find scorecards representing the most important metrics like total sales, average order value, items, orders, customer count, inventory quantity, and inventory value.

When looking at your total sales, you want to understand what drives that number. For example, what channel or vendor is bringing in the most sales? You can use these insights to invest more of your marketing efforts and budget in the channels that work.

Alternatively, you can break down your sales data by month to see how your sales have been growing and spot trends. Do your customers buy more if there are discount coupons? Do they tend to buy more during weekends?
For example, if your sales on Wednesdays are lower than average, you can create a Happy Wednesday deal to encourage customers to shop on Wednesdays.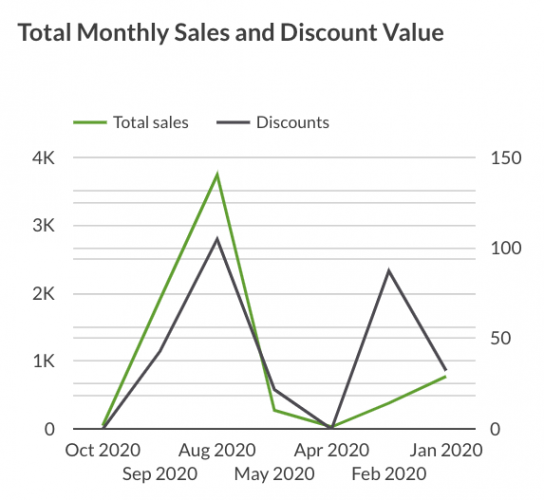 Average order value (AOV) represents how much your customers spend at your store on average. It's total sales/number of orders.
Since it's typically easier to get existing customers to buy more from you than acquiring new customers, increasing AOV is the best way to increase your revenue.
Here are a couple of ideas to help increase your AOV:
Upselling: suggest product upgrades (for example, Apple always asks if you want to upgrade to a 128Gb iPhone during checkout)
Free shipping: offer free shipping when customers hit a certain threshold in order value (e.g. free shipping on all orders over $100)
Volume discounts: offer discounts when customers buy a product multiple times (e.g. buy 3 get 20% off)
Product bundling: offer some additional goods to go with the initial products (think about the "Complete this look" section on Zara or "Frequently bought together" section on Amazon)
Next, there's a sparkline chart that helps you keep track of your total orders and average order value over time.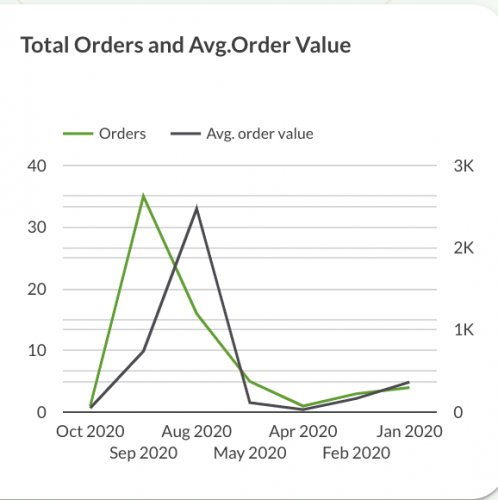 Customer count tells you how many customers have bought from you over the selected time period.
You'll also find a map showing you where the majority of your customers come from. Let's say you have a lot of customers in Canada. You can run a paid ad campaign in Canada to drive more sales.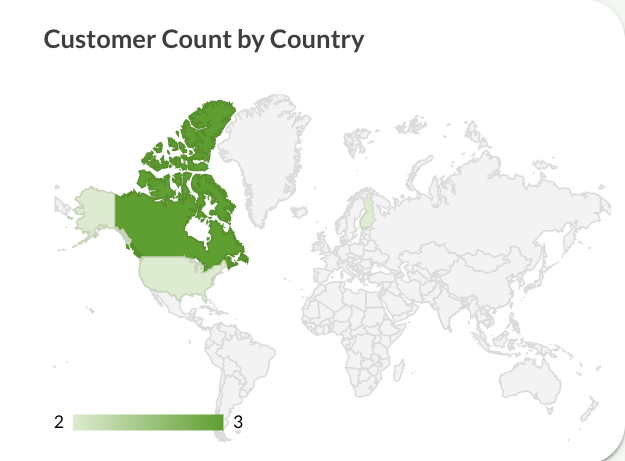 Inventory quantity lets you know how many items you have in your inventory.
Inventory value tells you how much your inventory is worth.
There's nothing worse than running out of products that your customers really want.
On the other hand, overstocking products that are already out of season can increase your inventory costs fast. Keeping track of your stock helps you stay ahead of supply and demand and make better decisions for your inventory.
Finally, you'll find a bar graph showing your best selling products.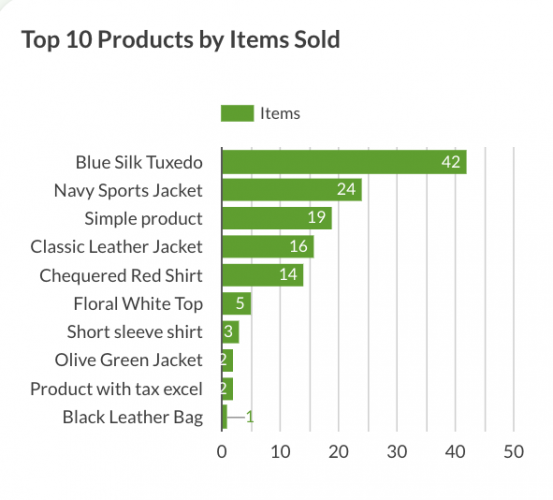 Understanding your best-selling products helps you stay on top of your marketing, sales, and ecommerce inventory management.
For example, you can apply the 80/20 rule to try to always keep the products that generate 80% of your sales in stock. Or if a particular product is performing poorly, you may want to give it a bit of a marketing push.
Order and customer tables
The second page of this dashboard provides details about orders, customers, and inventory. You'll see:
How many orders were placed
Who your best customers are
What the inventory for each product looks like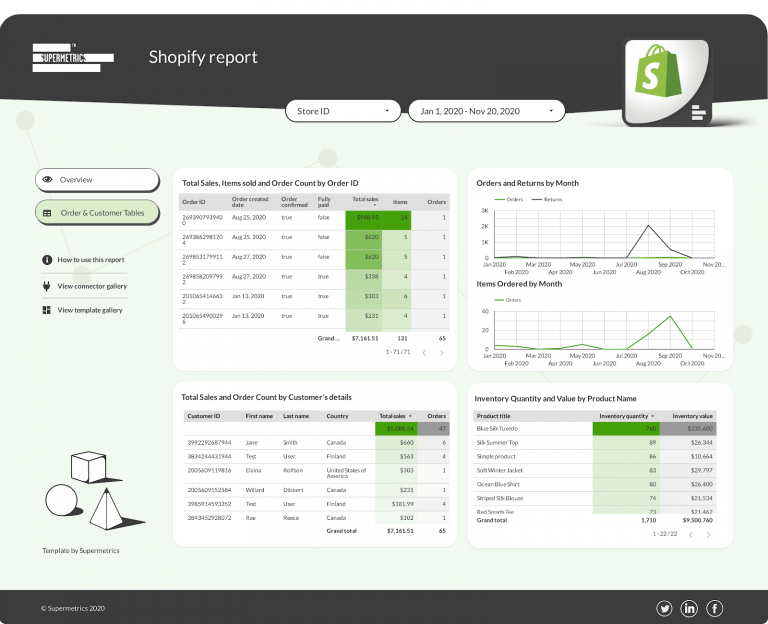 First, there's a table breaking down total sales, items sold, and order count by order ID.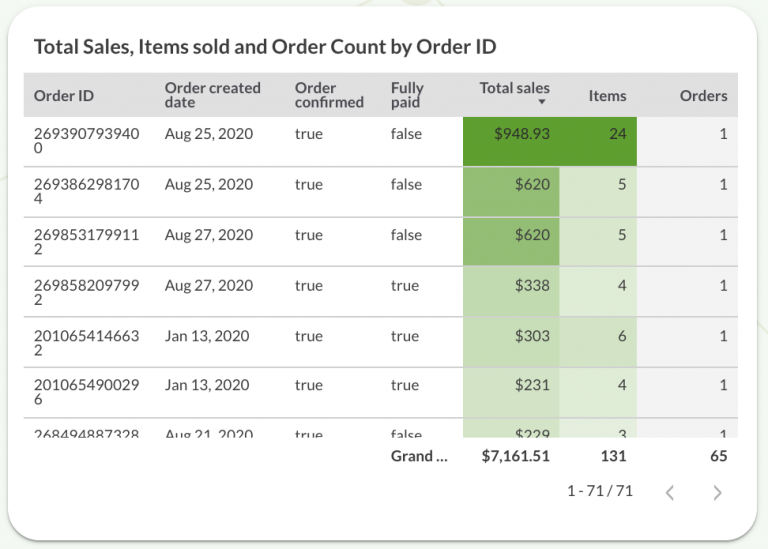 From here, you can see how much your customers spent at your store and how many items they bought in one order.
You can also track your orders and returns by month with this sparkline chart.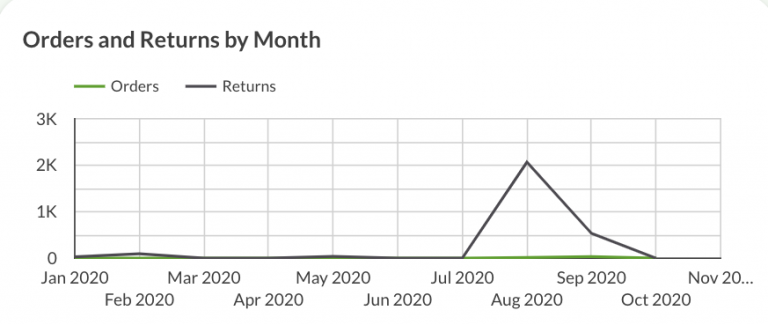 Psst! Check out these tips for optimizing your returns management process.
Let's say you're seeing a spike in returns in August. Is there something wrong with your products? Or is it possible that the products don't match the images and descriptions on the website? In that case, change the images and copy.
Next, there's a table showing total sales and order count by customer. You can tell right off the bat who your best customers are.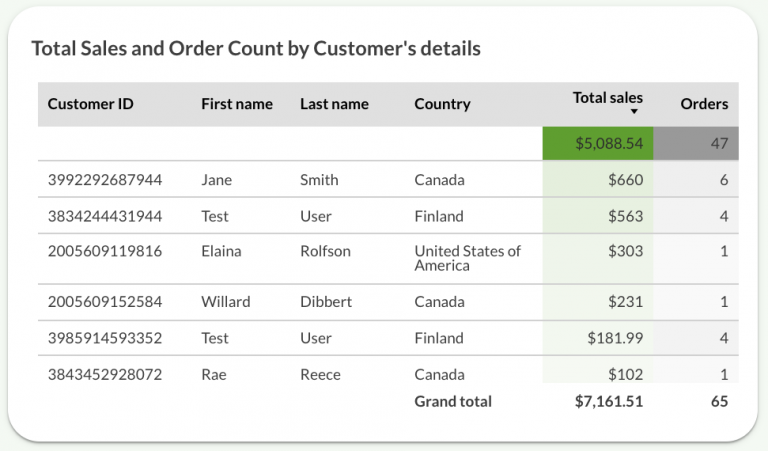 Use this data to nurture the relationship with your best customers and try to turn them into your superfans.
For example, you can create a loyalty program that rewards customers with points for each purchase. You can also upgrade their membership and provide more discounts when they reach a certain threshold.
Last but not least, you'll find a table with inventory data. From here, you'll see your inventory quantity and value breakdown by product. For example, when your best selling product hits a minimum stock threshold, you should plan to restock it again.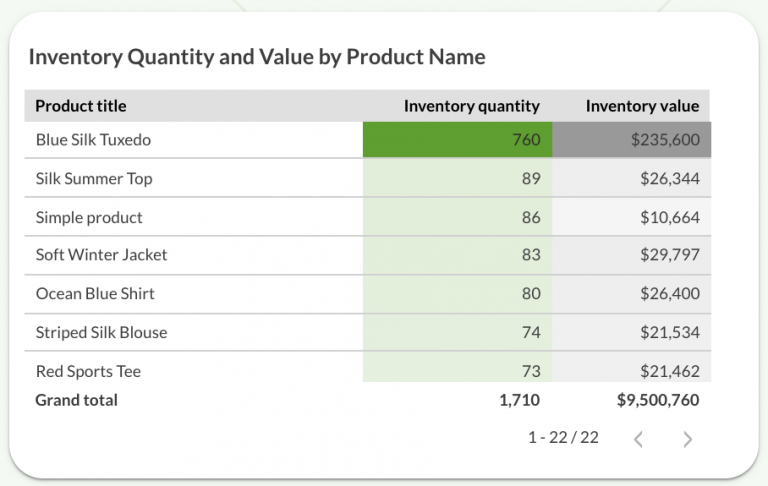 Getting started with this template
If you want to take our Shopify report dashboard for a spin, here's how you can do it.
First, open the template. Then on the top right corner, click on "Use template."
A window will open. On the "New data source" drop-down menu, click on "Create new data source".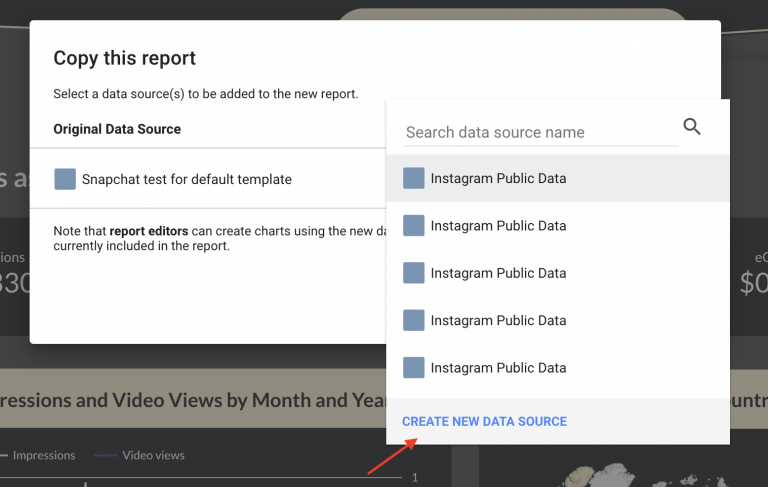 In the Google Data Studio connector gallery, search for a connector called "Shopify by Supermetrics".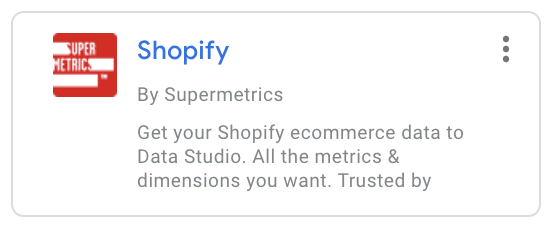 Next, authorize your account and give Supermetrics the necessary access.
Psst! By authorizing your account for the first time, you'll start a free 14-day trial of Supermetrics for Data Studio.
Choose the account you want Supermetrics to pull data from and click on "Connect".

After that, click "Add to report" → "Copy report".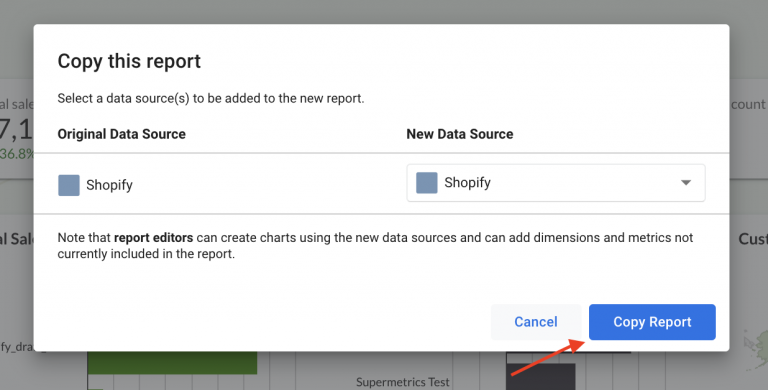 And that's literally it. Your Shopify dashboard is ready.
Pro tip: If you're managing several Shopify stores, you can switch between the stores by clicking on the "Store ID" drop-down menu at the top of the dashboard.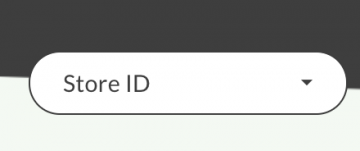 If you want to share the report with your clients or colleagues, simply click on "Share" and enter the email addresses of the people you want to share the report with.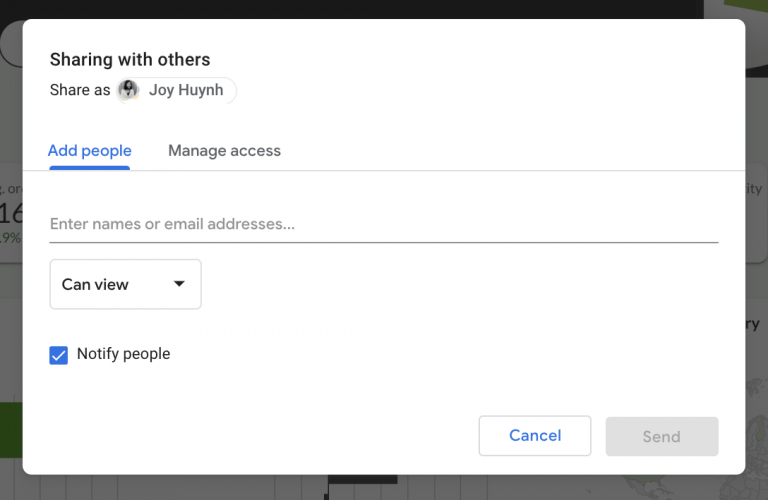 But that's just the beginning…
The beauty of this template is that you can tweak it according to your needs. So feel free to get your hands dirty and play around with it.
And since you now have a 14-day free trial of Supermetrics for Data Studio, you can combine your Shopify data with Google Analytics and paid ads data to see the entire customer journey on a single dashboard.
And one last thing: if you have an awesome dashboard you'd like to feature in our template gallery, let me know on LinkedIn or Twitter.
Happy reporting!
Turn your marketing data into opportunity
We streamline your marketing data so you can focus on the insights.