Dec 8, 2020
Level up your Pinterest reporting with two new connectors from Supermetrics
4-MINUTE READ | By Anna Shutko
[ Updated Feb 3, 2023 ]
Great news: you can now create reports with both paid and organic data from Pinterest in Google Sheets, Google Data Studio, and Excel.

Here are a few ideas of what you can do with these two new connectors:
Analyze how your content performs on Pinterest using the Pinterest Organic connector
Pull your account, campaign, ad group, and pin-level data from Pinterest Ads into a single Google Data Studio dashboard
Create a multi-channel report to compare the ROAS of Pinterest Ads against your other paid channels
Combine your Pinterest Ads data with metrics from Shopify
Create a Pinterest dashboard in Google Data Studio or use our ready-made templates for Pinterest Ads and/or Pinterest Organic
Pinterest content analysis report
Pinterest describes itself as "a visual discovery platform. People come here to browse, share and feel inspired."
And now with the help of Supermetrics, you can easily pull organic data from your Pinterest account to understand what type of content performs best. You can then use these findings to improve your content strategy. You can go granular in your analysis and see which pin type, format, and creative gets the most clicks.

You can also track your account's organic engagement and follower count to see how they've developed over time. And once you've learned which topics your audience is interested in, you can start promoting the most popular pins.
This is where the Pinterest Ads connector comes in handy.
Pull all your Pinterest Ads data into a single dashboard or create a paid channel mix report
"Because people on Pinterest are looking for ideas, ads are welcome and drive results."
With the help of Supermetrics, you can easily create a Pinterest Ads report in Google Sheets, Google Data Studio, or Excel.

Use Supermetrics' spreadsheet products (i.e. Excel or Google Sheets) to answer specific questions about your campaigns. For example, you can pull any metrics you need to answer the question: "Why has the number of clicks in campaign X decreased?"
Or pull your Pinterest Ads data into Google Data Studio to create a dashboard you can easily share with your clients or team members.

With the new Pinterest Ads connector, you can also break down your ad group performance metrics by targeting dimensions, such as age, gender, and location, to understand which targeting options work for your campaigns.

You can also go granular and analyze your paid performance on the pin level to understand what your best — and worst — performing promoted pins are.
Pinterest Ads is a great addition to your marketing channel mix. You can use Pinterest alongside Facebook Ads, Twitter Ads, Quora Ads and other paid social channels. With the help of Supermetrics, you can easily create a paid channel mix report that will help you compare the ROAS of your campaigns across different platforms.

Combining your Pinterest performance metrics with data from Shopify
Do you manage a Shopify ecommerce store and run campaigns on Pinterest? If so, you can use Supermetrics' Shopify and Pinterest Ads connectors to easily create an ecommerce marketing funnel report. With this report, you can link your Pinterest ad performance metrics with revenue data coming from Shopify.
Our Pinterest Ads connector has 36 add-to-cart conversion metrics for ecommerce reporting to help you see what your most popular products featured on Pinterest are.

Pinterest Ads and Pinterest Organic dashboard templates for Google Data Studio
If you'd like to use Google Data Studio for Pinterest reporting, you can use these two plug-and-play Pinterest templates.
Pinterest Ads template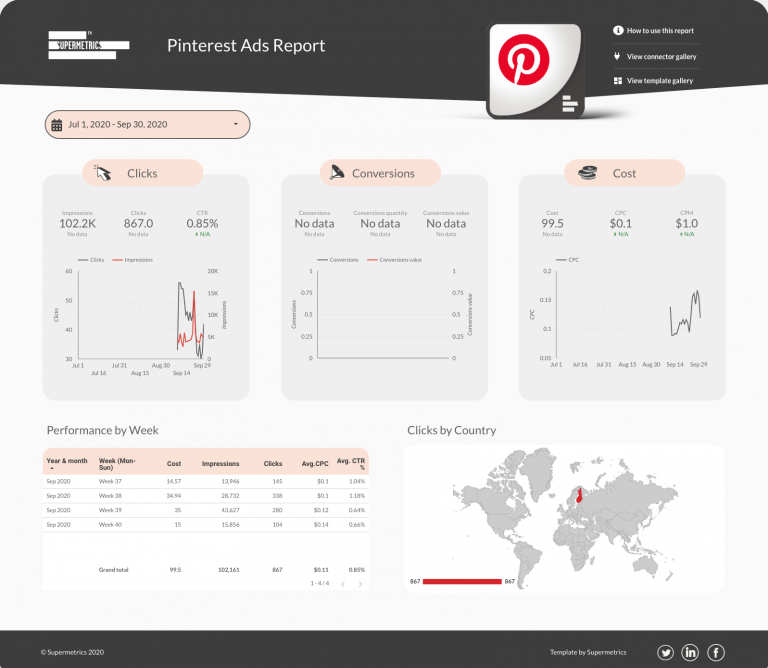 Here's what's included in this report:
Total impressions, clicks, conversions, and cost
Performance metrics broken down by week
Clicks by country
You can copy the Pinterest Ads template here.
Pinterest Organic template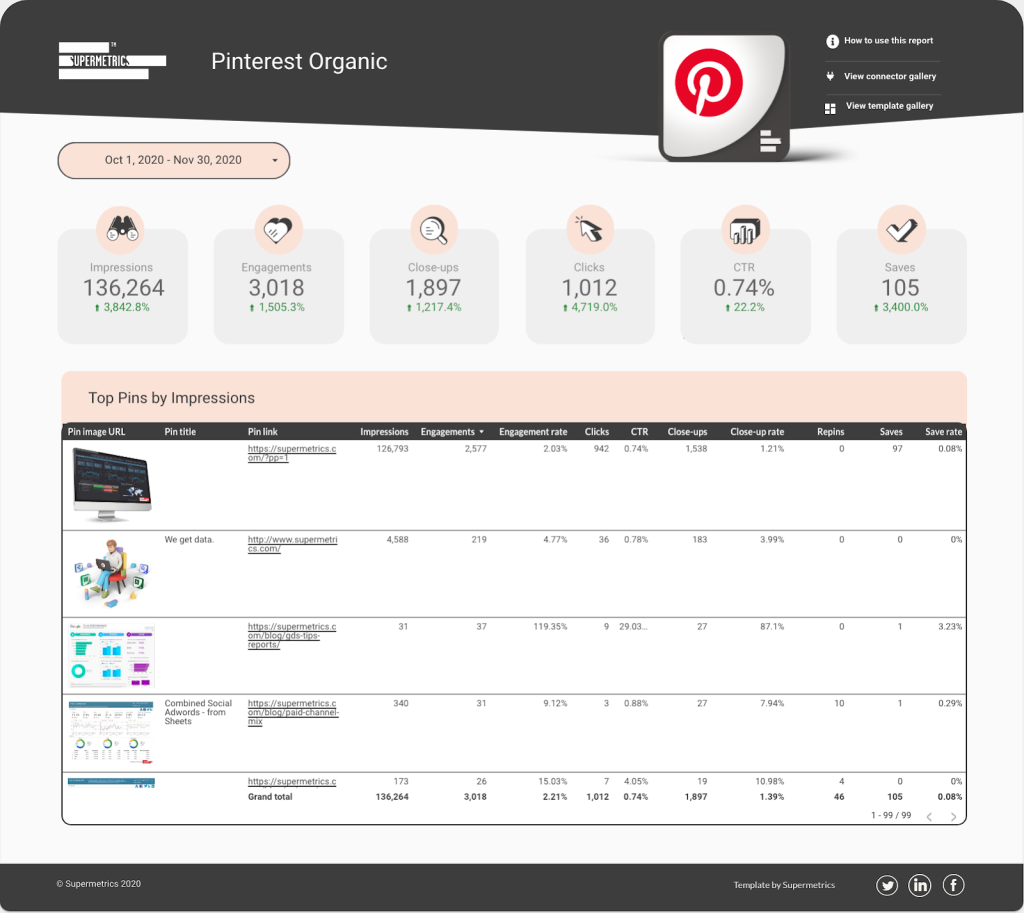 This report includes:
Impressions, engagements, close-ups, clicks, CTR, and saves
Performance metrics breakdown by top pins
You can copy the Pinterest Organic template here.
Getting started with the Pinterest connectors
The Pinterest connectors are available in the SuperPro packages of Supermetrics for Google Sheets, Data Studio, and Excel.

Both connectors will be available in the current SuperPro, and Enterprise plans introduced on October 28th, 2019. To use the Pinterest connectors, users with old plans (started before October 28th, 2019) will need to upgrade their plans to the newest versions.
Have more questions about using either of these connectors? Check out these guides for Pinterest Ads and Pinterest Organic. Want to start analyzing your Pinterest data today? Start your 14-day free trial of Supermetrics now.
Turn your marketing data into opportunity
We streamline your marketing data so you can focus on the insights.