May 7, 2019
The ultimate marketing reporting playbook: 29 agency marketers share their expert reporting tips
12-MINUTE READ | By Edward Ford
[ Updated Aug 3, 2023 ]
Marketing reporting is a vehicle for improving marketing performance.
By regularly reviewing progress marketers can identify what is working, what isn't working, and what actions you can take to optimize and improve performance. Ultimately, this will enable you to prove the value of your work, which is exactly why we do marketing reporting.
But developing systematic and effective marketing reporting practices is not easy. And with an overwhelming amount of data available to us, knowing where to start can be extremely challenging.
However, if there is one group of marketers who we can learn immense amounts from when it comes to marketing reporting, then it's agency marketers.
Agency marketers are under constant pressure to deliver results to multiple clients—at once. Reporting plays a crucial role in not just identifying where they should focus their efforts, but also to communicate with clients and key stakeholders about progress, performance, and opportunities they have to grow their business.
With this in mind, we asked leading agency marketers from all around the world to share their advice, wisdom, and practical tips about how you can improve your marketing reporting and performance. The result is this Marketing Reporting Playbook: 12 plays packed full of tips and advice you can immediately take away and put into practice.
Navigate the playbook:
Play #1: Start with a simple dashboard
Play #3: Align the level of detail to your audience
Play #6: Understand the customer journey
Play #7: Less manual work, more analysis
Play #10: Put it in your calendar
Play #11: Justify every decision
Play #12: Make yourself accountable – that means money
Play #1: Start with a simple dashboard
The challenge with marketing reporting is taking vast and complex data sets and turning it into something simple that both marketers and non-marketers can easily understand. This is why dashboards are so valuable and Patrik Wallin of Precis Digital says that, "You need a clear purpose of what the dashboard is supposed to be used for. I often found that less is more and too detailed dashboards often lead to them not being used at all. I'd rather have a simple dashboard where every number is fulfilling a purpose and being used."
When asked what makes a marketing dashboard effective, Melissa March, Data Analyst at The Hightower Agency highlights the need to tailor your reports: "While I start every dashboard with a standard reporting template, I customize each report to cater to my clients' needs." Michael Hutton of Improve Position reinforces the need for customization stating that, "The issue with off-the-shelf reporting solutions is they lack the ability to customize the data in a way that makes things easy to understand for those people who don't work with analytical data on a regular basis. By using tools like Supermetrics, data can be extracted and displayed in tools like Google Data Studio which allows clients to have access to the most important data in real-time."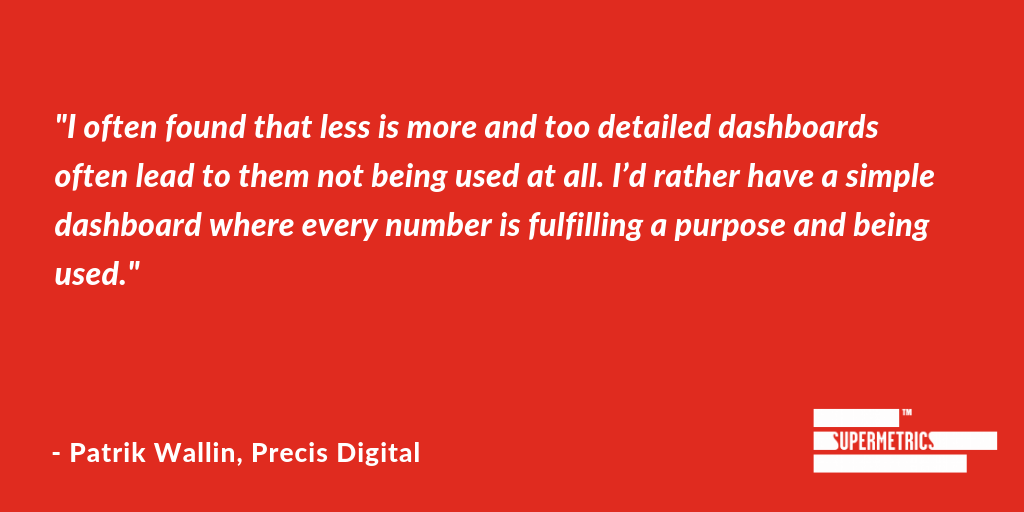 Play #2: Customize everything
Reporting templates are a helpful way to get started, especially when building dashboards, but Gil David of Run DMG backs-up Michael's point saying that "You still need to build it based around YOUR needs and goals, not someone else's. If you like the look of a template, use it – but adapt it so that you get the most actionable information from it for your own business/clients."
Eemeli Tani of TBWA Helsinki is also an advocate of clarity and customization, saying that, "A good dashboard, more than anything, is easy to use and read. Most often simplicity is key as there is little time for executives to spend browsing through a complicated platform. We've noticed that having a cover page that has the main KPIs visualised in an easily digestible form is important. We also pay a lot of attention to the visuals and the layout of a dashboard. The dashboard should have the client company look and feel so that it can be instantly identified as a custom solution made especially for them."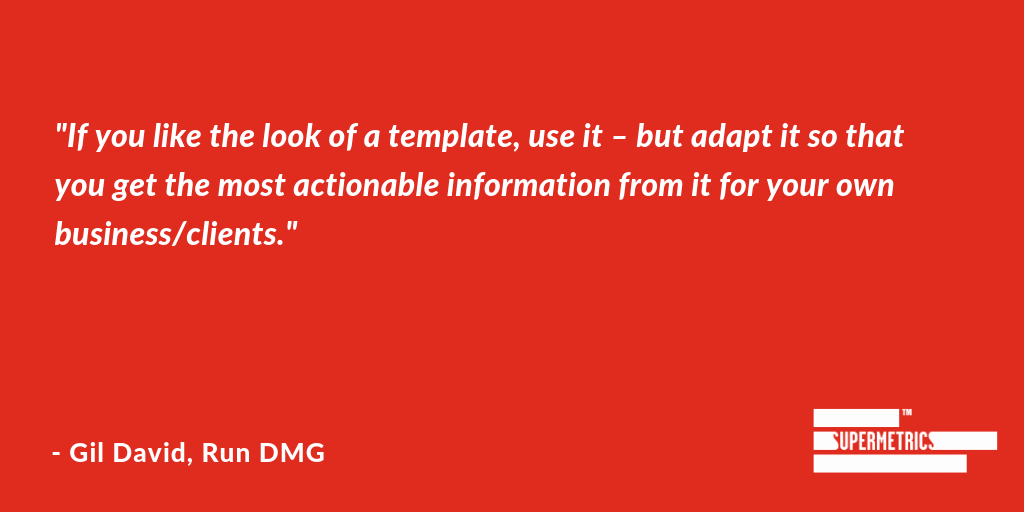 Play #3: Align the level of detail to your audience
Adrienne Goss of CCP Digital highlights that even if we're reporting on the same campaign, we need to provide different levels of granularity depending on the audience: "A good PPC report should be designed upfront with a one page overview for spend, impressions, etc. with ultimate ROI and KPIs (that the marketing team can use to prove their efforts). Deeper levels of analytics for the data scientists and strategists should also be included in a drill down."
Samuli Ahola of growth-marketing agency Advance B2B adds that, "You must know who you are talking and presenting metrics to. Rarely do non-marketer give a sh*t about clicks, blog reads, or CPM numbers. If your audience consists of marketers, then those are of course useful numbers. However, if you are presenting numbers to your Board of Directors, they couldn't care less. The higher up your audience is in the corporate ladder, the closer you need to get to actual $$$ as possible. This also helps to create synergies between sales and marketing, and when marketers can show their business value in dollars instead of clicks, then marketing will get the appreciation it deserves."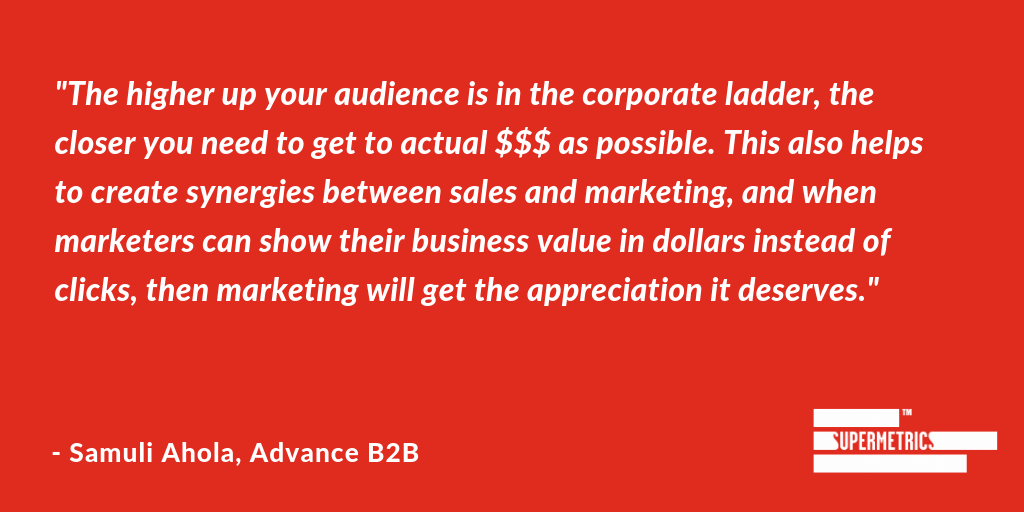 Play #4: Demystify your data
Marketers love lingo and abbreviations. Things like CPM, CTR, and CPA are everyday terms for us but to non-marketers they just see WTF. Furthermore, native data interfaces can be complex and difficult for people to understand, so you need to demystify your data. Tim Akers of Akers Digital says you need to, "Easily provide client facing KPI reporting. Google Analytics can be very confusing for clients so by providing a Data Studio marketing dashboard we can give the client reporting that only includes KPIs. This makes it easier to discuss marketing insights with the client." Jordan Choo of Kogneta continues by saying, "I can't tell you how many times I've seen reporting dashboards that use lingo that the client does NOT understand. For example, instead of conversions say phone calls or form submissions."
It's easy to fall into the trap of overcomplicating things, and Uppliappan Eswar of Adhesion reminds us that, "An awesome marketing report & dashboard should immediately point out actionable insights—and be understandable to a layman as well." Remember, not everyone who will be reading your reports and analysing your dashboards is a marketer, so you need to simplify the words you use and demystify your data so everyone understands what's happening.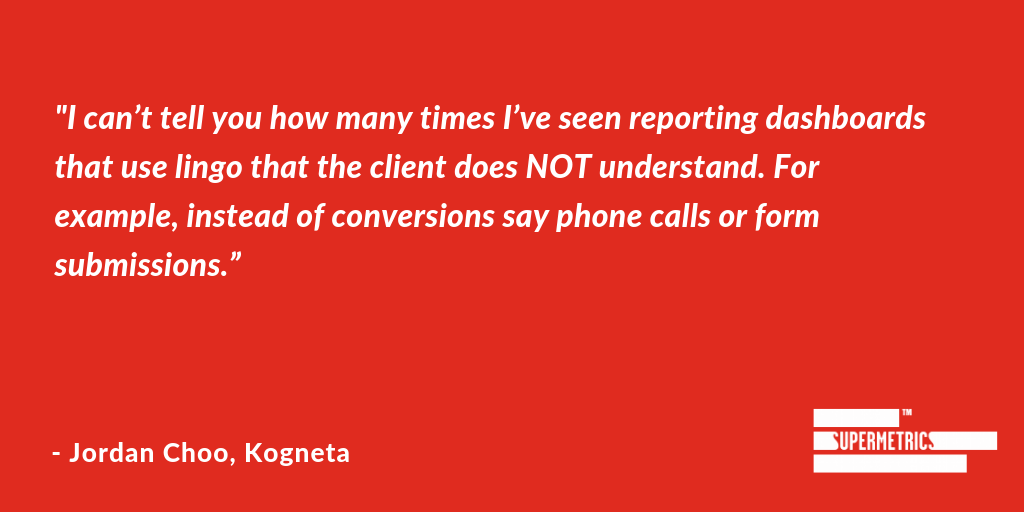 Play #5: Tell a story
Your reports and data should tell a story with your customer as the main protagonist, and your business and marketing as the supporting characters. But a good story requires context, and James McKinny, Director of Analytics at Mindgruve, explains that, "Focusing on primary KPIs alone does little to inform new opportunities and does nothing to explain why performance numbers are what they are. An effective dashboard focuses on contextual metrics and indications of WHY performance numbers are what they are, which is a vital first step towards creating a meaningful story."
Marijus Bilvinas of Lessor reinforces the need for context by stating that, "Correlation doesn't mean causation. Data is gold but always have in mind that context matters. Define your KPIs that you can measure, how they relate to your business goals, and how they related to each other." Ed Leake of Midas Media continues by saying that, "A solid reporting dashboard has to quickly and effectively tell a story. For example, how's budget trending compared to the previous period? What's the health of your KPI, for example conversions or cost per conversion? Remove clutter and focus on the critical metrics that actually move the business."
George Slokoski of Altair is also a big proponent of storytelling, saying, "You are telling a story with numbers so just visually "spamming" people does you and them no service. Work with your clients and in-house specialists to agree on the focus for your campaigns and build your dashboards around these KPIs. Proxy metrics are welcome if you are still using them to tell a part of your story but you still want to have the focus on your main KPIs. For example, include CTRs in a table on Data Studio but show your ROI as a heatmap so that's what people focus on."
And then to conclude, Yaniv Nava reminds us to, "Consider what your manager and customers would like to see. Create a story of the ideal dashboard. Then, tell that story with your dashboard in a visual way."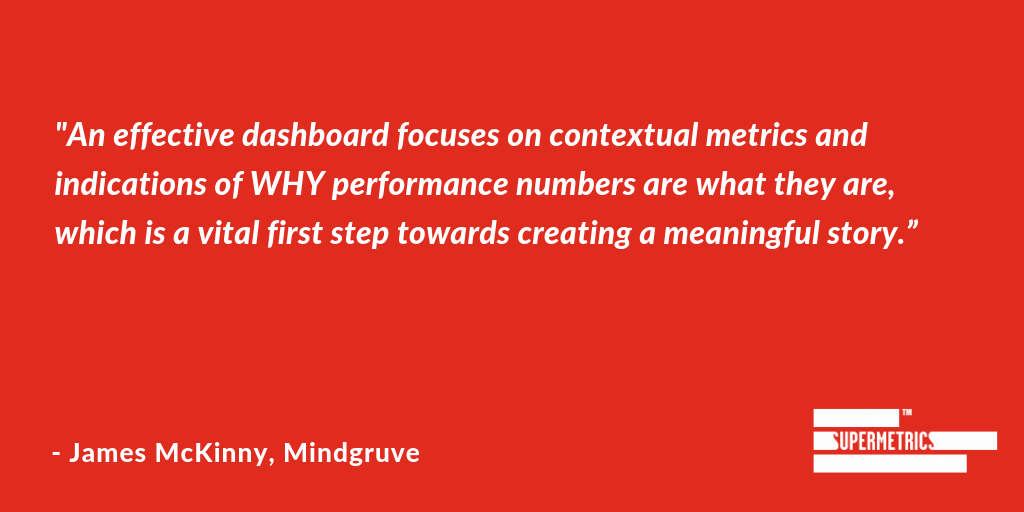 Play #6: Understand the customer journey
When it comes to marketing reporting, you have two stakeholders. Firstly, there are the people you are reporting to. For agencies, this means their own clients and for in-house marketers this often means the management team and board. But secondly, and more importantly, are the customers themselves. Paul Vella of The Royals explains that, "Reporting is not just a tool to show clients or senior management how effective or efficient a campaign is. Reporting can be used as a visual exploration of the digital experience to better understand user journeys."
But what's the key to understanding the customer journey? Michael Reiter of Michael Reiter New Media is pretty clear in his advice: "Automation, automation, automation. Every click costs time and therefore money. In this high-paced work environment automation is crucial to portray the digital customer journey."
So remember, reporting is not just about communicating the performance of marketing campaigns and activity, but also understanding and improving the customer journey.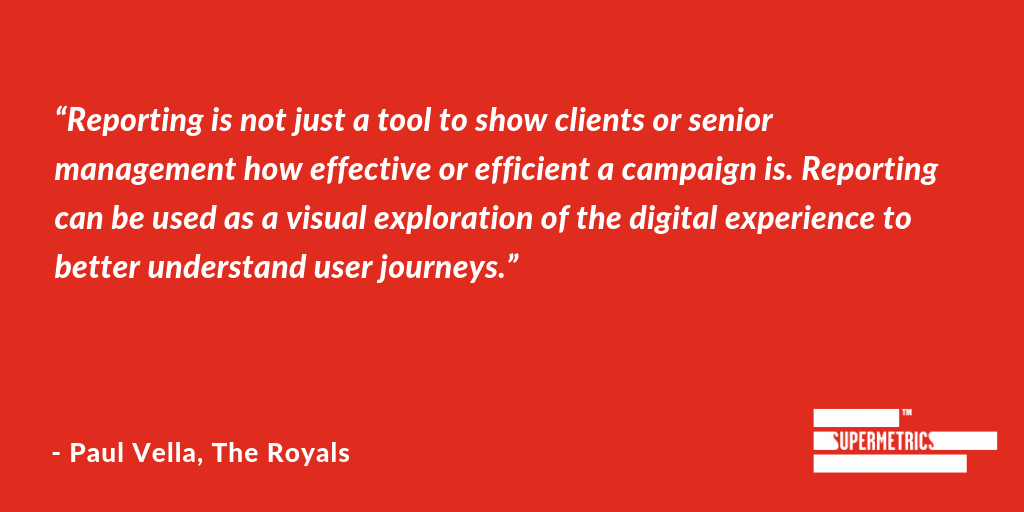 Play #7: Less manual work, more analysis
Madhur Telang of Performics.Resultrix says we should apply the Pareto principle, also known as the 80/20 rule, to our marketing reporting. He says that, "Use a minimum of 20% effort for updating the data, and a maximum of 80% time in data analysis! This is the 80-20 rule." George Slokoski continues by stating that, "For a lot of people, reporting takes a massive amount of time and is often filled with tedious, laborious tasks. Finding the right people and tools to reduce the said time and allow more time for applying our human instincts in finding insights is how you get people maybe even look forward to their reporting!"
Paul Vella continues by sharing two tips for reducing the amount of manual time spent on reporting and enabling better analysis stating that, "The first is a live or near-live data feed that automatically updates – saving time extracting the data to work with. The second thing is pulling together data from as many channels/tools available to get as detailed a picture of the situation as possible. Being able to see email, display, social, web and sales data in one place enables us to see the full user journey and identify drop-off points that we can optimize."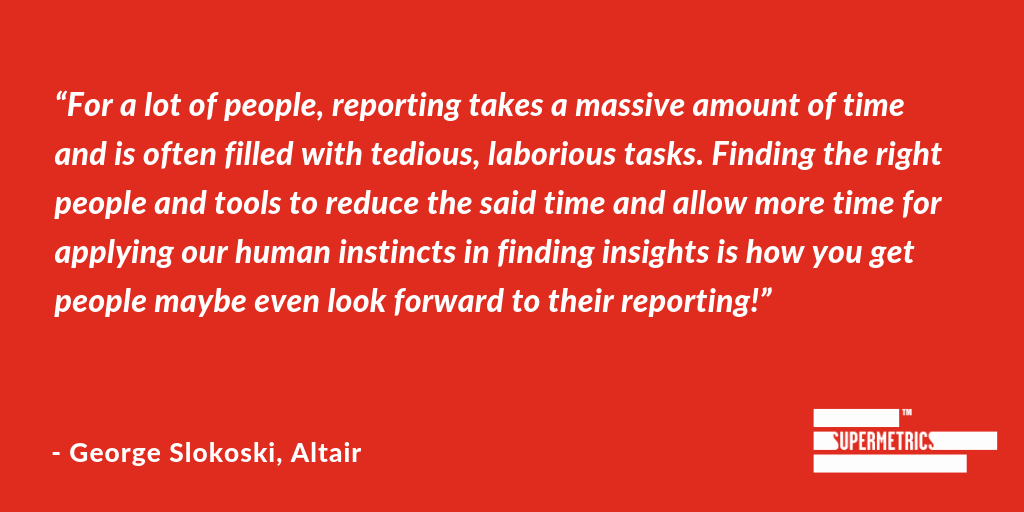 Play #8: Keep your data clean
Your reports and analysis will only be as good as the data you're using, so you need to ensure you have solid and reliable data in the first place. Chris Baker of Mark My Words Media is a big proponent of clean data and urges marketers to act on this by stating that, "Clean and accurate data is essential to making educated marketing decisions! The use of filters to remove junk or unwanted data is key to data that is accurate and meaningful. For example, not all website sessions are from real humans in google analytics. Use filters to show data related to only organic or paid traffic to weed out referrals and bots. Only Supermetrics has allowed us to combine all of our client accounts within verticals to aggregate data and make optimizations faster as Datastudio limits us to 50 accounts per dashboard/report currently."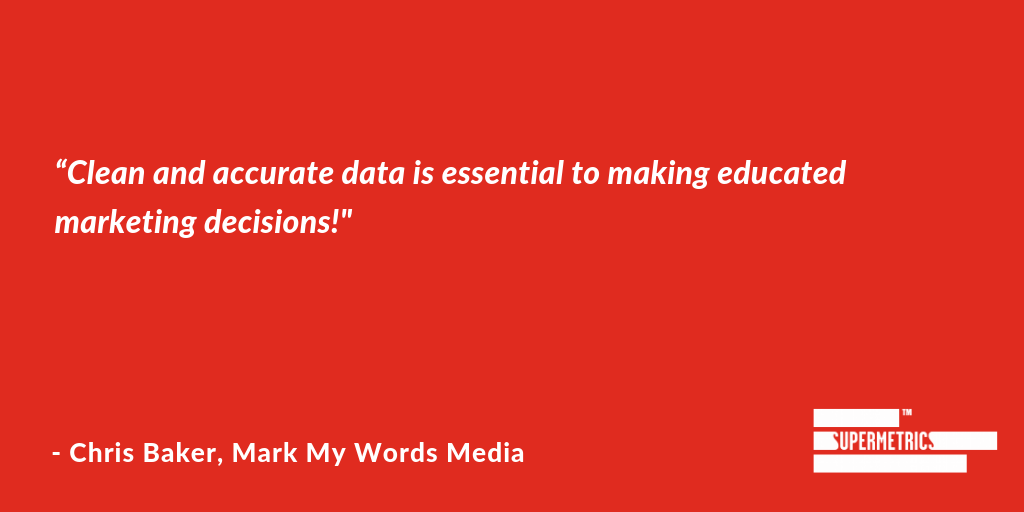 Play #9: Make it actionable
A big part of the reporting process is turning insights into action. If you're not able to change your behaviour based on your reports or findings then there was essentially no point in creating them in the first place. Ed Leake tells us to, "Build a report that compliments your daily, weekly and monthly routines. Consider what steps you take in your marketing and how you need to measure them. Build specific report pages for these activities, again removing any fluff or noise, focusing on key performance metrics." However, he advises us that, "A focused report that compliments your work might not look as 'impressive' as a report crammed full of metrics and graphs, but if a report isn't actionable it's a waste of time and ultimately won't get used."
Catie Peiper of Social Method also says that, "Make sure each table, scorecard, or graph/chart can be directly tied to an action step that can help account performance. There are too many dashboards that can't be easily tied to what do we do next or how do we fix this."
And finally, Andrew Miller of Workshop Digital explains that action should not just be limited to an operational level, but also a more strategic level stating that, "Our stakeholders, whether bosses or clients, make better decisions when they have the right inputs. They need to understand the value of their marketing investments to make more informed budgeting and prioritization decisions. Reporting should satisfy their need for insights while simplifying collection, aggregation, calculation, and forecasting."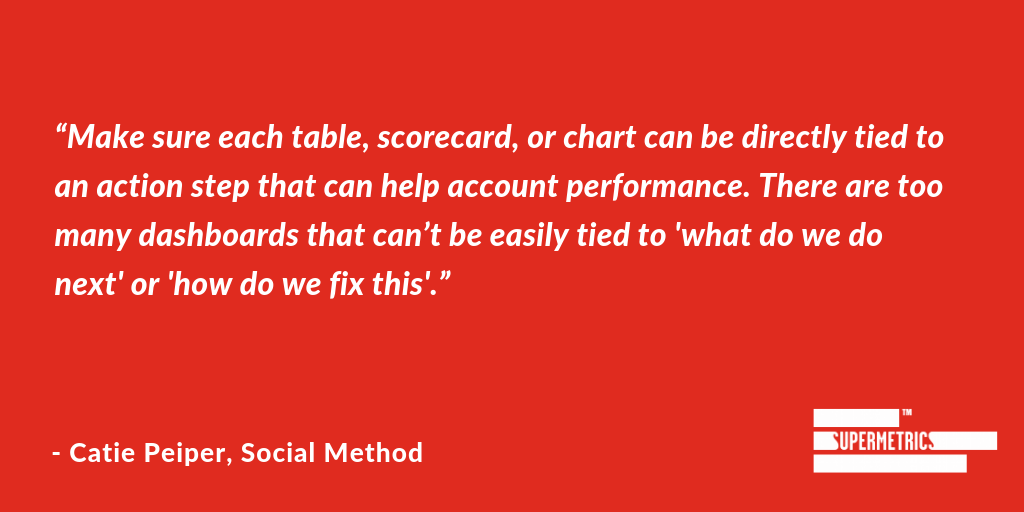 Play #10: Put it in your calendar
Reporting is an ongoing task. It should be baked into your regular schedule and you need to develop processes that make it a habit. Steve Deane of Nu Studio reinforces this by stating that, "Marketers *have to* make reporting part of their regular processes! For me, every task you complete in business needs to follow a process. Especially if you will repeat that task more than once. Monthly client reporting is a classic example. I set a calendar appointment for the last Friday of every month. This is monthly reporting time for my clients. I use Supermetrics to draw in all the pertinent data from multiple sources (Google Ads, Google Analytics, Semrush etc.) and display it in one easy to read report for my clients. I write a short report interpreting the data in plain English, and come up with next month's SEO strategy."
Fiona-Louise Karasek adds that the solution to your existing challenges can probably be found from your existing data, which is why she's also a proponent of reserving a regular time slot in your calendar for reporting and analysis saying, "Ask yourself: how can data I already have solve the problem or answer the question? Develop a concrete question and engineer a solution around that with the data you're already collecting. Schedule a weekly or monthly deep dive – meaning an Outlook appointment where you're not to be disturbed – to look into your reporting. Share relevant pieces of information with whom it concerns for further insights."
"We use a daily, weekly, and monthly feedback loop; always talking about what results we're seeing and whether hypotheses are being met. What did we expect to see the numbers do? What should we do next, and what would success look like? It's part of our ongoing conversations," explains Christine Bennett of HDMZ.
Laura Flores of iProspect Chile encourages us to start our day with reporting and says, "A good habit is to make a quick review of your dashboards each morning. That is a good way to start your morning and you can plan your day according to yesterday's results."
And Richard Newton of RN Digital explains that they've built reporting into a core part of their daily routines, saying that, "We use Supermetrics every day with clients to track the entire business and all its channels through a lot of custom dashboards. This allows us to adjust marketing budgets, allocate time and resources, and work much closer with our clients across all channels to deliver better results."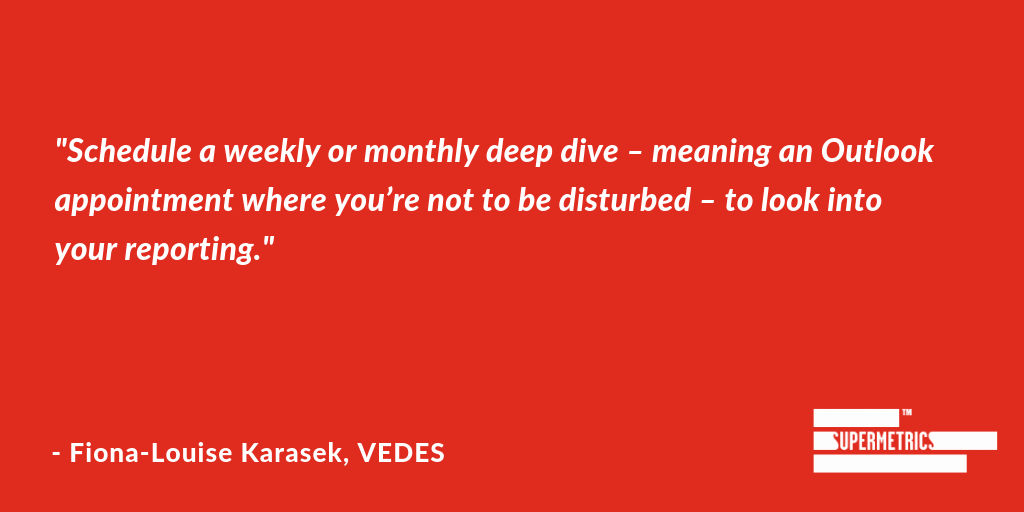 Play #11: Justify every decision
James McKinny spoke earlier about creating a meaningful story with your reports, but he continues by adding that it's your data that should define your future plot. More specifically, he advises marketers to justify every decision they make using data rather than basing it on opinion, stating that you should, "Require a data-driven justification or hypothesis in every meaningful decision you make. Marketers who fail to find themselves relying on reporting on a frequent basis are marketers making decisions based on guesstimates and opinions. Marketers who require data in their decision-making process are marketers with the greatest ability to drive performance with the least degree of risk and uncertainty. While the former group of marketers may find reporting a burden, the latter group finds reporting a necessity. You can usually discern which of these groups define a marketer based on the historical performance of their campaigns."
Mira Rodrigues of Sunlab also offers some advice on how you can overcome your own in-built bias by saying that, "One of the most important things a marketer can do to make reporting and data analysis part of your regular routines is always questioning your own views and opinions, and from time to time also trying to prove yourself wrong." By doing this, you'll take the first step in justifying every decision you make upon data, rather than opinion.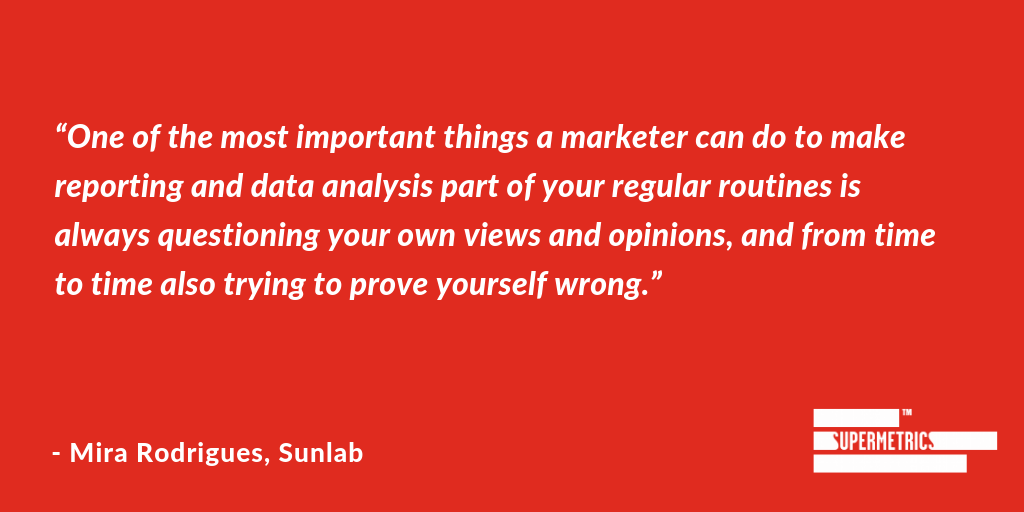 Play #12: Make yourself accountable – that means money
At the end of the day, all marketers are accountable for growth. That accountability is manifested through marketing reporting, which communicates your performance and shows that what you're doing is valuable. This accountability is something Jon'Nathon Stebbe of Loudspace embraces and he says, "We present the report before the campaign's launch. That puts good pressure on us to succeed."
Giving all stakeholders access to dashboards and reports that update in realtime provides transparency to everyone involved and reinforces the accountability marketers have when it comes to results. And typically, those results mean growth that can be measured on a balance sheet. "Everybody talks money so the closer you can get your dashboard to show the money, the more interesting your dashboard is for the whole company," says Ilpo Ryynänen of OIKIO Digital Performance Agency.
And this takes us to an apt closing statement with Samuli Ahola of Advance B2B encouraging marketers to, "Focus on real business metrics. You will thank yourself afterwards, even though it might be brutal at first. Clicks, page views etc. are good for measuring some actions, but at the end of the day it's $$$ that matter."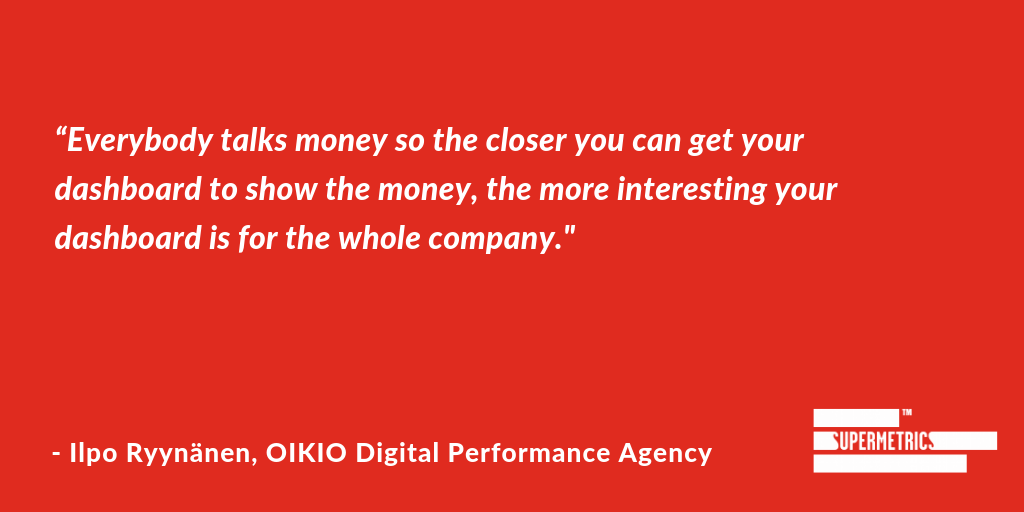 In conclusion
Marketing reporting is an ongoing process and something that needs to be baked into your daily, weekly, and monthly routines. The more transparent you can be, the better, as this will allow you and your key stakeholders to understand the performance of marketing and identify what you can do to improve. Make yourself accountable, show your impact on business growth, and automate as much as possible so you can spend your time analyzing data and making better decisions – pssst, this is where Supermetrics can seriously help you out.
Follow the advice of these marketing experts from this playbook, and you'll be well on your way to improving your own marketing reporting and performance game.
Start your free trial of Supermetrics today.
Turn your marketing data into opportunity
We streamline your marketing data so you can focus on the insights.