Mar 9, 2022
How to build an ecommerce dashboard in Google Data Studio [free template included]
9-MINUTE READ | By Joy Huynh
[ Updated Oct 31, 2023 ]
Ecommerce marketers have more data about their customers than ever before. However, this can be both a blessing and a curse. Having more data doesn't mean having better insights.
For one thing, your data is scattered across platforms, including web analytics, social media, and CRM. Combining your ecommerce data into a report and turning it into a ready-to-use format may take hours or days. And by the time you get your hands on the data, it isn't so fresh anymore.
In this post, I'll show you how to get your data automatically to Google Data Studio and build an ecommerce performance dashboard, so that you can get better insights from your ecommerce analytics data.
Since the dashboard is self-updating, you can enjoy fresh data without doing all the manual and repetitive data collection work.
Alright, let's get right to it.
Introducing the ecommerce performance dashboard in Google Data Studio
The template is perfect for ecommerce marketers who want a 360 view of their ecommerce performance, including website, product, and marketing performance.
Alternatively, if you're an agency that works with many ecommerce brands, this dashboard is a great way to share the results of your work with your clients.
Since the dashboard is customizable, you can easily add or remove any metrics to make sure the report is relevant to you.
Now, let's look at each page and see what's in it for you.
Overview performance
The first page provides a quick overview of your online store performance. With it, you'll understand:
How much revenue you're generating
Which channels drive better results
Who your customers are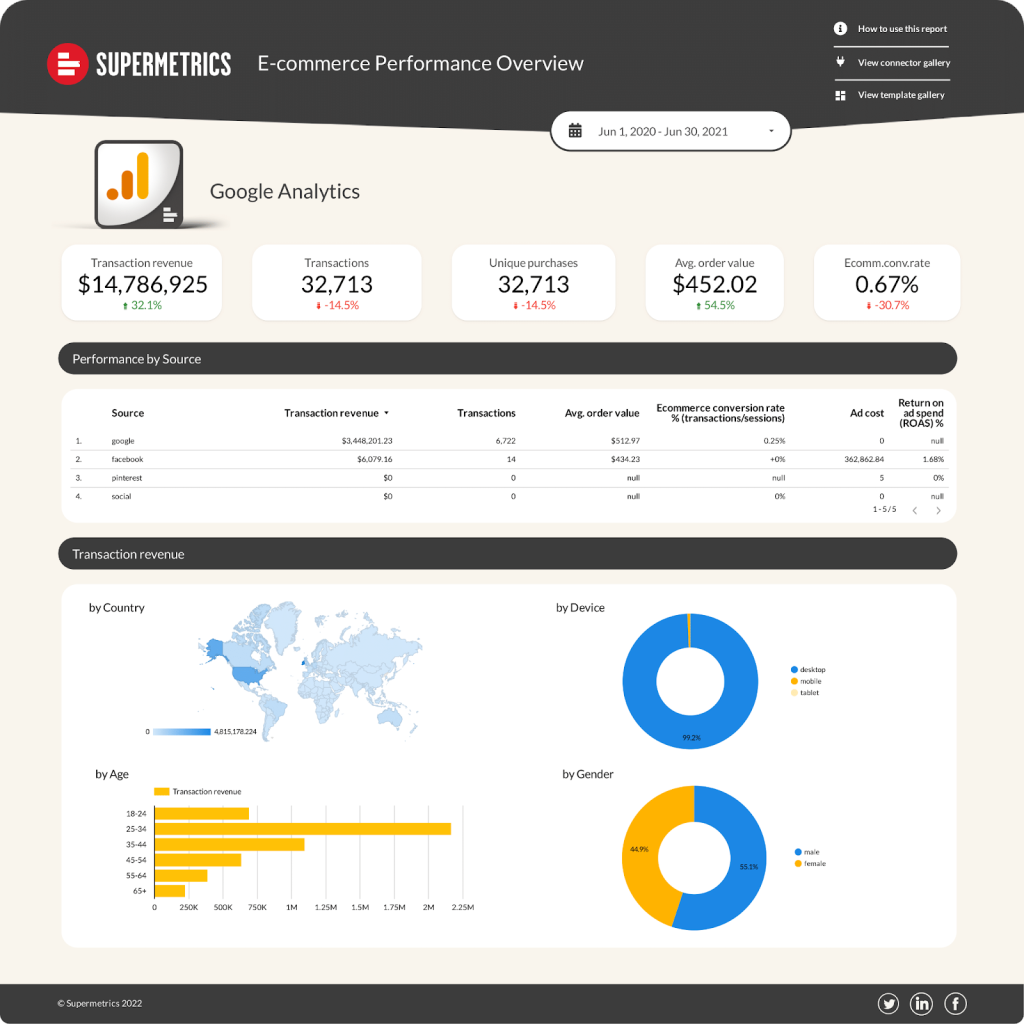 Let's take a look at the metrics on the 'Overview performance' page.
Transactions — The number of purchases or orders made on your ecommerce website.
Transaction revenue — The value of all transactions.
Unique purchases — The number of times a product was included in a transaction. This metric helps you understand the shopping preferences of your customers. Let's say your 'Minion eraser' has 300 transactions and 50 unique purchases. Simply put, customers might have bought 60 erasers 50 times. With this insight, you can immediately tell that people love getting your 'Minion eraser' in bulk. You can increase the sales of this product by offering discounts for orders over a certain threshold.
Average order value (AOV) — The average amount of money a customer spends in one transaction. Average order value helps you understand how much you should spend on advertising. Let's say your profit margin is 15%, and your AOV is $100. In that case, you only have $15 to spend on customer acquisition if you want to break even. Realistically, it may be hard to acquire a new customer with $15 through paid ads. But as long as you know your profit margin and AOV, you can choose other channels that work for you and fit the budget. For example, organic social media or SEO.
Ecommerce conversion rate — It shows how often someone who visits your website, converts.
Cost — How much you're spending on ads.
Return on ad spend (ROAS) — Helps you evaluate the effectiveness of your paid campaigns. It tells you if you're bringing more sales than what you're spending on ads.
Visitor behavior analysis
Let's say Bob is your target audience. In a perfect world, Bob sees your ads on TikTok, comes to your website, and purchases your product. However, in reality, Bob's purchase journey isn't always linear.
In fact, he may check out several products, add and remove some from his shopping cart, and end up not buying at all. It may take Bob a few days to make up his mind before he revisits your website and purchases.
That's where a user behavior analysis comes in handy. With it, you'll understand:
What your most popular pages are
Where frictions may appear
How customers move along the conversion funnel
Knowing which stage your customers are at helps create campaigns that are helpful and relevant to them.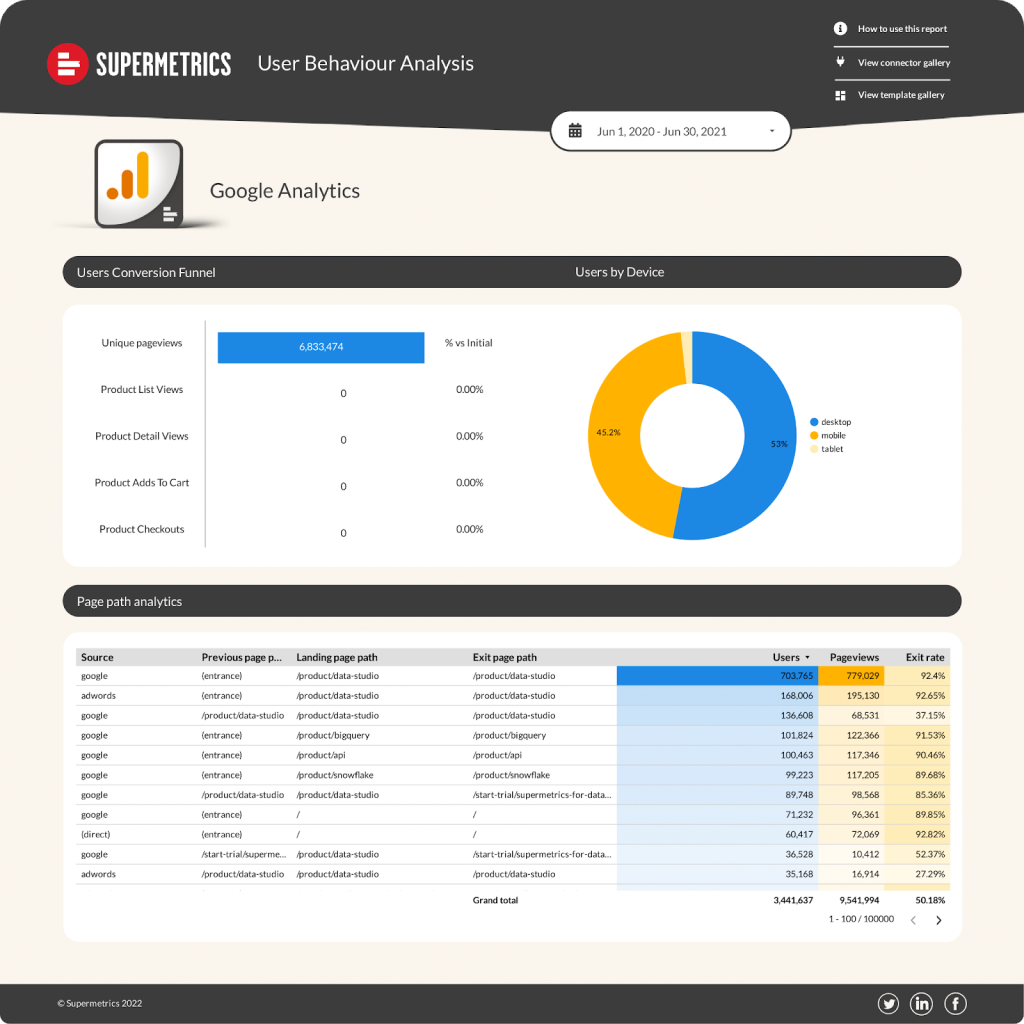 Let's look at some metrics you'll find on the 'User behavior analysis' page.
Users — Visitors who land on your website.
Exit rate — The percentage of visits that are the last in the session.
Unique pageviews — Whenever a unique visitor loads or accesses a page on your site, Google will record a pageview.
Product list views — The number of times someone views products when they appear in the product list.
Product details views — The number of times someone views the product-specific page.
Product adds to cart — The number of times someone adds a product to their shopping cart.
Product checkouts — The number of times a product appears in the checkout process.
Order details
If you're running your store on Shopify, you can easily track sales and order data with this page. By looking at this page, you'll understand where your sales are coming from. For example, by:
Country
Source/Marketing channel
Product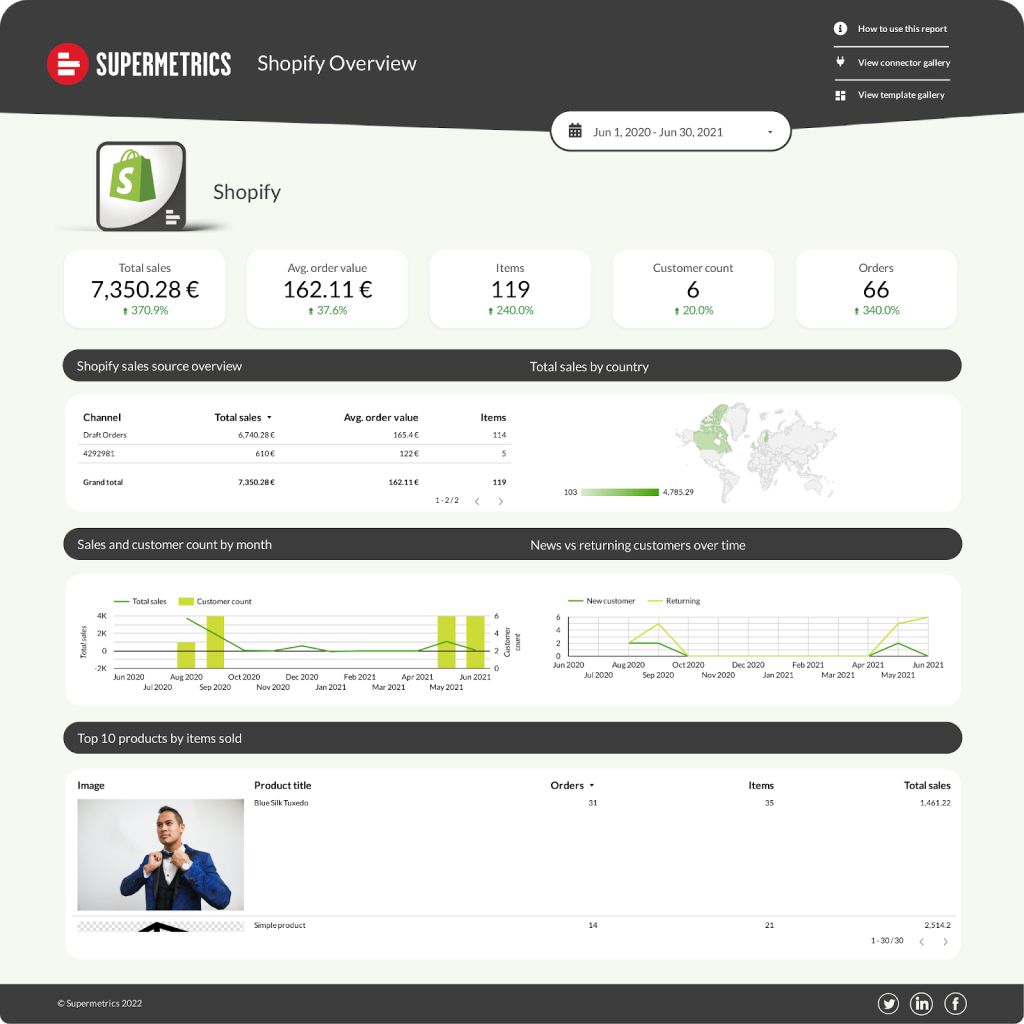 Another important insight you'll get from this page is new vs. returning customers.
Smart ecommerce businesses know the value of loyal customers. They're your biggest ambassadors. They're the ones who tell their friends and family about you. They promote your products on social media and actively look out for new product releases.
Additionally, increasing the number of returning customers can bring down your CPA (cost-per-acquisition). For example, if your average order value is $38, spending $35 on an ad to acquire a new customer is expensive. Your profit margin is quite small. However, if the customer keeps coming back and buying more products then the cost doesn't seem to be expensive at all.
Marketing performance
"Should we try TikTok Ads?"
"Should we cut down the budget on Facebook and invest more in Snapchat?"
"Do our ads perform well on Pinterest?"
Another challenge for growing your ecommerce store is, without a doubt, creating a new stream of customers. However, there are so many channels out there to choose from. Whether you have an enormous or limited budget, you want to allocate your ad spend strategically.
The last thing you want to do is buy ads blindly.
You need to figure out which channels work for your brand and audience.
The 'Marketing performance' page provides a breakdown of your ad performance across Facebook, Snapchat, TikTok, and Pinterest. It's totally fine if you run ads on other channels. You can easily remove or add a channel that you need.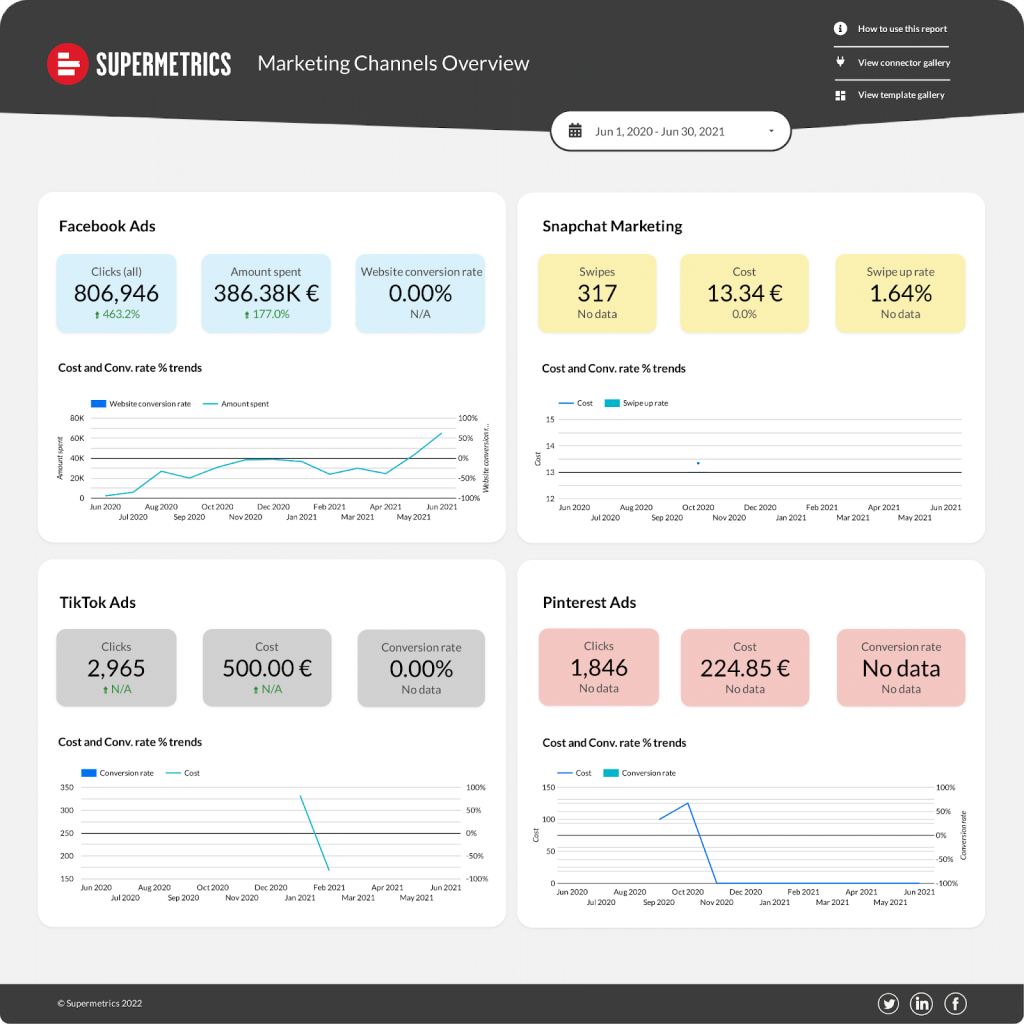 You'll find the essential metrics to your ad performance on this page.
Clicks — How many times have people clicked on your ads.
Cost — How much you've spent on your ads so far.
Conversion rate —The percentage of websites visitors who come from your ads convert into customers.
How to get started with this template
To get started, open this template. Click 'Use template'.
To make the template work, you'll need to connect the following Supermetrics connectors:
Google Analytics
Shopify
Facebook Ads
Snapchat Marketing
TikTok Ads
Pinterest Ads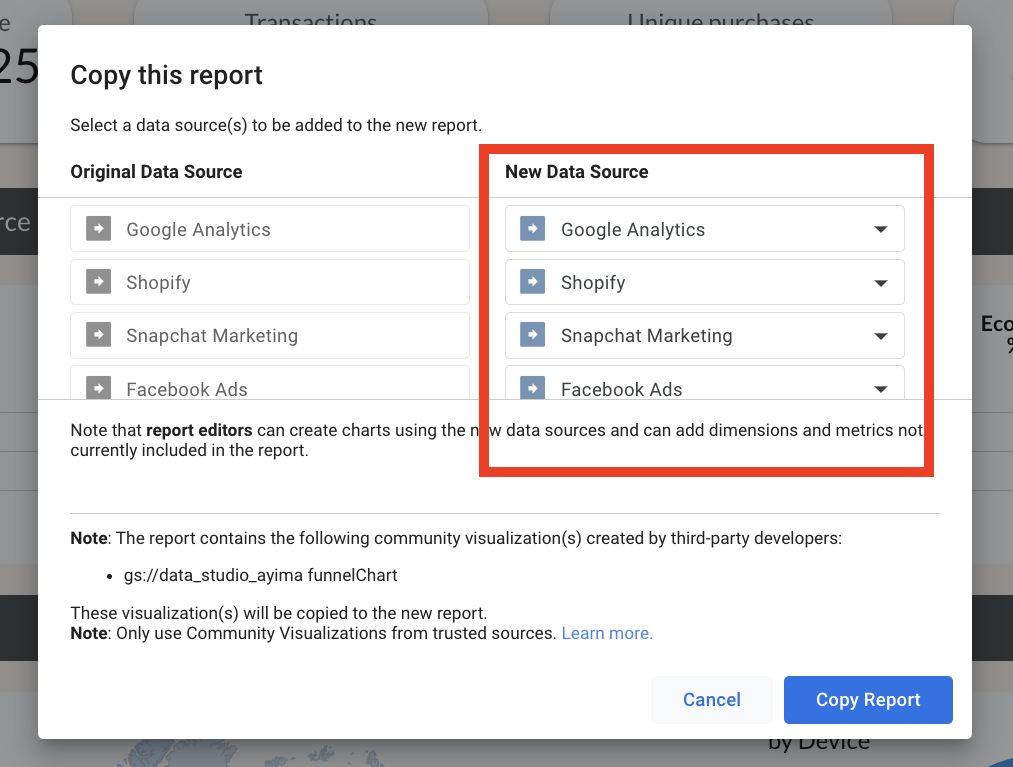 Let's start with Google Analytics. Click the arrow and choose 'Create data source'.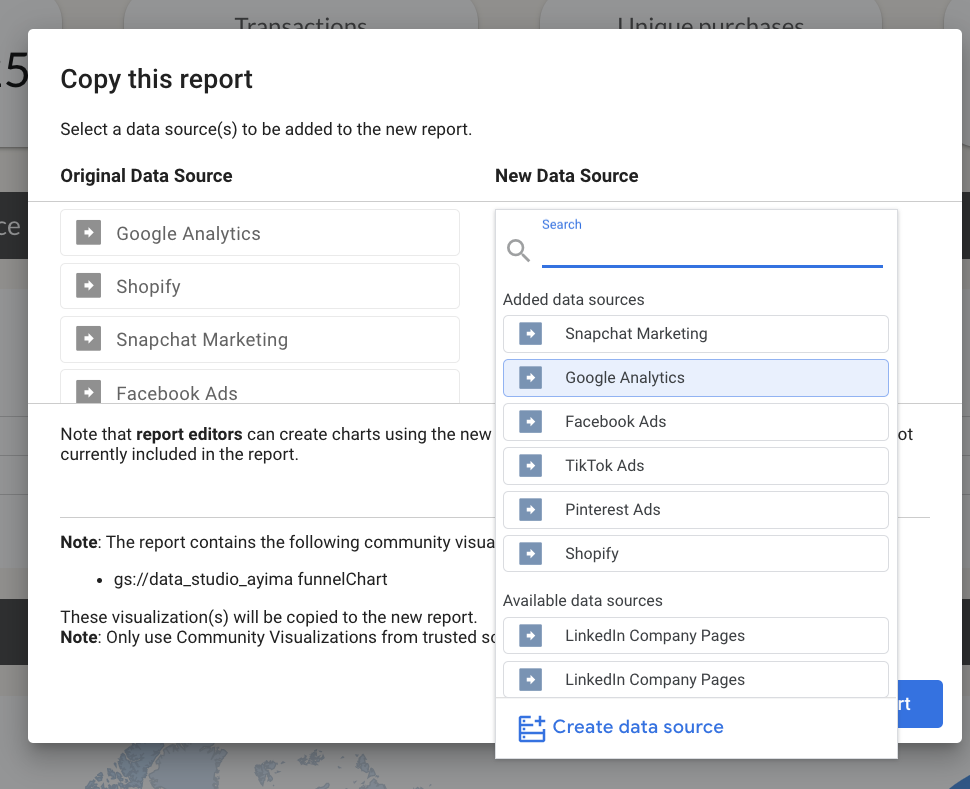 Then on the connector gallery page, search for a connector called 'Google Analytics by Supermetrics'.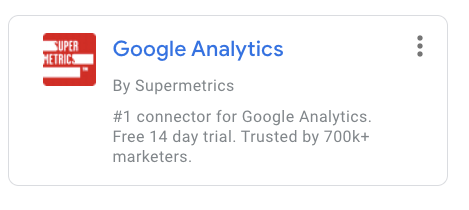 Next, authorize your Google account and give Supermetrics the necessary permissions.
Note that by authorizing a Supermetrics connector, you'll automatically start your 14-day free Supermetrics trial for Google Data Studio. You'll have access to all Supermetrics connectors for Google Data Studio. Feel free to explore them and build whatever reports you need.
Choose where you want to get your data from by completing these fields:
Select views
Select segments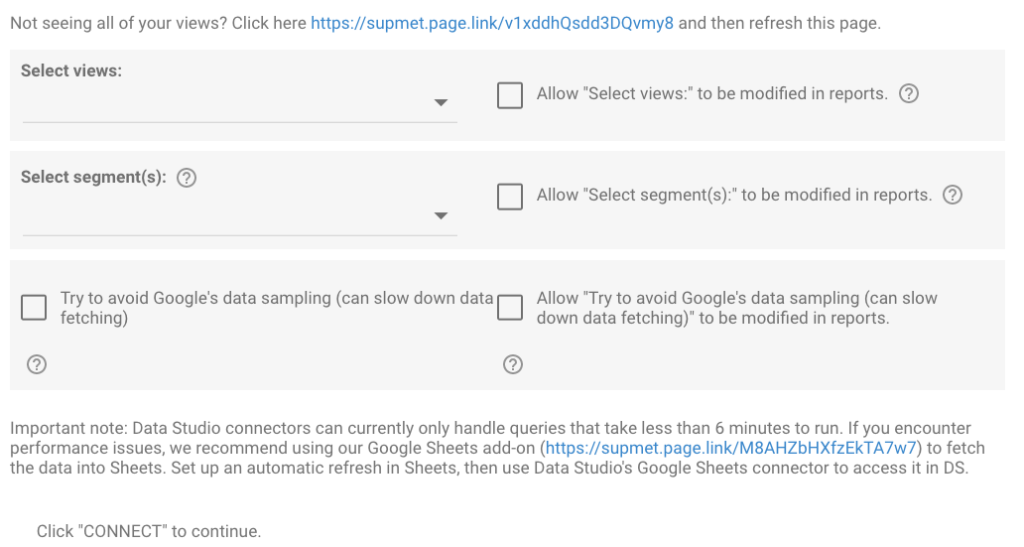 Tip: Check the 'Try to avoid Google data sampling' box to get unsampled data. Note that this may slow down your report.
Once you're done, click' Connect'. Then click 'Add to report'.
After that, repeat the same steps to add the rest of the needed connectors.
Once you've added all the connectors to the template, click 'Copy report'.
In order to pull data to the 'Age' and 'Gender' table, you'll need to authorize the demographics and interests report in your Google Analytics.
Log in to your Google Analytics account. Go to 'Admin' → 'Property settings'. Then under 'Advertising features', set 'Enable demographics and interests reports' on.
Congrats! Your template is ready to use. If you'd like to share the report with your colleagues or clients, click 'Share' and add their email addresses.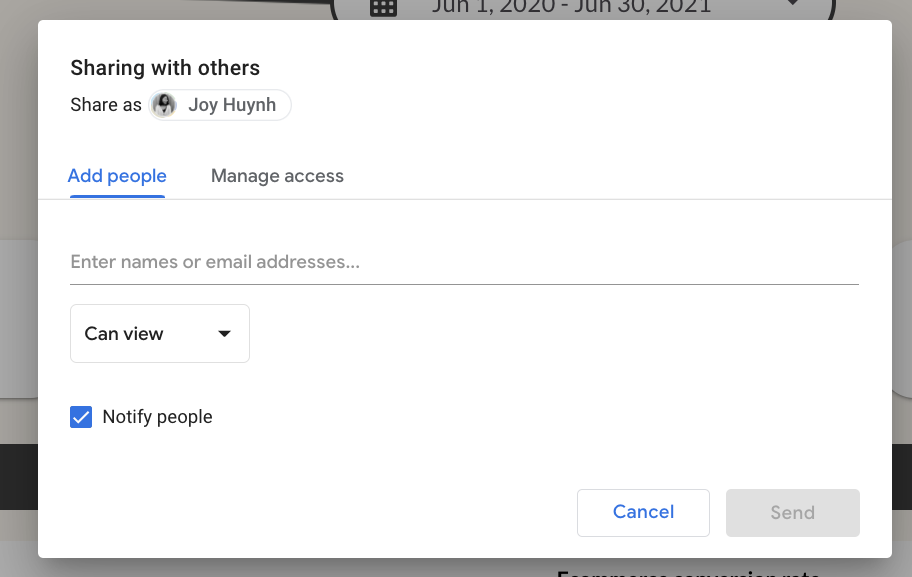 Less time moving data, more time growing your business
Now, with your ecommerce data automatically in one place, you can spend more time finding actionable insights, optimizing your campaigns, and growing your business.
Once you feel comfortable using this template, feel free to tweak it or build any reports that suit your needs.
Happy insights hunting!
Turn your marketing data into opportunity
We streamline your marketing data so you can focus on the insights.