Jun 1, 2022
Digital audio advertising 101—how, why, and when to get started with Spotify Ads [free template included]
15-MINUTE READ | By Fanny Heimonen
[ Updated Jan 18, 2023 ]
As a digital marketer, you're familiar with many advertising channels, like social media, search, online video, TV, or radio. But you may still be a bit unfamiliar with digital audio advertising. Marketers have found themselves asking questions like what digital audio advertising is, why should I run audio ads, or how do I create an audio ad?
We caught up with Spotify's Senior Product Marketing Manager, Katie Oakes, to answer these questions. Spotify is the most popular global platform for music and podcast consumption, so they definitely know a thing or two about digital audio.
This post will cover the basics of digital audio advertising and show you why you should add Spotify Ads to your paid media playbook. If you're interested to learn more about the topic, check out our Digital Audio Advertising 101 webinar with Spotify.
Skip ahead >>
Let's get into it.
What is digital audio advertising?
Digital audio advertising is the advertising that's inserted in-between digital audio content, like music or podcasts. So while consumers are already listening to the various types of digital audio content online, for example, through an app, website, or smart device, they can be targeted with relevant audio ads. Examples of digital audio channels include Spotify, YouTube Music, Apple Music, and Amazon Music, to name a few.
Why is digital audio advertising trending?
Audio as a format isn't a new thing. For decades, we've heard stories about people being entertained and educated through radio and gathered around it to listen to news, stories, or music. In fact, storytelling has always been an audio-first format, and now in the 21st century, it's all about bringing that existing format to the digital age.
Today, digital audio moves with us throughout our days. It's one of the most personal media channels, as the content we listen to reflects our moods, activities, and lifestyle.
Digital audio has been rapidly growing in recent years, both on the consumption and ad-spend sides. Katie says, "An emarketer study from October of last year showed that users now spend more time with digital audio than any other media throughout their day. So for the first time in 2021, digital audio ad spend surpassed traditional audio, like radio spend in the US."
There are many digital audio advertising trends. One of them is the consumption of its new formats, like podcasts, which have grown significantly in the last couple of years. In 2020, as a consequence of the pandemic, global podcast listening increased by 42%.
Digital audio provides many advantages for consumers, which have contributed to its growth. Digital audio isn't only entertaining, but it also offers consumers an escape from the visual bombardment in other media throughout their day. Katie says, "We found that 79% of audiences have turned to digital audio as a tool to combat screen fatigue. And 1 in 3 have said that they're looking forward to listening to more digital audio due to the pandemic."
There's also a certain element of wellness in digital audio. Katie explains, "We ran a study last year that we call Culture Next, where we saw that both Millennials and Gen Z's consider audio as not just entertainment, but an integral part of their wellness menu. 83% of millennials and 69% of Gen Z's agree that they use audio to reduce their stress levels."
The growth in digital audio consumption also makes it a great place for advertising. According to research in Statista, in 2021, digital audio advertising spend increased by 28%, and global spend is projected to reach US$7.00bn in 2022. Digital audio provides a huge opportunity for marketers, but it's still a relatively untapped channel compared to more established digital advertising platforms.
What are the benefits of digital audio advertising?
Digital audio advertising is a great way to increase reach and achieve upper-funnel goals, and it's often used in upper-funnel campaigns. The goal of audio ads isn't necessarily to drive conversions or a specific action but to get your brand heard by a relevant audience.
Hence, audio ads are integral to your paid media strategy, contributing to building awareness and consideration for your brand and product. When you combine it with other channels that drive the last click and last purchase, you can reach people in different settings throughout their day. Audio ads are a great way to reach your audience in those moments when other media are not going to reach them.
Perhaps the biggest benefit of digital audio advertising is that it allows you to reach an audience already in the mindset to listen, learn, and be entertained. This makes it an engaging and trusted space. If you're able to create an interesting audio ad, you may be able to get the attention of your target audience.
But, as an advertiser, audio ads give you a clutter-free environment, where you get to speak to people directly through their ears. You have the 100% share of voice, so you don't have to worry about people being distracted by popups that cover your ads or people scrolling past your ads.
Another benefit of digital audio is letting the listener take over with their imagination. Katie refers to this as the "theater of the mind". She explains, "Audio allows you to tell a story and let the listener take over with their imagination and visualize what you're saying in a much more cost-effective way than bringing that to life visually by producing a high touch video ad, for example." So the listeners can fill in the visual details for themselves, which is quite special.
All these reasons have contributed to the growth of digital audio consumption, and consequently, ad spend, in recent years. Through digital audio ads, you can have engaging, direct conversations with people you'd otherwise have a hard time reaching.
What are the drawbacks of digital audio advertising?
A common misconception is that getting started with digital audio ads is difficult and time-consuming. Often, advertisers struggle with especially the creative side of audio ads. They might not know exactly what you need to put the ad together, or they might not have the needed capabilities in-house.
Spotify's mission is to make that barrier to entry a little less intimidating. Katie explains, "If you've never created an audio ad before, we can help you with best practices in typing up a script. And then, as soon as you submit that script, we'll get a professional voiceover artist to record that script at no extra charge to you. We'll mix it with a background track that you select, make it sound professional and strong so that you're putting your best foot forward."
Another thing advertisers are commonly skeptical about is the measurement and attribution challenges of digital audio. Although digital audio is much easier to measure than traditional audio formats, it still has limitations. Some argue that there's a lack of unified KPIs, making it difficult to set expectations for digital audio campaigns. Advertisers also commonly rely heavily on CTR, which audio might not be the best channel to optimize for.
If measurement issues are on your mind, we'll discuss measuring and optimizing digital audio advertising later in this post.
Getting started with digital audio advertising
By now, you might be tempted to give digital audio advertising a try, but how and where to get started with digital audio ads?
Spotify is the leading global platform for music and podcast consumption, making it a good place to start. Brands of all sizes are tapping into Spotify and seeing the effects of digital audio on their campaigns. There are still a few things that marketers might question regarding Spotify Ads. Things like who advertises on Spotify, how to advertise on Spotify, are Spotify Ads suitable for my campaign, or how much does it cost to advertise on Spotify?
There are a few key things you should know about Spotify Ads. First, basically, anyone can advertise on Spotify, whether you're a small local business, a massive corporation, an agency, or a label. You can easily get started through Spotify's self-serve advertising platform, Ad Studio, and serve your ads to millions of listeners. Some industries Katie mentions they've seen success with, are music and other entertainment companies, CPG, tech, education, B2B, automotive, retail, non-profits, and government.
Second, there are two types of Spotify listeners, the ad-supported ones and the premium ones. Spotify Ads are targeted toward the ad-supported listeners, who have free versions of Spotify, and their listening is monetized through advertising. Roughly 252 million out of all 422 million monthly active users are on the free account and can be targeted with ads.
When you run standard music ads, they specifically target the free audience on Spotify. Premium users pay a monthly fee to listen to music without advertising. The only exception is the podcast ads, which get played to both free and premium listeners on Spotify.
A common misconception is that there's a huge difference between the ad-supported and premium listeners, for example, in their household incomes. But, Katie shares that Spotify has done a lot of research into the differences between the two groups. They've found out that there are people across all different levels of household income who've just decided to use the free version of Spotify and don't perhaps mind the ads so much.
What is Spotify Ad Studio?
Ad Studio is Spotify's self-serve advertising platform. It allows anyone to create and publish ads to Spotify in just minutes. Whether you're a small or a large brand, you can run audio and video ads on Spotify for just $250 per ad set.
Advertisers can upload their ads directly to Ad Studio, set goals, choose various targeting options, and define budgets and schedules. It works similarly to other advertising platforms, for example, Facebook—or Meta.
Through Ad Studio, Spotify can even produce the audio ad for you at no extra charge than the cost of the campaign itself. Katie explains, "You can type in your script and choose the voiceover artists, so their accent, language, and profile, whether younger, older, male, female, or even voices. You can give the voice actor some tips on pronouncing your brand or product, or the tone that you want them to achieve when they're reading your ad."
After you've given Spotify all the information needed, you'll receive your ad within 24 to 48 hours. You can listen to it and make any edits and changes, and publish it when it's ready. This way, Spotify helps advertisers create the best ads they can and ensure a smooth listening experience for the consumers.
At Supermetrics, we also ran Spotify Ads and tested the Ad Studio voice-over feature. We submitted a script and got a finished ad delivered to us in the 24—48 hour turnaround time. Pretty impressive.
Spotify Ads targeting
Spotify offers many targeting options. The platform works in a logged-in environment, where you create an account to listen to Spotify across all your different devices using the same logged-in information. This gives Spotify some really interesting first-party data to use for targeting and allows them to understand a persistent identity across all devices.
You can reach a wide range of audiences through Spotify Ads. There are listeners across all age ranges, genders, and around the globe. A particularly good audience to reach through Spotify Ads is millennials as it's the number 1 music platform for music discovery and recommendations among this group.
Spotify Ads are also great for targeting regional audiences. You can target down to the postal code level within Ad Studio in most locations. This allows you to get creative with your messaging and target a specific audience based on where they live.
On top of the basic targeting options, Spotify offers some pretty cool behavioral and contextual targeting capabilities. Interest targeting, for example, looks at the users' historical listening data, so what kind of playlists or podcasts they've listened to on different devices. This allows you to reach audiences that are passionate about topics related to your offering.
Real-time context targeting refers to reaching people at the moment when they're doing a certain activity, like cooking or working out and listening to a specific playlist. An FMCG company could, for example, advertise some packaged food to people listening to a cooking playlist, which allows them to deliver their message to a relevant audience. As a marketer, reaching the right audience, in the right setting, at the right time, and with the right message is key to getting that message heard.
Spotify Ad formats
Did you know that you can actually run both audio and video ads on Spotify? If you run audio ads on Spotify, you have a 100% share of the voice. There are no other ads in that moment taking away the attention of your brand. Audio ads are served in moments when you're not focused on the screen, like when you have your phone in your pocket or audio playing through the speaker.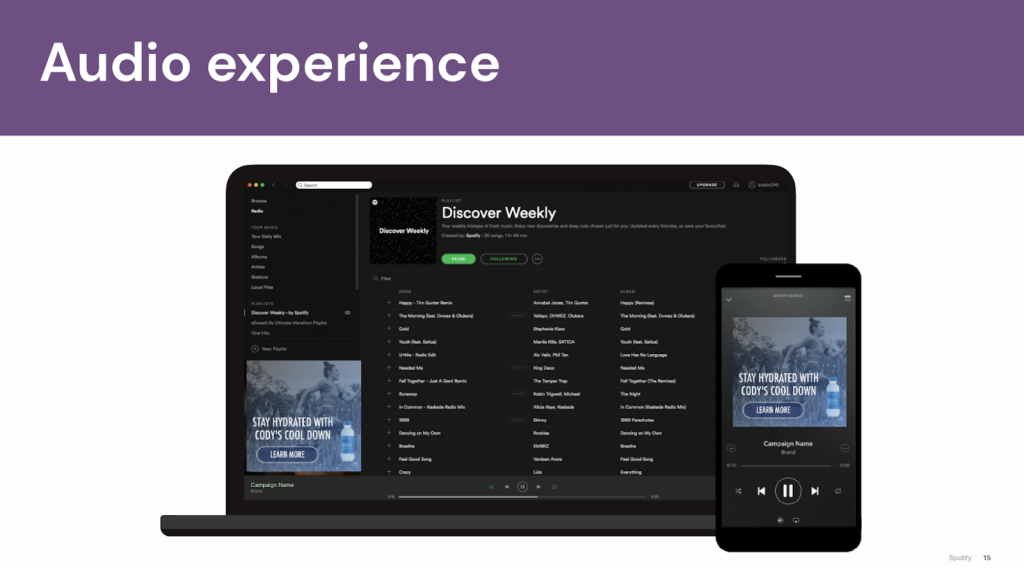 In contrast, video ads are played when a consumer is actively engaging with the app, like scrolling through or creating a playlist, so it's known that the user has their screen up.
You can run both types of ads at the same time.
Spotify Ads and other paid media channels
If you're not yet sold on trying out Spotify Ads, next we'll show you how it complements other channels and why you should add it to your paid media playbook.
Spotify Ads are highly engaging. Katie says, "We did a study that analyzed the effect of Spotify Ads and digital audio advertising on your brain. We found that Spotify's Ads specifically drove higher engagement than TV, digital video, or social media, and even higher than other digital audio platforms."
Spotify Ads also complement other channels and boost the results of other formats. Audio has a unique way of adding emotion and connecting people to what they're seeing. Hence, it's a great way to support visuals and define the overall tone of your story. As Katie mentioned, on Spotify alone, multi-format campaigns that include both audio and video result in higher ad recall and brand awareness.
Spotify also provides incremental reach above and beyond other channels. Katie explains, "On average, Spotify delivers a 21% incremental reach over and above the TV in the US and a 16% incremental weekly reach over and above social, digital platforms. And even when you narrowly look at other platforms like TikTok or Snapchat, Spotify in combination with those other platforms can double the unique reach that you can achieve on just one of them."
So you should definitely give Spotify Ads a chance and add it to your paid media playbook. It allows you to reach more people in your campaigns and talk to them in moments where they're already listening. With Spotify Ads, you can fill in those screen-less moments in the consumers' lives.
Measuring and optimizing your Spotify Ads campaigns
Like with any marketing campaign, after launch, you want to measure the success of your campaign and the channel. One benefit of digital audio advertising is that it's much easier to measure than traditional audio, for example, radio. Digital audio is online, streaming, and real-time, so you can report on many of the same KPIs as in any other advertising platform.
Spotify Ad measurement is made easy through Ad Studio, where you'll have real-time data on your campaign performance, like impressions, unique reach, frequency, completion rate, clicks, click-through rates, and some audience insights. Spotify also works with reporting partners, like Supermetrics, to help advertisers monitor their Spotify Ads campaigns and combine the data with the results from their other media.
With Supermetrics, you can streamline your data delivery from all major sales and marketing platforms, including Spotify Advertising, to the reporting tools you're already using and familiar with, whether a spreadsheet, BI tool or a data warehouse.
So what's the difference between using Spotify UI's native dashboards and using Supermetrics for your Spotify Ads reporting? We've talked about how Spotify Ads complement other channels and recommend running Spotify Ads along with your other media.
With Supermetrics, you can
Automatically bring your Spotify Ads data to your go-to reporting tool
Combine that Spotify Ads data with data from other marketing channels, like social media, search, or your web analytics, to get a 360 view of your performance
Access metrics and dimensions that aren't always available in the Spotify UI itself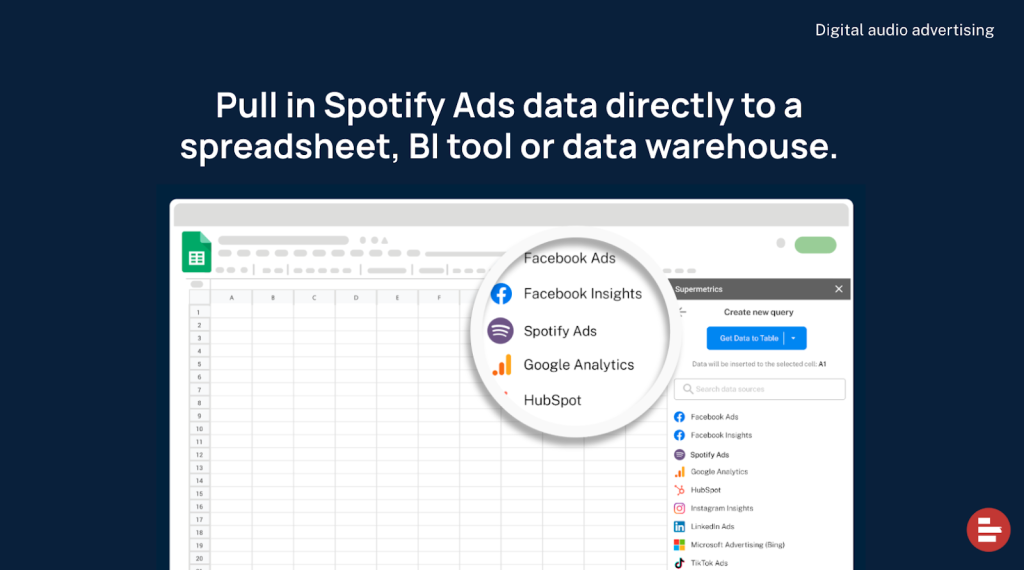 A popular way to get started with Supermetrics is by pulling your data into Google Sheets or Google Data Studio. By following these 4 steps, you'll have your data flowing to Google Sheets.
Authenticate with Spotify Ads. You can usually do it directly from the reporting tool you use or in the Supermetrics UI.
Connect to your Spotify Ads accounts. You can connect and bring data from multiple accounts into one place, which is especially useful in two cases.
First, if you're a major marketing agency advertising on Spotify for many businesses and you need to have access to many different accounts and a lot of data.
Or second, if you're a big organization with multiple smaller brands that advertise independently on different Spotify Ads accounts. With Supermetrics, you can pull that data in from multiple locations and get a centralized view of how things are going.
Once you've connected your accounts, you can start pulling that data directly into Google Sheets. Within just minutes, you can build queries to bring in any data you have available in Spotify Ads. There's no code needed. You can slice and dice that data directly in Google Sheets, making it a little more flexible in terms of how you can look at the data, such as time comparisons.
All the reports are fully customizable, so you can view whatever metrics you want in any order you want or break them down by any type of granularity. You can also share the report with anyone in your organization or your clients. Even if they don't have a Spotify Ads account, they can access that data and quickly and easily see what's happening in your performance.
If you'd rather visualize your data, you can check out our free Spotify Ads Data Studio template.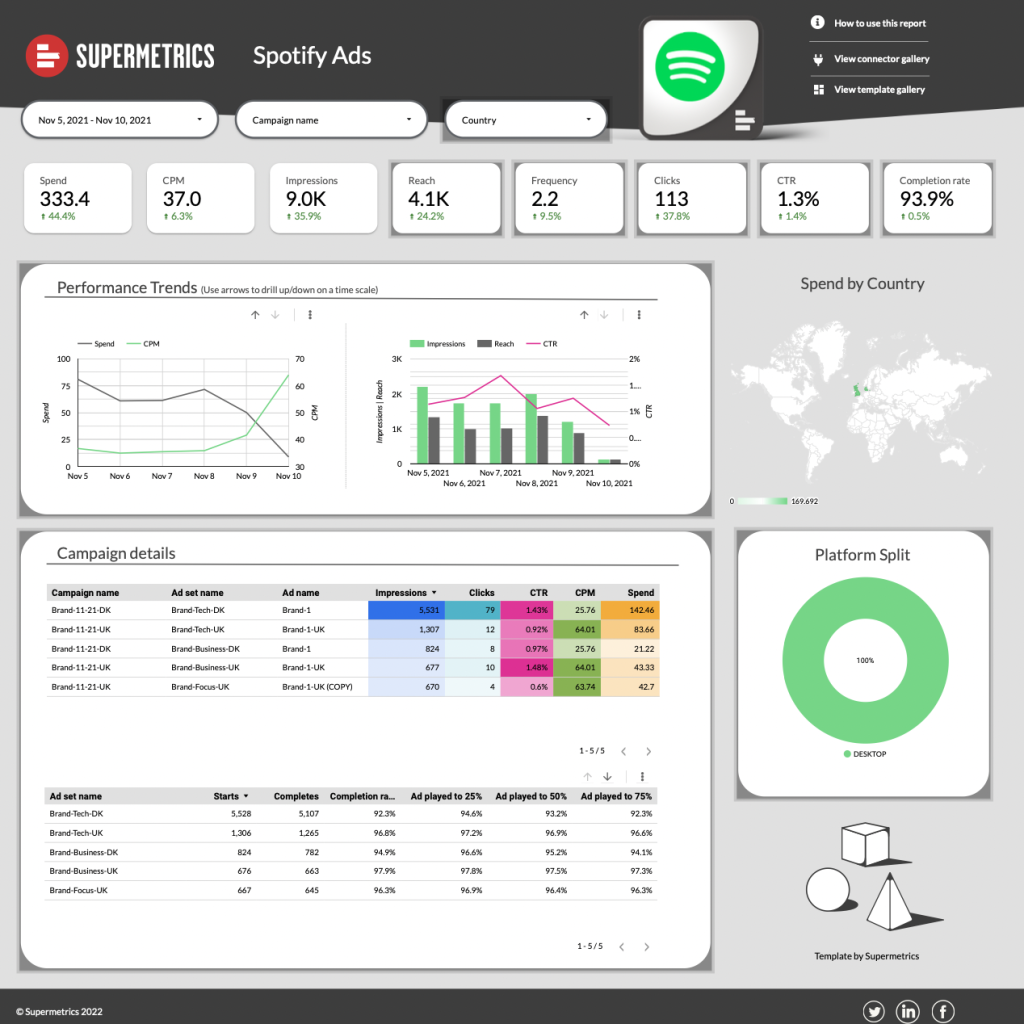 Putting it all together
We've now covered what audio advertising is, why you should give audio ads a try, how you can get started with your Spotify Ads campaigns, and how to measure your campaign results with Supermetrics.
As a marketer, you might feel like digital audio is just another channel for you to adopt. But, as consumers keep shifting to streaming audio services, digital audio keeps growing rapidly and gives a lot of untapped potential. By adding digital audio to your paid media mix, you can put your products and services out there to be heard and raise awareness for your brand. Through digital audio ads, you can have engaging, direct conversations with people you'd otherwise have a hard time reaching.
The only thing left for now is to give Spotify Ads a try and see the impact yourself.
Turn your marketing data into opportunity
We streamline your marketing data so you can focus on the insights.