Aug 4, 2022
How to ask customers for reviews—and how we got to the G2 Top 100
20-MINUTE READ | By Riku Mikkonen
[ Updated Jan 18, 2023 ]
When it comes to your business's online reputation, reviews play a key role in attracting new customers and retaining existing ones.
Let's look at why reviews are so important, how you can drive more reviews, and how we got to G2's top 100 list—the top review site for business software and services.
Fast forward >>
Why customer reviews are important
Customer reviews are one of the most important factors in influencing potential customers. Most consumers say that positive online reviews influence their buying decisions because reviews give social proof that others have tried and liked your product or service.
Giving reviews allows customers to share their experience and voice their opinion. Positive customer reviews can increase sales, while negative ones can lead to lost business.
How to ask for a review
The best way to get more reviews is to simply ask for them. You can do this in different ways, such as:
Including a call-to-action on your receipt and encouraging customers to leave a review
Sending an email to customers after they've used your product or service
Adding a pop-up to your product or website
Making a personal phone call to your customers
Asking customers for reviews can be a great way to increase the number of positive reviews and improve your online reputation. But, it's important to remember that not all reviews will be positive.
It's key that you respond to reviews, both positive and negative, in a professional and polite manner. Responding to negative reviews in a positive way can show potential customers that you're committed to providing a good customer experience.
Which channels are best to reach your customers?
You should engage with your target audience, and the best way to reach your customers will depend on your specific business and customer base.
Here are a few ways you can engage with your customers.
Website
Your website is a great place to encourage customers to leave reviews. You can add a call-to-action button on your homepage or on specific pages, such as your product pages or contact page.
Chat tool
If you use a chat tool on your website, such as LiveChat or Intercom, you can encourage customers to leave reviews.
When you chat with potential customers, you're building a relationship with that individual. You're also creating a brand personality as the target audience actively speaks to a human and not just browsing your website.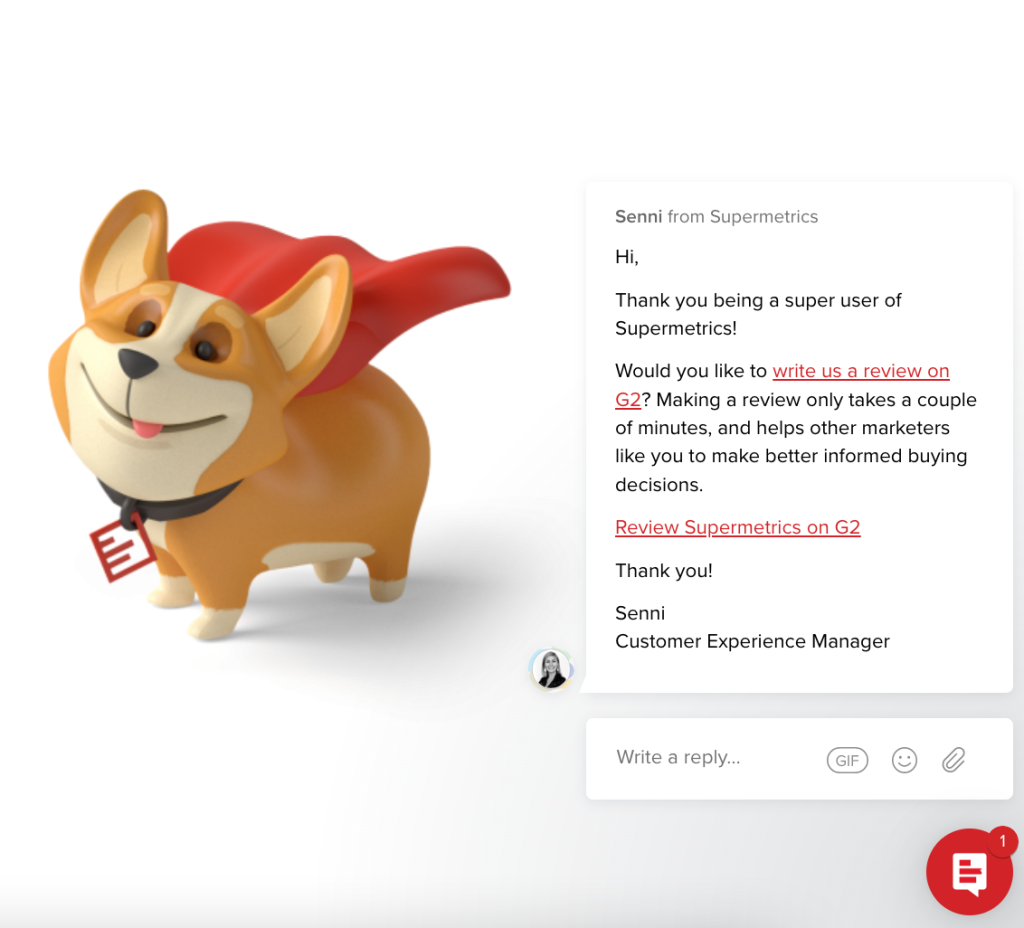 Email lists
Email is a great way to reach your customers and ask them to leave reviews. You can segment your email lists to only contact those who have recently made a purchase or inquiry.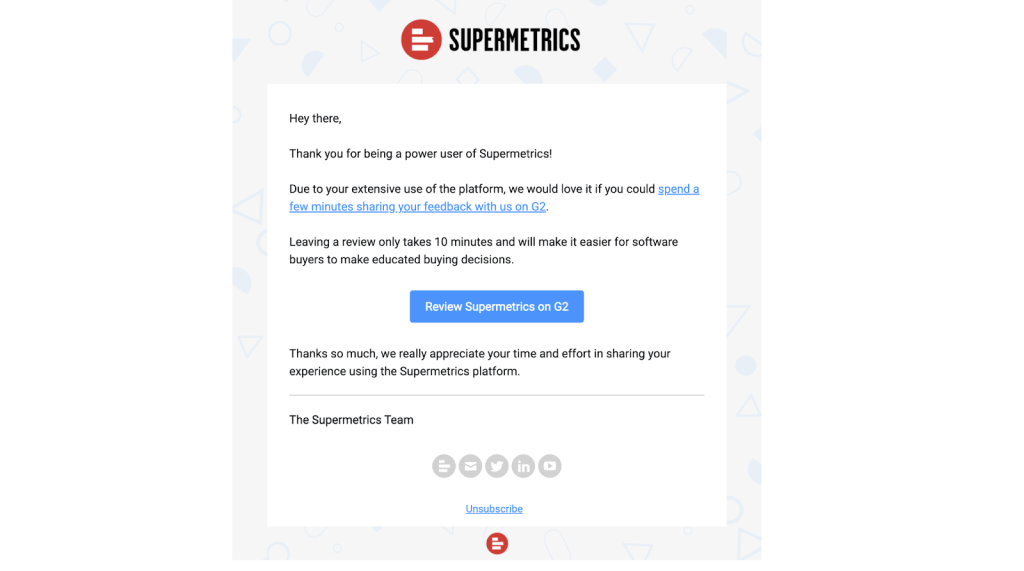 Social media channels
Social media is a great way to connect with your customers and ask them for reviews. You can post updates, run competitions or simply include a call-to-action in your bio.
For example, we ran a giveaway to drive reviews for our podcast—The Marketing Analytics Show.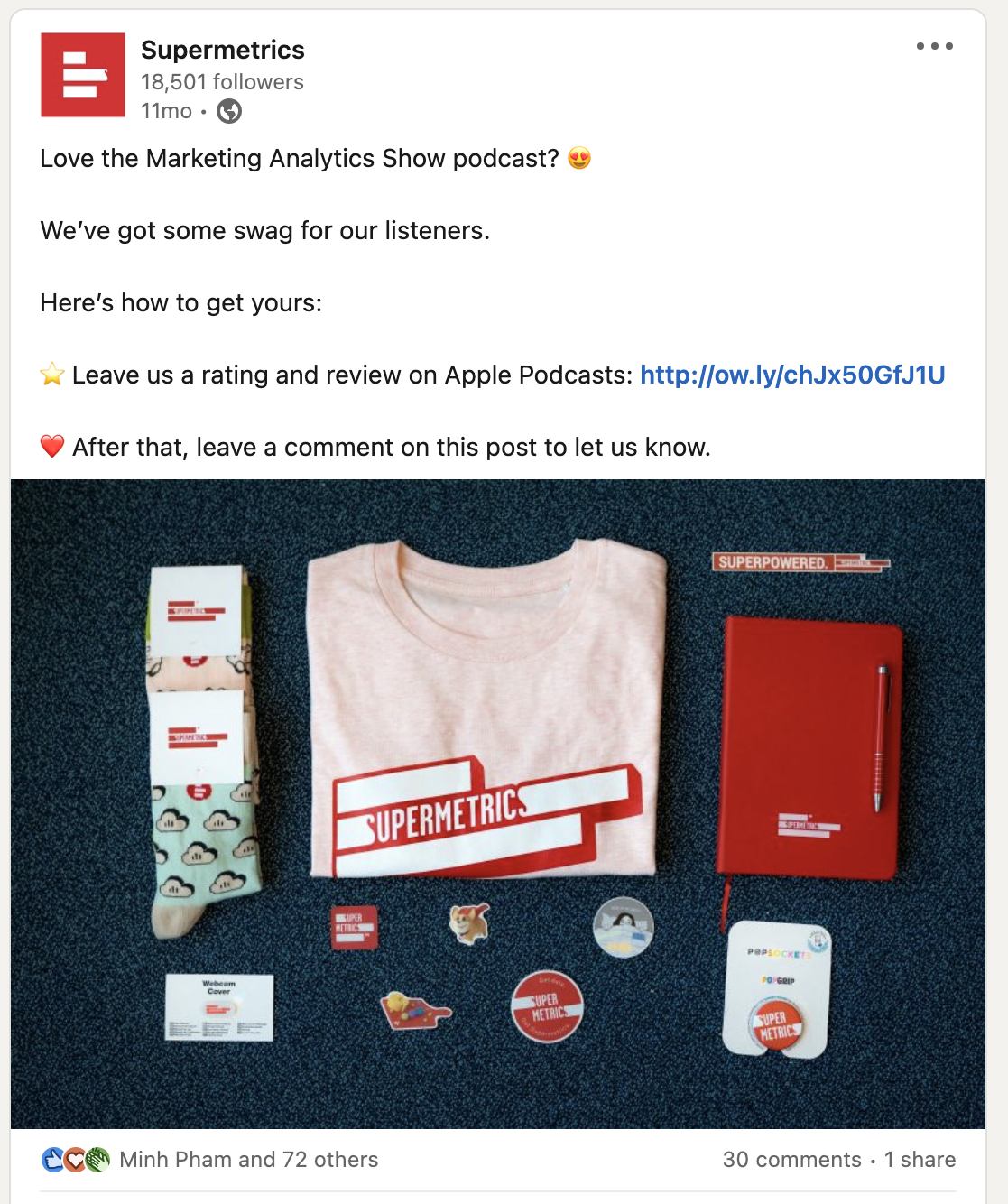 .
Support tickets
Many organizations use a software platform such as Zendesk or Freshdesk to centralize customer support operations. Whenever a customer support agent solves an issue and closes a ticket, you can ask for a review, as your offering and service are top of mind for the customer.
Ask your customer in person
If you have a brick-and-mortar store, you can ask customers to leave a review in person. This personal touch can go a long way in building relationships with your customers.
Asking customers for reviews should be part of your wider customer engagement strategy. By engaging with your customers on multiple channels, you're more likely to reach a wider audience and collect more reviews.
Top tips when asking for reviews
Here are our top tips when asking customers for reviews.
Find a scalable method
You need to find a method of asking for reviews that can be scaled as your business grows. For example, if you have a brick-and-mortar store, you can't ask every customer for a review. But, you can include a call-to-action on all your receipts.
Reduce the barrier to submit a review and give incentives
Make it as easy as possible for customers to leave a review. The easier it is, the more likely they are to do so. You can reduce the barrier by providing a link to your review page or simply asking them to leave a review on Google.
Another great way to attract more reviews is to place a poster in your store with a QR code that will direct the customer directly to your review page. All they will need to do is scan the code and leave the review.
You could also offer an incentive, such as a discount code or a voucher, to those who leave a review.
Meet your customers where they are and use their happy moments
Connect with your customer when they're in a good place. In other words, when they've just received great service or complimented you on your business. There's a far greater chance of them leaving you a positive review than asking them to do so when they've had a negative experience with your brand.
But, it's important to emphasize that getting negative reviews is not always the worst thing in the world. When people look at reviews, they want to see authenticity, not just a perfect 5/5.
Respond to reviews and move complaints forward
Take the time to respond to reviews, whether it's positive or negative. By doing so, you're acknowledging the customer's experience and showing that you care about their feedback.
Of course, if a customer leaves a negative review, you'll need to take action to resolve the complaint. The best way to do this is to reach out to the customer directly and offer a solution. By doing so, you're not only dealing with the complaint but also turning a potential negative into a positive. In addition to potentially turning a bad customer experience around, you show future review readers that you truly care about your customers and do anything to help them.
How to analyze your customer review data
Not only do reviews give you valuable feedback about your business, but they can also help attract new customers.
But what if you could go beyond just reading your reviews? What if you could actually analyze them to learn more about your customers and their needs?
Here are a few tips on how to get the most out of your customer review data:
1. Look for patterns
One of the first things you should do when analyzing your customer reviews is to look for patterns. Are there certain topics that come up again and again? Do certain products or services get more positive or negative feedback than others?
This helps you identify areas where you need to make improvements or areas that are already doing well.
2. Compare different products or services
If you offer multiple products or services, you can use customer reviews to compare them. This helps you see which ones are most popular with your customers and which ones might need some improvements.
3. Beware of connotations
When reading customer reviews, pay attention to the words used. What sentiments do they imply? Are they mostly positive or negative? This gives you a good indication of how satisfied your customers are overall. If you're analyzing your reviews in Google Sheets, you can then use something like the Google Natural Language API to evaluate sentiment automatically.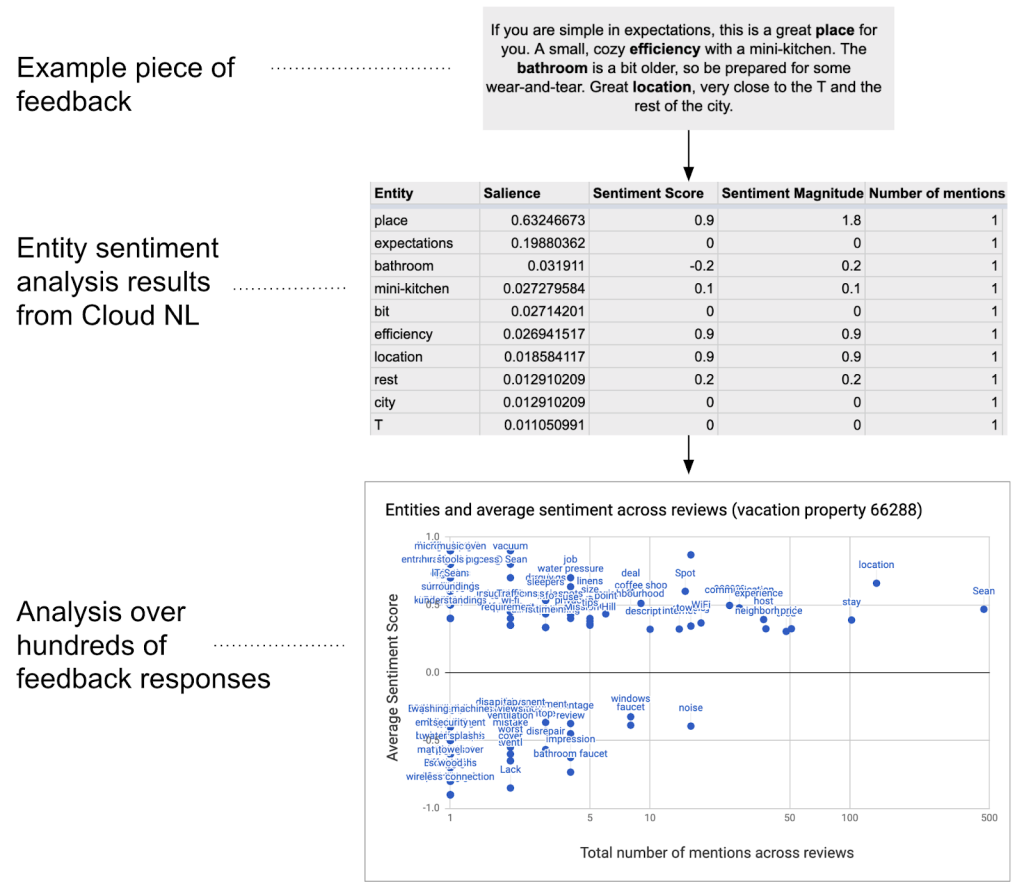 4. Use software to help you analyze your data
There are various tools and software programs available that can help you analyze your customer review data. This makes the process a lot easier and helps you get better insights. By connecting your review data from Google Play, Tripadvisor, Yelp, or Capterra, for example, into Google Sheets or Data Studio, you can quickly get to those insights and start acting on the results.
These are just some ways to analyze your review data to fine-tune your customer service approach.
Diversify your review platforms
If you're only using one platform to collect customer reviews, you're missing out on a lot of valuable data.
There are many different review platforms, each with its own strengths and weaknesses. By diversifying your review platforms, you can get a more well-rounded view of your business and what your customers think.
Let's take a look at some of the more popular review platforms.
Tripadvisor
Tripadvisor is one of the most popular travel review sites. It's a great platform for getting honest feedback about hotels, restaurants, and tourist attractions. If you're in the hospitality business, then you need to not only be on Tripadvisor but be active.
Make sure your profile is up-to-date, and you respond to all reviews. Those shopping around for restaurants or hotels will take a lot of guidance from what they see on this platform.
Since Tripadvisor is a restaurant, accommodation, and activity review platform, users can easily leave and browse reviews and book tables or rooms. The platform has over 460 million users, and over 860 million reviews have been submitted to aid travelers worldwide.
The Supermetrics Tripadvisor Reviews connector doesn't require any authorization, so users can easily access reviews and analyze them in the reporting tool of their choice. The connector allows you to quickly compare businesses in the hospitality industry and see the key differences and similarities between them.
Pull data such as text and rating of the review, the average rating of the reviews, and the time user submitted the review.
Yelp
Yelp is a social network and consumer review website that operates internationally. If you own a restaurant, this is one to look out for. For many people, it's the go-to place when looking for somewhere to dine out. With Yelp, you leave a review and rate the business out of 5 stars.
It's a great place for local business reviews and for consumers to interact with local businesses. Although the majority of its users are based in the US, the platform has over 170 million unique users per month globally.
The Supermetrics Yelp Reviews connector allows you to easily move the data to a destination like a spreadsheet or data visualization tool. Create a report to see how your reviews have varied and compare the results to the companies you've benchmarked. If you automate the delivery to happen each month, you have up-to-date information at hand whenever you need it.
Pull data such as the number of reviews, average ratings, reviews replied to, and so much more.
Google Business Profile (Google My Business)
Now referred to as Google Business Profile—or GBP—Google My Business is one of the most popular review platforms out there. While it's more than just reviews, it's usually the first place people look when considering a purchase.
It spans all businesses, as opposed to being more focused on just one, and as per Yelp, the reviewer leaves a review and rates you out of five stars.
Organizations can manage their company profile, such as location, phone number, and reviews on Google. With the Google Business Profile account, companies can increase their reach and be more likely to be found in search results.
Unlike the review connectors above, this connector requires authorization. You can pull data from your profile and manage your ratings and reviews. The Google Business Profile connector allows you to pull all the necessary data for your business and combine it with your other business tools, such as marketing platforms.
Pull data such as review star rating and text, average star rating, review replies, and so much more.
Google Play
Google Play is an app store for Android smartphones, and there are millions of apps developed by third-party developers.
The Supermetrics Google Play Reviews connector doesn't require authentication, similar to the Capterra Reviews connector. You can easily pull review data and see what kind of reviews your competitors have received or how the reviews of the most popular apps have changed over time.
Pull data such as reviews and review ratings, the average rating, and the time user submitted the review.
Capterra
Capterra is a popular platform for business software reviews. It's a great place to get an in-depth look at different software products and how they compare. It's often dubbed as 'the most comprehensive software directory on the web'.
Being a free business software marketplace showcasing different B2B business tools, it's a good place to connect buyers to software vendors and helps its users discover the right product with user reviews and research.
The Supermetrics Capterra Reviews connector allows you to access the review data easily. Capterra Reviews don't require authorization which is why it's a great tool for competitor benchmarking or analyzing the positive feedback others have received to understand what works and what doesn't.
Pull data such as review ratings, the software's pros and cons, the number of reviews, average rating, and much more to a reporting tool of choice.
G2
G2, the most trusted and largest software marketplace, is a great place to find and review software. Companies also use G2 to manage and optimize their software stack to sustainably grow their business.
What's great about G2 is that you can build an automated review collection machine. You can leverage automated tools in your email system, on your website, or even with existing customer support systems you already have set up and are running.
Think of G2 as a peer review platform focused entirely on software.
How Supermetrics got to the G2 top 100
If you're involved with software purchases, you definitely have heard about G2. It's a great platform to research a product you're interested in. It's a great channel to check what your users are thinking about your product to gather feedback. You could think of it like TripAdvisor, but for software.
G2 offers users a platform to review software in a variety of formats—including text and video. It's a great channel for direct and honest feedback. Additionally, vendors aren't allowed to delete or edit reviews, so the users' voice is kept intact.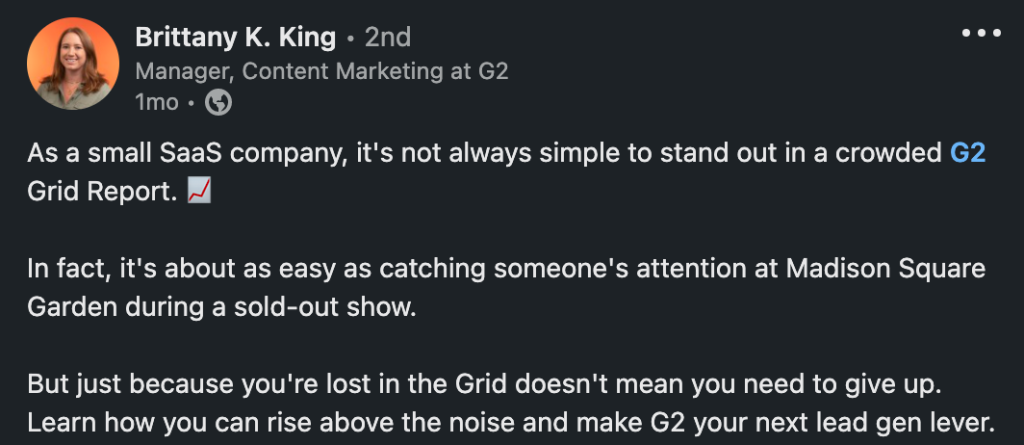 G2 compiles reports showcasing the best products across different categories. The crown jewel is the annual best software awards—which recognize the top 100 software products. The list includes the biggest disruptors and market leaders in all categories, so getting into the list is a huge feat for any product.
When Supermetrics got into the G2 top 100 products list this year, we were hyped. Our hard work paid off, as we had made sure we were recognized on G2 for the past 6 months. To get on the list, you have to be active on G2. It does take time and effort to get your G2 efforts to bear fruit, but it was worth it. How did we do it? These tips helped us get on this coveted list.
What's the G2 grid?
The G2 grid was designed to help buyers select the right products for their specific business. With it, G2 rates software products based on three key areas—reviews of products from G2 users, aggregated data from digital sources, and social networks.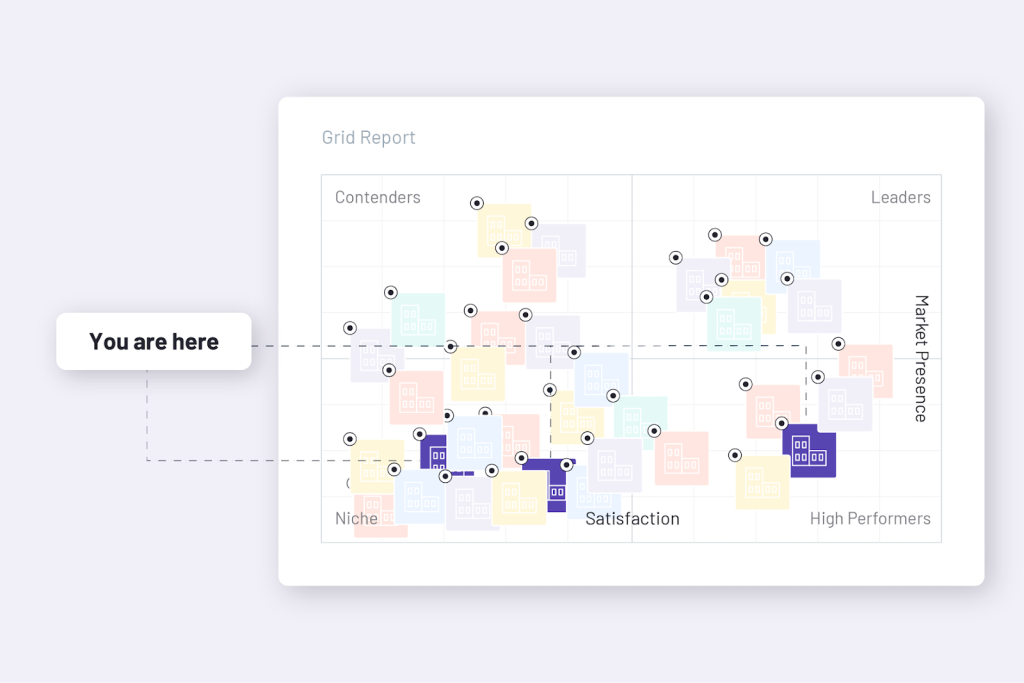 Based on the market presence data and customer reviews, companies are placed into different quadrants—high performers, niche, leaders, and contenders.
How to get more G2 reviews
We've covered different topics in this article to get you started on your review-gathering journey. It's not as complicated as you think, even if your product is a bit more complex, like software.
Here are the 6 core considerations for making you stand out on G2:
1. Have a good product that solves your customers' problem
This one is obvious—you must have a good product to get recognized on G2. You can't game the system since all the reviews are done by real users. You need to give value to your users first. Then, you can start building your G2 profile and gathering reviews.
A key scoring metric is the average score of your profile. G2 reviews have a scale of 1 to 5 stars. The more stars you've got, the better your score is. The review scores are calculated, and the average gives you your overall score. Having a bunch of bad reviews can really sink your average score down and will affect your rankings. The product quality can directly affect this, so a quality product is likely to get better reviews than a poor quality one.
2. Keep your G2 profile up to date
Think of G2 as a social media platform like LinkedIn or Instagram. Many bigger brands and successful influencers have very well-maintaining and nurturing profiles. This drives users to engage more, as they can see you're actively maintaining your presence on the platform.
You want the best visual assets, banners, facts, and feature lists about your product on your G2 profile. You want to showcase your product clearly, and visually appealing, so people get information about your offering. A well-designed profile paired with great reviews will drive more engagement and attention to your product. After all, G2 tracks the traffic to your profile, and high-traffic profiles are more likely to end up in the Top 100.
3. Get your users to submit reviews
Even with the most carefully designed profile, you can't expect people to start typing in reviews. You need to guide them to the right place.
The easiest way to promote your G2 presence is to put a G2 banner on your website. It's easy, clickable, and drives people to your profile. If the website visitor has something to say, G2 will make it easy for them to review you. G2 has a good collection of ready-made assets, so you don't need to spend time designing a cool G2 badge.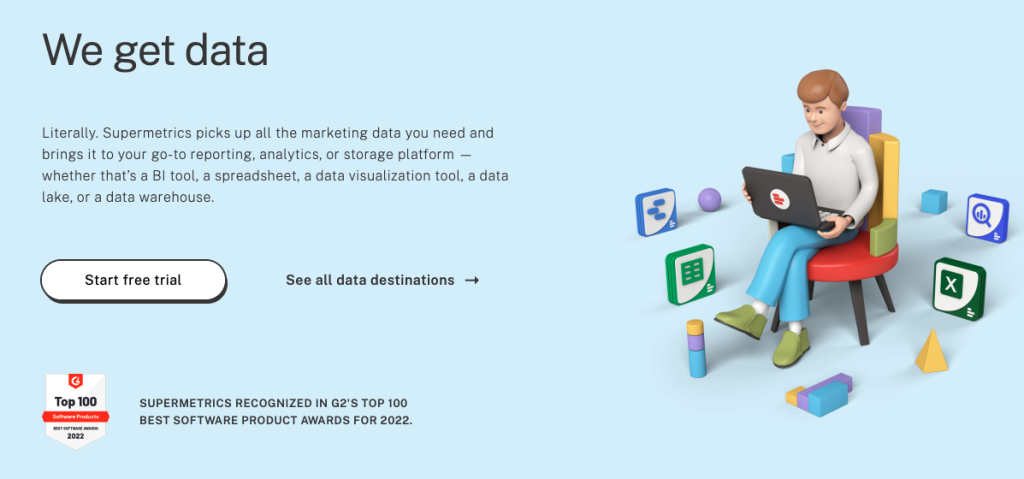 Website is only one of the many channels you can use to promote your presence. Putting your G2 CTAs into email newsletters or signatures can drive people to review your product. Creating awareness of the platform is a surefire way to get your reviews flowing in. Maybe your customer onboarding emails could have a mention about reviewing the product.
4. Get your users to review you even if you need to add an incentive
If you really want to drive results, you have to invest in your review gathering efforts. A targeted campaign will get you reviews as long as you incentivize. With the help of a small incentive—such as a gift card—your users will happily start giving you reviews. Targeting helps you segment your audience, so you can have a consistent stream of reviews.
G2 applies grid decay to their reports. The older your reviews are, the less likely you'll be up and to the right. Getting fresh reviews is important to maintain your status as a leading product.
Targeting specific segments at different times helps keep a steady stream of reviews. If you have different product lines, target users of one line, and then in the next quarter, target the other product lines' users. User data collection helps you create these segments and drip campaigns that'll keep your reviews coming in.
5. Get your team involved
G2 can be a part of your internal work. As users give you reviews, you gain valuable feedback to give your product teams a view of what users are experiencing when using your product. At Supermetrics, we get a Slack message on a public channel whenever a customer reviews us. This keeps the team informed on what the users are thinking.

Communication is a two-way street. G2 offers you a chance to answer reviews and questions posted. These inform your users that you listen to their feedback. It also shows that you care and react to what people post. Having your team answer them improves the overall G2 experience, as you're actively engaging. And hey, that's also a plus when it's the ranking season.
6. Optimize, optimize, and optimize
Reviews aren't everything when it comes to getting into the Top 100. When G2 makes their lists, they don't depend solely on the engagements you get on their platform. They also follow other channels to ensure you're worthy of being on the list.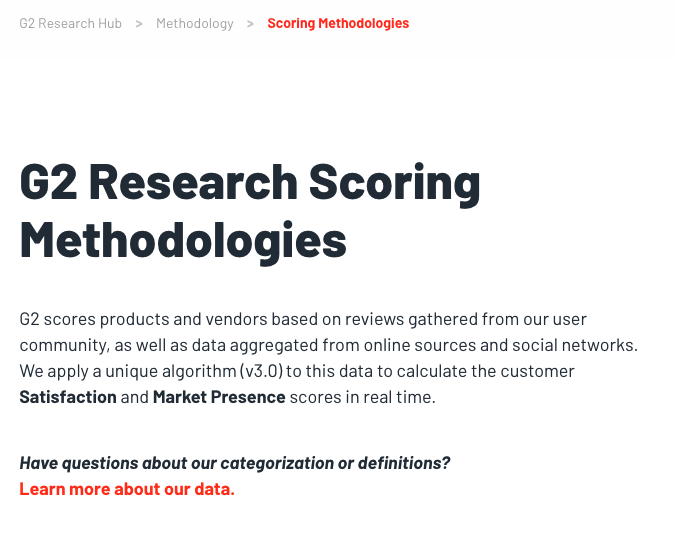 For example, G2 is constantly checking your web presence. Your website being up-to-date and having a good amount of traffic can help you get ranked. Having good SEO is important since search results and SEO-friendly pages are viewed as a plus. Social media activity is used as a measure. If you're active on social and have a healthy follower count, you'll definitely have a better chance.
Finally, your company performance is used as a metric. G2 checks for your employee count and your overall growth. If you're a growing company that's constantly hiring and your web presence has drastically improved, you just might have higher chances of making the Top 100. Growing companies usually have a proven product and can offer a better experience for their clients overall.
Getting top-ranked in a G2 report requires a lot of effort. With these steps, you're in a good position to move up in the Top 100 list. With the effort you put in, you also gain a great resource on the side. G2 reviews are some of the best forms of feedback you can get. It's unbiased and detailed.
Wrap up
By understanding the importance of reviews and knowing what you can do to attract more positive ones, you'll improve your online reputation in no time. By getting your review strategy right, you'll see your sales soar.
So remember to focus on finding a scalable method, meeting your customers where they are, reducing the barrier to leaving a review, responding to reviews, and moving complaints forward.
How are you getting reviews for your business?
About the author
Riku Mikkonen is a product marketing and marketing operations specialist. He's currently a HubSpot Consultant at Kaksio Labs.
Turn your marketing data into opportunity
We streamline your marketing data so you can focus on the insights.