To beat your competition in the crowded ecommerce market, you need to give your customers what they want.
The secret to giving your customers what they want? Knowing them inside out. That's where customer relationship management (CRM) data comes in.
Ecommerce platforms that allow you to manage and nurture relationships with your customers now form the backbone of most successful online stores. Read on to learn how to use the data from your CRM to boost sales and grow your business.
Why use CRM data?
Sales professionals cite CRM data as one of the most useful tools at their disposal. According to Stellaxius, CRM usage increased from 56% to 74% to 2019, and 49% of businesses plan to increase spending on CRM software.
The main reasons for using CRM data include improving customer service, boosting retention, and increasing customer satisfaction: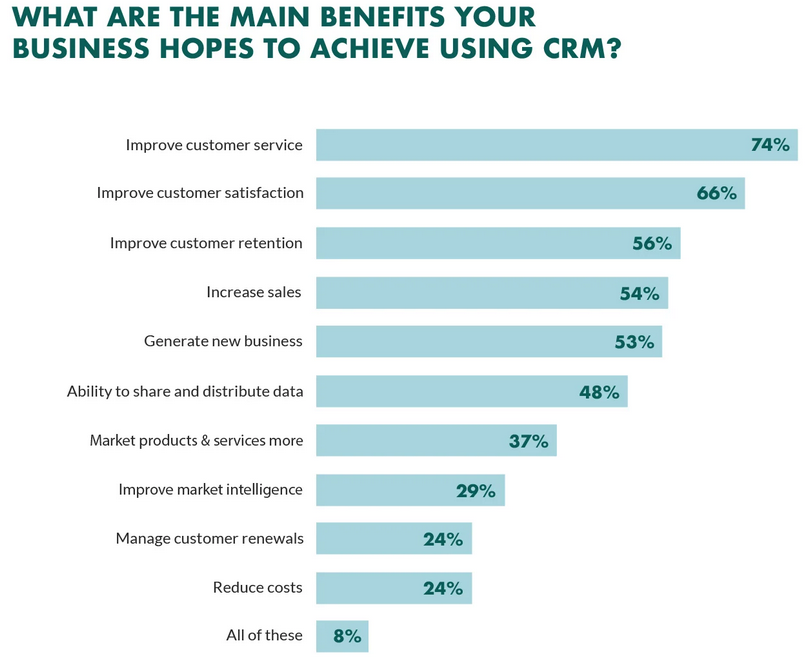 6 ways to use CRM data to boost your conversion rates
Perhaps you've already invested in a new or upgraded CRM system, and are now wondering what exactly you should be doing with it. In this section, we'll look at a few different tips you can use to make the best of all that data you now have at your fingertips.
Let's get started!
1. Identify and target different customer personas
When you started your business, you might have created one or more customer personas to help you define your target audience. CRM data can help you refine those personas and further segment your customer and prospect list into different categories. You can then market to each subcategory accordingly.
Here's an example: let's imagine you run an ecommerce store that sells clothing. You might have already segmented your customer base by gender. But you could also further segment according to buying habits, geographical location, or life stage (a person in their 20s is likely to buy very different products to a person in their 60s).
Your CRM data can allow you to spot patterns and trends in customer behavior that you would never otherwise have noticed. This leads to more refined customer personas based on real data. You can then deliver highly personalized experiences to those customers (more about personalization in a minute!) using email marketing, targeted landing pages, and remarketing.
2. Use CRM data to build your content strategy
Once you start looking closely at your CRM data, segmenting your customer base, and refining your customer personas, you'll have a world of information available to help you approach your business more strategically. The next step is to start developing content that matches your audience and those customer segments.
Now that you know more about who your audience is and what they want, you can craft your content accordingly. Make sure that you zero in on customer pain points, needs, and desires as you decide what types of content to share. Here are a few you might wish to consider:
Blog posts that address specific customer needs in the form of in-depth how-to articles or tutorials
Product demo videos showing different ways to use your products
FAQs that answer common queries and problems
Customer reviews, case studies, and testimonials that demonstrate the value of your products
Partnering with relevant influencers in your niche to create content that introduces their audience to your store
Consider tone, too. Does your audience respond to a more formal or informal tone? To playful or serious content? Use what you've learned about your customers to define your brand voice, and then make sure all your content aligns with it.
Remember that you need to think about not just what content you serve to your customers, but where you deliver it. Email marketing is a safe bet that cuts across age groups and demographics.
But if you're also using social media marketing, you'll need to choose your channels appropriately. An audience of 20-somethings and college students is likely to be active on Instagram. Senior business executives are more likely to maintain a presence on LinkedIn.
Your content could be the best ever, but it won't get results if you don't go where your audience is!
3. Use lead scoring
Not all leads are created equal. Many CRM systems allow you to do lead scoring, where you can track your prospective customers as they move through your sales funnel and define how likely they are to eventually make a purchase.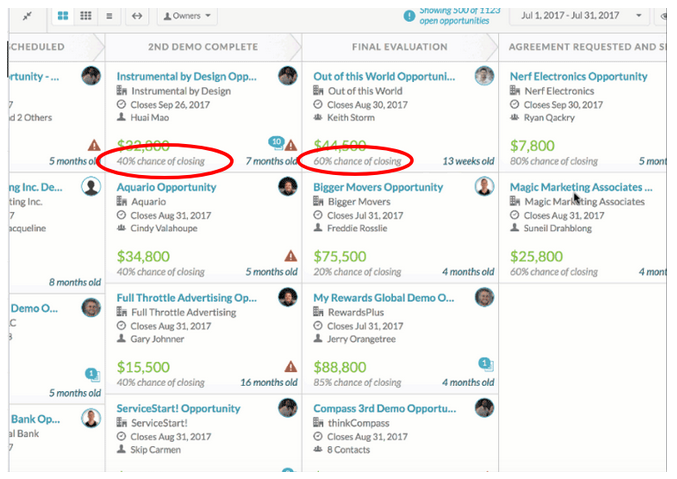 Lead scoring isn't perfect, of course, and customers can sometimes surprise you. But it gives you a good starting point as you decide where to put your energy, focus, and marketing budget. You can use this data to strategically target those potential customers who are most likely to convert.
4. Personalize offers and communications
Personalization is everything in contemporary marketing practices. Customers no longer want to feel like just one of many people you're communicating with. Instead, they want to feel as though you're talking to them specifically. In other words, you need to make your customers feel special. While using the customer's name in your email marketing subject lines and greetings lines is important, it's no longer enough.
Enter personalization, which your CRM data can enable. The more you learn about your customers, the more personalized you can be in your approach. According to Bloomreach, marketers experience an average 20% increase in sales when using personalized strategies: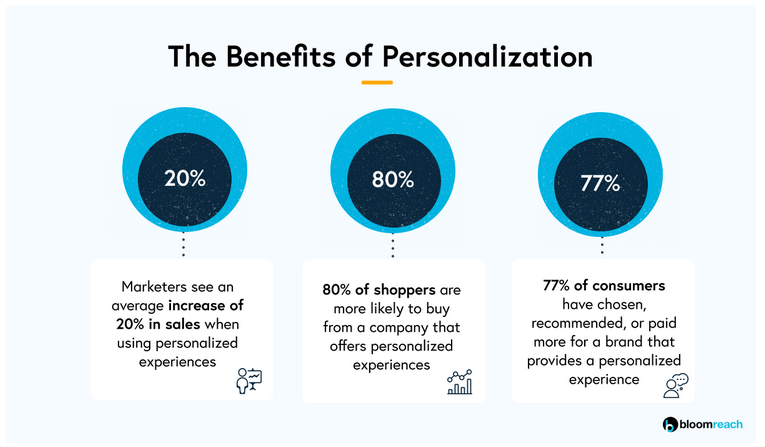 Here are a few awesome ways to do highly personalized ecommerce marketing that you might want to consider:
Create automatic homepage and site navigation based on audience interests. To return to our previous example of the clothing store, you could automatically direct someone to the men's section if that's where they had primarily browsed before. Cookie retargeting enables you to do this.
Deliver highly personalized product recommendations based on browsing behavior, relevant demographics, and past purchases. For example, if someone recently bought a dress, you could suggest matching shoes and a handbag to complete the look.
Use geo-location targeting. For example, if your store is international, why not automatically direct visitors to the appropriate homepage for their location?
Offer personalized deals and discounts based on behaviors, interests, and buying history. A personalized bonus funnel will send your sales soaring.
Send personalized cart abandonment emails when your customer puts items in their cart but doesn't check out.
Send your customers a special offer or gift on their birthday.
When it comes to personalization, you have nearly endless options available to you. Just remember that there is no place for generic communications in ecommerce marketing. Your customers expect a personalized experience and if you deliver it, they'll keep coming back again and again.
5. Retarget former customers
Customer retention is essential in ecommerce. The cost of retaining existing customers is six to seven times less than the cost of acquiring new customers. That means you need to nurture your customers and enhance their experience every time they shop with you.
It also means that you need to be actively engaged in inviting former customers to return. If a customer hasn't purchased from you in some time, don't give them up as lost. Instead, put effort into getting them to come back.
The trick to retargeting those former customers? Understanding them, their needs, and what makes them tick. You need to give them a good reason to come back, so consider including a special and time-limited offer or discount. As we discussed in the previous section, though, this offer must be personalized. There is no room for generic here.
I liked this example from clothing retailer Modcloth, which is personalized to coincide with the customer's anniversary of buying from the company:
The limited time special offer gives the customer a good incentive to shop with Modcloth again. Similarly, inviting them to sign up to receive a birthday surprise invites more personalized engagement in the future. All in all, it's a highly effective re-engagement strategy.
Using your CRM data, you can automate anniversary communications like this one when a customer has been dormant for a certain amount of time.
6. Do social listening
Many CRM software solutions offer social listening features which enable you to keep track of how customers are interacting with and talking about your brand on social media. Social listening can teach you a huge amount about customer sentiment towards your brand, what your audience cares about, and what pain points they are trying to solve.
This allows you to provide better content that meets those needs and addresses those pain points. It also allows you to track which of your messages are getting good engagement on social media and which are not getting the response you'd hoped for.
Over to you
Hopefully I've convinced you of the many benefits of CRM data when it comes to boosting conversion rates and growing your ecommerce business. Just remember the golden rules: pay attention, segment your customer base, and personalize at every stage.
With a little know-how and practice, you're sure to see your conversion rates climb when you start making full use of CRM data. Best of luck!
Editor's note: If you're using Salesforce or HubSpot, you can bring your CRM data to a spreadsheet or a data visualization tool with Supermetrics. Start your free 14-day trial today!
About the author
Jimmy Rodriguez is the COO and co-founder of Shift4Shop, an ecommerce software for building SEO-friendly online stores. He's dedicated to helping internet retailers succeed online by developing digital marketing strategies and optimized shopping experiences that drive conversions and improve business performance.
Turn your marketing data into opportunity
We streamline your marketing data so you can focus on the insights.