Oct 12, 2022
The ultimate guide to annual marketing and sales reporting—get ahead before the end of the year
18-MINUTE READ | By Joy Huynh and Sophie Michaud
[ Updated Feb 28, 2023 ]
Admit it. Everyone secretly hates annual marketing and sales reporting. So we're here to make your end-of-year easier.
Regardless of the industry, Q4 is arguably the most important and busiest time of the year. It's the season of holidays, peak campaigns, and the last closing quarter for many businesses. Marketing teams are in the race toward their yearly target.
On top of the craziness, marketing leaders also need to think about end-of-year reporting and sharing marketing results with the organization. But it can take weeks or months if you don't have a good process.
Keep reading to learn everything you need to know to make your annual marketing and sales reporting easier.
Skip ahead >>
What's an annual marketing and sales report?
An annual marketing and sales report is a method for marketing and sales leaders to communicate the impacts of their efforts on business growth over the past 12 months. Even if you've already reported on performance weekly, monthly, and quarterly, it's still necessary to highlight what went well and didn't go well throughout the year and discuss the proposed plan for next year.
An annual marketing and sales report helps:
Build trust within the organization
Give stakeholders an overview of the team's performance
Communicate how marketing helps achieve business goals
Give insights into marketing budget and resource allocation throughout the year
Walk through next year's goals, strategy, and plans
Gabrielle Stafford, CMO at Supermetrics, shares, "Marketing spend is often the largest expense on P&L after SG&A (Profit & Loss after Selling, General & Administrative Expenses). For a marketing organization to function optimally, it needs to have the trust of the rest of the business."
Typically, the audiences for an annual marketing report are shareholders, stakeholders, or anyone who wants to understand how the business connects with its target customers and how that affects the bottom-line revenue.
The challenges of annual marketing and sales reporting
Despite its clear benefits, not many marketers get excited about annual reporting. And we get it. It's usually tedious—Are the numbers even right? Will anyone read it?
You might have data problems, issues with revenue attribution, or even difficulties communicating key insights. So let's look at these challenges and how to overcome them.
Data problems
Almost every company has a data problem—you're not using any data, you have too much data but fail to draw meaningful insights from it, or you don't have the resources to manage your data needs.
It's great that marketing teams can reach customers on many platforms and have tools to collect data. But the downside is that these platforms and tools are scattered all over, making sense of your data difficult.
On top of that, many teams still waste their time copy/pasting data into a report instead of automating it.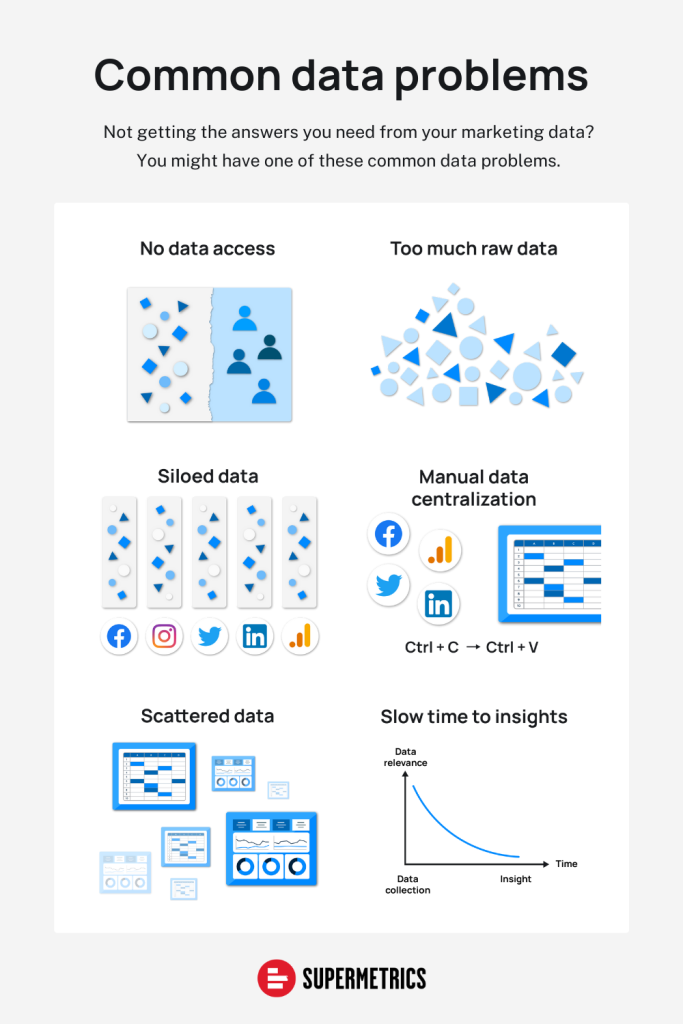 So if you:
Have siloed or scattered data. You should probably centralize it.
Don't have the resources to manage your data or analytics needs, then automating tedious tasks would be a good start.
Can't trust that the results you're getting are accurate or that they answer your questions, so you need to include other team members earlier in your analytics process.
Solving these problems is just the first step to accurate and effective reporting.
Keep in mind data security
The common practice used to be to gather as much data as possible so you don't miss anything. But that just doesn't cut it anymore.
First, tons of raw data don't necessarily lead to great business insights. On the contrary, if you don't have the right data and just have a lot of it, it leads to more confusion rather than better clarity.
Besides, the latest laws around data protection, like GDPR or CCPA, push best practices towards 'minimum viable data collection and data access'. As in, start with your goal and only gather the data relevant to finding the answer. And only the people who need access have access. So you're not at risk of falling into the 82% of human-based data breaches by having too much data available to too many people.
That way, you protect yourself legally by following ethical practices and get the most out of the data you have since it's informed by your business goals in the first place.
Connect marketing activities to sales revenue
As Pinja Dodik, Marketing Manager from Swarmia, shares, "Far too many marketing teams are still seen internally as the arts and crafts department. They're considered a support function at best and a cost center at worst. And that's frustrating considering all the work you're putting into launching new products, producing awesome content, building campaigns, and well… ultimately driving revenue."
The good news is that many marketing teams are moving away from vanity metrics and focusing more on measuring revenue impact. But, since marketing covers everything from top to bottom of the funnel, connecting marketing activities to revenue isn't always straightforward.
Teemu Raitaluoto, CEO & Founder of Markettailor, says, "Marketing has a significant impact on sales. But it's hard to understand the full picture from an attribution perspective. Multichannel is a must, but it's hard to know how a customer found us. That's why we also collect qualitative data."
He continues: "At the moment, we're pulling data from Ahrefs, Search Console, and Mixpanel to show the state of our marketing—which is still manageable. But it's hard to know what are just vanity metrics in this stage of growth. And it's harder to tie any activities to revenue and say, "this is the one thing we should scale." We just know all our numbers are going up."
Ultimately, you should be able to tie your marketing to revenue, whether by the traditional attribution models or other more creative ways.
Communicate key insights
Instead of getting into the nitty gritty of your performance, communicate the highlights. For example, don't stop at what campaign works best when reporting to your leadership team. Show them how that campaign influenced business outcomes.
Even though you know exactly what's happening with your campaigns and understand the granular details, when putting together the key insights, always keep in mind who's reading it and if they're getting their questions answered easily.
What should be included in your annual business report?
Start by creating an outline for your report. Think of it as a map. Since you'll deal with so much data and information, having an outline will help you stay organized and prevent you from going off track.
Typically, a good annual marketing and sales report covers last year's performance and next year's plan.
Let's look at each section.
Update on this year's performance
First, share how your marketing and sales activities compare with your previous year's goals.
Here's how you can structure your year's update:
Key takeaways: summarize key insights—preferably from 3-5 points
Goals: review your business and marketing goals
Budget: update on budget allocation
Tactical: highlight key marketing activities
Performance and YoY growth: discuss this year's performance and give a comparison with last year's
Learnings: share key learnings
Give next year's plan
Now, it's time to share how the learnings from the previous year inform your strategy.
In this section, you'll want to talk about the following:
Recommendations: share what you think should be the focus for next year
Goals, strategy, and plan: discuss how marketing activities align with the company's overall strategy
Projections: having expected outcomes in mind as you start the year will give you a benchmark to go back on as the year progresses
Here's a checklist you can swipe, so you don't forget anything.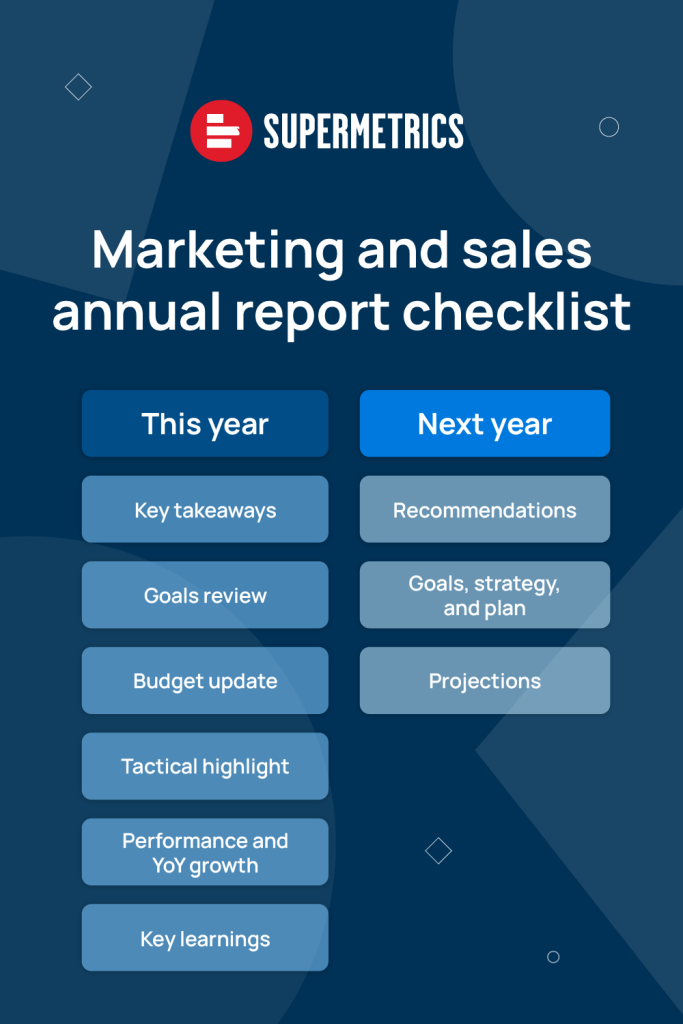 How to build your annual report
Now that you have your outline in place, you're halfway there.
Next, consider bringing your reporting to life with these four areas—audience, key insights, metrics, and resources.
Who's the audience for your report?
You'll need to figure out who'll be reading your report. Are you reporting to the whole company, your board of directors, or investors?
Your audience will influence the metrics, insights, and stories you want to share. Additionally, if you're presenting your performance to a non-marketer audience, stay away from marketing jargon and acronyms.
What are you trying to communicate?
After knowing your audience, you need to figure out what matters to them and highlight those insights in your report.
Zach Grove, Growth Advisor, says, "I once worked with a SaaS CMO who would look at our end-of-year reports and ask: 'what's the headline here?' As in, what's the main takeaway for leadership with all of this data?"
What metrics do you want to include?
Instead of including all marketing metrics in your report, you should only include those that serve your story. You don't want the people reading your report to get numbers overloaded. Sure, you need to be aware of all the numbers and have a way for internal stakeholders to verify them, but your report isn't the place for huge spreadsheets and a million dashboard views. Pick and choose the numbers that matter for the point you're trying to make.
What are the tools and resources you need that get you there?
Big companies usually have several subteams under the marketing umbrella. If that's the case, you'll need help and input from other teams.
On the other hand, if you're a small team of one or two, you may need to be strategic about your resources. For example, you shouldn't waste time copy/pasting your data into a report. Instead, consider automating the process so you can focus on analyzing your data and presenting the insights to your audience.
Additionally, the right tech is an important piece of the puzzle. To ease the pain of reporting, you should have the right tools to streamline your process.
What KPIs should you track?
KPIs are essential for tracking what matters to your business. There are some metrics that all companies care about, while others will depend on your business model, industry, sales and marketing strategies, and company goals.
You can group these KPIs or metrics into the following categories:
Brand engagement
It's easy to see companies that sell the same products and serve the same audience as your company. Building a strong brand is one way to stand out among the crowd.
You can measure how your audience perceives and engages with your brand by tracking brand engagement metrics.
Web traffic & page views
Social media engagement, like views, shares, likes, reach
Session time or time spent on page
Unique visitors
Share of voice
Customer acquisition
Acquiring new customers is one of marketing's core functions. While the importance of retaining customers has become a more significant focus over recent years, you can't stop all customer churn, no matter how good your service is. That's why acquiring new customers is essential for businesses that want to grow or scale.
Some of the best acquisition KPIs you should track are:
Customer acquisition costs (CAC)
Marketing return on investment (ROI)
Customer lifetime value (CLV)
Revenue
Revenue metrics are an essential part of your sales and marketing reports. Again, much depends on the scope of your report and the intended audience.
Here are a few powerful sales metrics to consider.
Total revenue
Sales cycle length
Average revenue customer
Revenue from new vs. returning customers
Year-over-year revenue growth
Customer retention
Since the cost to acquire a new customer is usually higher than the cost to return a customer, you want to ensure your current customers are happy with your products and services. Here are some metrics that monitor customer retention.
Customer satisfaction score (CSAT)
Net promoter score (NPS)
Customer churn rate
Audience sentiment
How to automate your annual reporting
The old way of copy/pasting data into a report is tedious, time-consuming, and error-prone. Since creating an annual report isn't a one-off, nor it's the only report you'll ever create, you want to automate the process as much as you can. There are three steps to automating your reporting:
Identify what channels you want to pull data from
Centralize your data—hint: this is where automation comes in handy
Build an automated and shareable report
Identify all your marketing channels
You need to think about what data you want to collect and where you can find it. To do this, think about what you want to measure.
For example, let's say you want to report on your brand engagement. You can find relevant metrics in your social media, web analytics, and SEO platforms.
On the other hand, if understanding how you're acquiring new customers is important, you can look for the metrics from your acquisition channels—for example, paid ads, SEM, SEO, web analytics and ecommerce, and CRM platform.
Here's a quick cheat sheet you can steal to remind you where you can find the data you need depending on what you want to measure.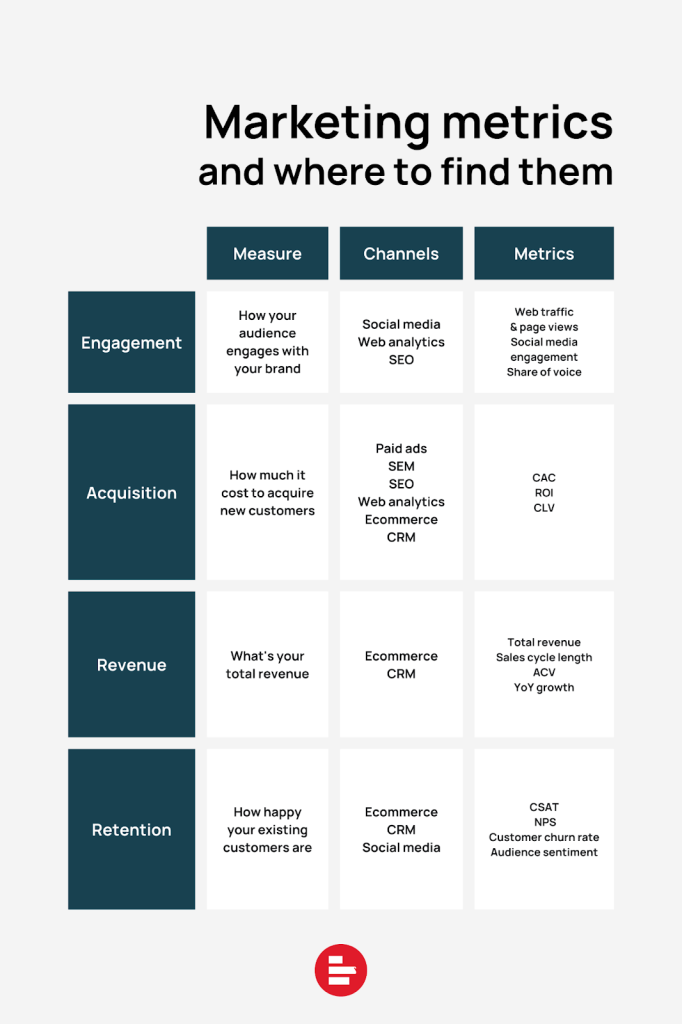 Centralize your data
Beyond easing the pain of annual reporting, centralizing all marketing data allows you to gain full visibility into your marketing performance. If you're dealing with a manageable amount of data, you can bring your data into a spreadsheet like Google Sheets or Excel. From there, you can build your reports using their built-in functions and graphs.
The benefit of using a spreadsheet is that it's easier to maintain and use. However, because of its limited analytics capabilities, a spreadsheet isn't a sustainable option for storing your data in the long term.
As a result, many marketing teams are moving to a data warehouse or a data lake where they have more freedom and power to store and process their data. With the help of the right data pipeline tool, you can easily automate data transfer from multiple sources to your centralized destination.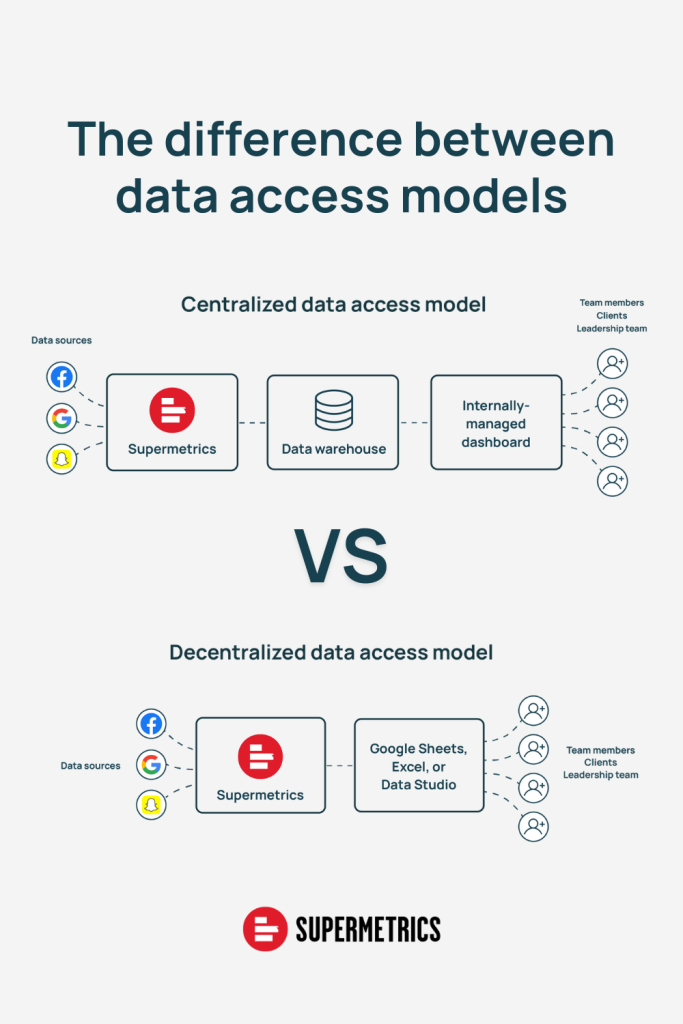 Build an automated report
Once you have your data ready in your data warehouse, you can easily connect it to a BI tool, build meaningful dashboards, and make it easy for your stakeholder to understand and interpret your data. Additionally, since the dashboards connect directly with your data warehouse, it's easier to maintain and keep your data up-to-date.
Alternatively, if you're not yet comfortable using a BI tool, you can use a combination of Google Sheets and Google Slide to present your data. For example, you can analyze and visualize your data in the spreadsheets, then link your spreadsheets to a Google Slide report.
Five data visualization tips for driving insights home
An end-of-year report should be easy to read and interpret. You don't want to bore your reader to tears with an exhaustive list of numbers. Instead, use visuals to break down your data, make your report reader-friendly, and drive insights home.
Let's look at five data visualization tips for turning data into meaningful stories.
Start with your message
One message at a time
Know basic design principles
Use templates
Pick the right visualizations
Start with your message
And not with data.
Occasionally, you may drown yourself in the pool of visualizations your BI tool's got to offer. It's tempting to present data in visually complex ways. Adding fancy and exotic design elements might seem impressive, but it can backfire and confuse readers.
You should never lose sight of your main message. This not only helps you pick the right metrics but also choose the most suitable—and most importantly—the right amount of charts and graphs to get your idea across.
One page, one message
Complementing the first tip, you also want to focus on communicating one message at a time.
Typically, in an end-of-year report, you'll need to discuss different areas of marketing. Instead of stuffing everything into one page, add more pages to your dashboard. For example, you can have one page about the overall performance, channel performance, and sales performance.
Know basic design principles
You don't have to be a designer to build a visually appealing and engaging dashboard. But, following the basic design rules help you present insights effectively. Here are some tips to consider when building your dashboard:
Use your company's logo, color palette, and fonts
Place your primary metrics at the top of your dashboard to make them more prominent
Use different colors to indicate if a trend is bad or good
Use templates
If you have blank-page syndrome or want to look for inspiration, then using marketing report templates is a great idea. But, instead of blindly copying the template, it's better to add some customizations so that you get the most actionable insights from it.
Ralph Spandl, Head of Data Visualization at Supermetrics, says, "Templates are great for inspiration or getting around blank-page syndrome. But, it's very hard to find a template that serves your need unless you customize it."
Pick the right visualizations
Not all visualizations are equal. That's why you need to be careful with what charts you use to present your data. Depending on what insights you want to highlight, you should choose the suitable visualization—for example:
Scorecards to emphasize key metrics
Bullet charts or gauges to measure targets
Bar charts for comparisons
Time series or time plot for development over time
Pie charts to show a part of a whole
Scatterplot charts to present distribution or relationship
Rinse and repeat
Annual reporting is a process that'll keep evolving as your business grows. Having the right structure, tools, and resources in place can communicate marketing values and build trust within the organization. As Gabrielle Stafford, CMO at Supermetrics, says, "It's impossible to secure the budget you need to grow your business without consistent, transparent reporting and communication across all key stakeholders."
About the authors
Joy and Sophie are content nerds who hate nonsensical marketing jargon. They're helping marketers and analysts learn about data while having fun.
Turn your marketing data into opportunity
We streamline your marketing data so you can focus on the insights.