How StackAdapt Increased Marketing Efficiency with Supermetrics
Key takeaways
StackAdapt is a digital advertising platform whose Demand Generation team runs multiple global paid advertising campaigns across multiple channels

With performance data split across so many channels, StackAdapt's Demand Gen team needed a way to centralize all their data and create a single source of marketing truth in order to increase marketing efficiency

The team used Looker Studio (formerly Data Studio) to analyze and visualize their data to make data-driven decisions

By integrating Supermetrics, the StackAdapt team was able to effectively optimize their spending, ensure they stayed within their budget, and increase marketing efficiency

Supermetrics has become a guiding light, and in the future, they'll be able to better understand and optimize campaign performance by region and on a more granular level
Quick facts
Industry: Self-serve programmatic advertising
Founded: 2014
Size: 1000+ employees
Markets: Global
Products: Supermetrics for Google Sheets, Supermetrics for Looker Studio
StackAdapt is an award-winning digital advertising platform that helps businesses of all sizes and industries reach their target audience with precision and scale. By leveraging artificial intelligence and machine learning, StackAdapt allows advertisers to optimize their ad campaigns in real-time and achieve better results.
We had the opportunity to interview Sagar Khanapurkar, Digital Advertising Manager, and Alesia Commisso, Senior Digital Marketing Manager, who are part of the Demand Generation team at StackAdapt. Their team is primarily responsible for devising strategies to manage budgets, optimizing campaigns, and handling ad-hoc requests from other teams within the company.
The Challenge
The Demand Generation team at StackAdapt runs many paid advertising campaigns across multiple channels, including their platform, StackAdapt.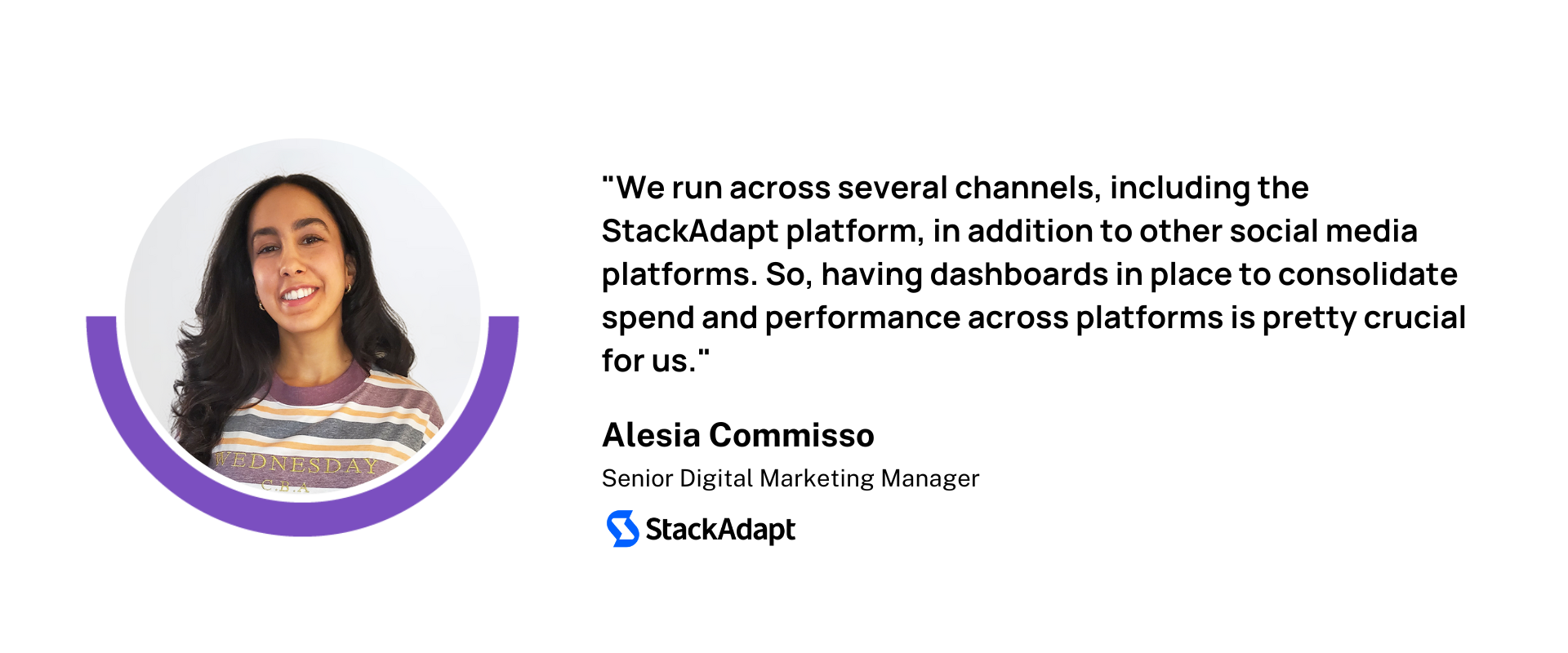 The team at StackAdapt was facing challenges in terms of reporting and pacing. They had to monitor various platforms to get a comprehensive view of their ads from multiple channels and campaigns, which was time-consuming and inefficient. To keep track of their performance and spending across all platforms, Sagar said, "I had to check performance across multiple platforms, and since we have multiple ad campaigns running simultaneously, not everything was under one roof."
The second big challenge the team was facing was around budget pacing and efficiency with multiple different platforms and campaigns. Sagar said, "Let's say, if I wanted to calculate the variance between how much I should be spending per day and how much I was actually spending per day, it was challenging. And when it came to tracking multiple platforms, I had to play around with multiple tabs."
Why Supermetrics
When looking for a solution, the StackAdapt team had three deciding factors: data source availability, native reporting platform, and data fetch speed.
Data source availability
When seeking a solution that could consolidate their advertising tools' data, connectivity was a top priority for the team. The ideal platform needed to connect with all the tools they used, including StackAdapt, Google Ads, and LinkedIn.
Native reporting platform
One of the main reasons for selecting Supermetrics was its ability to integrate with any third-party app, including Google Sheets and Looker Studio (formerly Data Studio). This allowed team members to easily create charts and optimizations without learning new software.
The ability to pull data from Google Sheets was especially useful since the team operated under a G-Suite environment.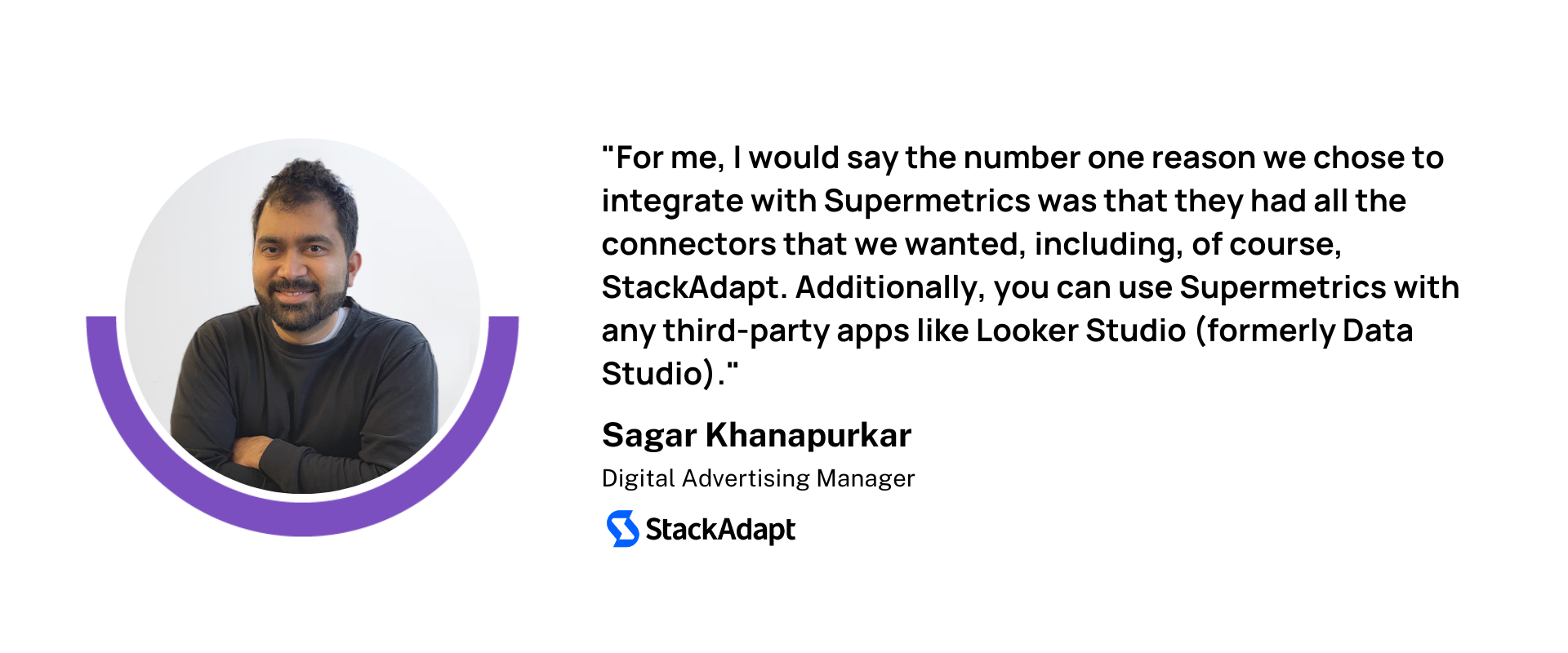 Speed to fetch data
The team mentioned that Supermetrics had particularly fast data-loading capabilities. They noted that in Looker Studio (formerly Data Studio), which can often be slower, data loads quickly with Supermetrics compared to other tools that they tried. This speed was particularly useful for the team as they could analyze data and adjust campaigns more efficiently.
Once the team had chosen the Supermetrics solution, it was time to set everything up. On the onboarding process, Sagar explains, "Once we ended up buying the license, all I had to do was connect it to Supermetrics, and after that, it was straightforward".
The Impact
Supermetrics has impacted StackAdapt's business and marketing performance in three major areas; increased marketing efficiency, improved budget tracking, and stronger team collaboration.
Increased marketing efficiency
One of the biggest benefits of using Supermetrics is the time saved, which the team can use on other important things. Sagar says, "Our new integration easily saves us around 20 to 25 hours a month."
With Supermetrics, the team can easily analyze and evaluate data, which gives the StackAdapt team more confidence in decision-making since everything is backed by data.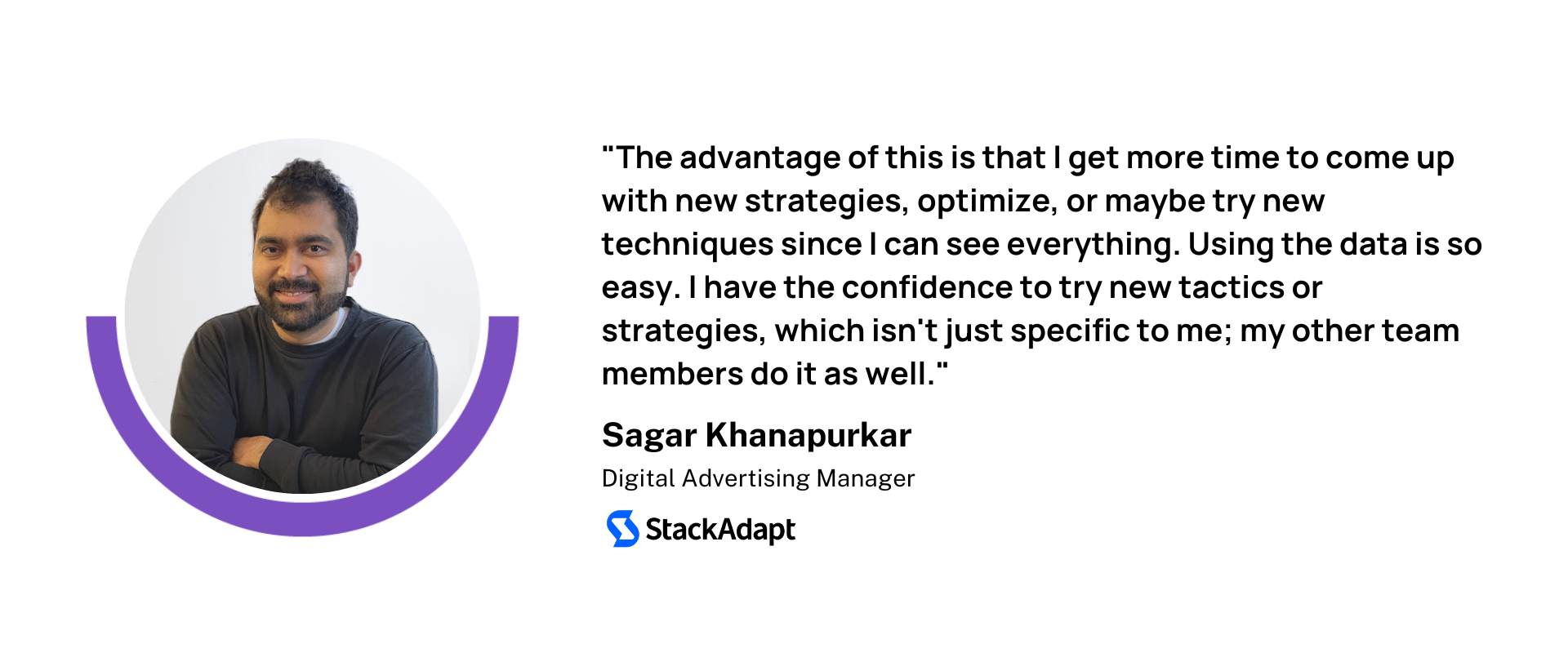 By having all their data together, the team didn't have to return to each platform to pull data and insights. They created charts and reports for different ads, all of which updated automatically based on scheduled triggers, which increased efficiency and enabled the team to focus on optimizing their campaigns. Sagar says that, "The Supermetrics integration has been a game-changer for the team as it allows us to use different charts and tables with ease. Supermetrics' usability and streamlined workflow has enabled us to make the most of our data and drive better results."
Improved budget tracking
The StackAdapt team brought all of their siloed data together in Looker Studio. Once all the data was centralized, the team could visualize their budget versus actual spend for different ad campaigns and platforms. They can now efficiently track their spending, pace their campaigns, and avoid overspending.
Stronger team collaboration
Supermetrics has streamlined the reporting and onboarding processes for StackAdapt. According to Sagar, Supermetrics' connectors make it easy to set up reports and teach new members how to use the platform. The simplicity of the process is crucial, as a more extended onboarding period would make training more challenging. With Supermetrics, they can start at "step zero" and work up when teaching new team members, and still, it doesn't take a lot of time.
Future scope
As a growing marketing team, understanding the performance of their campaigns is crucial. Supermetrics has been important in bringing all the data together, making it easier for the team to keep track of spending across all channels and analyze their performance.
But there's still more to be done. As the team moves forward, they want to use Supermetrics further to better understand performance and make data-driven decisions to optimize their ROI.
One area of focus will be using Supermetrics to gain insights into performance in countries where the team may not have a lot of awareness.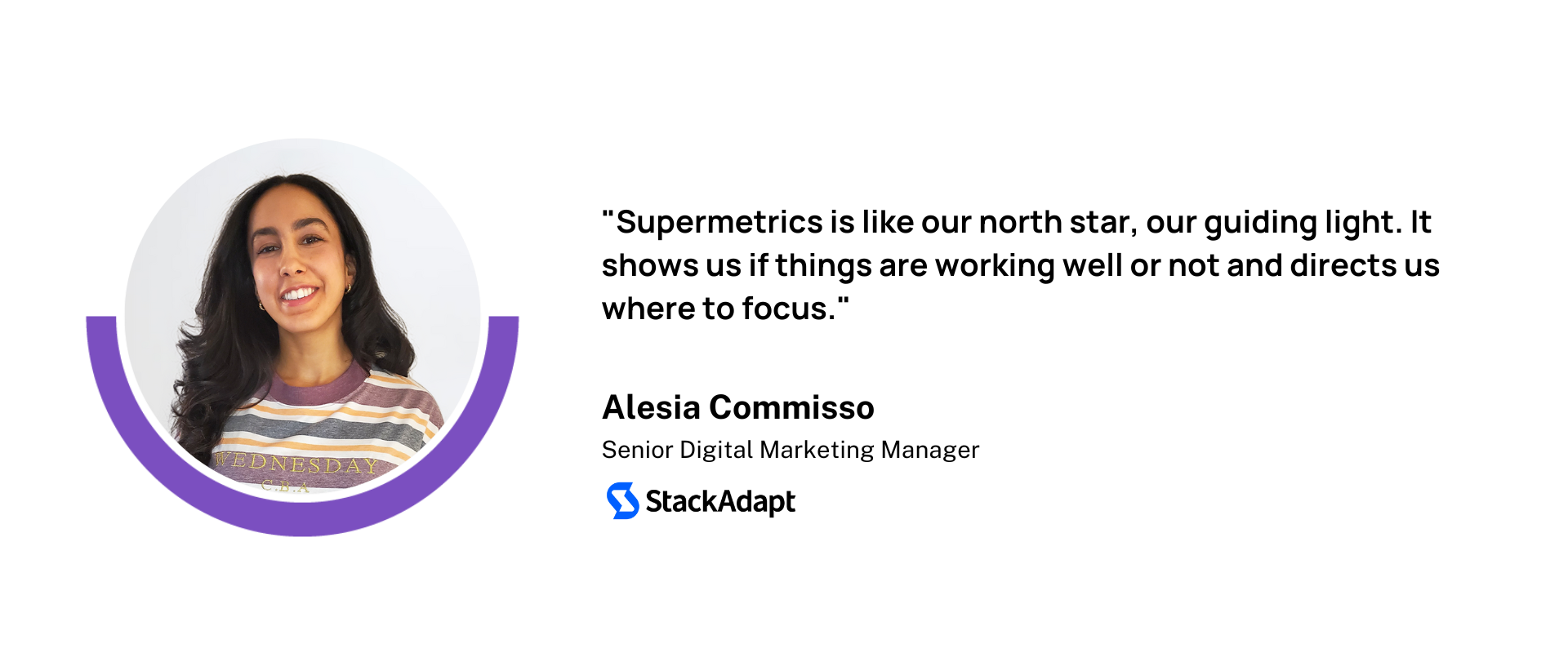 By using Supermetrics to uncover these insights, the StackAdapt team will be able to take action to improve performance and ROI. It can help them understand what's working and what's not so they can decide where to double down or move away from.
As technology evolves and the business landscape changes, access to real-time data and insights will become even more important. Supermetrics will play a key role in helping the team navigate these changes and make informed decisions.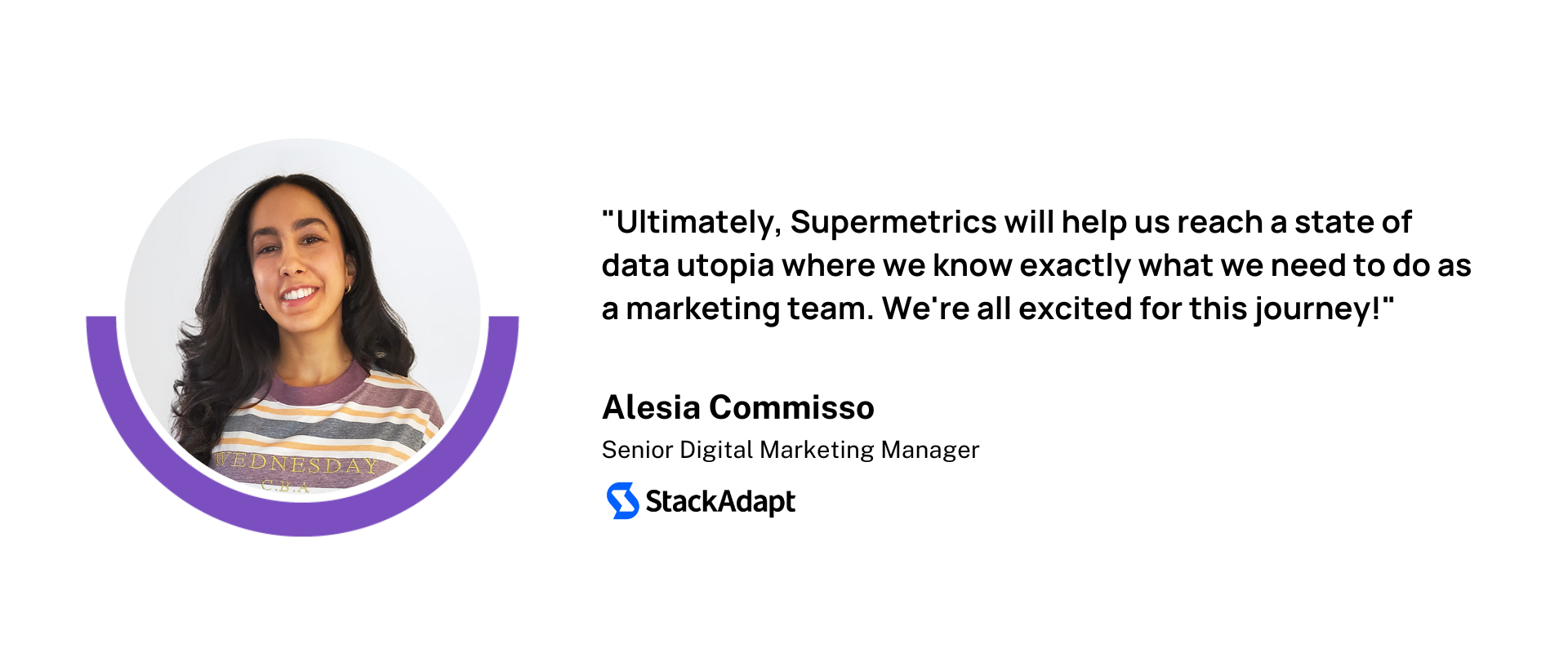 If you're looking increased marketing efficiency like the StackAdapt team, start your 14-day free trial of Supermetrics.
Turn your marketing data into opportunity
We streamline your marketing data so you can focus on the insights.