Sep 23, 2021
Supermetrics vs. Whatagraph: a comparison of marketing analytics and reporting software
5-MINUTE READ | By Edward Ford
[ Updated Jul 3, 2023 ]
In this article, we'll compare popular marketing analytics tools Whatagraph with Supermetrics to help you decide which one is right for your agency or marketing team.
There are three main points of difference between Supermetrics and Whatagraph. These are:
Data source connectors: The number of marketing platforms each product can pull data from and the quality of that data.
Data destination flexibility: How much flexibility you have to analyze your data and create custom reports once you've moved it to your destination of choice.
Scalability: How each platform supports you as you grow and your marketing analytics matures.
We'll compare the two products from these three perspectives, but before going into them, let's look at some basic differences.
​​Supermetrics in a nutshell
Supermetrics streamlines the delivery of data from 100+ sales and marketing platforms into the reporting and analytics tools that marketers already know. Supermetrics doesn't store the data on its server — it simply moves your marketing data from all your platforms into destinations like Google Sheets, Excel, Google Data Studio, and data warehouses such as Snowflake, BigQuery, and Amazon Redshift, among others. Once there, you can analyze the exact data you want and build custom marketing reports for your clients, management team, or your own analysis.
Whatagraph in a nutshell
Whatagraph, on the other hand, moves your marketing data into their own platform. It integrates with 40+ marketing platforms, from which you can build reports with Whatagraph's own reporting tool to monitor your marketing performance.
Both products eliminate the need for marketers to manually collect data into their reports and instead automate the aggregation process. But as you can see, they do it using slightly different approaches.
So let's jump into part one and see how Supermetrics and Whatagraph compare from a data source connector perspective.
1. Data source connectors
When assessing data source connectors, there are two main questions to ask: how many platforms can I pull data from and what data can I pull from those platforms?
Number of data source connectors
Supermetrics integrates with 100+ marketing platforms whereas Whatagraph pulls data from 40+.
The platforms covered by Supermetrics can be broken down into the following groups:
Paid media (including Facebook Ads, Google Ads, Amazon Ads and TikTok Ads)
Web analytics (including Google Analytics, Google Analytics 4 and Adobe Analytics)
Social media (including Facebook, Instagram, and Twitter)
SEO (including Google Search Console, Google My Business, and Ahrefs)
Ecommerce (including Shopify, Klaviyo, and Stripe)
Mobile and app analytics (including Apple App Store and Facebook Audience Network)
Email (including Mailchimp)
Sales (including Salesforce, HubSpot, and CallRail)
Whatagraph offers connectors to similar platforms than Supermetrics and mainly covers paid media, social media, web analytics, and ecommerce. The majority of Whatagraph's connectors are available with Supermetrics, and with around 60 more in addition, you're more likely to find exactly what you're looking for with Supermetrics.
Quality of data source connectors
The second aspect when assessing connectors is the type and quality of data you can pull from them.
At Supermetrics, our aim is to provide as granular data as possible. In short, if it's available through the API, we'll do our best to make it available to you.
You'll be able to pull a wide variety of metrics and dimensions from each data source connector, allowing you to create the exact reports you need. Whatagraph refers to the data you can pull as 'widgets'. These are predefined blocks of data that you can drag and drop into your reports.
To compare the amount of data available, let's take three of the most popular data sources and see what you can get with Supermetrics and Whatagraph respectively.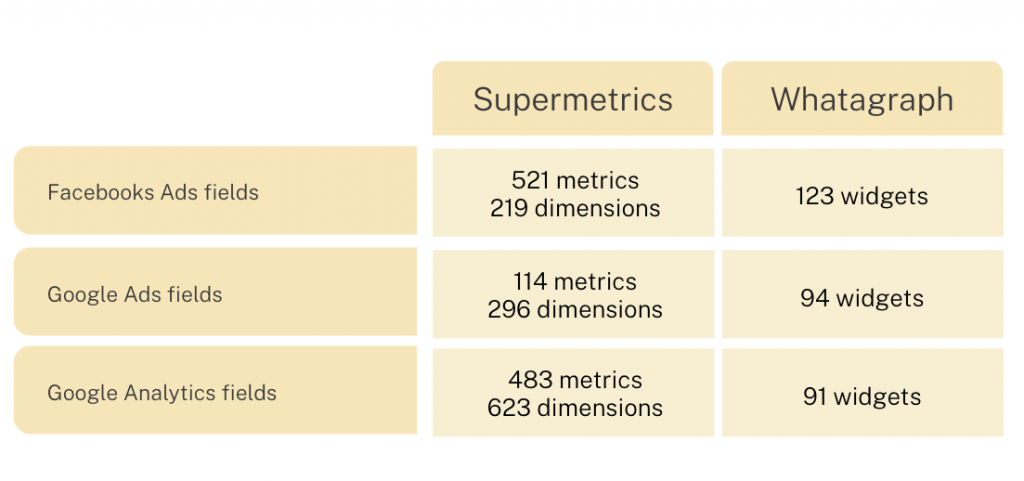 Supermetrics will give you granular access to all the metrics and dimensions available within a platform. In some cases you'll also find fields that are available through Supermetrics but not within a platform's native reporting. For a full breakdown of all the available fields for each of Supermetrics' data source connectors, check out our documentation pages.
2. Data destination flexibility
Once you've identified the platforms you want to pull data from, what can you do with that data?
As we mentioned at the outset, Supermetrics lets you move data into the reporting and analytics tools you're already using, whether that's a spreadsheet, a data visualization tool, or a BI tool. Whatagraph pulls your data into their own platform where you can make various marketing reports.
Where can I move my data to with Supermetrics?
With Supermetrics, you can move your data into the following destinations:
Google Sheets
Excel
Google Looker Studio
BigQuery
Snowflake
Azure Synapse
Amazon S3
Amazon Redshift
Google Cloud Storage
Google AlloyDB
Azure Storage
SFTP server
Tableau, Power BI, Qlik, and other BI tools, databases, or data warehouses that support JSON or CSV inputs (with Supermetrics API)
With Supermetrics, you have the freedom to move and centralize your data depending on what suits your needs. If you need to analyze a specific dataset, you can move it into a Google Sheets spreadsheet. If you need to create performance monitoring dashboards and reports, you can use Google Data Studio. If you need to build a centralized repository of all your historical marketing data, you can use BigQuery. There are almost limitless ways to use Supermetrics depending on where you're pulling data from and where you're pulling it to.
And while Whatagraph is fairly simple to use, you are limited by what you can do once your data is in their platform. It's very handy for marketers who need an easy solution to create simple, good looking reports. But if you want to create highly customized reports, run thorough analyses, or access specific data points, Supermetrics lets you do that.

3. Scalability
As your company grows, so too do your analytics maturity and data needs.
You might start off by creating simple marketing reports for your clients and managers or build easy to understand dashboards to monitor performance. As you become more analytically mature, that may evolve into deeper analysis in spreadsheets or more complex reports that blend large datasets from multiple platforms. You might outgrow spreadsheets as a data repository and you look for something more suitable, like a marketing data warehouse. At the same time, you'll be able to move from restrictive and descriptive analytics towards predictive and prescriptive analytics.
We refer to this evolution as marketing analytics maturity.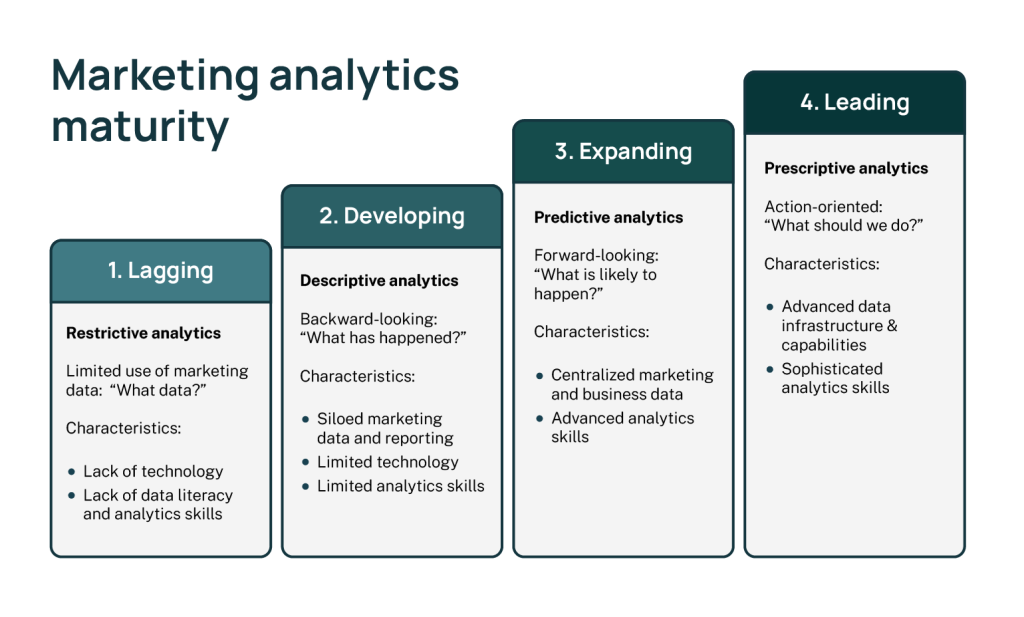 So how does each solution scale with you?
At Supermetrics, we understand that data integration needs are not static. Data complexity, especially for sales and marketing data, grows with your business. Our solutions keep pace as your needs change going from spreadsheets and data visualization tools all the way to data warehouses and data lakes. We have the right data delivery solution for your needs, no matter where you are on your data journey.
Whatagraph is a good starting point for those at the beginning of their journey. It's well suited to marketers who need an easy-to-use solution and aren't too comfortable with more advanced reporting and analytics tools. But as your company grows and your data and analytics needs evolve, you may outgrow the platform. This means you'll need to come back and review your marketing data stack in a year or two and find a solution to meet your growing needs.
We're confident that if you go with Supermetrics today, you'll have a partner who has exactly what you need no matter where you are on your marketing data journey.
Summary: Comparing Supermetrics vs Whatagraph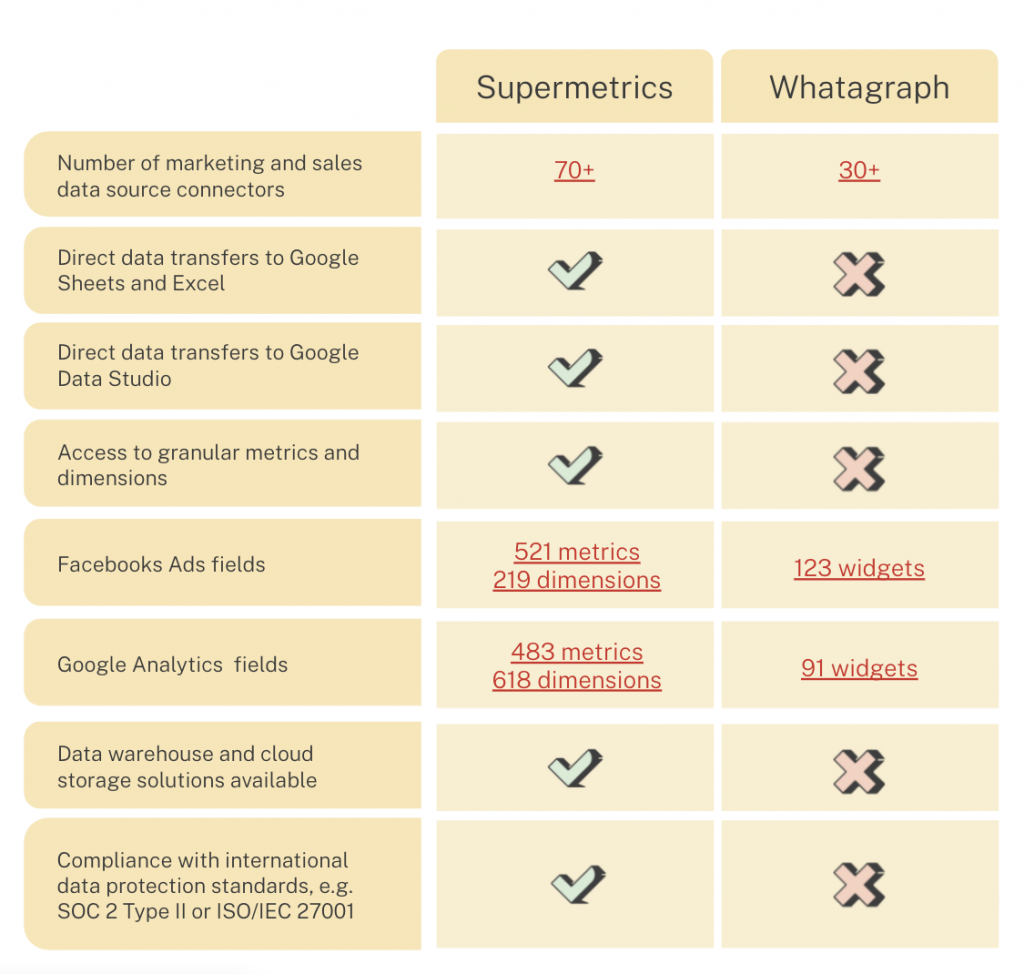 We hope this comparison helps you understand whether Supermetrics or Whatagraph is the right product for you. If you're looking for an easy way to build simple marketing reports for your clients or managers, Whatagraph could be your best bet. But if you're looking for a more comprehensive solution that offers a greater degree of customization and scales as you grow, Supermetrics is going to be a better fit for your needs.
Turn your marketing data into opportunity
We streamline your marketing data so you can focus on the insights.