Dec 9, 2021
Upcoming changes to the Supermetrics Team Portal
3-MINUTE READ | By Aleksander Cardwell
[ Updated Jan 31, 2023 ]
The Supermetrics Team Portal is an essential part of using the Supermetrics platform.
You can manage your license, connect data sources, set up data transfers, and monitor how your queries are performing, among other things.
To improve usability and set the platform up for some exciting future functionality updates, we're releasing a redesign of how you interact with the Team Portal interface.
The functionality you are used to will remain the same — we're simply updating where you find different parts of the platform.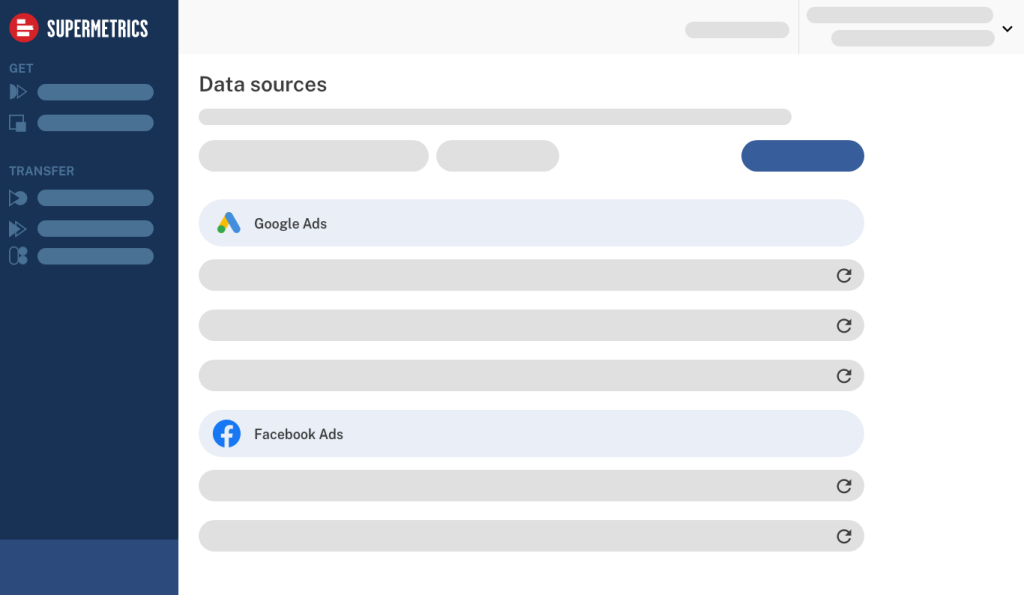 What's changing?
While the functionality of the Team Portal remains the same, the way in which we display information is changing.
Navigating the core functionality of the Supermetrics platform has moved to the left-hand side of the screen into an always accessible sidebar. We grouped the new navigation into a few different categories — get data, transfer data, and accounts and licenses.
Get Data
The grouping for 'Get Data' includes everything related to fetching data and connecting with your data sources.
It provides quick access to a view of all your connected data sources. In the future, it will function as a gallery of all data source connectors available to Supermetrics users. Additionally, it makes the 'Query Manager' more accessible to users by including it directly in the sidebar navigation.
Transfer Data
If 'Get Data' is all about getting data from your data sources, 'Transfer Data' is all about moving it to your destination or storage platform.
This section includes access to the Supermetrics data destination configuration wizard, an important functionality for setting up integrations with the data warehouses and cloud storage solutions we support.
It also provides access to the data transfer configuration view, which lets users create or edit data transfers to data warehouses and cloud storage platforms.
Last but not least, the 'Transfer Data' grouping also now includes the transfer monitoring view. This view lets you see the status of each of your transfers from the last 14 days by data source and destination.
The items grouped under 'Transfer Data' mainly apply to Supermetrics users transferring data to one of our supported data warehouse or cloud storage platforms. Transfers to Google Sheets, Google Data Studio, and Microsoft Excel are managed directly within each platform.
Accounts and licenses
Account and license management are now available in two locations — the bottom left-hand corner and top right-hand corner, like a dropdown menu.
It retains the functionality of managing licenses, your team and users, billing history, and view platform usage.
What's next?
The new sidebar navigation not only improves user experience but also allows you to easily introduce new functionality when the time comes.
In addition to an improved data source gallery view, we will be introducing a completely new item grouping in early 2022 labeled 'Tune Data'.
'Tune Data' will house tools we are building to allow you to transform and blend data — enabling more advanced use cases for data-driven businesses.
Additionally, we will be building out tools that allow users to build their own data source connectors in a matter of minutes.
As always, we are committed to continuously adding functionality to the Supermetrics Team Portal to provide the tools users need to evolve on their data journey.
In case you're not yet familiar with the Supermetrics Team Portal, feel free to log in here and take a look around.
Stay tuned for more updates!
Turn your marketing data into opportunity
We streamline your marketing data so you can focus on the insights.