Nov 17, 2020
Improve your StackAdapt reporting with the brand new connector from Supermetrics
3-MINUTE READ | By Anna Shutko
[ Updated Jan 31, 2023 ]
Today, another much-anticipated connector, StackAdapt, joins the Supermetrics connector squad! ?
Now you can get data from one of the most popular programmatic demand-side platforms to Google Sheets, Google Data Studio, and Excel.
With the StackAdapt connector you can:
Pull comprehensive user journey data into one place to analyze how your users convert at each stage of the funnel
Use Supermetrics for Google Sheets and Excel to pull the exact metrics you need from StackAdapt to answer specific questions
Create omni-channel reports that combine data from StackAdapt together with the data from other marketing platforms
Fetch data to spreadsheets to answer ad-hoc questions instead of checking one campaign at a time
Build interactive dashboards for your clients in Google Data Studio
Create a comprehensive user journey analysis
Your StackAdapt campaigns can belong to different stages of the marketing funnel, so it's nice to see which campaigns perform best depending on the funnel stage.
Analyzing your complete user journey will also help you understand each campaign's conversions better: you'll be able to see how fast traffic moves from the first click to last click to conversion.
Here are the metrics you'll want to pay attention to:
Conversions
Conversion rate
Cost per conversion
Impression conversions
Click conversions
Revenue
Profit
Another way to look at the funnel would be to separate the campaigns by channel type (e.g. a report on all native campaigns vs. all CTV campaigns) or by goal (e.g. a report for conversion-based vs. awareness-based campaigns).
If you're working at an agency, you can use Google Data Studio to create visual reports for each client or create a master report for your team's internal use and use that as a benchmark library for all your clients.

Easily report on campaign creative
With the StackAdapt connector, you can easily report on your campaign's creative ad, heading, and tagline metrics to analyze what works. After you've analyzed the data, you'll be in a great position to come up with effective creatives and messaging variants for each stage of the funnel.
This way, you can also see which headline and creative combinations work best.
With Supermetrics for Google Sheets, you can answer ad-hoc questions about your campaigns' performance by querying any relevant metrics and dimensions with any time ranges and filters you want.

Create an omni-channel DSP report
With Supermetrics, you can easily pull data from different marketing platforms to see the big picture of your marketing efforts. For example, if you're running multiple campaigns on Twitter Ads, Facebook Ads, and other channels in addition to StackAdapt, you can pull all this data into the same report and compare the ROAS of campaigns with similar goals across platforms.

Monitor campaign performance in real time and make immediate adjustments
With Supermetrics for Google Sheets, you can create a campaign budget tracker and alert report that will show you how your campaigns are pacing in relation to the projected budget. You can also set up automatic alerts and emails so in case a certain campaign overspends you'll get a notification.
This way, it'll be easier to monitor and optimize your StackAdapt campaigns as they progress. If, for example, you notice that a certain campaign doesn't have a good conversion rate, you might want to shift the budget to other campaigns?
A spreadsheet with alerts also makes it easier to monitor your campaigns and quickly react to changes.
Get your plug-and-play Google Data Studio template
If you're using Google Data Studio, here's a StackAdapt template you can start with: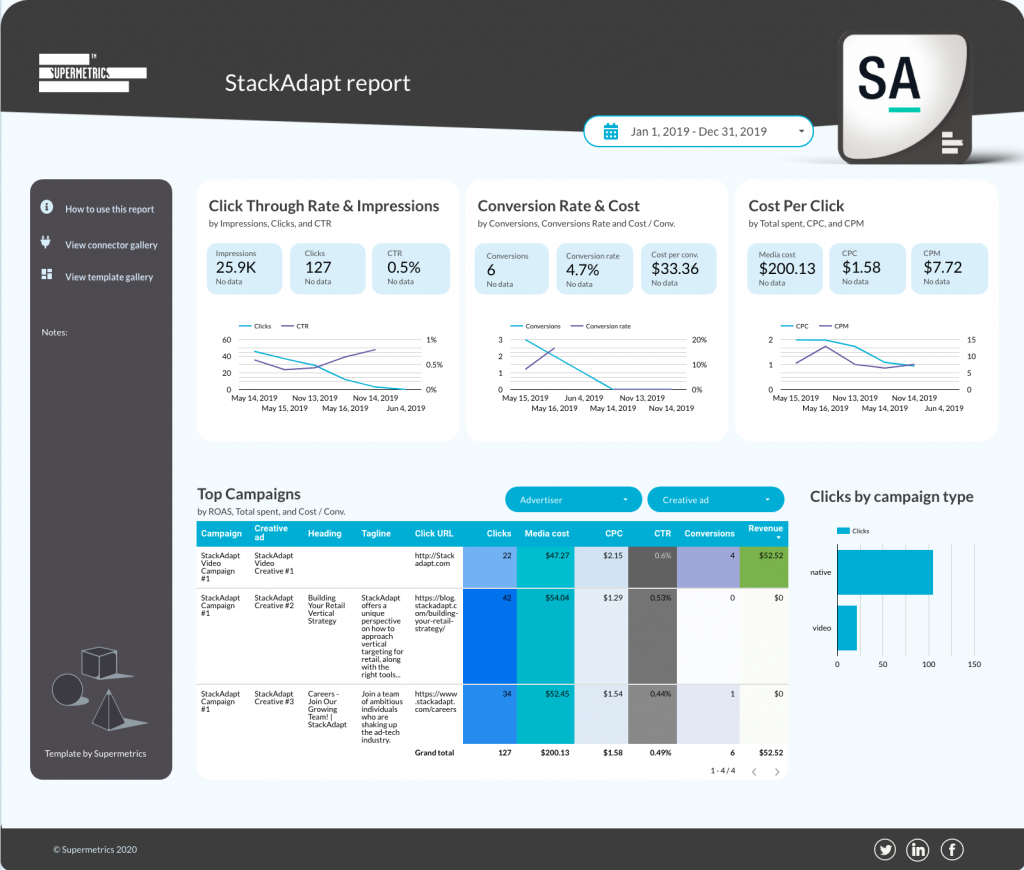 Here's what is included in the report:
An overview of key metrics
Campaign performance stats
Clicks by campaign type
Want to start building StackAdapt reports today? Start your 14-day free trial of Supermetrics now.
Turn your marketing data into opportunity
We streamline your marketing data so you can focus on the insights.