Aug 10, 2020
How to make a Google Data Studio dashboard with data from Google Ads, Facebook Ads, Twitter Ads & Microsoft Advertising
8-MINUTE READ | By Joy Huynh
[ Updated Oct 31, 2023 ]
TL;DR: If you're already familiar with Google Data Studio and just want to swipe our free dashboard template, simply take a copy of this paid channel mix template. For more info on how to use this template, keep reading.
Performance marketers know it best. Staying on top of your paid campaigns isn't easy, especially if you're managing campaigns across multiple channels.
For one thing, you need to log in to each platform to see how things are going. Chances are by the time you reach platform no.3, you've probably forgotten what had happened on platform no.1.
Does reporting and analyzing cross-channel campaigns have to be this challenging?
Absolutely not. As long as you use the right tools, you can spend less time on gathering data and more time on optimizing your campaigns.
In this article, I'm going to show you how to combine data from Google Ads, LinkedIn Ads, Twitter Ads, Facebook Ads, and Microsoft Advertising in Google Data Studio and build a paid channel mix report.
After reading this article, you'll know:
What metrics you should include in a paid channel mix report

How to create a paid channel mix report
And as I mentioned in the beginning, you'll also find a free paid channel mix report template for Google Data Studio that you can swipe.
If this sounds like your cup of tea, let's get right into it.
What are the key metrics in a paid channel mix report?
Not everything that can be counted counts.
While you may have your heart set on a long list of metrics, you should always think about your goals and the business questions you want to answer.
What you should actually focus on is pretty simple:
If your ads are working

If your landing pages are working

How much money you're spending
Ad performance metrics
Obviously, the ultimate goal of any paid advertising campaign is that sweet conversion (yep, I'm talking about dollars here). But first things first, you need your audience to click on your ad.
But how can you tell if your ad is doing its job?
Simple. By looking at your ad performance metrics.
Here are some metrics that you should care about when measuring your ad performance:
Impressions – the total number of times people have seen your ad.
Clicks – the total number of times people have clicked on your ad. The more people click on your ads, the more chances you have to drive conversions.
CTR (Click-through-rate) – the ratio of total clicks/total impressions. A high CTR typically means people find your ads relevant and helpful.
On the other hands, a low CTR could mean that:
Your ad doesn't speak to your audience

Your audience is bored with your ad already (ever heard of ad fatigue?)
In both cases, you can boost your CTR by improving the ad copy, and/or changing the design.
Landing page performance metrics
Let's say the audience has clicked on your ad, is it time to grab a basket and collect some conversions?
Well, not so fast. Because if they don't find what they're looking for when they're visiting your landing page, it's unlikely that they'll convert.
These following conversions metrics can tell you if your landing page is working:
Conversions – the total number of conversions from all visitors. A conversion can be anything from filling in a form, starting a free trial, or placing an order. (Pro tip: when you're talking about conversions to your boss your client, make sure to remind them what you actually mean.)
Conversion rate – total conversions/total clicks
There are lots of reasons why your audience might not complete the desired action. It all boils down to:
Your landing page doesn't offer the desired solution (or the landing page isn't aligned with the ad)

Your landing page doesn't support the desired solution (the landing page is hard to navigate or confusing)

Your audience is simply not ready to convert
You can use data from Google Analytics to figure out what's stopping people from converting. If you're looking to improve your conversion rate, check out 10 handy tips in this article.
Cost metrics
Sure. Driving a ton of conversions is great, but driving profitable conversion is even better. Just think about it. Does it make sense to pay $33/click for a product that's worth $20?
It's your job as a performance marketer to make every penny count. Cost metrics will tell you where your money went, and what you got return.
Cost – the total amount you've spent on a given period.
CPC (Cost-per-click) – the ratio of total cost/total clicks. It shows how much you're paying for every click on your ad. CPC is important when it comes to managing your budget and choosing bidding strategies.
Cost-per-conversion – the ratio of total cost/total conversion. It shows how much you're paying for every conversion.
Now you've got a handful of metrics to report on, let's discover how to put them together in a dashboard.
Paid channel mix template for Google Data Studio
When you're reporting on the performance of your paid channels, it's a good idea to go from general to specific.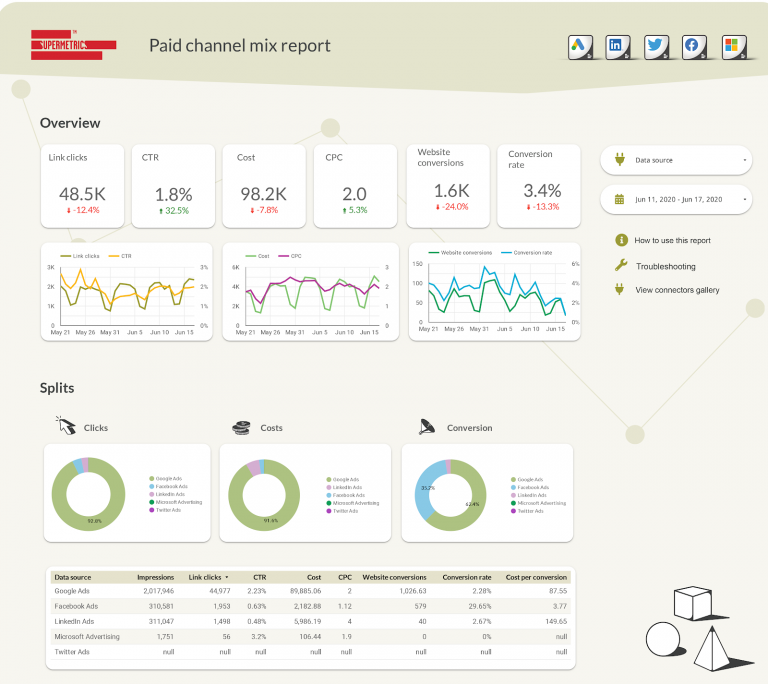 General overview
At the top of this dashboard, there are scorecards showing:
How your campaigns are performing across all your paid channels (your CTR, CPC, and conversion rate)

How they are performing compared to the previous period (grow/decline, in what percentage)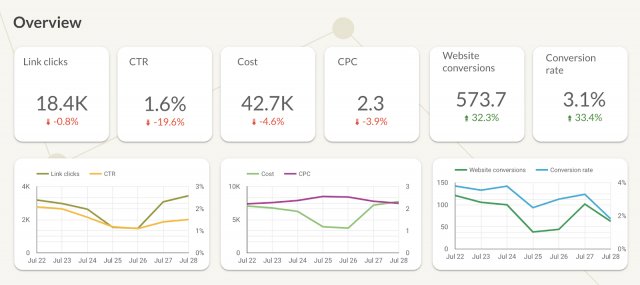 Pro tip: If you're presenting this data to the non-marketer audience, you may want to avoid abbreviations and clearly explain what CTR and CPC mean.
Next, you'll find sparkline charts showing how your campaigns have evolved over time.

From here, you should be able to immediately see if there are any sudden changes in your campaign performance.
Pro tip #2: Use filters to see how a particular channel is performing.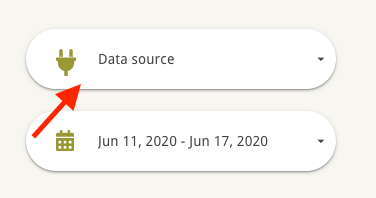 Channel performance
This part of the dashboard will let you know which channel performs best. First, you'll find a breakdown of channels by clicks, costs, and conversions.

If you're looking for granular details, there's a table at the bottom of this page showing all important metrics broken down by channels.

Get started with this template
First, make sure you've signed into your Google account. Next, open the template. Then, on the top right corner, click on "Use template."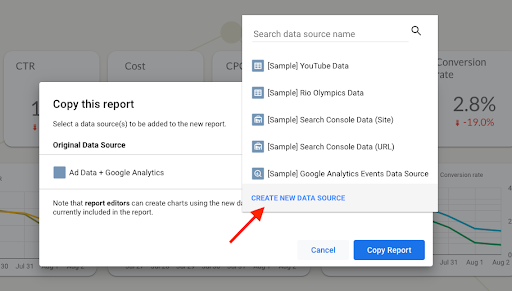 Next, you'll want to connect your ad accounts to the template so it can automatically pull all the necessary data.
To do that, click the drop-down menu → "Create new data sources".
Search for a connector called "Ad data+ Google Analytics by Supermetrics".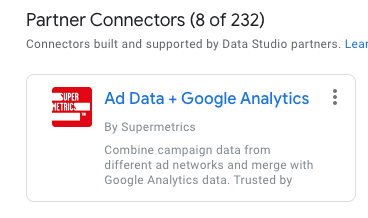 Connect and authorize all the ad accounts you want to get data from. Then, click "Connect".

Next, click on "Add to report" → "Copy report"

And there you have it. Your Paid channel mix report is ready. If you want to share the report with your boss or clients, simply click "Share" and enter their email addresses.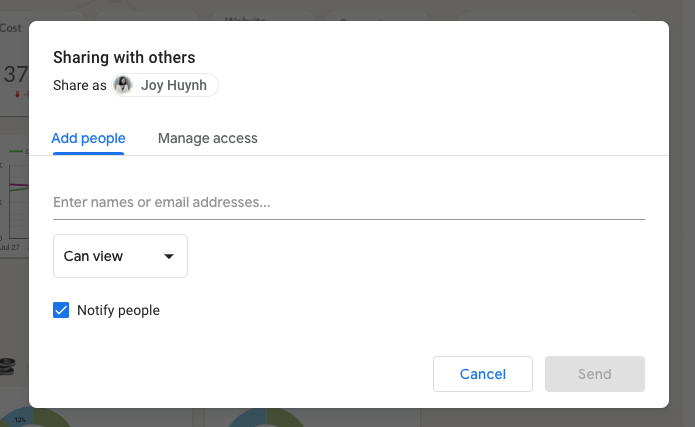 What's next
I hope you'll be able to get some valuable insights from this template.
But remember that this is just the beginning. You can build literally any types of reports using Supermetrics for Google Data Studio, so feel free to get your hands dirty and experiment.
If you enjoy using this paid channel mix report template, let me know on LinkedIn or Twitter.
That's it for now. Happy optimizing! ?
Turn your marketing data into opportunity
We streamline your marketing data so you can focus on the insights.