Oct 29, 2020
How to optimize your Google My Business profile: 5 concrete tips
5-MINUTE READ | By Siri Enckell
[ Updated Mar 13, 2023 ]
If you're trying to get more customers to a local business like a restaurant, a coffee shop, or a retail store, you've probably noticed that having an attractive storefront, a cool website, or an active social media presence is no longer enough.
What matters today is what consumers see when they run a Google search on their phones.
And in fact, according to HubSpot, 88% of mobile searches for local businesses result in either a call or a visit within one day from the search. That's why optimizing your Google My Business profile matters.
In this post, we'll walk you through five concrete ways to use your Google My Business data to drive more revenue to your local business. But before we get to that, let's quickly talk about what Google My Business is and what you can do with it.
What is Google My Business?
Google My Business (or GMB) is a free tool that allows you to create a listing for your local business and manage how it's shown across Google's services, including Search and Maps.
For example, if a consumer is looking for a butcher near them on Google Maps, they'll see standardized search results that include:
The names and addresses of all relevant business
Their opening hours
Their star ratings and customer reviews
That's all thanks to Google My Business.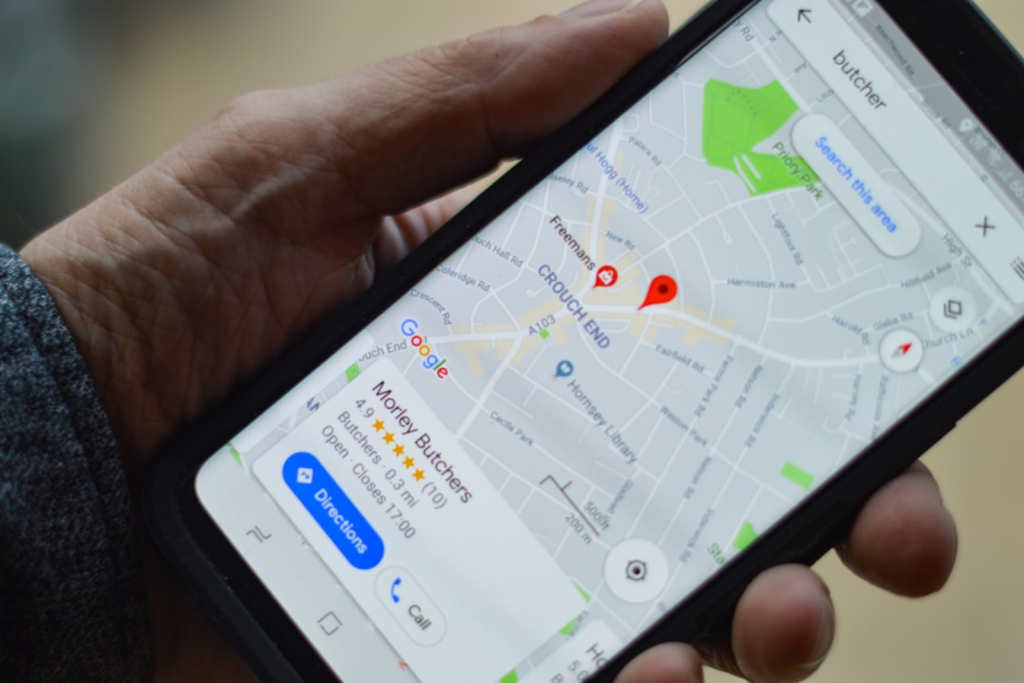 And by optimizing your Google My Business profile, your business has a better chance of ranking higher for relevant search queries — and ultimately driving more transactions.
In fact, in a recent industry survey, Google my Business (GMB) optimization was considered the most valuable local marketing service.
But how exactly do you optimize your GMB profile? Read on to find out.
5 practical ideas for using Google My Business data to drive more revenue
Creating a listing on GMB is a great starting point but unfortunately that's not enough. You also need to actively manage your profile.
The best way to stay on top of your GMB data over time is to build an automated and interactive dashboard in Google Data Studio with Supermetrics' Google My Business connector. This way, you can get all the data you need into a single dashboard.
Here are five concrete examples of how to use Google My Business, Google Data Studio, and Supermetrics to optimize your GMB profile.
1. Visualize your conversion funnel
The first thing you'll want to do in Data Studio is to visualize your conversion funnel.
The easiest way to do this is with the following metrics:
Total GMB profile views
Engagements
Number of actions taken (i.e. website visits, requests for directions, or phone calls)
Use the correlation between the number of profile views and the number of actions taken over time as your baseline for further development. If, for example, only 3% of your profile visitors end up taking action, you can run experiments to see if you can get that number to 5%.
Some ideas here include making sure that your NAP information (that's name, address, and phone number) is up to date and that the pictures showing up in the search results offer a realistic, yet attractive representation of your business.
2. Look at actions and action trends
Think of every action (i.e. website visit, request for directions, and phone call) on your GMB profile as a potential new customer.
By pulling this data into a Google Data Studio report, you'll see what your customers actually do on your profile.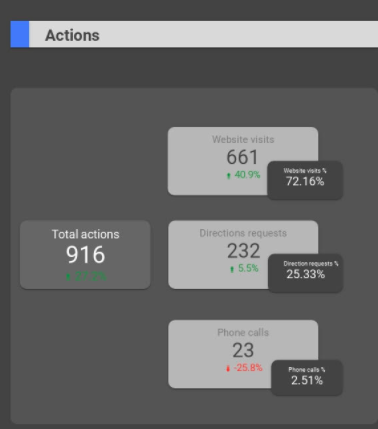 For example, if you notice a sudden drop in the number of phone calls, try emphasizing the option of calling in your Google My Business posts.
3. Analyze your GMB posts
Speaking of posts, as you may have already noticed, you can also use GMB to publish offers, events, or particular products as posts.
By analyzing the performance of multiple posts, you can quickly get an idea on what your customers want to see. Then, focus your efforts on replicating the types of posts that work best for your audience.
4. Stay up to date on your reviews and average ratings
Your average rating and customer reviews are important sources of information when it comes to understanding what your customers really think of your business. If, for example, your ratings start to drop, you can do a deep dive into the qualitative reviews to try to find a potential cause.
An automated Google Data Studio report with your average rating and customer reviews makes it much easier to identify possible problem areas so you can quickly react to them.
5. Use GMB data to compare your locations
If you're running a larger business with multiple locations, data from GMB can be a real goldmine. By combining all your locations in a single Google Data Studio report, you can compare and contrast their performance.
From this data, you can find out the highest and lowest performers. Then, use this information to guide a qualitative analysis on why your customers seem to prefer one location over another.
The bottom line
By connecting Supermetrics with Google My Business you can analyze and automate your reporting process and grow your business with data. With Supermetrics for Data Studio you'll quickly see what's working and what isn't, allowing you to take immediate action.
Using data from GMB helps your company provide outstanding customer experience both online and offline. With an automated and intuitive report, it's easy to extract the most important insights and make data-informed decisions.
About the author
Siri Enckell works as a Customer Success Manager at Mobal.io, the first Helsinki-based startup purely focused on helping local businesses grow with Google. The Mobal team guides customers from Google Maps to action with the focus on increasing local engagement.
Turn your marketing data into opportunity
We streamline your marketing data so you can focus on the insights.