May 18, 2020
How to connect Facebook Ads to Google Data Studio [template included]
6-MINUTE READ | By Anna Shutko
[ Updated Mar 7, 2023 ]
TL;DR: If you're already familiar with Google Data Studio, feel free to copy our Facebook Ads dashboard template. For a more detailed walkthrough of building a Data Studio report from scratch, keep reading. ?
Google Data Studio is a great free tool that helps marketers build and share their dashboards. Out of the box, however, it only connects with Google's own platforms, like Google Ads, Google Analytics, and Google My Business. 
This is problematic for marketers who use a ton of different platforms, including non-Google ones like Facebook Ads, LinkedIn Ads, Snapchat, Taboola, Outbrain, Twitter Ads, Microsoft Advertising, and many, many more. 
And because Facebook Ads is the most popular paid social platform, in this step-by-step tutorial, I'll show you how to use Data Studio to create a Facebook Ads overview dashboard using the Supermetrics connector.
The beauty of this tutorial is that you can apply all the tips and learnings to create a similar report for Twitter Ads, LinkedIn Ads or any other ad platform in Data Studio!
Here's the report you'll be able to build after reading this article: 
And psst! If you'd like a better looking version of this report, why not copy our free Facebook Ads reporting template for Google Data Studio?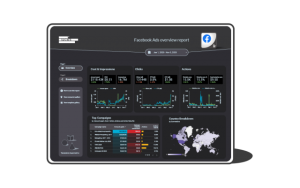 Why should you build this report? 
First, let's have a quick talk about why you should build a Facebook Ads overview dashboard in the first place:  
It provides a great health check of your Facebook Ads account

You can easily monitor your own or your clients' KPIs

It shows how your campaigns are performing on Facebook
When you have a 24/7 access to the relevant data, it'll be easier for you to tweak campaigns, spot audience fatigue, and identify the best targeting options for future campaigns. You can easily share the dashboard with others, as Data Studio is perfect for collaboration. 
But enough theory already, let's start putting together our Facebook Ads dashboard!
Adding Facebook Ads as a data source to your dashboard
After you've opened a new document in Data Studio, head over to the bottom right corner and click "Create new data source" to feed your Facebook Ads data into the report.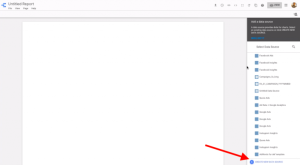 Step 1: Connect to your Facebook Ads accounts
From the connector gallery, select "Facebook Ads by Supermetrics".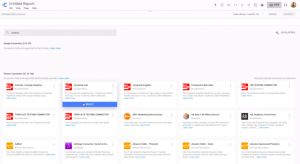 Next, authorize the connector by clicking the "Authorize" button. After you have connected your Facebook accounts, select the ones you want to pull data from.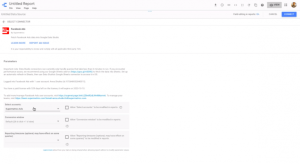 There are also additional options to select the conversion window and reporting time zone if you wish to adjust them. When you're happy with your selection, click "Connect" at the top-right corner. 
Step 2: Edit fields and create custom metrics
Next, you'll see a full list of available metrics and dimensions. Here you can rename metrics and create your own calculated fields. When you're happy with the modifications, click "Add to report".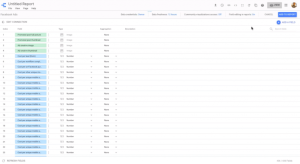 You can always check which data sources are connected to your dashboard by clicking the "Resource" tab at the top of the dashboard and selecting "Manage data sources". 
Now your Facebook Ads accounts are connected to the dashboard and you're ready to start visualizing your data! 
Outlining the report, adding key metrics and their trend lines  
Next, let's start adding graphs and charts to our report. 
Step 3: Name the dashboard by using the text widget. You can modify the font, font size, and color in the right-hand menu when you have the text box selected.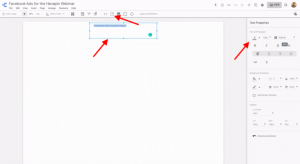 Step 4: Build a date filter for this dashboard. Select the date tool from the top and choose the range of dates that will show by default when you open the dashboard. Similarly to text boxes, you can modify fonts and colors from the menu on the right.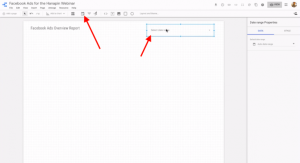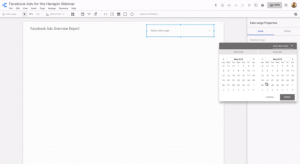 Step 5: Using the rectangle widget, add a colored line to break up the sections. You can add text to divider to highlight the name of the upcoming section.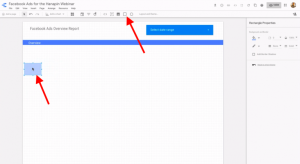 Step 6: Pick the metrics that indicate the overall account health. Typically these are impressions, clicks, conversions, ROAS, amount spent, CPC. Bear in mind that the metrics should vary based on your business and ad campaign type. 
If you want these scorecard metrics to be more visible, simply add a colored background to each using the rectangle tool. Pro tip: organize rectangles in groups and name each group using the text tool. 
When you're happy with the content and design, click on the "Add a chart" dropdown menu and select "Scorecard with compact numbers". Place the scorecard on the first rectangle and change the metric from the "Data" tab of the right-hand menu. You can also change the font, size, and color in the "Style" section.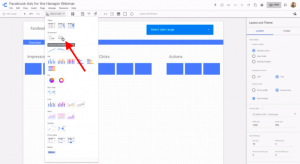 Step 7: Copy/paste the scorecard and add a different metric to each copied scorecard.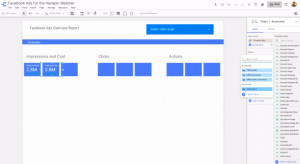 Step 8: Build time series graphs to show how the metrics have developed over time. To do so, select time series graph type from the "Add a chart" section. If you want to add one more metric to the chart, head over to the sidebar on the right and click "Add metric".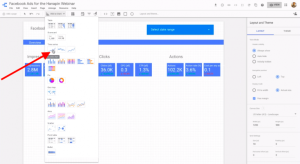 Step 9: Copy/paste the time series graph and add different metrics to the copied graphs.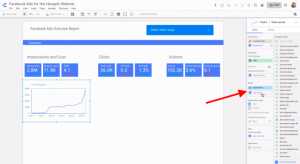 Building a campaign performance table and a geo map
Now, let's add more content to the lower part of the dashboard. I like using the rectangle tool and separating different sections with a thin line.
Step 10: Possibly the best way to compare the performance of your campaigns is a good old table. Just like with the previous graphs, you add it by selecting "Add a chart" and picking the "Table" option. You can choose as many metrics as you wish to display, and don't forget to check out the "Style" tab to customize your table.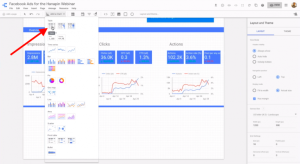 Step 11: Lastly, let's add another widget to the bottom right corner of this dashboard. It can be a pie chart, a stacked chart, or a geo map to show the geographic regions from which we're getting the most clicks. I chose the geo map this time.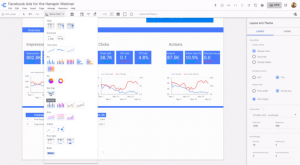 Your turn ??‍♀️
That's it! Your Facebook Ads overview dashboard is ready. Here it is again in all its glory.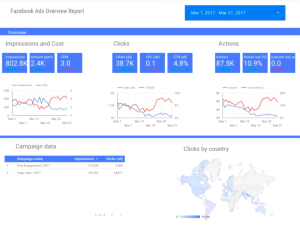 But you shouldn't stop here (and let's face it, you probably won't). With Supermetrics, you can pull data from LinkedIn Ads, Twitter Ads, Microsoft Ads and many other platforms and duplicate the same process.
And psst! If you'd like to just copy a similar template with none of the effort, we've got your back too. Simply copy this Facebook Ads overview template.
If you want to share your experiences with Supermetrics for Data Studio or get more reporting tips, feel free to drop me a message at anna.shutko@supermetrics.com.
And don't forget, you can start your free, 14-day trial today.

Happy reporting! ?
Turn your marketing data into opportunity
We streamline your marketing data so you can focus on the insights.