Mar 30, 2021
Combine call and marketing data with the brand new CallRail connector
3-MINUTE READ | By Joy Huynh
[ Updated Mar 9, 2023 ]
The cat is finally out of the bag!
We're happy to announce that CallRail has officially joined the Supermetrics connector squad. ??
Now you can easily move your CallRail data to Google Sheets, Google Data Studio, Excel, data visualization tools, and data warehouses with Supermetrics.
Let's take a look at some reports you can build with this brand new connector.
But before we start…
Why should you give the Supermetrics CallRail connector a shot?
Though the CallRail native reports are great for analyzing your call performance, you may want to export your data to a spreadsheet, a BI tool, or a data warehouse to do a more in-depth analysis.
That's where Supermetrics comes in handy. We help you bring CallRail data to the destination of your choice.
With your data available at your fingertips, you can track:
Your paid ad performance across channels. See which ads lead to call bookings and how these calls result in sales.
Your agents' performance. Build a call tracking dashboard to monitor your agents' performance.
Content performance. Combine CallRail data with Google Analytics data to see which content drives the most qualified leads.
What reports can you create with the Supermetrics CallRail connector?
I'll walk you through some common reports you can create with this brand new connector.
Paid channel mix report
Let's say you're running paid ads across multiple channels. How can you tell which campaigns or channels drive the most phone calls?
By building a paid channel mix report, of course.
For example, you can easily combine CallRail data with data from other paid platforms like Google Ads, Facebook Ads, or LinkedIn Ads. With this report, you'll find out:
Which paid channels drive qualified leads
Which campaigns drive the most qualified leads
How your budget is allocated across all channels
Alternatively, you can analyze CallRail data with data from Google Ads to:
Identify keywords that bring in conversions
Filter out keywords that attract irrelevant traffic
Call tracking dashboard
With Supermetrics, you can easily pull CallRail data to Google Data Studio to build a call tracking dashboard. This dashboard will help your sales and support team monitor their performance.
If you don't like to reinvent the wheel, feel free to swipe our ready-made template.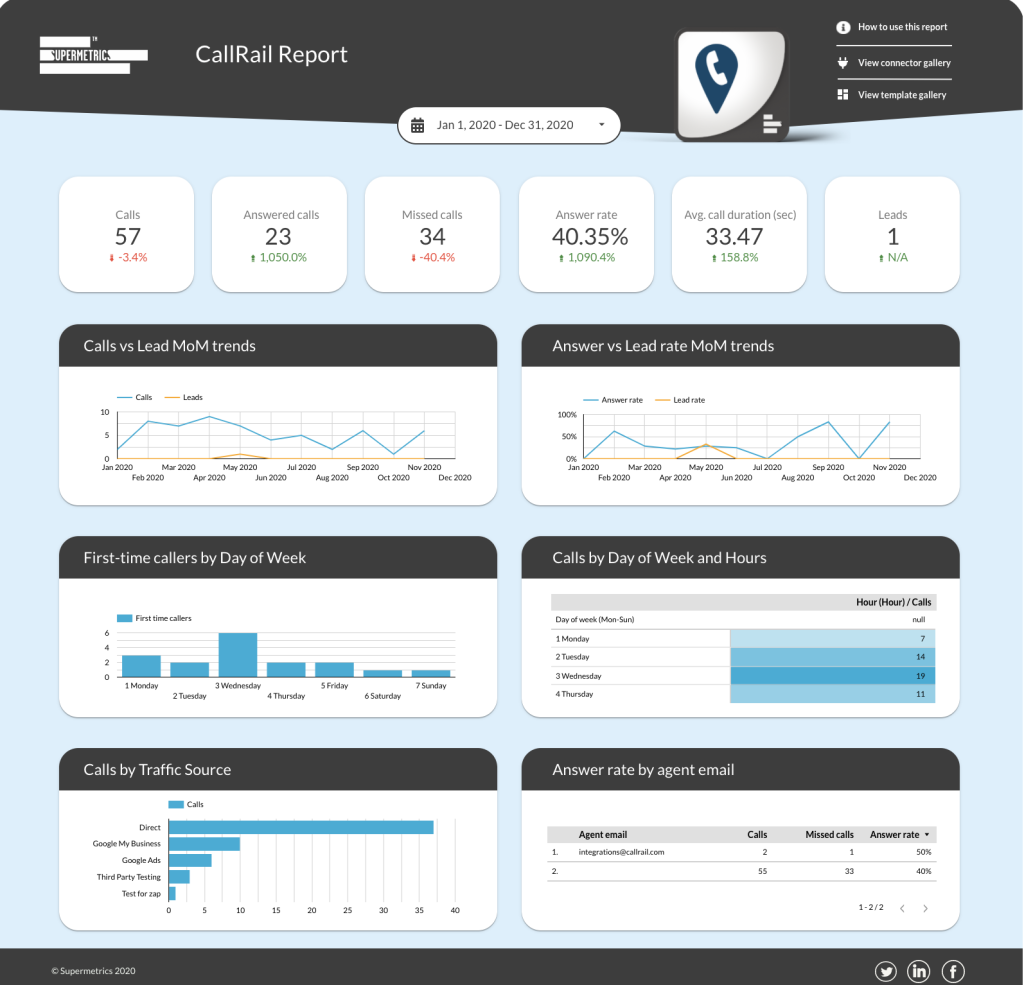 In this template, you'll see:
The total number of calls, answered calls, missed calls, answer rate, average call duration, and leads
First-time callers by day of week
A breakdown of calls by traffic source, date of week, and hours.
Answer rate by agent email
Content performance report
Let's say Bob, a potential customer, visited your website, checked out a solution page, read some blog posts, then called you to learn more about your product. Google Analytics can tell you which pages Bob visited and for how long. But as soon as Bob picked up the phone, you're lost.
With the Supermetrics CallRail connector, you can build a report that helps you understand how Bob and other visitors interact with your website and what content drives phone leads.
By combining CallRail data with data from Google Analytics, you'll understand:
Which landing pages drive calls
Which blog posts result in call bookings
What best traffic sources are
Getting started
Supermetrics CallRail connector is available in Supermetrics for Google Sheets, Supermetrics for Excel, and Supermetrics API. You can also get the CallRail connector directly in Google Data Studio.
If you are currently trying out Supermetrics for Google Sheets, Supermetrics for Data Studio, or Supermetrics for Excel, the connector will be available for purchase after your 14-day free trial ends.
If you'd like to move data from CallRail to a data warehouse or cloud storage with Supermetrics API, please contact our sales team.
Have more questions about using this connector? Check out this guide.
Happy reporting!
Turn your marketing data into opportunity
We streamline your marketing data so you can focus on the insights.