Feb 3, 2020
How to improve the performance of your AdRoll campaigns using Supermetrics - including a free reporting template
By Supermetrics
[ Updated Oct 31, 2023 ]
By Heather Darab and Anna Shutko
It's no secret that AdRoll is one of the best tools for reaching potential customers with the right message at the right time. This marketing platform combines multiple ad formats and sizes under its belt and its features enable marketers to approach the customers throughout the entire customer journey.

To make your AdRoll campaigns truly successful you have to make sound decisions based on the data it provides. Supermetrics' AdRoll connector allows you to effectively build reports with AdRoll data in Google Sheets, Google Data Studio or other BI platforms.

After reading this article, you will know what kind of metrics you can get from AdRoll with Supermetrics and how to build stellar performance reports with this data. In addition, you will uncover the beauty of omni-channel reporting and will get a free plug-and-play Google Data Studio reporting template, which combines AdRoll and Google Analytics data.

All the use cases mentioned in this article are kindly provided by Heather from Blue Yarn Media, so you can learn from a true AdRoll pro and top Supermetrics power user.

Alright, let's dive in!
So, why is AdRoll a great platform for modern marketing?
Over the years, AdRoll has developed into an easy-to-use and comprehensive platform for marketers. It offers ambitious B2C companies access to advanced marketing technology, tools and expertise in a well-designed AI-powered platform.
Marketing activities throughout the customer journey
With the help of AdRoll, marketers can easily coordinate their activities across the whole customer journey and turn prospects into loyal clients. AdRoll does that by offering multiple targeting options, ad types and providing cross-channel attribution that enables to accurately visualize, report on, and optimize the entire customer journey.

The company is constantly adding new campaign formats, with AdRoll email being added in 2016.
Make your ads highly visible
Because AdRoll has multiple different ad formats under one roof, you can find the best combination of the creative size and messaging to improve your ROI.

In addition, the platform provides a very good inventory to make the ads highly visible: for example, you can set up multiple retargeting campaigns to appear on Facebook to reach a large, well-targeted audience. AdRoll's Intent Map features 1.2 billion shopper profiles.
With 80B+ AI predictions happening daily, the highest potential shoppers can be engaged with the most relevant content. Marketers can take full advantage of the access to 500+ ad networks, email, and onsite personalization options.
Take advantage of the top-notch targeting options
Another benefit of AdRoll is that it allows marketers to easily find, target and report on different audience segments.
Apart from the classic demographic targeting the platform offers other options, such as affinity, contextual, lookalike, and CRM targeting—as well as retargeting. These options allow you to narrow down the audience and deliver the message only to relevant people, therefore increasing the conversion rate.
But how can you effectively analyze all this data and get actionable insights?
How you can analyze data from AdRoll with the help of Supermetrics
C has driven the most conversion volumes with 39% lower CPA compared to Creative B. According to the CPA difference, creatives A and B should be replaced with creative C.
With Supermetrics, you can quickly pull all the required AdRoll metrics into a report to easily track your KPIs. This enables you to get a complete overview of performance without jumping from one tab or report to another.

Heather from Blue Yarn Media uses Supermetrics to effectively analyze AdRoll performance in different scenarios.

Blue Yarn Media's dashboards integrate different AdRoll metrics to assess how the channel performs for each client. The data can be easily segmented by strategy (e.g. prospecting, retargeting), country/region, target audience, creative concept, ad size, and device to help uncover different insights.

Their performance report includes metrics like impressions, clicks, and conversions. Conversions may include those reported by AdRoll and/or conversions from a client's own back-end system such as Salesforce.

For clients whose primary KPI is revenue or leads attributed to media (as reported by their back-end system), campaigns are optimized based on efficiency while also considering the lowest average days to conversion following last touch.
These more immediate conversions are likely to have tagging/cookies that attribute them to paid media in AdRoll vs. other sources. For example, if the client wants to maximize lead volumes, it is likely that CPA is the main KPI for the campaign. This metric will be used to identify which creative has performed best.
Let's imagine we have creatives A, B and C. The data shows that creative C has the lowest CPA.
Now let's consider that the client places more emphasis on conversions that they can readily attribute to the source with the data from their CRM platform. This means that Click Conversions and the time it takes for the conversion to occur should be considered. The more immediate the conversion, the greater likelihood that it will be attributed to AdRoll as a source.
In this case, by using Supermetrics AdRoll connector, Blue Yarn Media's team can effectively report and measure how long it takes for users to convert after they were last exposed to an AdRoll ad.

With these additional data points that are important to the client, a new recommendation surfaces. Creative C took the longest to convert after the final touchpoint. Because this client needs a more immediate conversion, Creative B might be the best choice as it had the second highest number of conversions and took on average only ⅓ of a day to convert from final touchpoint, 79% faster than Creative C.

By having all the metrics in the same report you can effectively analyze the data to make relevant conclusions and come up with actionable suggestions for your client's campaign management.

With Supermetrics you can report the metrics at any level, be it campaign, ad group or ad. In addition, you can set up automatic refresh to get up-to-date information on a continuous basis.
And this is not all! The true value of Supermetrics for AdRoll reporting lies in the ability to combine data from different sources together with AdRoll data to uncover deeper insights and make your reporting truly holistic.
Now let's look at how Supermetrics helped the Blue Yarn Media team to easily blend insights from AdRoll and Google Analytics to convey an omni-channel data-driven attribution story.
Level-up your data analysis: combining AdRoll and Google Analytics data
Nowadays many companies are using a multi-channel approach. Blue Yarn Media is no exception—the team are true champions in multi-channel marketing and reporting. This allows them to give each channel credit for the full impact it had on the business throughout multiple touchpoints and conversions.

When looking solely at the AdRoll platform to evaluate performance, only conversions directly attributed to AdRoll can be seen. But viewing only the ad platform's performance neglects the true impact of display advertising.

For example, let's imagine that campaign #1 has only produced 3 attributed conversions at a 319% higher cost per last touch conversion than the account average at over $1.7K. With this information alone, it seems obvious to shut this campaign down or drastically reduce its budget.

However, if we look at this campaign's impact more holistically, we can see that it performs at a much more competitive level. Utilizing Google Analytics enables you to track assisted conversions which are conversions by users who first saw an ad on AdRoll and then took action directly or on another channel. Of campaign #1's conversions, 88% are assisted conversions.
With respect to total conversions, this campaign's cost per conversion is now only 113% higher than the account average, which makes the decision to pause more difficult. Perhaps the leads from the campaign 1 have translated to sales at a higher rate than the other campaigns. And if that's the case, it may still be in the best interest of the account to continue spending at the same rate despite the low number of attributed conversions.
In order to perform this kind of analysis you have to build a report which includes assisted and attributed AdRoll campaigns conversions together with Google Analytics data. Continue reading to learn how you can set up a dashboard like this for yourself in minutes!
AdRoll and Google Analytics Google Data Studio reporting template
Supermetrics has partnered up with the AdRoll team to make advanced reporting even easier for you with a free plug-and-play Google Data Studio template, which seamlessly works with Supermetrics Google Analytics and AdRoll connectors.
The template shows ad performance, campaign performance and demographic data to give you a complete overview of how your AdRoll campaigns are converting and how traffic from these campaigns behave on your website.
AdRoll ad performance analysis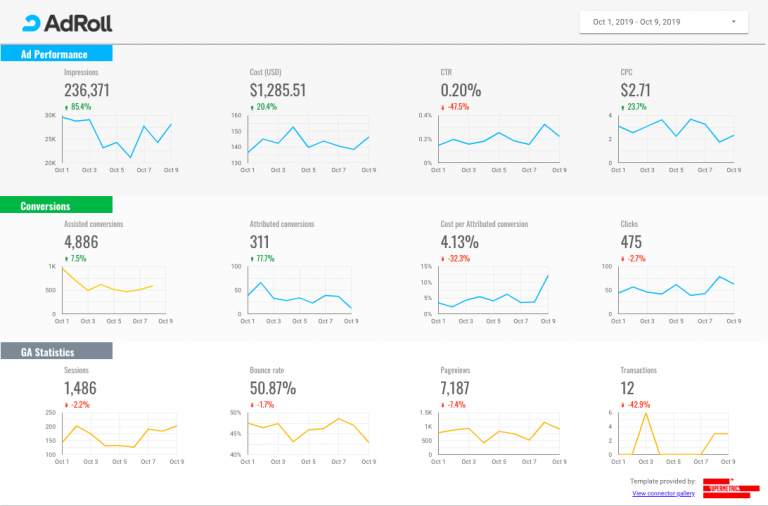 The first pages of the template show how your key metrics are performing. You will see the basic AdRoll metrics together with their trendlines (Impressions, Clicks, CPC etc.). In addition, you will get an overview of assisted and attributed conversion numbers and see how the traffic from AdRoll converts in Google Analytics.
You will be able to do an instant health check and answer the questions like: How well are my AdRoll campaigns converting compared to the previous period? Was there an increase in pageviews? This analysis is crucial as it allows to see the whole funnel's performance at a glance.
Campaign performance analysis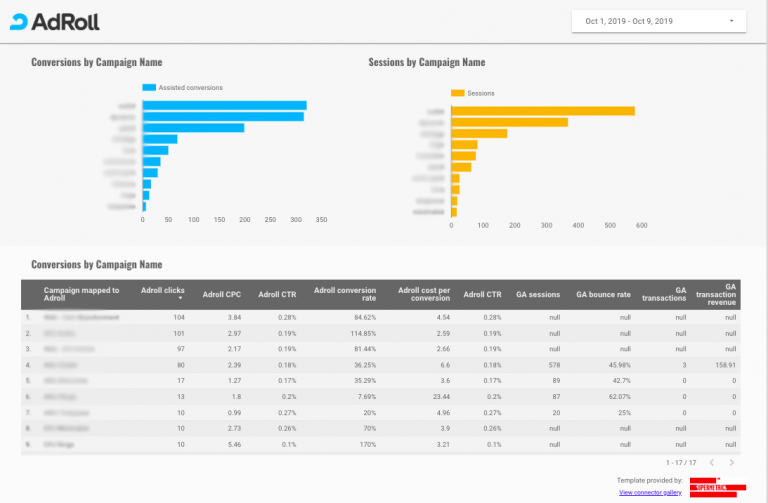 Next, you will see more detailed breakdowns of the key metrics, including CPC and CTR by date as well as the ad clicks numbers.
The third page shows campaign performance data where you will see conversions and sessions statistics together with the key metrics for each campaign.
Demographic data analysis
You will be able to easily analyze AdRoll campaign demographic data. The template shows sessions broken down by campaign, country and other dimensions.
Creative performance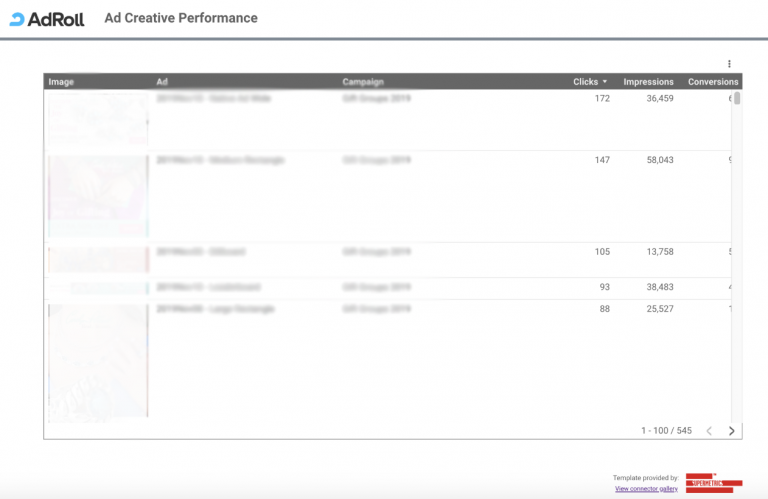 The last page of this template shows how creatives in your ads have been performing. You will see the creative image and will be able to decide how to optimize your campaigns or allocate your budget.
Want to try this template out? Click here and follow the instructions in the template's header.
Conclusion: become an AdRoll reporting champion with Supermetrics!
A deep analysis of AdRoll campaigns can uncover a great deal of optimization ideas, which will lead to a higher ROI. Just like the examples from Blue Yarn Media have shown, by analyzing conversion and clicks data together with cost data over time you can decide how to allocate the budget in a smart way.

You can easily see how to adjust bids or creatives when you have all the needed data in one place, be it a spreadsheet tool, a data visualization product or a BI tool.

However, if you want to take your AdRoll analytics to the next level, you need to pull the traffic data from Google Analytics to see how the converted users have behaved on the website. Perhaps a particular campaign brought a lot of assisted conversions? Or conversions from another campaign resulted in bigger purchases?

Supermetrics helps create dashboards for any kind of reporting scenarios: you can analyze AdRoll data alone, add data from Google Analytics or build a multi-channel performance report.

Don't forget to try out our Google Data Studio template to see how easy AdRoll reporting is!

Turn your marketing data into opportunity
We streamline your marketing data so you can focus on the insights.