How Z21 Studio improves marketing efficiency and client reporting with Supermetrics and Google Sheets
Key takeaways
Z21 Studio is an ecommerce growth marketing agency that helps clients grow their online presence through data-driven marketing strategies.

Before Supermetrics, the team had to manually collect marketing data for client reporting, which could take up to 8 hours per week.

Supermetrics for Google Sheets helps Z21 Studio collect, analyze, and visualize data from various sources.

Using Supermetrics, Z21 Studio can eliminate manual tasks, drive more data-driven insights faster, and improve collaboration with the data team.
Quick facts
Industry: Marketing agency
Founded: 2019
Size: 30+ employees
Markets: Asia Pacific
Products: Supermetrics for Google Sheets
Z21 Studio is an ecommerce growth marketing agency based in Kuala Lumpur, Malaysia. The agency operates across Asia-Pacific to help clients grow their online presence through paid ads, conversion rate optimization, email marketing, ad creatives, and Shopify development. They specialize in data-driven marketing strategies that help clients achieve their marketing goals and increase their ROI.
We spoke with San YongLi, the Head of Data at Z21 Studio and a power user of Supermetrics, along with Vinnie Lee, Head of Partnerships. Vinnie works closely with the data team to deliver actionable insights to their clients.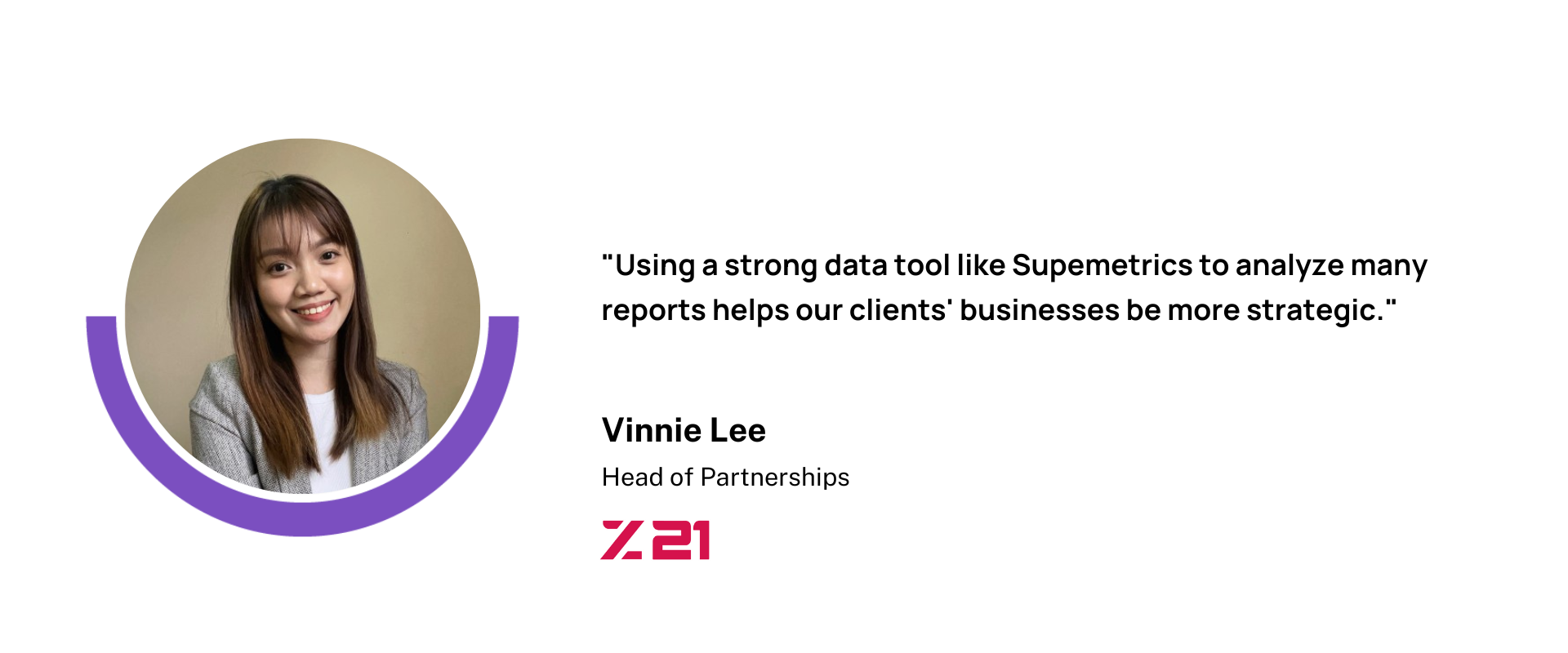 Manual reporting became a bottleneck as the agency grows
Z21 Studio aims to deliver data-driven, ROI-focused, and transparent growth strategies for its clients. Being metrics-focused helps the agency gain visibility of current performance and make swift and accurate decisions for clients' campaigns. However, before using Supermetrics, Z21 Studio manually collected data from different sources and compiled it into a report using Canva. It took the team up to 8 hours a week to build client reports. 
Reporting soon became the biggest bottleneck as the agency scaled and acquired more clients. Z21 Studio needed a better solution to aggregate data from different marketing sources and automate client reporting.
Vinnie explains, "Manual reporting was fine when we had five to seven clients. But when we had 50, it became a bit too much. We needed a better way to do reporting."
How Z21 Studio uses Supermetrics to improve clients' campaign performance and collaboration with their data team
Currently, Z21 Studio's using Supermetrics for Google Sheets to:
Automate internal and external reporting

Improve collaboration across the agency
Automating internal and external reporting
For internal reporting, the team uses Supermetrics to track market trends and key company KPIs and communicate the results to their management team. They can monitor how the business is doing by tracking overall clients' campaign performance and employees' workload. 
For client or external reporting, they build different reports to provide different levels of insights to their clients. For example, a monthly report gives a high-level overview of campaigns. Meanwhile, an annual report is good for monitoring seasonal trends, showing the progress of clients with the agency, and providing insights for the coming year's planning.
Vinnie shares, "Being able to create different reports with Supermetrics allows Z21 Studio to be a data-driven agency. Using a strong data tool like Supemetrics to analyze many reports helps our clients' businesses be more strategic."
Vinnie Lee says, "We build reports with data from multiple platforms for each client. Supermetrics has a wide range of connectors and transparent pricing structures which scale with our business."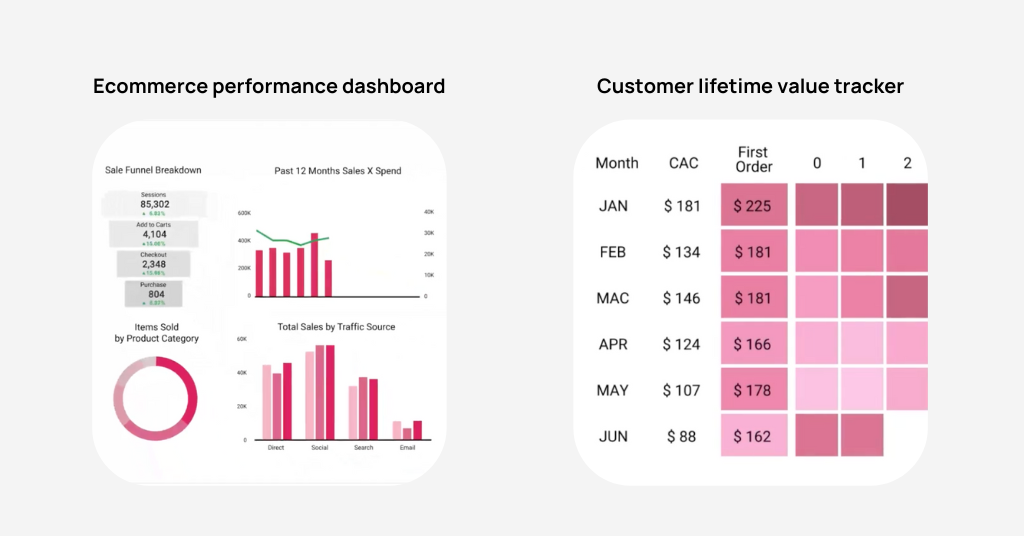 Better collaboration between the client and data teams
Using Supermetrics, Z21 Studio's client team can collaborate more closely and cohesively with the data team. Previously, the client team found it hard to see how clients' campaigns progressed. Now the data team can easily build reports in Google Sheets and Looker Studio to give the client team more visibility into clients' campaign performance. Both teams can have open and timely discussions about what's working, what isn't, and the best way to optimize the campaigns.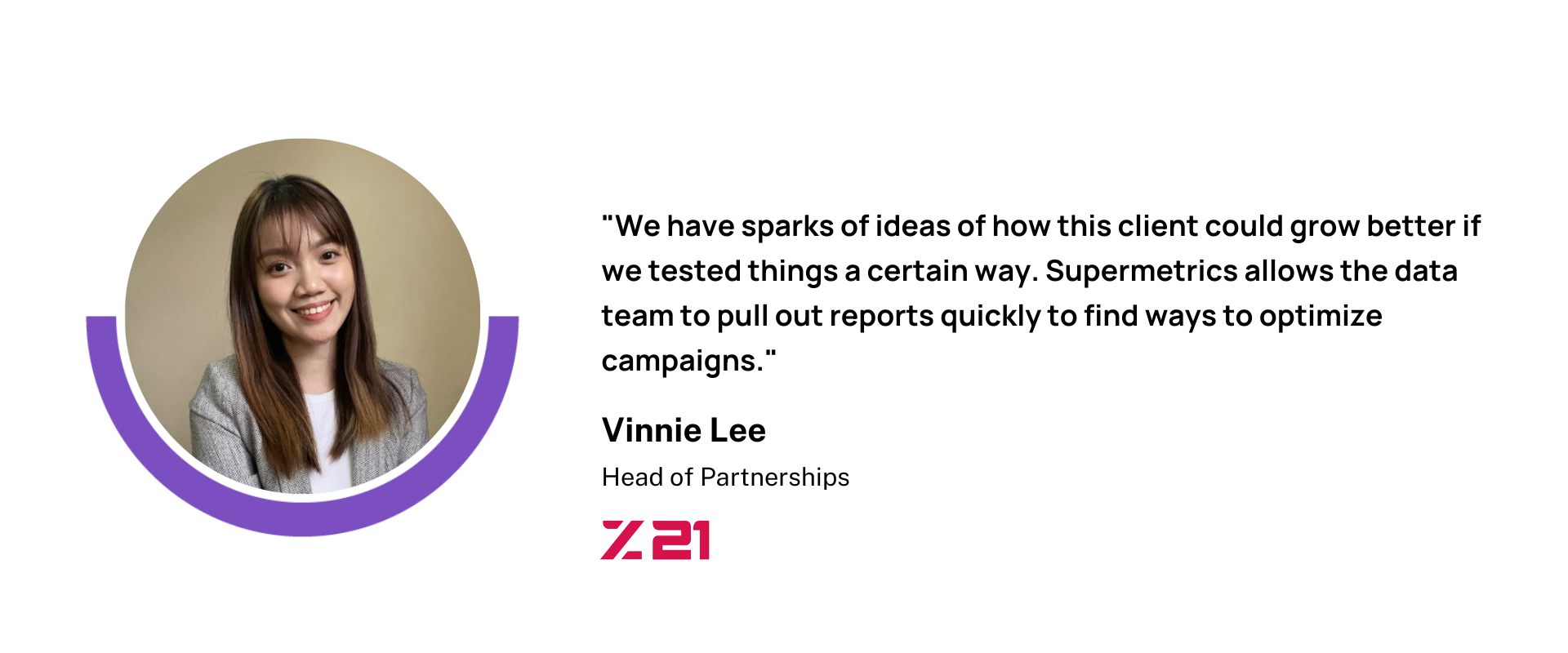 Vinnie shares, "Collaborating closely with the data team helps us understand what's going on with the campaigns and give timely suggestions and optimizations to our clients." 
Additionally, since getting data isn't a problem, the Z21 team can focus on creative testing. Vinnie says, "We sometimes have sparks of ideas of how this client could grow better if we tested things a certain way. Supermetrics allows the data team to pull out reports quickly to find ways to optimize campaigns." 
Want to improve client-reporting efficiency like Z21 Studio? Start your 14-day free trial of Supermetrics.
Turn your marketing data into opportunity
We streamline your marketing data so you can focus on the insights.