Webprofits: How this growth marketing agency creates highly customized marketing reports for every single client
Key takeaways
Webprofits is a digital growth consultancy based in Australia who create custom reports for every single client

They built their reporting stack on top of Supermetrics to ensure their reporting capabilities can grow with their clients' needs

The Webprofits team tried other solutions but found they lacked the depth and quality of Supermetrics' integrations

Now the Webprofits team are extremely data-savvy and their team is full of power users who create multiple bespoke reports using Supermetrics
Quick facts
Industry: Agency
Founded: 2006
Size: 100+ employees
Markets: Australia, Asia, North America
Products: Supermetrics for Looker Studio, Supermetrics for Google Sheets
Webprofits is a digital growth consultancy based in Australia with offices in Sydney and Melbourne, as well as international offices Singapore and Los Angeles. Webprofits helps growth-focused companies of all sizes and from different industries achieve significant business results through a blend of digital growth strategies, business consulting, and cutting-edge creative work.
Ben Fitzpatrick is Head of Strategy and has been at Webprofits since 2013. At the core of his role is the responsibility for working across the company to help deliver client results. This means working with multiple client teams to develop customized growth strategies and ensure the smooth implementation of full-stack, omnichannel marketing operations, which Webprofits call Fluid Marketing.
A key part of Webprofits' fluid approach to growth marketing is client reporting, and area in which Ben has played a central role in the company's evolution. "I've been here for about seven years and we must have gone through about 20 different iterations for reporting. We've spent so much time trying to figure out the right way to do it, including an attempt to implement a one-size-fits-all solution. We tried different solutions and I even played around with dashboard solutions like Databox, which was a struggle. Reporting is challenging but at the same time it's so critical and clients have a real need for it," says Ben.
In this case study we'll hear the story of how the Webprofits team have evolved their marketing reporting to deliver deeply insightful and highly customized client reports—at scale.
Eliminating the challenges of client reporting
During Ben's first few years at Webprofits, their reporting was very manual. The team would have to spend significant amounts of time going into various marketing platforms to dig out relevant numbers, which would then be stitched together in reports. He says, "In the early days, it was all very manual. It could take up to 8 or 10 hours to create a report with the depth our larger clients required. At the same time, we were growing very quickly and we were bringing on larger clients with bigger challenges to tackle. We realized our reporting wasn't at the standard it needed to be and we needed to get better at working with data. We started working with some very high-calibre customers and we needed to ensure our reporting was at the same level."
In particular, there were three main challenges Webprofits needed to tackle:
Human error: Since reports were created manually, there were often errors since people were pulling data out of multiple platforms themselves.
Inconsistency: With few standard tools or practices, it was challenging to blend data from multiple platforms in a common format, which led to reports that weren't consistent with one another.
Time: All of this took a lot of time, which could be better spent on more effective tasks.
In addition to these challenges, Ben wanted to build a sound reporting foundation for all their teams. However, he knew a one-size-fits-all approach wouldn't work. "We quickly realized all clients need a custom reporting solution. Many agencies try to standardize their processes and give each client the same report. But rather than fitting everyone in a box, we wanted to be at the other end of the spectrum and create custom reports for each and every client. This is when we decided to create a fully new reporting system and we started building what we use today," says Ben.
Fluid marketing needs fluid reporting
Over time, Webprofits' services also evolved, moving from single channel services, such as PPC, SEO, and social, to an omnichannel approach. Their fluid growth marketing offering is based on small teams of four to six people, all of whom are experts in a certain area of digital marketing, working towards a common goal for each client. These goals could include new business acquisition, brand awareness, or consumer sales depending on each client.
But Webprofits needed a reporting solution that all teams could use as a base for communicating performance to clients, and they chose Supermetrics. Ben explains that, "Each individual marketing platform reports on goals in different ways. Since we use so many, the first problem Supermetrics solved was to show the performance of our advertising and digital strategies. We could finally combine our acquisition data together from various PPC platforms and blend it with on-site conversion data from analytics platforms, like Google Analytics. We could look at conversion across sources, ad spend from all platforms, and we could break everything down by channel to generate various CPAs. From there we can create a blended CPA across everything we do, which shows our overall performance for each client. Then we integrate Google Sheets with Slides to pull graphs and charts into report decks for each client. This is the standard report we start with and it gives each team a base for creating their own customized reports."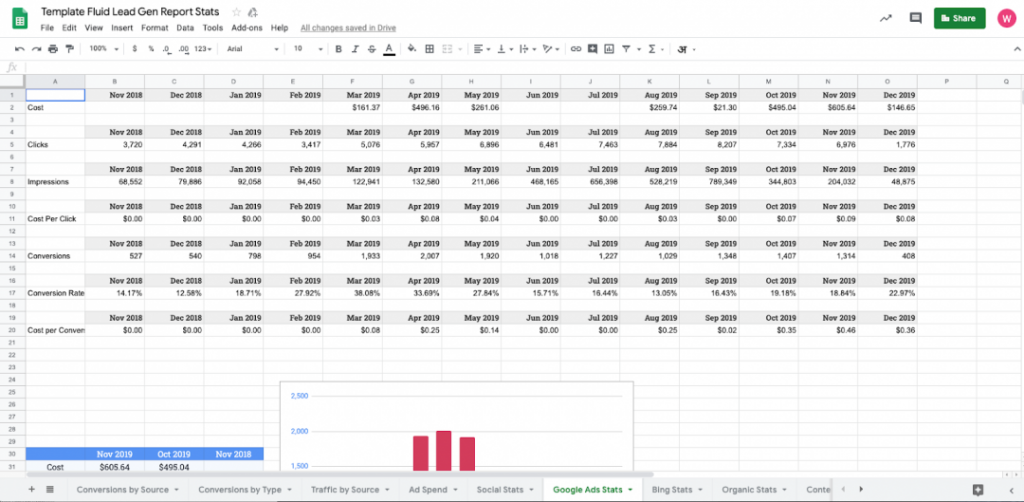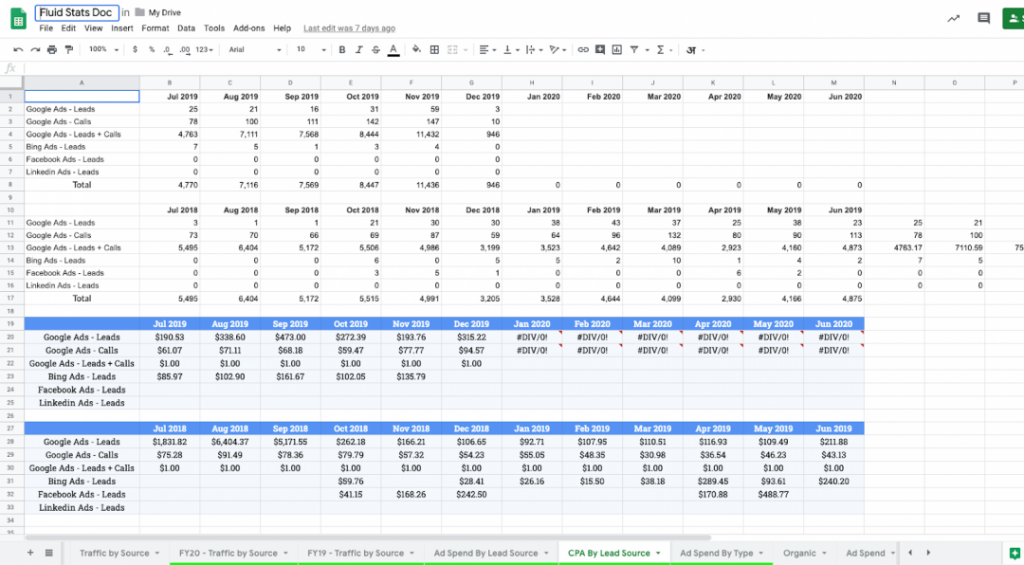 In addition to these bespoke reports, each Webprofits team delivers a comprehensive monthly report to every client. This Fluid Reporting Template turns complex spreadsheets and rows of numbers into visually attractive and easy-to-digest reports.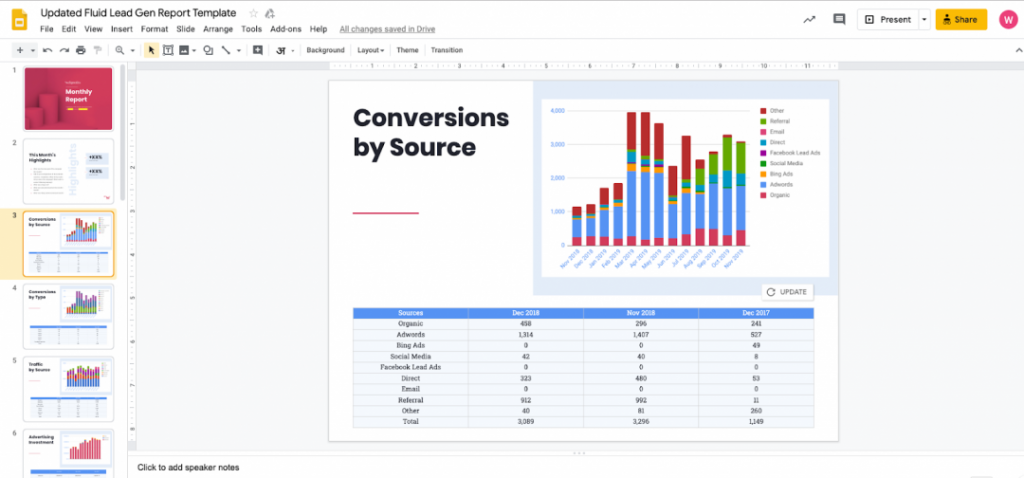 Of the decision to go with Supermetrics, Ben says, "I've reviewed every tool on the market and Supermetrics is the only one we can find that fulfills every need we're looking for. Every tool says they can blend data, but I haven't seen others that can really do it. But with Supermetrics, I love the simplicity of how it integrates directly with a spreadsheet, allowing you to organize your data the way you want. It's the only solution I've found that truly blends all your marketing data from different platforms and lets a business report on what they need to."
Customized client reports: 5 examples
From that point, each team creates bespoke reports for each client depending on their needs. Here are some of the different use cases and client reports the Webprofits team has built.
One client has multiple retail locations across Australia using a franchise model
The client needs to review overall growth performance but also needs to break this down into more granular reports
These include reports broken down by State or regional level, as well as by Franchise
This means Webprofits need to leverage a number of different filters to separate out all the data
1. The franchise & state location report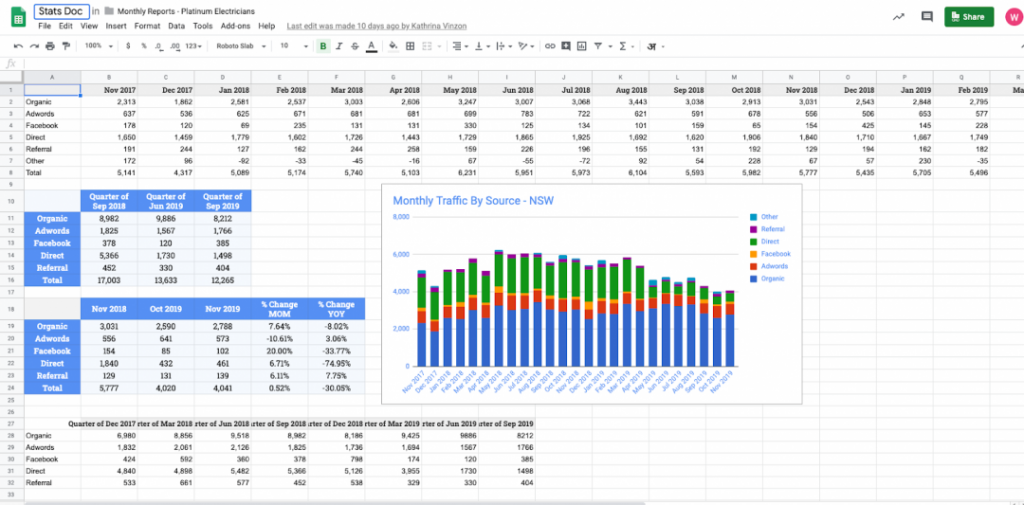 2. The funnel breakdown report
One of Webprofit's clients is a global consumer electronics company
For them, they need to show a full-funnel report with dashboards broken down by each stage of the buyer's journey: Awareness, Consideration, Conversion
This includes overall performance by month, as well as individual channel performance by month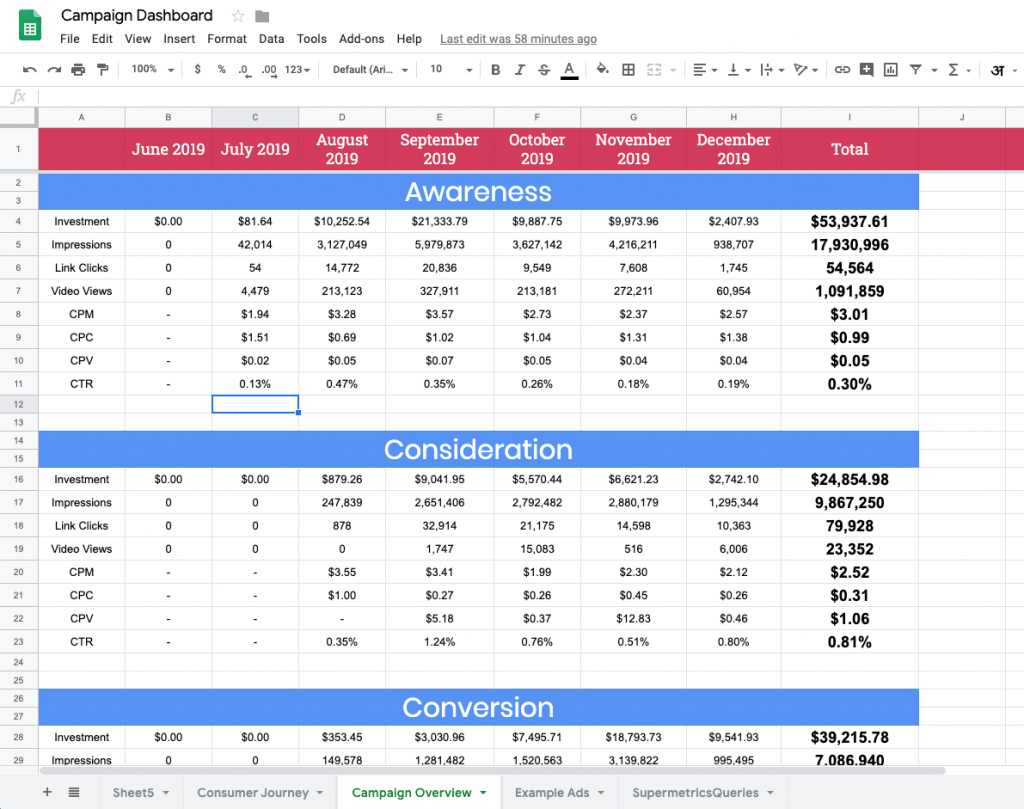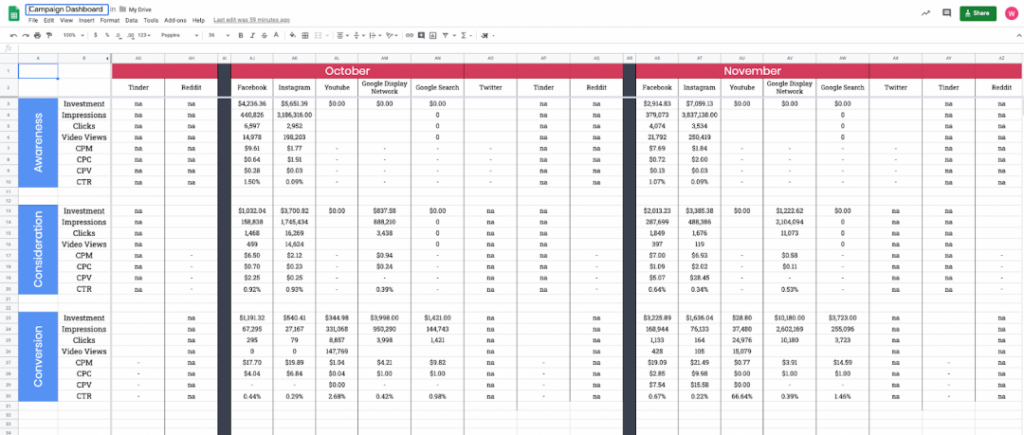 3. The automated + manual report
For some clients, their reports need a level of manual data input, which is typically sales data from certain CRMs
Webprofits have a report where the majority is built through automation and there are placeholders for the missing sales data
Their clients will send the needed sales data from their CRM and the Webprofits team will manually add it to complete the report
Webprofits work with one of the fastest growing telco companies in Australia using such a reporting setup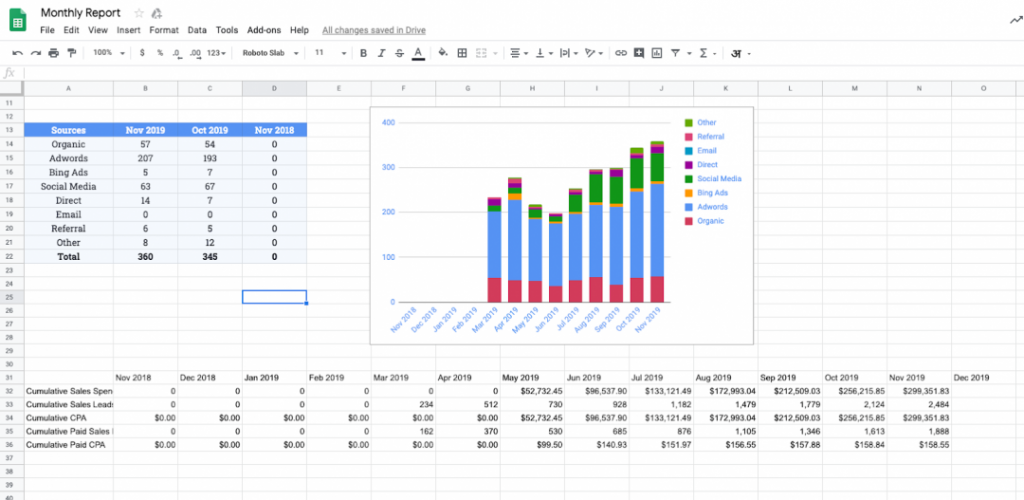 4. The e-commerce report
For their e-commerce clients, Webprofits have built comprehensive reports that measure every single touchpoint of the customer journey
Since everything happens online, they've built a robust end-to-end report, from awareness all the way to revenue, which is one of their most effective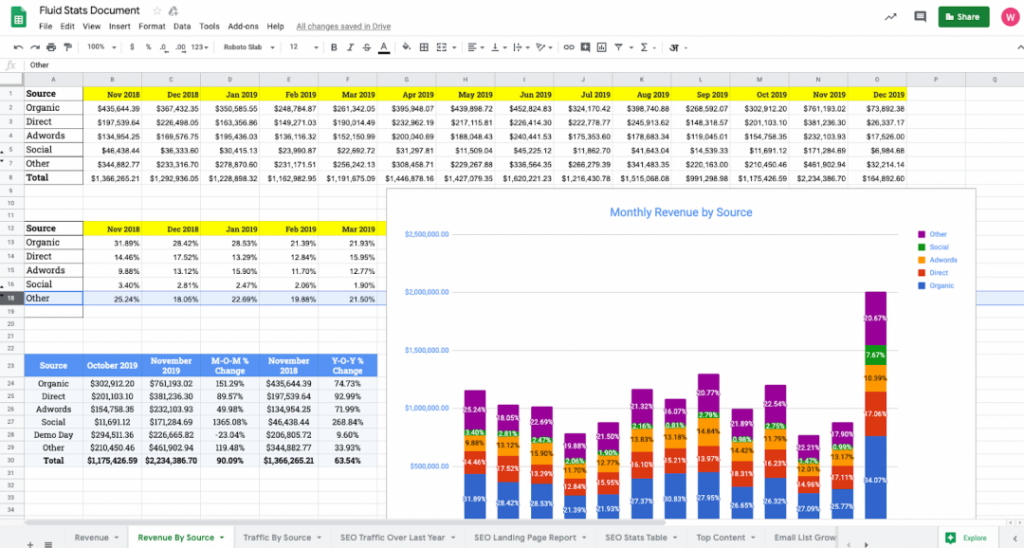 5. The SEO report
For one client, Webprofits have built an SEO dashboard to track organic sessions, conversions, rankings, and landing page performance
This is built through the SEMrush integration to pull data into a Google Data Studio dashboard
Tracking rankings is extremely important for this client since a change from position two to three, for example, can mean a drop in sales of thousands of dollars per week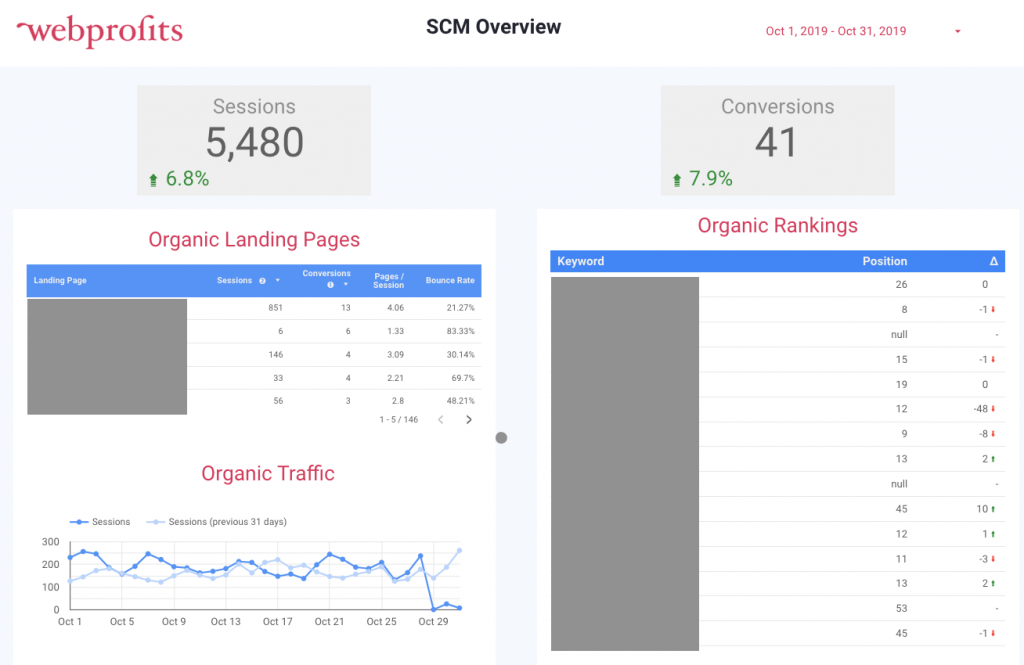 The impact of Supermetrics and the future of reporting at Webprofits
As Webprofits has grown, Supermetrics has powered the agency's reporting capabilities and helped the team create custom reports for each client. Ben says, "Over the last 4-5 years our average client size has tripled, we've seen double-digit growth, and Supermetrics has allowed us to report at a level that those larger companies require. As a fast growing agency, the needs of our clients have grown as quickly as we have, and Supermetrics has allowed us to keep up with that pace. On top of this, we're able to discover a lot of insights. 6-7 years ago we were just reading numbers out loud. Now we've saved a huge amount of time on manual work and can use that time to go deep on analytics, dig out those insights, and pinpoint opportunities for our clients' businesses to grow."
As for the future, Ben is excited to see more and more members of the Webprofits team using Supermetrics and creating even more insightful reports through their own initiative. "The really cool thing I've seen is that there are some people who are really starting to get an advanced level of analysis and reporting with Supermetrics. They're able to create a custom reports for a client and they don't need to go through a formal process or ask anyone for help. This is really turning us into more of a data-driven company. Within our fluid marketing team for each client, each one is starting to have a data expert who knows Supermetrics inside out and it's really helping us ensure each team can better use data. For us, growth is at the foundation of everything we do. It's our purpose, and Supermetrics is a product that's helped facilitate that. No doubt about that," says Ben.
Want to start creating highly customized marketing reports just like Ben and Webprofits? Start your 14-day free trial of Supermetrics today!
Turn your marketing data into opportunity
We streamline your marketing data so you can focus on the insights.