VanMoof: Powering the global growth of their e-bikes through smart data management in Google BigQuery
Key takeaways
After launching their S2 & X2 electric bicycles, VanMoof saw a huge growth in demand — and data — for their business

Having previously used spreadsheets to store data, VanMoof used Supermetrics for BigQuery to create a marketing data warehouse

This solution allows VanMoof to centralize and access historical data, manage and grow their bike subscription business, and also create reporting dashboards in various BI tools

Supermetrics has helped the VanMoof team gain big advantages in speed & efficiency of operations as well as consistency of data
Quick facts
Industry: Bicycle
Founded: 2009
Size: 150+ employees
Markets: Global
Products: Supermetrics for BigQuery
VanMoof was founded in Amsterdam in 2009 by two brothers, Taco and Ties Carlier, who dreamt of creating the perfect city bike.
Since setting out on their mission to revolutionize city biking worldwide, VanMoof have redesigned what a bike can do. Blending style and practicality for the ultimate urban commute, they've built an international bike brand selling worldwide, with a loyal rider base from New York to Tokyo. Today they produce e-bikes with smart anti-theft technology that help city dwellers travel through urban environments quickly, efficiently, and in style.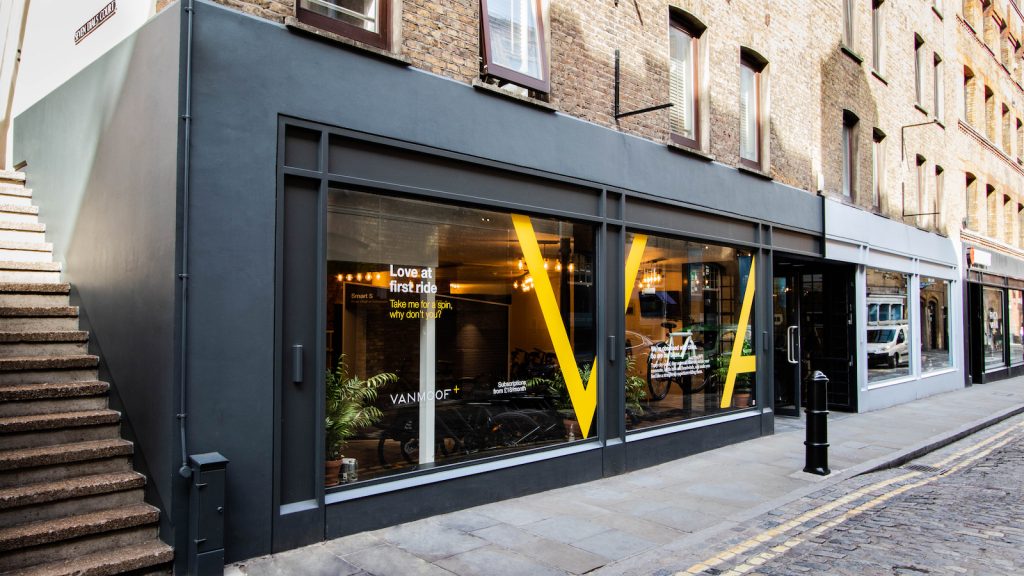 An explosion in demand = an explosion in data
The launch of VanMoof's Electrified S2 & X2 in 2018 was a game changing moment. Together with the opening of new brand stores in Paris, London, San Francisco and Tokyo, it sparked a sharp increase in demand from all around the world.
And with this explosion in growth came an explosion in data. If VanMoof was to sustainably scale its business, the team would need to get a handle on its marketing, sales, and product data. Sebastian Mehldau joined VanMoof a couple of months before the launch of their S2 & X2 bicycles as Growth Marketing Manager to help expand to new markets, including Germany, the UK, and France. To help manage this data challenge, Sebastian and the VanMoof team had used a variety of Supermetrics products, including Google Sheets and Google Data Studio, for their marketing reporting needs.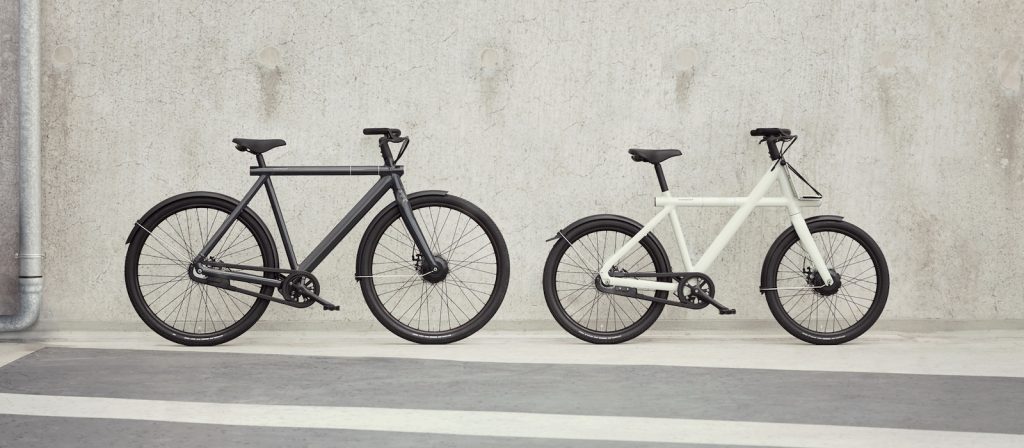 From Google Sheets to Google BigQuery
However, as VanMoof's business grew, so too did the amount of data Sebastian needed to manage. This included taking marketing data and combining it with operational & transactional data from VanMoof's own systems. Whilst spreadsheets had been sufficient in previous years, soon its limits were being stretched and several people were involved in the creation of a single report. Sebastian says that, "The more campaigns we ran, the more customers we had, and the more complex things became. At the pace we were growing, we just couldn't work like that. We had a big need to centralize our data under one roof."
And the solution Sebastian came to was a marketing data warehouse.
"We really needed to modernize our database, especially when it came to analytics. We wanted to build a data warehouse where we could correlate different data sets and we chose the Google Cloud Platform and BigQuery. We wanted to automate manual tasks and save time on connections to our database, so when Supermetrics for BigQuery came out, it was a no brainer. We've been using Supermetrics products for a long time now and after trying out the new BigQuery product we immediately went with it."
VanMoof's data cycle
When it comes to the flow of data, VanMoof are bringing their marketing data into BigQuery through Supermetrics and combining that with their own transactional data and other sources.
Sebastian explains that, "We have our own database with product orders and we want a schema and data warehouse that is easy to query and read. For this we have data pipelines from PostgreSQL, which has up to date info on orders for our different products, and we then ETL that to our BigQuery instance. Then in addition we have our customer support database connected to BigQuery and we use Supermetrics to pull data from all our ad platforms and Google Analytics."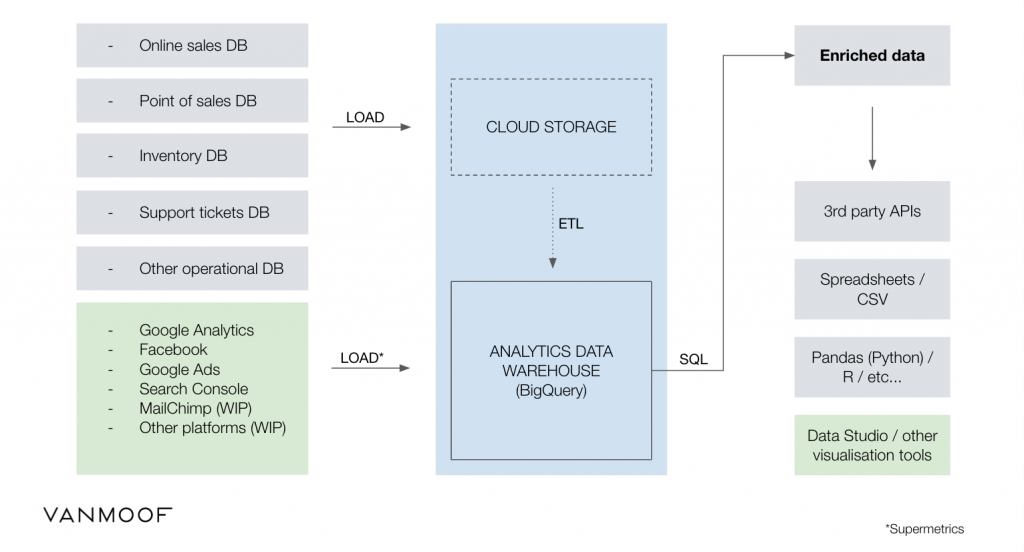 Measuring VanMoof's marketing performance: 3 examples
By having their marketing data in a centralized warehouse, Sebastian and the team were able to quickly and efficiently create various reports to show how their marketing is performing. Sebastian explains that, "We had three main use cases with BigQuery. One is to access all our historical data for marketing reporting. The second is to build the reporting basis for our subscription products, which run on a very different business model and hence have different reporting needs. And thirdly, we create reporting dashboards that we share with others."
1. Centralizing historical data
How many customers did we acquire through Facebook yesterday?
How about last week? Last year?
How has our Facebook customer acquisition cost (CAC) changed over time?
These are the questions Sebastian and VanMoof's marketing team can now immediately answer with their marketing data warehouse.
"Now we can look at total costs, CAC, and ROI per channel to measure effectiveness. We need to be able to create up-to-date marketing reports to understand spend, campaigns, and results. Having this in BigQuery now allows us to query the data with a variety of different conditions, like time, location, and channel for example. We now have that so we can see how  global campaigns are performing in different markets across the world. In addition, it enables us to provide a data snapshot of any given moment, which can be really useful during investment opportunities, for example It's so important we have consistent data, which we now have with Supermetrics and BigQuery. " Sebastian adds.
2. From sales to subscriptions
If you want to ride a VanMoof, you don't need to buy one. You can can simply subscribe to their non-electric Smart Bike range. All you do is choose the bike you'd like, pick it up at a VanMoof brand store near you, and then keep it as long (or short) as you want. For Sebastian, this provides an alternative data challenge compared to their traditional sales model. He explains that, "We think subscription is the future of VanMoof. However, we need as much data as possible to understand our customer lifetime value (LTV). For this business model you need a modern data platform where you can host all your data, correlate data sets, and understand business performance. With this model we're more like a SaaS or subscription software business, not a hardware manufacturer, and that means different data needs."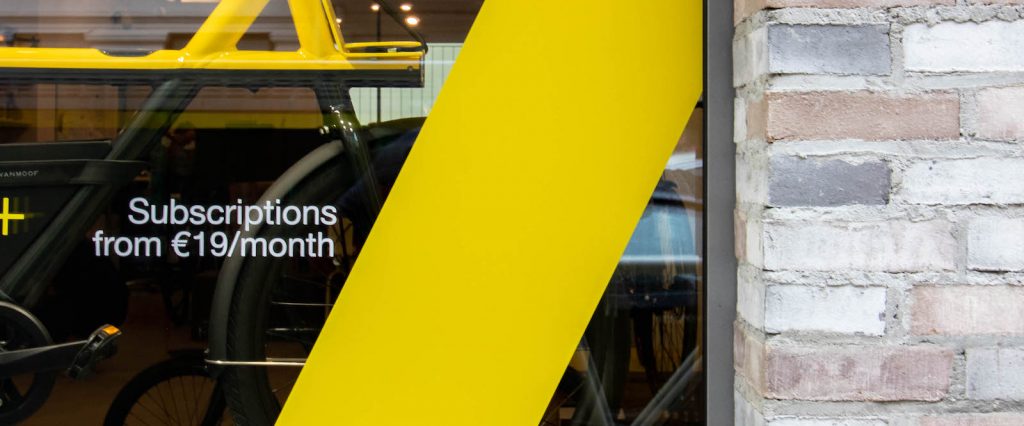 3. Displaying data
The third part of the puzzle is taking the data that is in BigQuery and using BI tools to visualize it and create reports that others can make sense of. Sebastian shares that, "This is the third use case and we use Google Data Studio. This is something we've been using before and so the native Supermetrics connector from BigQuery to Data Studio was very attractive and has made this very simple. We're currently building multiple dashboards in Google Data Studio but we also want to build more reports in other BI apps, and so having a marketing data warehouse in BigQuery makes this easy."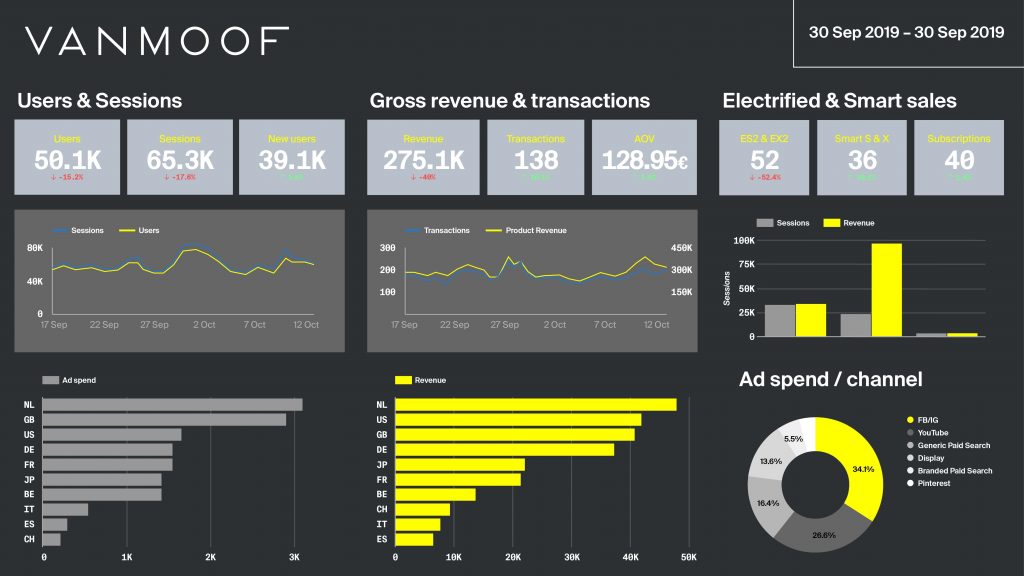 VanMoof's view of Supermetrics
On his experiences using Supermetrics for BigQuery, Sebastian shares that, "We'd already been using Supermetrics for a long time and it's fantastic. Most of my other peers and friends in marketing use it so there is a huge amount of trust there. As for Supermetrics' BigQuery product, there is no need to think much about things like schemas and the table structure makes using it very easy. Supermetrics really focuses on the quality of connectors so we can pull a lot more in-depth data from their connectors than others. The consistency of data is also excellent, which is critical for our marketing data warehouse to operate as we need it to. Supermetrics has done to Google BigQuery what it did to Google Sheets, and it's by far the best option out there."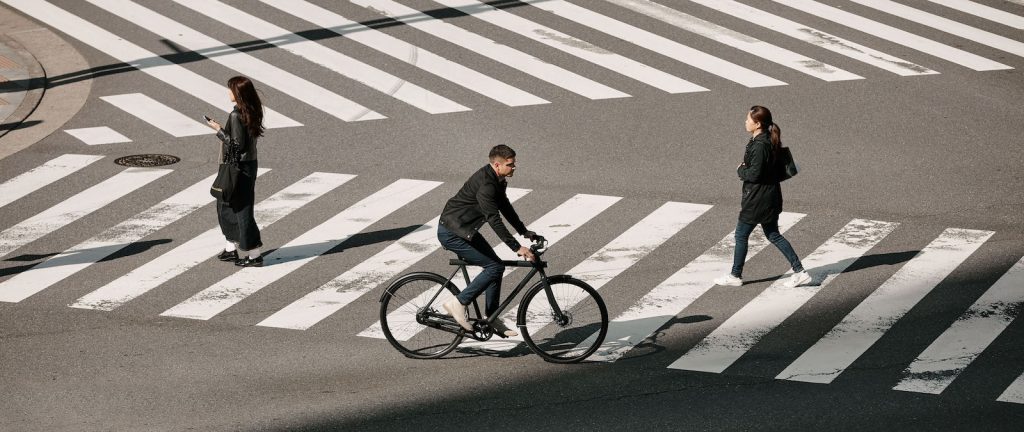 The impact of Supermetrics
Of the impact Supermetrics has brought, Sebastian explains that, "The big benefit we've gained is an advantage in speed & efficiency. Those who need that data no longer need help from others, they can get it immediately from BigQuery. We've also automated more processes and streamlined how we work with data, which saves us time that can now be used on more valuable activities, such as looking at the why instead of trying to find the what."
VanMoof's vision for data
As for the future, Sebastian outlines VanMoof's vision of what they hope to achieve through their data infrastructure, sharing that, "The next stage is subscriptions so we need a solid platform with a 360° view of our customers and business operations. We'll venture more into machine learning with predictive and classification tasks, which we can use to see if we do something better for our customer or reduce the likelihood of them churning if they're displaying certain behavior.  A better data platform will help us provide a better service to customers and we also want to step up our game in terms of QA. Having a modern database and data system lets us focus more on analysis and less on getting the actual data, and Supermetrics helps us do that. I'm pretty sure this data warehouse will become the central place for answering any questions about the VanMoof business."
Want to store, manage, and visualize your data as effectively as Sebastian and the VanMoof team? ?
Turn your marketing data into opportunity
We streamline your marketing data so you can focus on the insights.