Tinuiti: Reducing costs, saving time, and improving NPS with Supermetrics
Key takeaways
Tinuiti is a performance marketing agency based in the United States

Josh Brisco is responsible for the agency's SMB business unit and they use Supermetrics to move data into Google Sheets and Data Studio for their weekly, monthly, and quarterly business reports

Tinuiti's account managers also use Supermetrics for research assignments and ad hoc analysis

Since using Supermetrics, Tinuiti has reduced their operating costs, saved time on manual reporting, and improved client feedback on reporting by building custom client reports with Supermetrics
Quick facts
Industry: Marketing & Advertising
Founded: 2004
Size: 650+ employees employees
Markets: North America
Products: Supermetrics for Looker Studio, Supermetrics for Google Sheets
Tinuiti is a performance and data-driven digital marketing agency that helps grow their clients' businesses across the entire customer lifecycle, from identification and acquisition to retention and reactivation. With multiple offices across the United States, Tinuiti specializes in paid search, social, marketplaces, email marketing, and more. They work with companies of all sizes from global brands like Jet.com and Converse to small and medium sized businesses like Verilux, Midwest Homes for Pets, and Clean It Supply.
Josh Brisco is VP of Growth and he runs Tinuiti's SMB division from his base in San Diego, California. Josh is responsible for a 55-person team of multi-channel media buyers who run all paid media for their +350 clients. Roughly 90% of Tinuiti's clients in the Growth Media division are in ecommerce and retail, and with monthly ad spend per client ranging from $15k to >$1M, Josh and his team are Supermetrics power users and use it for client reporting in Google Sheets and Data Studio.
Why Supermetrics
Josh and his team have been using Supermetrics for over four years at this point. Before that they had built their own internal reporting solution but that had its own limitations. Josh says, "We could not report across multiple clients in a single report and it wasn't very customizable. When we were conducting NPS surveys, reporting improvements were consistently mentioned as an area of opportunity so we needed something more robust. That's when we started looking for something new."
With Supermetrics, Josh found what he was looking for. "Supermetrics fit the bill. It integrated to all the marketing platforms we use and brought the data to exactly where we wanted it. We do have some spreadsheet wizards but it was still something easy enough that everyone could use on their own. This was important since we don't have a dedicated reporting team. Plus the pricing was appealing."

How Tinuiti uses Supermetrics for client reporting and research assignments
Tinuiti uses Supermetrics for two main reasons. The first is client reporting and the second is for research assignments and ad hoc analysis.
When it comes to client reporting, Josh and his team have three primary reporting cadences: weekly reports, monthly reports, and quarterly business reviews. Josh explains that, "Our client facing reporting is done by our account managers. For weekly reports we have dashboards built in Google Sheets and Data Studio and we send out these weekly reports every Monday. The account managers make sure our reports are refreshed and our technology team help out to build the required scripts when necessary. In our reports, we're pulling data through Supermetrics from Google Ads, Bing, Criteo, Facebook, Google Analytics, Instagram, and then occasionally from LinkedIn and Twitter. I'd say the entire division is using Supermetrics on Mondays and Tuesdays."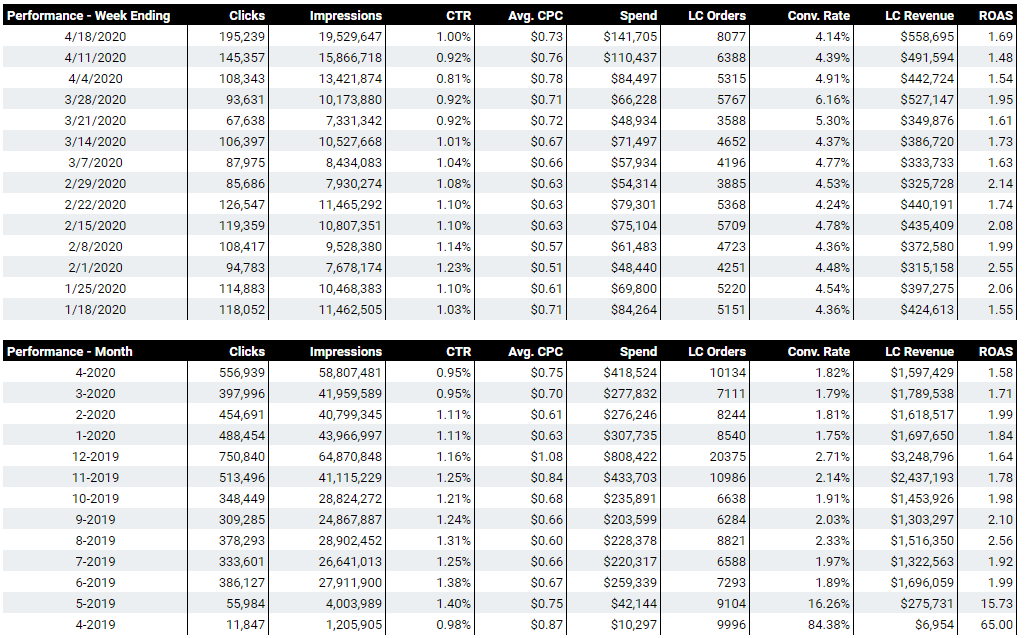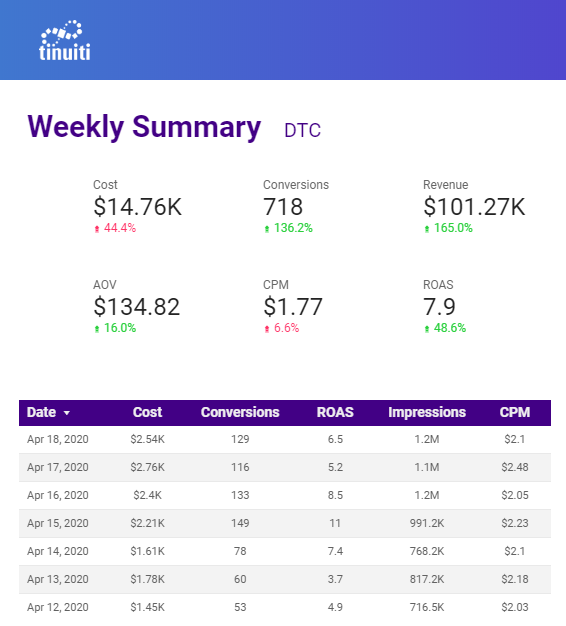 For Tinuiti's monthly and quarterly reports they connect data from Google Sheets into charts and graphs in Google Slides, which the account team go through with each client. For some clients these reports are built in Data Studio, but it's client dependent and based on their wishes.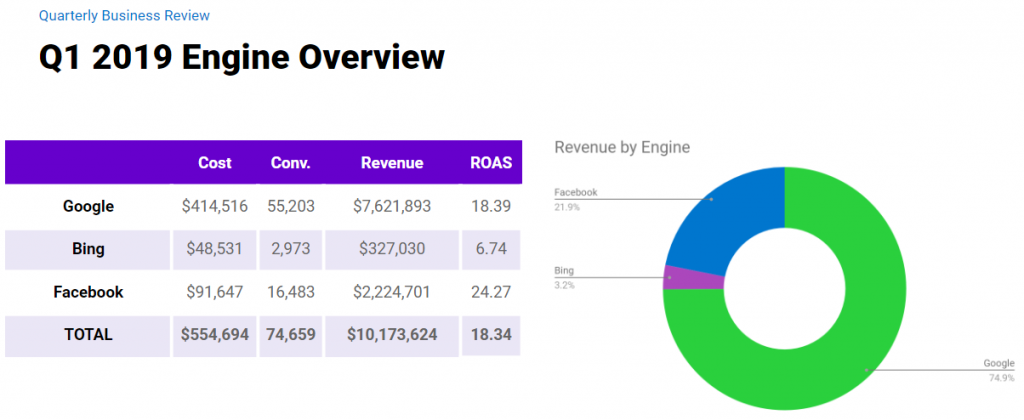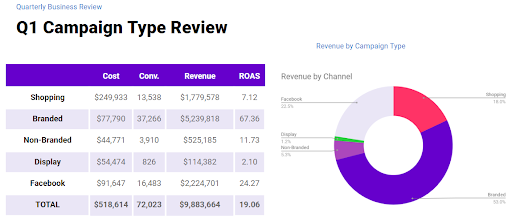 Supermetrics also helps Josh and his team put together research assignments or do a quick ad hoc analysis. Josh says, "We often do research assignments for clients and Supermetrics lets us scale these reports quickly. For example, we can pull ad spend across an entire client set and look at various trends over time. Since Supermetrics is so easy to use, all of our account managers can quickly analyze anything they need to on their own, like how a certain display campaign performed the previous day or what's happening right now with a YouTube campaign. It really lets our account managers instantly pull all the data they need to where they want it. That's what makes Supermetrics so sticky and keeps us coming back to resubscribe each year."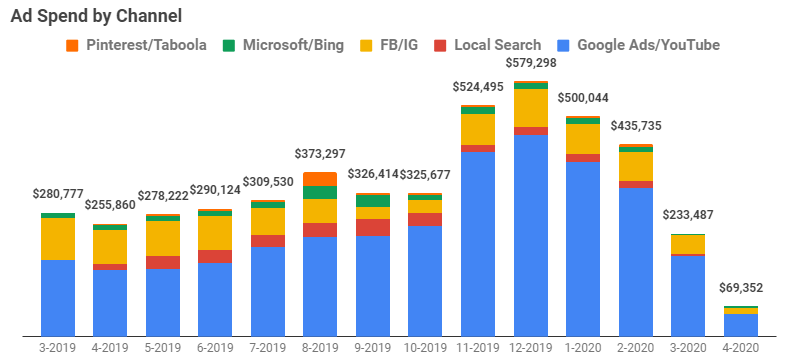 Reducing costs, saving time, and improving NPS with Supermetrics
On the impact Supermetrics has had on Tinuiti's business, Josh explains that, "The three most attributable KPIs are cost savings, time savings, and client satisfaction. Our cost saving has come from not needing internal development teams or virtual assistants to manage our data flows, so that's been a big benefit. We've also saved a lot of time on monthly & quarterly reporting since previously everyone had to do it manually. Lastly, in previous years our reporting was not customized for clients and was frequently brought up as a pain point, but since adopting Supermetrics reporting has been consistently positive in client feedback."
In addition to those three KPIs, Supermetrics has helped smoothen the day to day operations of life at Tinuiti and given Josh's team the ability to dial in on specific data points. "No doubt Supermetrics has enabled me to do a lot more. It's scaled reporting and I can better track investments in different channels. I can easily pull data for, and visualize, growth trends over time for our various managed channels, but without Supermetrics it would have been impossible to pull that data out. Moving away from manual data entry has also removed a human error issue that we may have occasionally had as well," Josh adds.
When asked about the impact of not having access to Supermetrics from tomorrow onwards, Josh says, "We'd be in trouble for sure. Over the years I've periodically vetted alternatives for contingency planning purposes, and all other similar solutions are either too expensive, have many features we don't need, or require developer time. Without Supermetrics we just couldn't report to our clients with the speed or ease that we do now, it's hugely impactful to our day to day business operations."
As for the future of reporting at Tinuiti, Josh shares that, "as we continue to expand our clients' portfolios to new and emerging paid channels, we'll be using more of Supermetrics' connectors in addition to the major ones. We're also leaning more into Data Studio over time and expect to improve reporting in those dashboards as well. But overall our reporting has improved over time and Supermetrics is the engine that powers the raw data that's coming into those spreadsheets. It continues to be the workhorse of our data ingestion. As a result we continued to increase our investment in Supermetrics, and just recently  bought several more Sheets licenses plus Data Studio connectors. All in all, Supermetrics provides everything we need, not much of what we don't, and it has been a near-perfect solution to our needs."
Want to up your marketing reporting game like Josh and Tinuiti? Start your 14-day free trial of Supermetrics today!
Turn your marketing data into opportunity
We streamline your marketing data so you can focus on the insights.