Reload Media: How this agency automated their marketing reporting and increased the value of their reports with Supermetrics
Key takeaways
Since using Supermetrics, Reload Media has increased reporting efficiency by 25% and the team can spend more time with their clients

The team's marketing reports have become more reliable, flexible and free of human-error

Since using Supermetrics and Google Data Studio, Reload Media's clients have found it easier to review and understand their marketing reports

Reload Media can now easily build different reports & dashboards for multiple audiences, including for clients, executives & boards, and internal use
Quick facts
Industry: Marketing agency
Founded: 2008
Size: 71 employees
Markets: Global, with offices in Brisbane, London and Manila
Products: Supermetrics for Looker Studio
Reload Media is a digital marketing agency that provides customized marketing solutions. The company offers different kinds of services, such as SEO, paid search, content, display, social media, overarching digital strategy and everything in between. Their philosophy is about being more than just another agency: Reload Media's team truly believes in becoming a digital marketing partner for its clients.
Madeleine Chaplin from Reload Media is a Digital Account Manager – this entails being the main point of communication between the clients and the Reload team on a day-to-day basis. She ensures that the wheels are always in motion for her group of clients so she manages the internal team which has a strong focus on reporting. Madeleine also safeguards that everything Reload is doing for their clients comes back to their business goals and objectives.
How Reload Media did marketing reporting in the past
With such a wide range of services provided, which are tailored for each client specifically, the workload for Reload team members was pretty significant. Marketing reporting was a big part of every project and it was important to communicate campaign results to clients in an understandable and timely manner, which is something the team had been struggling with.
When creating marketing reports in the past, team members would start by pulling in all the needed data in Excel. Once in the spreadsheet they would make the necessary calculations as well as the needed charts & graphs. Then, screenshots of the graphs were placed in a Word file, along with the team's comments on the campaign performance. The whole reporting process was inconvenient for both the client and the team and led to several issues:
Excel calculations were prone to mistakes because the data there was not human error-proof
The reports took a significant amount of time to put together at the beginning of each month, which was always a busy period
The team had to spend their time on manual work instead of analyzing the numbers and discussing with clients
It was inconvenient for clients to share and manage the reports, which were in scattered Word documents
As Madeleine says, "We were just spending too much time in a month on reporting. Just manually entering numbers took up a lot of time at the start of the month, which prevented the team from actually getting into accounts. In addition, we weren't able to spend more time talking with our clients, because we were plugging in numbers."
For a big client, a Word document report could be three pages long. As it contained a lot of text, graphs and numbers, clients would find it challenging to allocated the needed time to review the reports in full, even though the information there was important.
From manual Word reports to automated Google Data Studio reports with Supermetrics
So, the team started looking for a reporting solution where the data input could be automated and it would be easy to create both charts and recommendations. In addition, the report had to be easily readable and accessible by the client. In 2017, Google rolled out Google Data Studio and Madeleine's team decided to try it.
Data Studio turned out to be a game-changing new product, which solved their needs for building and displaying graphs easily. The team was also able to write down their insights there. However, the question of "How do we get all the data we need into the dashboard?" arose.
Google Data Studio indeed did provide native integrations with Google's services, such as Google Analytics and Google Ads. However, the team was running campaigns on platforms like Facebook Ads, which did not have native integrations.
This was where Reload Media's journey with Supermetrics started.
The first impression: how Supermetrics instantly delivered improvement in Reload Media's reporting process
Madeleine mentioned that after the team got acquainted with Google Data Studio they tried the Supermetrics connector for Facebook Ads right away, without looking too much into the competition. She says, "We had a look around at other solutions and their offerings but we didn't really consider those. The team saw right away that Supermetrics' connectors looked really good."
At this point, the team continued with building their reports using their new tech stack and with a strong first impression of Supermetrics, Reload Media immediately updated their reports and processes for 15 key clients at first.
At the same time, the team wanted to use Supermetrics not only with their clients, but also for their internal reporting as a way to make it more efficient. This also gave Reload Media an opportunity to test the capabilities of Supermetrics on their own to really see what it could do. After a successful launch and deploying Supermetrics across all their clients, the team quickly upgraded their plan.
Madeleine recalls the "a-ha moment" when she and her colleagues realized Supermetrics was the product they were looking for from both the client and the team perspective. Madeleine says, "I think one of the biggest things was, I guess, a sense of relief. For the team, it was almost as if we could just sit back and relax since a lot of the painful and time-consuming manual work had been eliminated. This was a huge period of change when it came to our reporting process and I remember when I realized that my teammates didn't have to spend so much time on reporting as they used to. As a result, the whole team got more time to do what we want to do for our clients. We could finally spend more face-to-face time with them and actually talk about what they wanted."
Everybody noticed the change in the reporting process, which happened instantly, and both Supermetrics and Google Data Studio were easy and quick to adopt. With Supermetrics, the team just selected the data source, connected the accounts, and they were ready to start building dashboards.
This helped reduce the report setup time, because the team didn't have to copy-paste the screenshot into the Word docs. Once the report was set up, the data started flowing in automatically. Madeleine and her colleagues could also easily make changes, depending on which goals the clients have set up.
"The initial reception was pretty quick and positive and our clients also found it super valuable as well, because it's not something that a lot of people offer in reporting. Going from our old way of doing things to the new reporting approach was life-changing, now we had a report which updated dynamically," says Madeleine.
And this was just the initial reception. After the team started using Supermetrics for a little while longer, they began to uncover additional benefits.
The benefits of using Supermetrics for Google Data Studio
No more human error!
Reload Media's old way of reporting required manually inputting data into a spreadsheet, creating graphs, taking screenshots of them and placing these into a Word document. With so many steps done by a marketer mistakes could easily happen – one could easily paste the wrong number into the wrong cell.
After the team started using Supermetrics to automatically fetch data, the risk of human error became significantly limited, which gave the team more confidence in the accuracy and reliability of their reports.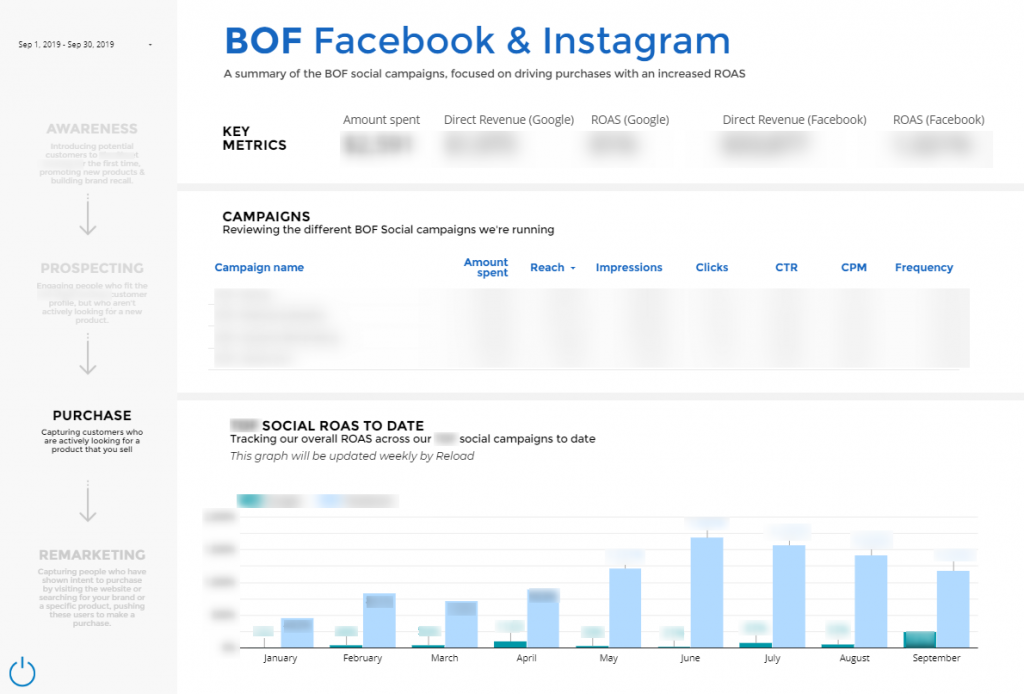 Greater insight and flexibility
With Supermetrics, the team could explain data trends & patterns easier and the visual format was simple for clients to understand. As the data flow became more stable, the team could rely on the accuracy of their reporting more. "If we need to talk to more senior people, such as present to a client's board, Supermetrics allows us to easily create reports. We don't need to worry about the data anymore, it's just there and it works," says Madeleine.
And that was not all. With the winning combo of Supermetrics and Data Studio the team could create reports for a variety of different audiences in minutes, which we'll explore further.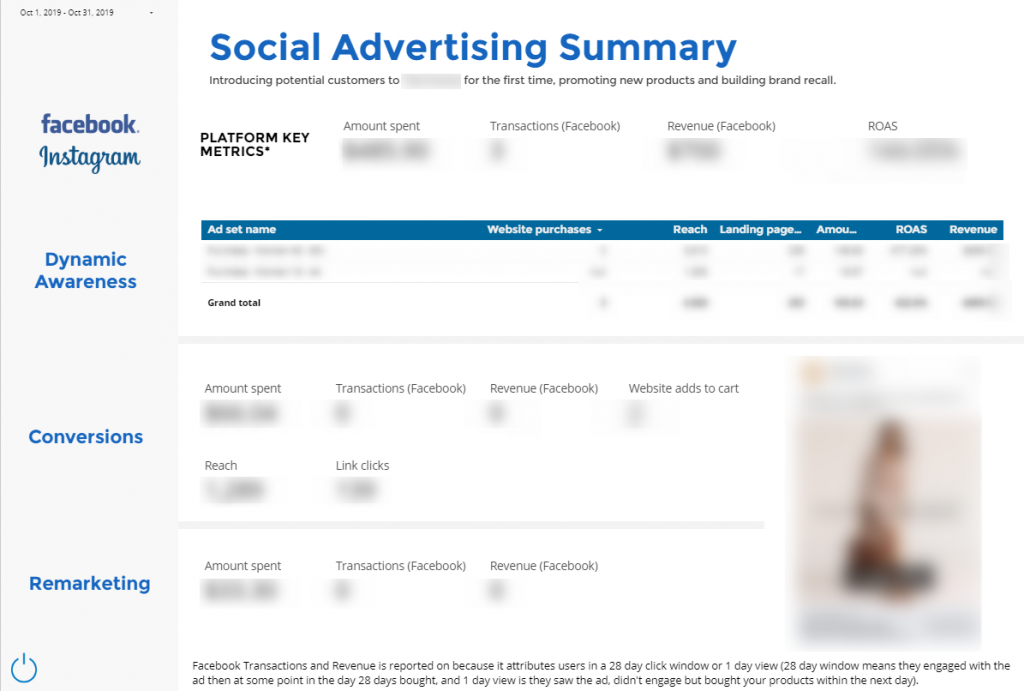 Creating reports for different audiences with Supermetrics
Supermetrics became one of the essentials in Reload Media's toolbox. After the whole team got the hang of how to use it they started using it in a variety of different ways for different stakeholders.
Client-facing reports
For most clients, Madeleine and her colleagues build a performance overview report which they review and adjust on a monthly basis. This kind of report covers the most important campaigns, along with some audience details and changes in key metrics, depending on what the client wants to see. It is also easy for the team to add notes alongside the graphs and they can send their insights, learnings, and recommendations in bulk once a month. Another popular report type is budget pacing where the team monitors how certain campaigns are performing in terms of spend & performance and then deciding whether it needs adjusting.
Executive reports
When the team goes to a board meeting or talks to a C-level executive, they are able to quickly pull together the needed KPIs. With this kind of dashboard they can easily answer such questions as "What is the overall impact the campaign had on the brand visibility?" or "What is the ROI of our marketing efforts?"
Metrics such as revenue, ROAS and conversion rates are good examples of what the team typically focuses on for their executive dashboards and Supermetrics has made it easy to pull together the marketing and business data to show how marketing initiatives translate into business value.
The team's internal reports
When Madeleine and her colleagues want to create a marketing report for themselves, they now do it with Supermetrics. They can get a more detailed view and how particular campaigns are performing and they typically benchmark these against client targets, although these reports are generally much more beefy.
How Supermetrics has increased efficiency of Reload Media's marketing operations by 25%
The Reload Media team has definitely noticed the improvements in their reporting since using Supermetrics, but what about their clients? How have the actual people for whom their reports were created in the first place benefitted?
Madeleine mentioned that the switch from screenshots to Data Studio reporting was a huge change for everyone, especially the clients. After Reload Media's team decided to switch to Google Data Studio they set up a meeting with every one of their clients and showed the new dashboard, what it did and how the client team could use it.
"I think one of the things that really helped the transition is that our clients know that we are always innovating and looking for new ways to improve our service offering," Madeleine says.
Reload Media's team did not need to share PDF or Word documents with their clients anymore. The beauty of a Data Studio dashboard was that the client could take a look at the numbers anytime, without jumping from Facebook Ads to Google Ads and then to Google Analytics. The data from all the sources, together with Reload Media's comments, was right there at the client's fingertips.
"The clients definitely liked the idea that our team could spend more time with them now that the reporting was automated. And in addition we could spend more time in the accounts and really be proactive there," Madeleine explains .
Stronger together: How Reload Media's journey with Supermetrics will continue
Madeleine says that her team will now look at how they can improve and increase the use of Supermetrics at Reload. "What we're really planning next is expanding on how we use Supermetrics. It's already brought us more opportunities for reporting by building integrations with different platforms like Pinterest Ads, Twitter, and others. One of our key next steps is to get the knowledge and understanding of the integrations that Supermetrics provides, and start testing them for different clients," she adds.
Reload Media has already built a solid foundation with Supermetrics and the team has become confident in using it. In terms of how Supermetrics will support Reload Media towards future successes, Madeleine adds that, "The digital industry is always changing, and these changes will always prevail. We as a company really need to be willing to adapt and Supermetrics has already helped us build insightful reports to educate our clients. For us, we want to be continuously expanding our service offering, and we know that Supermetrics will definitely help us with that."
Want to become a reporting pro like Madeleine and the Reload Media team? Start your free trial of Supermetrics today!
Turn your marketing data into opportunity
We streamline your marketing data so you can focus on the insights.