Radio-Canada: How this public broadcaster gains insights into their audience's interests and maximizes budgets with Supermetrics
Key takeaways
It's easy to see people talk about and discuss their favorite topics online. There's a need for broadcasters to be a part of that conversation in real-time.

Radio-Canada understands that combining their editorial muscles with data will help them understand and provide a better experience for their audience.

Their visions are using data to gain insights into the audience's interests, collecting data ethically, and finding a way to effectively manage and use data.

Using Supermetrics for Excel and Looker Studio (formerly Data Studio), the team automates reporting, maximizes budgets, and distributes insights across the organization.
Quick facts
Industry: Mass media and public broadcasting
Founded: 1936
Size: 7444 employees
Markets: Canada
Products: Supermetrics for Looker Studio, Supermetrics for Excel
The Canadian Broadcasting Corporation (CBC/Radio-Canada), founded in 1936, is the most prestigious public broadcaster in Canada. Radio-Canada serves French-speaking Canadians across the country.
Christophe Cluzel is the Senior Director of Marketing Communications at Radio-Canada. He's managing the digital marketing department, relationship marketing, and client services. He oversees paid campaigns, social media, and public engagements across all channels.
Innovating the traditional broadcasting industry with data
It's easy to see people discussing their favorite series or podcasts on social media. Media and broadcasting companies need real-time insights into the audience's interests so that they can be a part of the conversation.
That's why Radio-Canada invested in data and used it to improve the audience experience. Their main goals were:
Understanding their audience's interests
Using data to make decisions while respecting their audience's privacy
Managing and using data effectively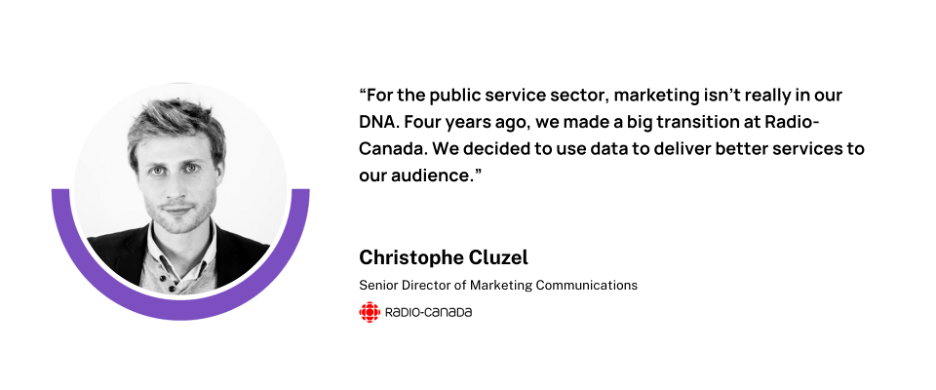 Gaining insights into the audience's interests
At the center of this change is using data to understand their audience and create better experiences. Christophe says, "Four years ago, we changed the direction of the company and became more data-oriented. The goal was to use data to understand the public and deliver what they wanted."
He continues, "We created new departments like mine to understand how people react to our content, digital products, and the ads we ran on social media."
Radio-Canada's strength has always been content. They wanted to combine their editorial muscle with data to create and distribute the right content to their audience. They used data to test, learn, and determine what content worked best.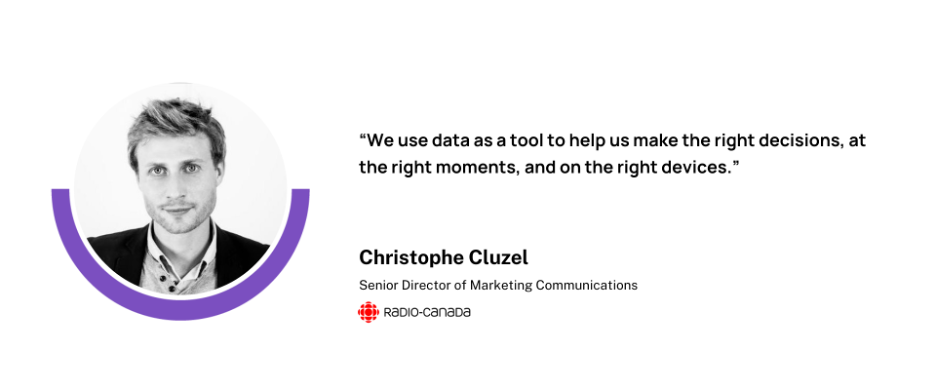 Collecting and using data ethically
Using and collecting data for marketing purposes can cut both ways. If you're not careful, you risk breaking the trust of your audience. The Radio-Canada team understands that protecting the audience means protecting their data.
According to Christophe, focusing on the privacy by design principle helps them protect their audience. This includes being transparent and open about what data they collected and how they used it.
He says, "We value the relationship with our audience. Also, using data is a very delicate topic. We want to be transparent."
He continues, "It's all about respecting and protecting our audience. We care about our audience by caring about their data. We want to be open about what data we want to collect—aggregated data and not personal data—and how we'll use it."
Finding an easy and effective way to manage data
You can easily have too much of a good thing with marketing data. That's why the Radio-Canada team takes a mindful and meaningful approach to collecting data—only collecting data that can help them improve the customer experience, from personalized communication to editorial offers.
Like many other organizations, Radio-Canada's data is scattered across different marketing channels—Meta, Google, TikTok, Pinterest, etc. To see the overall marketing performance, they need to aggregate data from all these channels.
On the first attempt, they downloaded multiple reports and combined them in Excel spreadsheets. However, the data got lost during the process, and sharing the results with the management team wasn't easy.
Christophe shares, "We had difficulty centralizing data, and each department wasn't aware of what the other was doing—everyone had their own ways of collecting data. We also had problems with presenting the data. Rows and rows of figures, but the results weren't meaningful."
As a result, Christophe started looking for a tool that could:
Integrate with their marketing channels
Bring their data into one single place
Provide an easy way to share the reports
They landed on Supermetrics for Excel and Looker Studio (formerly Data Studio). Christophe says, "The marketing team started using Supermetrics. After six months, the search team expressed interest in analyzing their organic search results and social media. Then step-by-step, we decided to roll out the tool to other departments."
He continues, "Supermetrics allows us to centralize data and easily create reports in Looker Studio. We had a better presentation of our data and our campaigns, and we can easily share the results with the leadership team."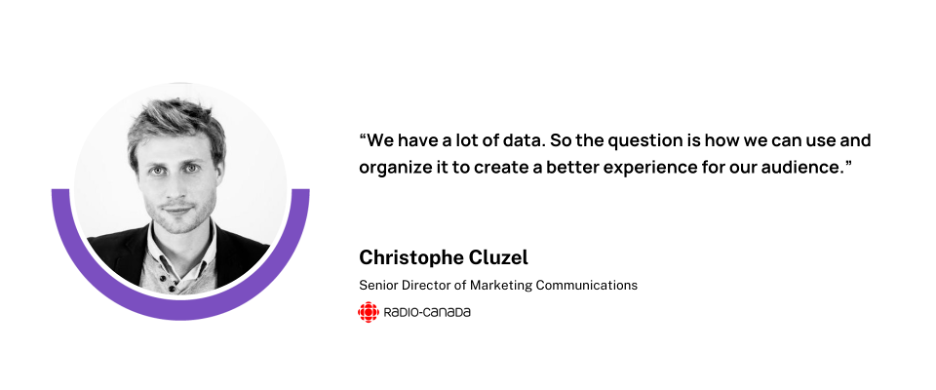 Optimizing performance and ad spend with Supermetrics
As a public-funded company, Radio-Canada has to use their marketing budget strategically. They use Supermetrics to keep track of their marketing performance and invest in what brings results.
Christophe says," As a public service in Canada, I have to be really concerned about the money we spend. How can we manage the cost? How can we improve the impact? How can we keep delivering to the public what they want?"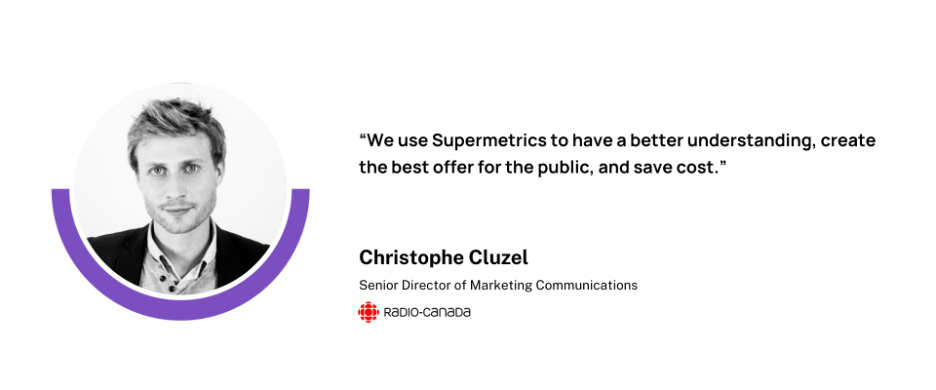 Monitoring ad frequency
Christophe and his team use Excel to analyze their campaign performance. For example, they use 'frequency' as a leading indicator for optimizing ad spend. They pull advertising data into Excel, use the functions to manipulate the data, and set up automation so they'll get a notification whenever the frequency crosses the thresholds. This helps them avoid ad fatigue and allocate ad budgets strategically.
Christophe says, "We often put a lot of budgets into advertising new content. We want to manage the frequency so the audience will see the ads once or twice and not 10 times per week or month."
He continues, "With automation, we can stop the ad at the right moment. We can do a better job with smarter campaign management."

Engaging with their audience during the Olympic Games
Radio-Canada was the official broadcaster of the Beijing Olympics Games 2022. They developed a 360° campaign covering social media channels and mobile apps. The team used Supermetrics to monitor their paid campaigns daily. They figured out what content resonated the most, then showed it to their audience in the mobile app.
Christophe says, "We used Supermetrics to adjust different campaigns that promote content or sports broadcasting to different audiences. Finally, we helped them discover that content through our mobile app."
He continues, "Supermetrics allowed us to make decisions quickly and adjust our expenses to reach the maximum advertising impacts during the Olympic Games."
Having the report up and running allowed the Radio-Canada team to have more time to improve their content and mobile app experience. To keep everyone on the same page, the team created a report and shared it across the organization. Christophe says, "It was really helpful for us to share the report, so our CEO understood why we took this decision and how our campaigns evolved hourly, daily."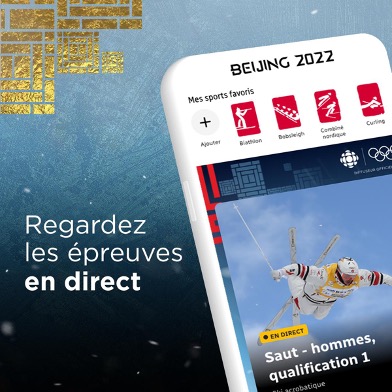 Building dashboards and sharing insights
Christophe's team isn't the only team automating reporting. The business intelligence, revenue, and search teams also build reports and optimize campaigns using Supermetrics. Everyone has access to the reports and data they need.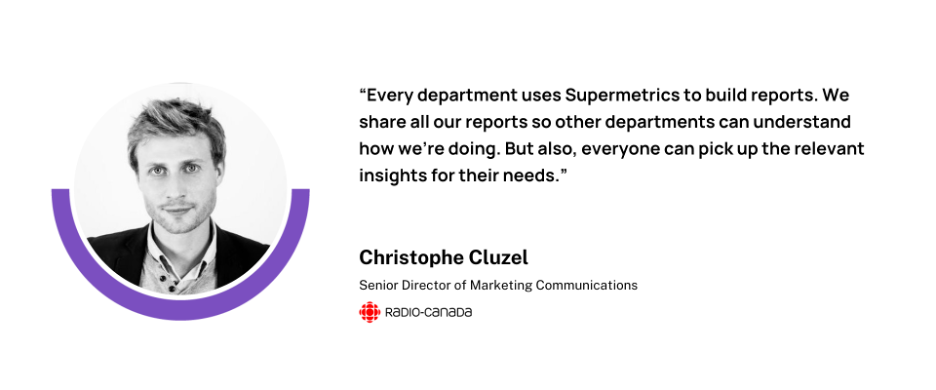 He adds, "Data-oriented means data has to be everywhere. Everyone can see and understand how we're using data. It's really interesting for us to use Supermetrics because we can share our reports. Everyone has access to every report so they can see the big picture of what we should do."
Additionally, the combination of Supermetrics and Looker Studio allows the team to visualize data and make it easy for the non-technical audience to understand the report. Christophe shares, "Looker Studio is really helpful. We can use visualization to help the non-technical audiences understand the data."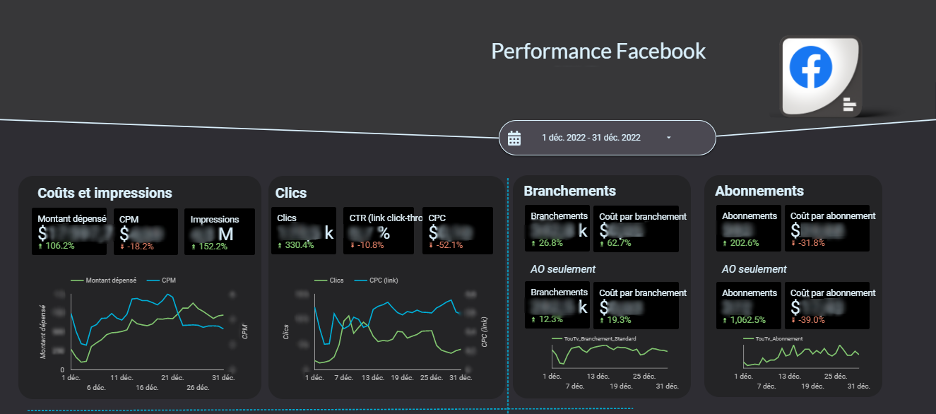 Radio-Canada's vision—Using data to go beyond and impress their audience
As for the future, Radio-Canada's long-term vision is to use data to explore untapped opportunities to surprise their audience.
Christophe says, "For example, if we have a breaking news story and nobody knows about it. We want to use data to find the best audience segment who are potentially interested in this news."
But, instead of covering the juiciest and trendiest topic, Radio-Canada wants to curate their content and bring value to their audience. Christophe explains, "We use Google Trends to monitor public interests. It can tell you what the public cares about at the moment. But instead of promoting the hottest topics with ads, we want to use Google Trends data ethically."
He continues, "The data can tell you what you should promote. But there's a human behind every data-informed decision. And it's our responsibility as a public broadcaster to decide what kinds of advertising and news we want to run."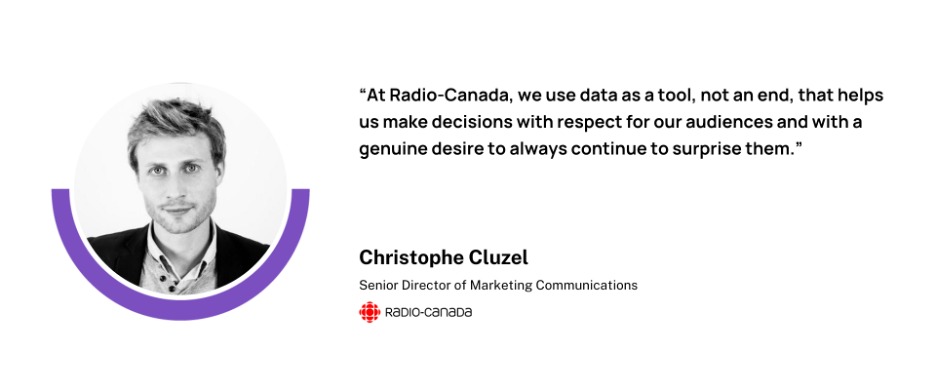 If you want to make better data-informed decisions and grow your business like Radio-Canada, start your 14-day free trial of Supermetrics.
Turn your marketing data into opportunity
We streamline your marketing data so you can focus on the insights.