Katté & Co: How this award-winning PPC agency improved their data quality, client operations, and team skillset with Supermetrics for BigQuery
Key takeaways
Katté moved from spreadsheets to a more robust data warehouse in Google BigQuery

After trying Stitch and Fivetran, Katté selected Supermetrics for BigQuery as their marketing data pipeline

Katté moves data into BigQuery and then into customized templates in spreadsheets for their client reporting

Supermetrics has improved the consistency of data, upskilled the Katté team's data competences, and saved the company both time & money
Quick facts
Industry: Biddable & PPC Agency
Founded: 2015
Size: 15+ employees
Markets: UK & Europe
Products: Supermetrics for BigQuery
Katté & Co is a specialist PPC & Biddable agency delivering no-nonsense, business growth via paid search, paid social, and display & programmatic. Based in London, Jack Giddens heads up the biddable team, leading Katté's day to day operations and three biddable teams. With a strong set of internal quality standards, one of Jack's main responsibilities is to ensure everything is done in the best possible way and the team have everything they need to be successful. One key element of this is having access to good quality, clean marketing data.
From spreadsheets to a data warehouse
Jack and the Katté team have been using Supermetrics from day one. Using Supermetrics for Google Sheets, Katté would move all their clients' marketing data from Google Ads, Facebook Ads, Google Analytics and more into a spreadsheet. In the early days, when Katté had fewer clients, that was a sufficient solution. However, as the company grew and they brought on more clients with bigger campaigns, Jack and the team identified a need to find a more rigid solution for storing their data as a base for client reporting. A data warehouse would be faster, more reliable, and also work 'offline' when the platforms or APIs aren't working.
Having used SQL at his previous company to query data from an internal database, Jack started exploring BigQuery. After making a comparison of alternatives, he selected Google's data warehousing solution to create Katté's own marketing data repository. "Things were getting a bit bulky for spreadsheets, and having used a database and SQL at my previous company, I felt that was the way to go. In addition, BigQuery is basically free since 1 TB of query data is enough for us and storage is very cheap," Jack explains.
Experimenting with Stitch
When Jack started working on Katté's data warehouse, Supermetrics for BigQuery was still in the works. Seeking options available at that time, Jack went with Stitch despite their product being tailored more for developers rather than marketers. However, their solution built upon Sitch soon reached its limits. Jack says, "We used Stitch for about six to eight months and had all our clients on it.
However, it was very hard to maintain as it was a very bare bones solution. Since it's built more for developers, there was a lot to do behind the scenes to make sure the data was usable. We had to deduplicate all our data in Big Query daily, which started to become challenging, especially since we had to do that in the backend for 30+ clients across five data sources. We also couldn't pull data from LinkedIn, which was a major bottleneck for us. As a result, we started looking at other solutions."
Supermetrics vs. Fivetran
At this point, Jack and the Katté team compared Supermetrics with Fivetran and tested both products. Of the decision, Jack says, "We trialled both products but chose Supermetrics over Fivetran as it definitely feels like it has been designed with agencies in mind. It met all needs in a very user friendly way. Immediately after getting set up we started backfilling data for all our clients and the data integrity is excellent."
How does Katté's data flow work?
After choosing Supermetrics, Jack mapped out the flow of data from marketing platforms to BigQuery through Supermetrics.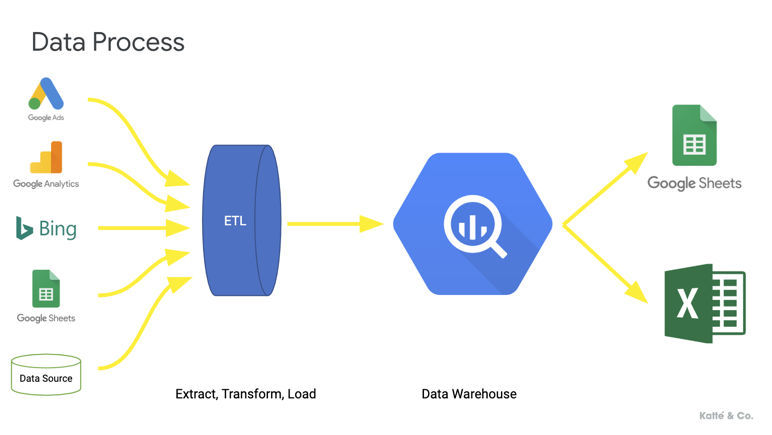 The process works as follows:
Transfers were set up in BigQuery using Supermetrics connectors
Google Ads, Bing Ads, Facebook Ads, LinkedIn Ads, and Google Analytics were linked to client data sets in BigQuery
Queries are then written to output the needed data, which is then grouped together in tables, split by channel, campaign, and other dimensions
Cost data from ad networks would be linked and merged to conversion data from GA, on the campaign, ad group, keyword, and SKU level
Key metrics such as transactions and revenue are then broken down by device, location, and other dimensions in client facing reports
This data is fed into a spreadsheet that includes tables and charts for client reporting
The following images show how Katté's data flows on the backend.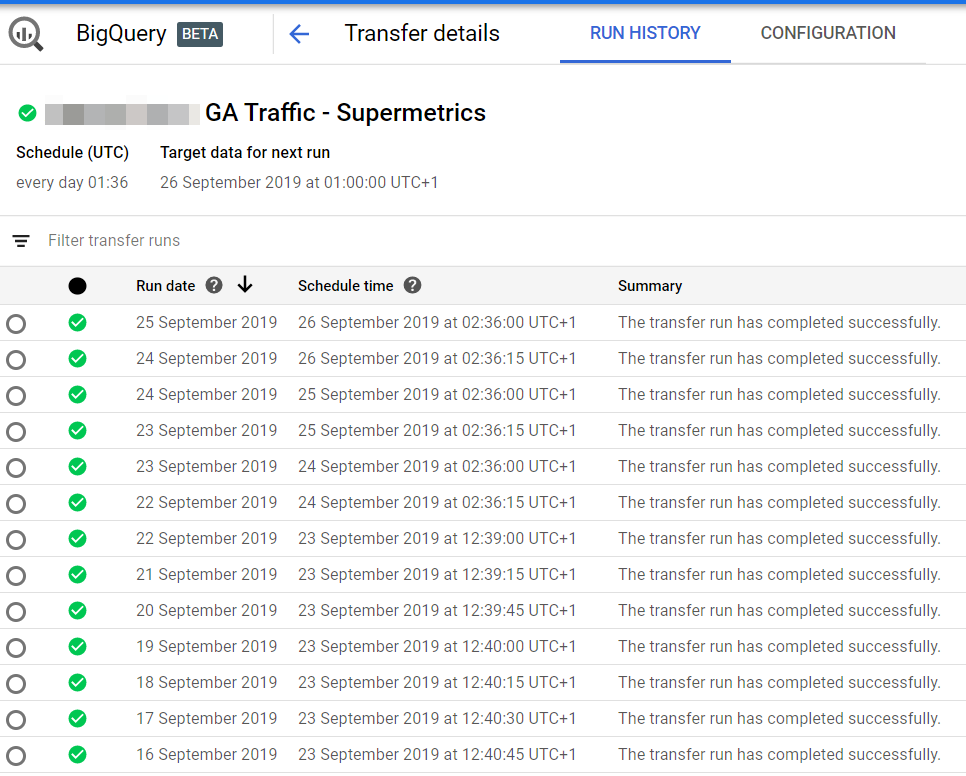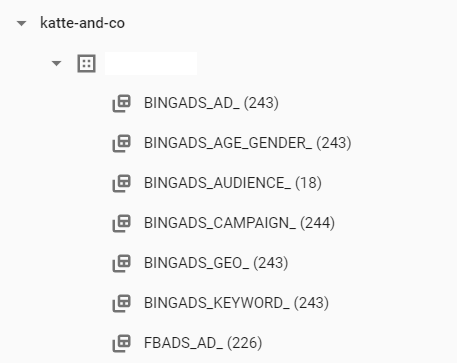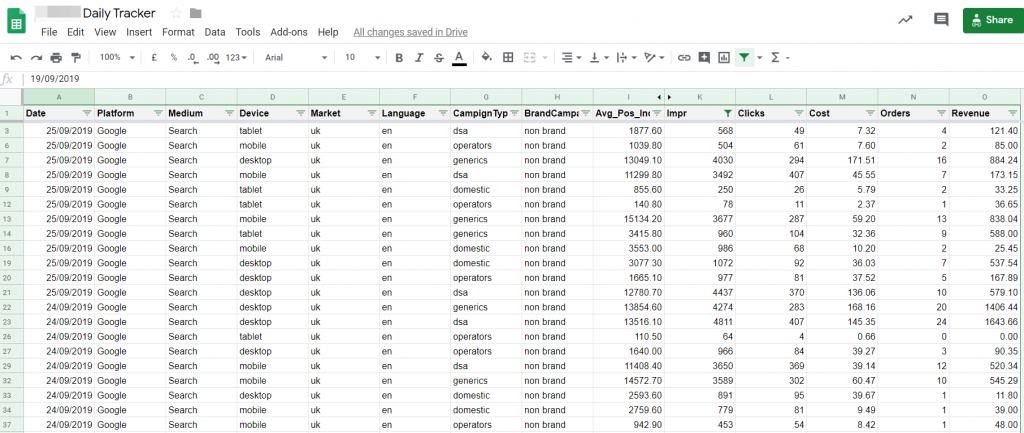 Turning data into insightful client reports
After completing the first half of the puzzle, the next challenge was to turn the collected data into client reports. Of this process, Jack says, "The backend set up is the same for everyone, but the front end reports are then customized for each client from a base template we've built. Having our data in BigQuery makes it very easy to customize the data coming into each sheet."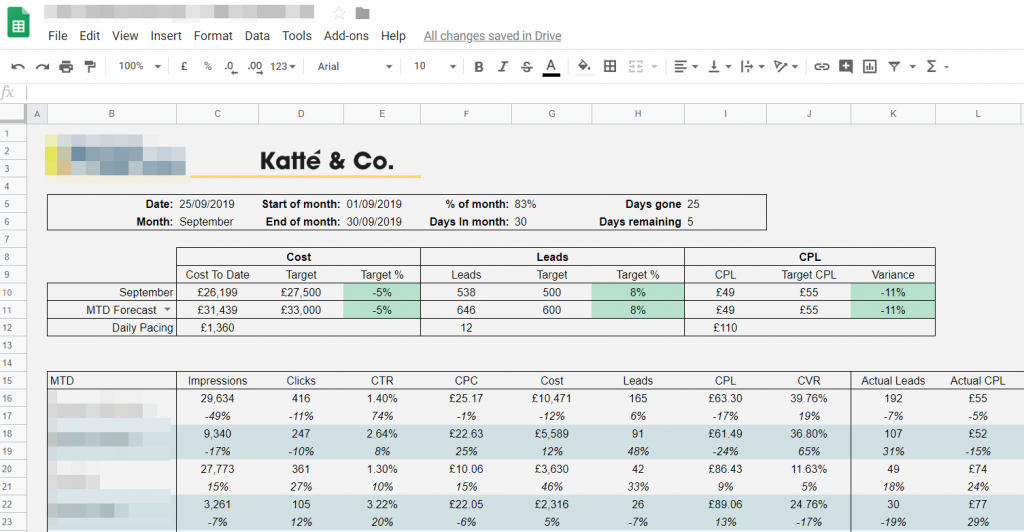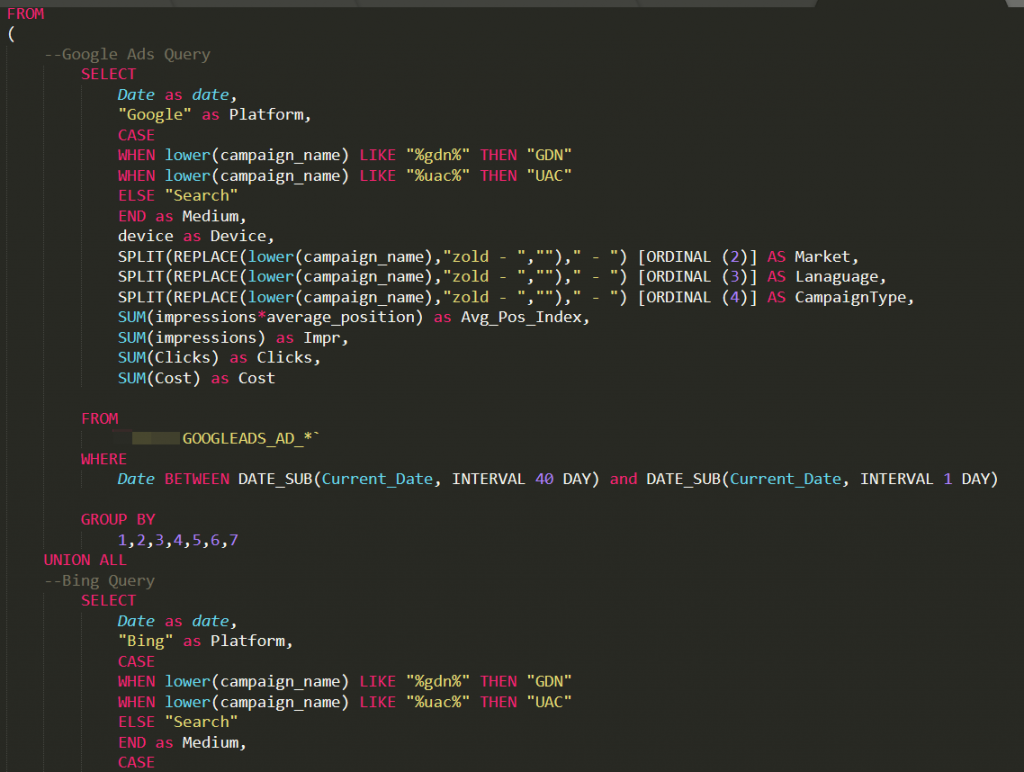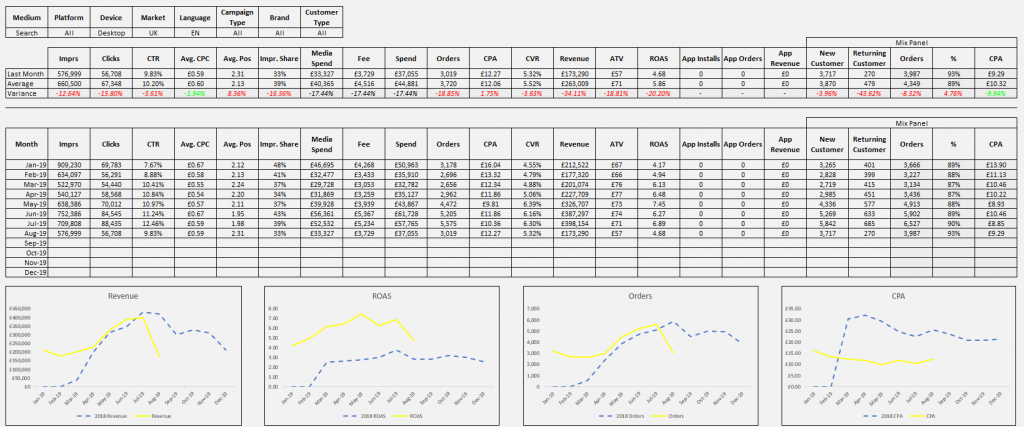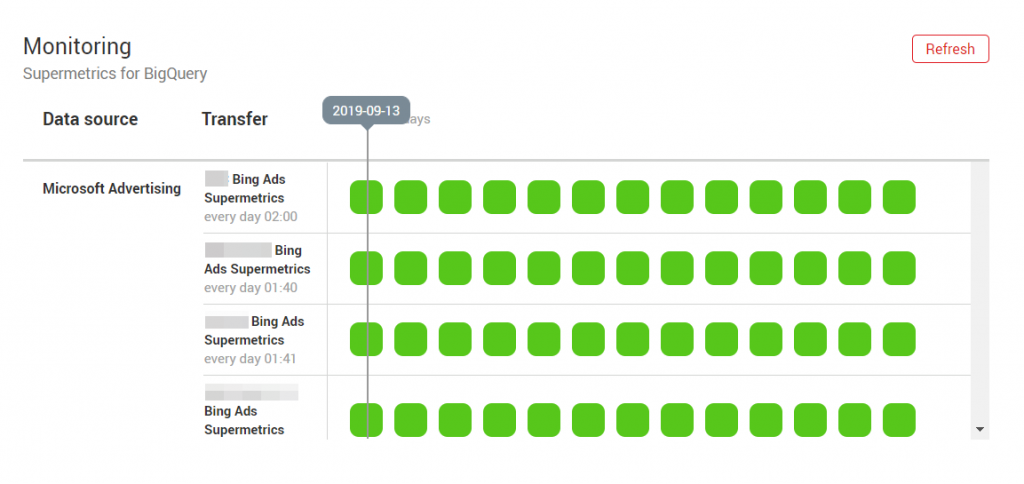 The impact of Supermetrics for BigQuery on operations & business
Since implementing Supermetrics, Jack and the Katté team have improved the consistency of data, simplified how their marketers work with data, and saved the company both time and money. Explaining the benefits Katté have gained since using Supermetrics, Jack says, "Supermetrics has saved us massive amounts of time. It's extremely easy to use and there is consistency between all the data coming in across all our clients. Tables are set for each data source, which is really useful, and we're getting to the stage where we don't actually need to spend any time on pulling together reports. We can use that time much more effectively to delve into the data."
Of the benefits compared to earlier solutions and measurable outcomes, Jack adds that, "Compared to Stitch, the time savings are considerable and those will grow the more Supermetrics and BigQuery are embedded in the company. We've also been able to dramatically decrease our row count in reports, which translates into increased speed, efficiency, and quality of reporting. For our clients this means a much better user experience with the reports."

In terms of upskilling the Katté team, Jack adds that, "Once we're up and running, it will be team leads who are responsible for setting up connectors for new clients in BigQuery. Everyone will need to be able to query data and learn SQL, which is a very good skill for digital marketers to have and it's not too difficult to learn. At first, people were a bit skeptical, but once they saw how powerful it was and the benefits, that pushback disappeared and now we're operating more effectively and more efficiently. This upskilling has been another big benefit of implementing Supermetrics for BigQuery."
The next steps
This is just the beginning for the Katté team in terms of data orchestration and client reporting. The next evolution will focus on alerts and making smarter use of their data to improve client results. "The next thing for us is to add alerts that flag issues in our accounts. These could include when ad groups don't have a responsive search ad or if tracking URLs don't match campaign names for custom parameters. In these instances you'll be alerted at-least daily with the campaigns, ad groups or keywords that need attention. We have our own internal best practices as an agency, and to follow those manually can be difficult. With Supermetrics we'll be able to continue to work to our standards in a much quicker and effective way. We will be able to spot and solve issues more consistently and quicker than we ever have done before. This will be a massive help in boosting client results and once we have our updated automated alert system running in the background via Supermetrics & Big Query, that's where I see even bigger benefits from this solution," Jack says.
Want to move your marketing data into BigQuery like Jack and the Katté & Co. team??
Turn your marketing data into opportunity
We streamline your marketing data so you can focus on the insights.