Happy Cog: Centralizing marketing data into Acquisio and Google Analytics with Supermetrics
Key takeaways
Happy Cog is a full-service agency whose digital marketing team helps a diverse portfolio of clients lower the cost of new customer acquisition

The team uses Supermetrics for Google Sheets to create centralized client reports in Acquisio, the agency's bid and budget management tool

Happy Cog also uses Supermetrics Uploader to create multi-channel attribution reports inside Google Analytics

With the help of the two Supermetrics products, the Happy Cog team manages to save 15-20 hours every week
Quick facts
Industry: Marketing agency
Founded: 1999
Size: 75+ employees
Markets: North America
Products: Supermetrics for Google Sheets
Happy Cog is a full-service agency specializing in web and app development, design, and digital marketing with clients ranging from global brands to mission-driven nonprofits — and everything in between.
Lee Goldberg is the Co-founder and President of the agency. Elise Connors works as the Director of Marketing Client Services, helping Happy Cog's diverse portfolio of clients lower the cost of new customer acquisition together with her team of marketing and analytics experts.
The two ways Happy Cog uses Supermetrics
Lee, Elise, and the rest of the Happy Cog team have been using Supermetrics for several years. They first started with Supermetrics for Excel and later moved on to using Supermetrics Uploader and Supermetrics for Google Sheets.
Lee says, "We've been using Supermetrics for years, and we really love the products. As agency marketers, reporting is the bane of our existence, and we're glad we've been able to automate a large part of that work with Supermetrics."
The Happy Cog team uses Supermetrics' products in two main ways:
For creating client-facing performance marketing reports inside Acquisio, the agency's bid and budget management tool
For creating multi-channel attribution reports inside Google Analytics
Elise says, "Automation is the game of the day, and outsourcing menial work to the machines helps our team reserve hours and brainpower for doing the work that matters."
1. Moving performance marketing data to Acquisio for centralized client reporting
The Happy Cog team uses a tool called Acquisio to centrally manage their performance marketing campaigns across several different advertising networks, including Facebook, LinkedIn, Google, and Microsoft Advertising, amongst others.
Lee explains, "Acquisio allows us to add new campaigns and ad groups and leverage the system's artificial intelligence and algorithms to set the bids and budgets for different campaigns directly in the platform. This means we can manage most of our performance marketing campaigns without ever leaving Acquisio."
For Happy Cog, Acquisio also doubles as a reporting software. However, the one downside is that since advertising networks often have separate APIs for campaign management and reporting, Acquisio hasn't built native connectors to all the second-tier networks' reporting APIs. This is where Supermetrics comes in handy.
Lee says, "Instead of copy/pasting performance data from all the second-tier ad networks into Acquisio, we've automated the process with Supermetrics for Google Sheets. We have a template that automatically pulls daily performance data from Bing Shopping, AdRoll, Apple Search Ads, and other smaller ad networks into Google Sheets that we can then upload right into the system."

He continues, "We then FTP the data from Google Sheets directly into Acquisio. This way, our clients can quickly see the bigger picture of their ad spend and ROAS whenever they want to."
Getting this data all in one place also simplifies the process of account management. "When you're managing large advertising budgets, it's not realistic to jump from system to system to understand campaign performance and opportunities," Elise says.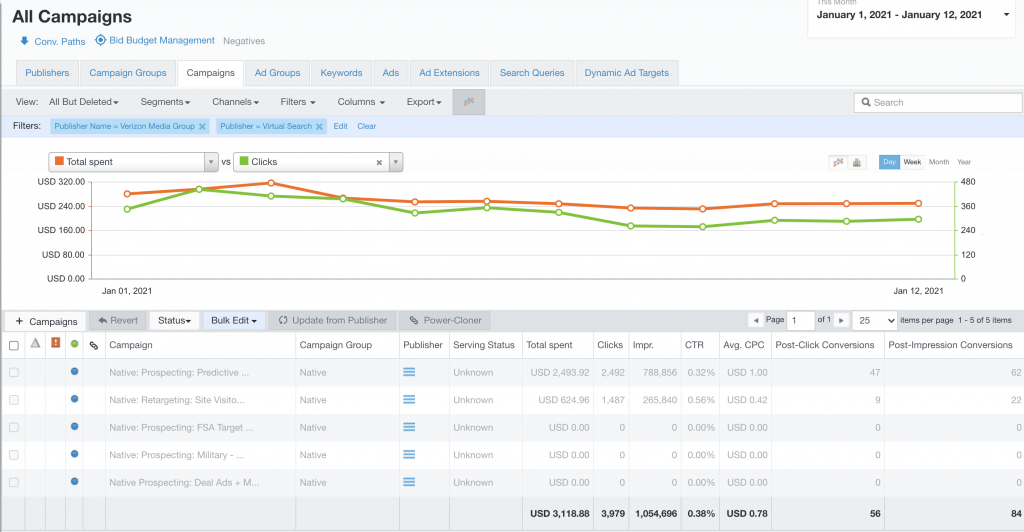 By using Supermetrics to pull data from the APIs Acquisio doesn't natively connect with, the Happy Cog team and their clients have a single source of truth.
2. Using Supermetrics Uploader to move cross-channel cost data into Google Analytics
The Happy Cog team has also been a long-time user of Supermetrics Uploader, a lesser-known Supermetrics tool that allows marketers to move ad spend data from advertising networks like Facebook, Google Ads, and Twitter directly into Google Analytics.
Google Analytics is the de-facto analytics platform for businesses of all sizes, but if they're running ads in a platform other than Google, the available data related to performance and impact is limited.
"Our clients rely heavily on Google Analytics as an unbiased source that highlights how effective our work is, so it's to our benefit to integrate that data," Elise says.
She continues, "The more visibility a client has into our wins, the better,"
Lee says, "One of our focus areas at Happy Cog is attribution. Supermetrics Uploader helps us with that. We're using it to move cost, click, and impression data from multiple advertising networks into Google Analytics. This way, we can use Google Analytics as a centralized hub and drill down on custom content groups and analyze each group's contribution to revenue, ROI, and profit."

Lee continues, "There aren't a lot of alternatives for Supermetrics Uploader. I honestly haven't found a tool like it on the market, and it would take a lot of effort if I had to build something like it myself."
Saving 15-20 hours every week with Supermetrics
Lee and Elise agree that the biggest benefit they've seen from using Supermetrics is the time it saves the whole marketing services team.
Lee says, "My guess is that we're saving somewhere between 15 and 20 hours with Supermetrics every week. The majority of our team uses the tools actively, so you can imagine what a huge impact it has."
Elise continues, "Manual data pulling takes away the time needed to mine for insights, and that's what our clients pay us for: thinking, not a puke of numbers."
Another indirect benefit Elise and Lee have seen from using Supermetrics is client satisfaction.
Lee says, "Clients hate choppy reports. Without centralized data in Acquisio and Google Analytics, it would be very hard for them to understand the big picture."
Turn your marketing data into opportunity
We streamline your marketing data so you can focus on the insights.