EPL Digital: How a small team of marketing experts has improved their marketing reporting with Supermetrics for BigQuery
Key takeaways
EPL Digital decided to do marketing reporting through a combination of Supermetrics for BigQuery and Microsoft Power BI as they faced limitations while using spreadsheet tools

The agency can now break down their data at a more granular level to get more insights

Supermetrics for BigQuery has made EPL Digital's marketing reporting faster and more flexible

With Supermetrics for BigQuery the team can stay agile and focus on marketing initiatives without employing traditional data managers
Quick facts
Industry: Marketing agency
Founded: 2013
Size: 10 employees
Markets: Global, with headquarters in New York, USA
Products: Supermetrics for BigQuery
EPL Digital is a New York based marketing agency that works on improving their clients' ROI through digital channels like paid search, paid social, and display. In addition to that, the agency crafts creatives and landing pages to support their advertising activities. The company focuses on 5 key business functions: client success, paid media, SEO, data, and UX.
Athan Tsakalakis is Co-founder and Chief Operating Officer, who founded the agency in 2013, and Robin Eckerblad is a head of Data and Insights. Both Athan and Robin have been at the core of EPL's data transformation.
EPL Digital has two competitive edges that allow them to stay on top of the game. Firstly, they are marketing experts who are highly focused on working with the best technology. Secondly, the team automates its processes and keeps its headcount low to remain agile. Despite being a small agency they have monthly advertising budgets in the 7-digit figures under their management.
In order to carry out all the projects effectively and efficiently, EPL has constantly tried to advance the ways in which they do their analysis and reporting. In addition, the team has always tried to improve the accuracy of their insights.
With multiple marketing services provided the team uses all this data to optimize and improve their clients' campaigns.
How EPL Digital's reporting has evolved from spreadsheets to Google BigQuery
The agency started using Supermetrics six years ago when Supermetrics Data Grabber, a tool that fetches marketing data into Excel, was released. "We started off with Data Grabber, a Supermetrics tool for Excel, then we moved to Google Sheets and continued with the Supermetrics add-on. After that, when Supermetrics connectors for Google Data Studio were released, we started building dashboards in that data visualization tool. Now we are at BigQuery, successfully using Supermetrics integrations there," Athan says.
At the moment, EPL Digital continues using Supermetrics for Google Sheets and Data Studio for quick ad-hoc analysis and projects. In future, these products will only account for 10% of EPL's marketing reporting, while the other 90% of reports and dashboards will be built using a combination of Supermetrics for BigQuery and Microsoft Power BI.
However, EPL Digital already started looking into data warehousing solutions before Supermetrics for BigQuery was released. There were a few reasons for them to do so.
Firstly the cell limit in spreadsheet tools prevented them from building reports with more data. The team needed to have 10 different Excel files to get all the data they needed, which was inconvenient. In addition to that, many queries were breaking in Excel and Google Sheets as the data sets had become significantly larger. Last but not least, the team could not store all the data they wanted in spreadsheets and Data Studio.
Next, Athan and his team started to evaluate different data warehousing options. They looked into Amazon Redshift first, but decided not to go with it.
"Amazon's solution had a lot to do with expertise in database management. This data warehouse also required a lot of work. As we are a small, rapidly growing agency we have the philosophy of always trying to stay agile. Using BigQuery together with Supermetrics allowed us to stay flexible and not have to hire a certified, traditionally trained expert with a deep background in database management. It also felt like Google BigQuery was well suited for our needs as a marketing agency, allowing us to manage different types of client data," Athan explains. He also mentions that Google BigQuery's UI was easy to use, well-defined and intuitive.
Next, the agency needed a product that would seamlessly work with BigQuery and tick all the checkboxes in terms of:
Ease of use
Reliability
Scalability
Efficiency
Security
Process automation
As a nice follow-up, EPL Digital's team found out that Supermetrics was to release its connectors for BigQuery, which confirmed their choice of a data warehouse. The agency was eager to try out the new Supermetrics product as they knew Supermetrics would come up with a comprehensive solution.
The team's first impressions of Supermetrics for BigQuery
Once Supermetrics for BigQuery was released in April 2019, the team quickly jumped on it.
"Because of our experience and trust that we had with Supermetrics, and because we knew that BigQuery is really legitimate product and service, we decided to go all in with it," Athan says.
The team members highlight that their first impression of Supermetrics for BigQuery was very positive. Robin (Head of Data & Insights) adds that, "It was pretty easy to just set up the first transfer. We got the tables we needed and started fetching data from Google Ads, Bing Ads and Facebook Ads."
At that moment the team had been using Microsoft's Power BI as a data visualization tool for two years. Google BigQuery could instantly be connected to Power BI, where EPL Digital would be sharing the dashboards with their clients. BigQuery started to serve as a much better data storage solution than Google Sheets, making the reporting process easier and more streamlined.
BigQuery & Supermetrics: improving analytics by getting more granular data
With Supermetrics, the team could successfully import large datasets to get more detailed campaign data. That allowed EPL to improve the accuracy of their reporting and analysis, which led to faster decision making, yielding a better ROI for clients.
"Previously we were limited by the dataset size because spreadsheets did not allow to store that much data. With Supermetrics for BigQuery we started doing larger transfers that allowed us to get more metrics and dimensions. This, in turn, enabled us to slice the data in a variety of different ways to get more granular," says Robin.
The ability to break down the metrics on a more granular level allowed the team to arrive to the insights they couldn't get to with the former way of reporting.
"If we are running a campaign in many different US cities, it's understandable that we will have a lot of data since the United States is a large country. After we export all the stats with Supermetrics, we can break the metrics down to see how many clicks we had from each city during a given timeframe. Now this level of granularity is available to us," Robin adds.
Supermetrics for BigQuery allowed EPL to bring in data from different sources to help the team see the entire funnel. Was the click followed by a form filled in and did that lead become a client? EPL Digital could answer these questions and effectively optimize their campaigns.
EPL Digital's reporting process
EPL Digital's dashboard building process depends on how technically savvy their clients are. Generally, the team builds campaign overview reports to show performance metrics, such as cost per lead and cost per customer.
"The reporting process depends on how advanced the client is with their data. We always strive for 100% automation but depending on the client we may still need to add a manual step to the process," Robin says.
Whether there is a fully automated process or a solution with some manual components the team imports the data to their data warehouse in Google BigQuery. Once having collected lead information from clients the cross-reference this in relation to the advertising spend that went into getting the leads.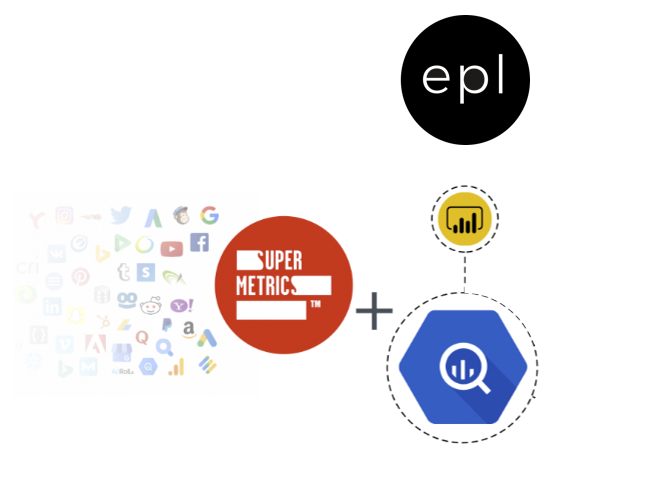 The team uses SQL statements in Google BigQuery to join tables and re-format columns into tables that can quickly be loaded into Microsoft Power BI. Here they can do some more cleaning of the data and use other lookup tables that they need to create relationships and connect all the dots.
The end product is a web-based interactive dashboard where the internal team as well as the client can have 24h access to the insights of the ads performance, from click to customer, using either a laptop or smartphone.
How EPL Digital's marketing reporting has become faster and more reliable
"The biggest improvement we have noticed is that with the adoption of BigQuery and Supermetrics, large dataset transfers are not failing anymore like they used to. Even in cases they fail, the fix came around pretty quickly or the issue was on the original data source side," Robin says.
He also noted, that mostly the experience has been smooth and the reporting process has become faster. The team did not have to spend a lot of time in Microsoft Power BI to wait for the data to load.
"We have access to more data and can slice it on a much more granular level with dimensions like geographic location available. Now we can create much more powerful automated reports and overcome the volume limits to make our reporting more accurate. In case the team is missing some dimensions or metrics we reach out to Supermetrics directly. The Supermetrics team has always been very helpful to add these," Robin adds.
Supermetrics & EPL Digital: A long-term outlook
The team intends to use Supermetrics for BigQuery as a primary pipeline to get campaign data to the marketing data warehouse. In addition to that, Supermetrics supports the company's future vision. "We are a small but rapidly growing team and as we continue getting more clients we need to keep up with the workload. Using the best technology is very important for us as this is where we see the biggest impact," Robin mentioned.
Athan shared that the company's plan is to continue to be marketers, leverage marketing technology, and work with appropriate systems and tech stacks. This use of the best tools allows the to focus on marketing as a core competency.
An affordable and scalable solution for agile marketing teams
"We're not technologists, we're not building technology, and our team wants to invest more in marketing strategy versus investing in producing technology. We believe that to be effective marketers and to be able to compete in a very competitive marketplace you have to focus on the strategies and consumer behaviour versus building tools that you might use within marketing. By working with Supermetrics, we do not have to spend time building and managing Google BigQuery integrations," says Athan.
"I am always trying to find the most efficient way to work with data. I think our team will keep evolving and our processes will keep evolving as we keep using Supermetrics for BigQuery," Robin says.
"In terms of pricing, Supermetrics for BigQuery is extremely affordable. I could absolutely substitute a data analyst on an annual basis for all the costs that are going into data warehouse marketing reporting process," Athan concludes.
Want to improve the quality of your marketing reporting just like Athan and Robin from EPL Digital? Start your free trial of Supermetrics for BigQuery or book a demo with a member of our team!
Turn your marketing data into opportunity
We streamline your marketing data so you can focus on the insights.