Datasavvy: Building New Business Through the Supermetrics Affiliate Program
Key takeaways
Datasavvy was one of the first companies to become a certified Supermetrics channel sales partner

Christian originally started using Supermetrics when he was looking to automate his multi-channel performance marketing reports

He tested Stitch but quickly noticed that Supermetrics was the more intuitive of the two products

In less than a year, the Datasavvy team has already sold Supermetrics licenses to 100+ clients and ancillary services to 30% of those clients
Quick facts
Industry: Marketing & Advertising
Founded: 2019
Size: 7 employees
Markets: Latin America & Spain
Products: Supermetrics for Looker Studio, Supermetrics for Google Sheets
Datasavvy is a Peru-based marketing analytics agency—and one of the first partners in the Supermetrics affiliate program. The Datasavvy team helps companies in the Spanish-speaking world to get up and running with Supermetrics by reselling the product and offering customized training, support, and analytics services.
Christian Cespedes, the founder of Datasavvy, is probably the first person in the world to build a company around Supermetrics' products. Together with a small team, he offers highly customized training and analytics services to data-driven companies in South America and Spain that want to automate their marketing reporting.
Taking the first steps toward reporting automation
Christian first found out about Supermetrics in 2016 when he was working at an insurance company where he was trusted with the critical task of putting together actionable reports of the company's paid channel performance.
Christian says, "Before Supermetrics, I would go to each advertising platform directly and download a separate spreadsheet from each. I would then manually copy and paste the data from each of those spreadsheets to compile a master sheet with everything I needed. It took so much time and made me wonder if I'd spent five years at university just to find myself wasting hours every week on mindless copy-pasting."
Feeling frustrated with the monotonous manual labor and the high risk for human error, Christian started looking for a way to automate his reports. He says, "I tried Stitch for a while but quickly noticed that you need advanced technical skills to be able to use it. From the start, Supermetrics was intuitive to use, and to this day, I still haven't found anything like it."
Christian quickly fell in love with Supermetrics, and when the opportunity to join the Supermetrics affiliate program presented itself, he jumped on the chance. "When I heard about the affiliate program, I enrolled right away. But over time, it became obvious that I wanted to form an even closer partnership with Supermetrics," Christian explains.
Becoming a partner 🤝
The Supermetrics channel sales partner program was first introduced in 2019 and further developed in close collaboration with a few committed partners. Datasavvy was among the first partners to join the program. As of 2021, the channel sales merged into the Supermetrics affiliate program, which now welcomes all types of affiliates to Supermetrics, from consultants and agencies to content creators and educators.
Achieving success by offering tailored service
For Christian and his team, the affiliate program offers an opportunity to build close relationships with their clients. They can also resell Supermetrics' enterprise products that are not available online. Christian says, "The most important thing for my clients is that they now get Supermetrics training and support in Spanish. At Datasavvy, we're committed to providing exceptional customer service. In fact, my clients are often sending me questions and screenshots on WhatsApp, and I'm really happy to offer them personal service like that."
It's the tailored service, from introducing the product and offering initial training to setting up the license and showcasing all the best practices, which has been Datasavvy's recipe for success as a reseller. And their strategy to be available for each client 24/7 and assist them with any issues that may occur along the way has certainly paid off.
Around 60% of Datasavvy's revenue stems from their Supermetrics partner activities. Typically, the stakeholders involved in the purchase decision are analysts and managers who know the pain of having to rely on manual data. So, Datasavvy is excited to be able to offer them an automation solution like Supermetrics together with their own value-added services.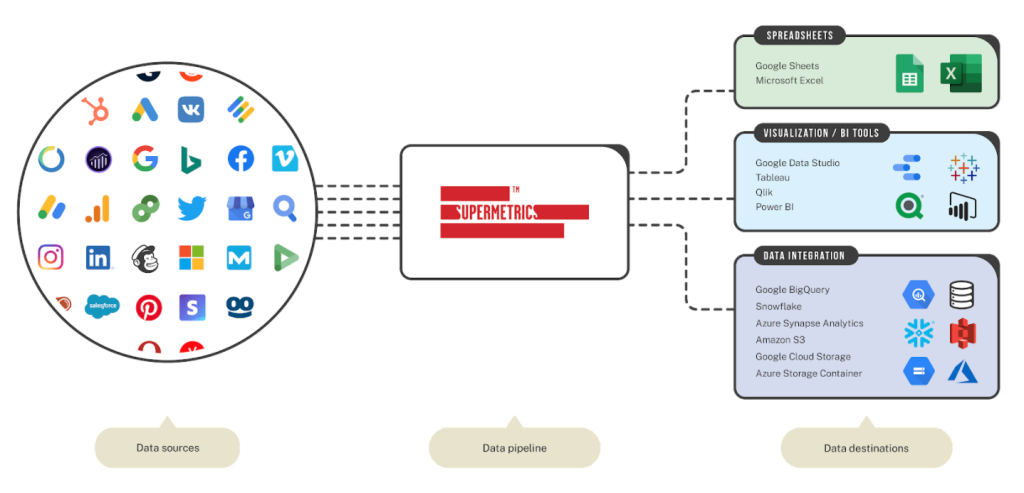 Being the leading Supermetrics reseller and providing services around that has been their goal from the get-go. Rather than partnering with multiple reporting automation tools, they've invested their efforts in the partnership with Supermetrics—a tool Datasavvy swears by.
Datasavvy's plans for market and product expansion
Ever since founding Datasavvy in February 2019, Christian and his team have sold more than 100 Supermetrics licenses.
According to Christian, however, that's only the beginning. "Right now, we're looking to expand our market. We're currently mostly growing in Central America, for example, Columbia, Chile, and Peru. But we also want to serve clients in the USA and Brazil in the near future. To be able to do that, we'll have to create a whole new business and marketing plan."
The other big change that Christian foresees in the marketing reporting environment is that more and more companies will move their marketing reporting from spreadsheets to marketing data warehouses like Google BigQuery. Christian says, "Right now, most of my clients are interested in Supermetrics for Google Sheets and Supermetrics for Google Data Studio.
In fact, 90% of the Supermetrics licenses sold by Datasavvy have been for the Google Sheets and Data Studio products. But Christian and his team are keen on expanding to the data integration side next year, namely Supermetrics API and the data warehouse solutions. "Whenever I've presented all the things they could do on Google BigQuery, the clients have gotten really excited," Christian adds.

Datasavvy's expansion plans mirror the overall product expansion at Supermetrics in the past couple of years. Thanks to the explosive growth in the amount of data businesses have accumulated and need to manage— there's an increased demand for data storage solutions. That's why it's no longer enough that Supermetrics offers solutions for spreadsheets or data visualization platforms. Complementing those tools is now a variety of data warehouse, cloud storage, and data lake products that clients can choose from, depending on their needs.
So, we're thrilled to see what the upcoming years have in store for this prolific partnership. And if you're interested in becoming a successful Supermetrics affiliate like Datasavvy, you can read more about the Supermetrics affiliate program and get in touch with us.
Turn your marketing data into opportunity
We streamline your marketing data so you can focus on the insights.