Data-driven business coach and lecturer educates others on the power of data using Supermetrics
Key takeaways
Jeff Sauer met with the Supermetrics team in Helsinki and became a partner in early 2018

More than 17,000 marketers have enrolled in his digital marketing training programs

His business, Data Driven U, started as a marketing analytics blog called Jeffalytics that evolved into multiple training courses for analytics, ad platforms, and reporting

Jeff is also an Adjunct Marketing Professor at the University of St. Thomas
Quick facts
Industry: Data-driven marketing and analytics training
Founded: 2012
Markets: Global, the United States
Products: Supermetrics for Looker Studio
Jeff Sauer is a data-driven business coach, agency owner, Google Analytics and PPC expert, and an internationally acclaimed thought leader in marketing analytics. Having his work featured in multiple industry publications, Jeff has delivered keynote presentations in more than 100 conferences and workshops around the globe.
Through his business, Data Driven U, Jeff has had 17,000+ marketers enroll in his digital marketing certification programs. Turning these digital marketers into data-driven Google certified professionals and coaching freelancers to launch successful businesses is where his passion lies. He's also an Adjunct Marketing Professor at the University of St. Thomas and has built a profitable, award-winning digital marketing agency, Three Deep Marketing, that was acquired in 2021.
Getting started with marketing analytics
With his computer science degree, Jeff thought he was destined to either make video games or manage databases. But after realizing it wasn't what he really wanted to do, he started freelancing as a web developer, building websites using HTML. It followed naturally that his clients began to ask how they can get more people to visit their website. And since Jeff had no answer, the best thing he could do was to start researching the topic. That's how he came across SEO and analytics—or the early form of it that later became one of the founding blocks of modern digital marketing.
Describing his early experience, Jeff says: "Back then in the mid-2000s, it was mainly stats packages and basic metrics such as web traffic. But it was exciting to me. And I was like, this is actually way more fun than the job I thought I was going to do." So, he wanted to make it a career. "I also had some sort of imposter syndrome because I didn't have any training in it. I had never taken a marketing class in my life. But that's how I got started," he explains.
Before establishing his current agency, Data Driven U, or DDU for short, Jeff was one of the share partners in a marketing agency called Three Deep Marketing. Founded right around the time Jeff discovered that marketing analytics was his calling, the agency did lead generation and analytics for Fortune 500 clients and local businesses It went on to employ 50 marketing experts and was acquired in 2021. Jeff worked there until 2013 but remained a partner until the business was sold.
Learning about Supermetrics
It wasn't long before Supermetrics made it into Jeff's training courses. It all happened naturally, according to Jeff: "It was just like, this is what I recommend for pulling in Facebook Ads data, or pulling in this data, or connecting better to Google Sheets."
Right around that time, in 2017, he also stopped by in Helsinki, Finland to visit one of his good friends in the industry, Simo Ahava. After noticing that there was a huge concentration of companies in Helsinki he was already working with, Jeff decided to use the opportunity to meet with Supermetrics. His meeting with Mikael Thuneberg, founder and CEO, and Zhao Hanbo, currently the head of business development, consolidated the partnership Jeff had already established with the company.
Educating others on the power of data
While working for Three Deep Marketing, Jeff started a blog called Jeffalytics in 2012. The next year, he went on to do that full time. And although he did some consulting and freelancing for a few clients to pay the bills, the business model of Jeffalytics, now known as Data Driven U, is not an agency. What started as a marketing analytics blog evolved into multiple training courses for analytics, ad platforms, and reporting.
"It's almost entirely education now. I take on just a few strategic clients a year. But for the most part, I'm a full-time educator and work on creating products to bring up the next generation of marketers," Jeff tells about his current business model.
His goal is to educate as many people as possible on the power of data and to make it less intimidating for marketers. Because data can be intimidating, Jeff wants to make it more accessible for people and teach how they can get the full benefits of leveraging data.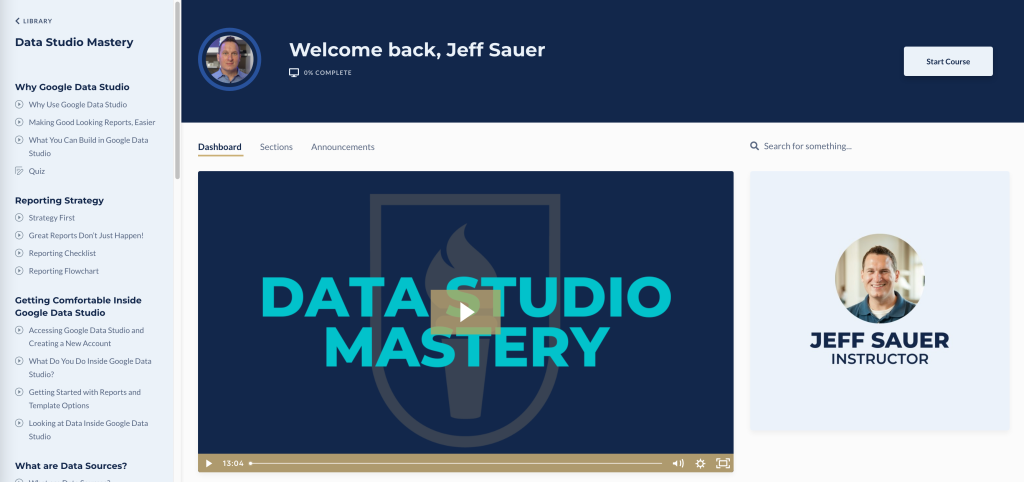 Why Supermetrics
According to Jeff, if you want to keep your clients up to date through total performance reporting but you don't want it to make it your full-time pursuit, you need something convenient that just works. To give a practical example, he says: "Before Data Studio and Supermetrics, you had to have a web developer who could access an API and make sure that it worked consistently. And you needed your own servers and your own infrastructure to get it to work. But even after setting it up, it would break, and you would get gaps in your data. It was just a big mess. With Supermetrics, you're paying a service to do that. And it works 24/7, which is amazing." Jeff tells that his 80/20 with data used to be 80% about getting the data in the first place and 20% about analysis. Now he says it's the other way around.
For Jeff, becoming an affiliate was a natural extension of using the product and teaching people how to use it. He was able to work out a special perk that allowed his course participants to get an extended trial for Supermetrics. This encouraged them to try it out, and after seeing how they could use the tool without a ton of barriers, many of them kept using it and became customers. It was a value-add to people, something Jeff was already teaching.
Specializing in Google Data Studio
"Your Data Studio product is the main reason why I recommend Supermetrics," Jeff elaborates. "Google Sheets is not really my area. I think it's a little bit more malleable, not just for marketing data. One of your other partners, Ben Collins, is sort of my go-to guy for Google Sheets, whereas I'm more specialized in the web analytics community, which Data Studio falls into. So, I teach marketers how to collect and visualize marketing data from advertising channels and social channels," he continues.
Motivation and reliability also matter to Jeff. He says: "When we started, there weren't a lot of other solutions out there. But I knew Mikael was part of the Google Analytics community for a long time. He was always creating new stuff for Google Analytics and was active in the community, so that's how I found out about him. From the beginning, Supermetrics has been doing it for the right reasons, which is to create tools that make people's lives easier. Having met you guys in person and knowing what you stand for gave me a lot of confidence, too. I don't feel like this is a recommendation that will end up hurting me in the end. I think your tools make everybody's lives easier and better."
Incorporating Supermetrics into his training courses
Jeff and his team provide over-the-shoulder tutorials on how to use Supermetrics. They also offer templates, for Facebook Ads, for example, and an all-ads performance dashboard that connects through Supermetrics. "If our students were to download that, they would sign up for a trial. And if they find it valuable and they're running that for their clients, then they're going to just keep on using it. More and more people are joining our training courses and seeing how much easier it makes their lives to have their reporting taken care of," Jeff describes the process.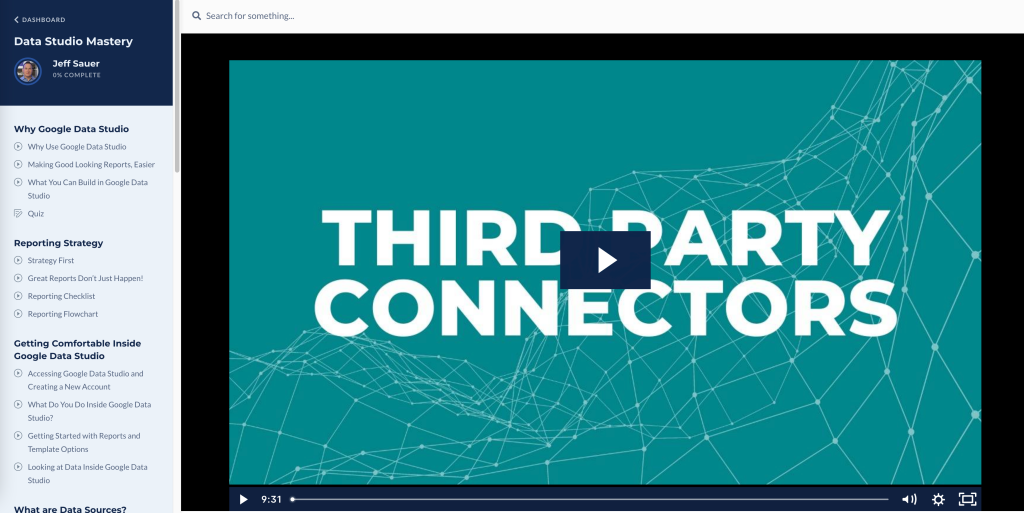 Describing his clients at Data Driven U, Jeff says: "We have three different types of people who work with us. Most of them work at a job in-house and they just want to learn one more skill to be more valuable to their employer. Then we have freelancers and solopreneurs who want to learn new skills and apply them in their freelance work or start their own business. Finally, we have people who start to hire employees because they are successful at freelancing. They start to build out their own services company or their own agency."
Jeff has training programs tailored for each type of client. But he has also observed some common features among all of them: "The biggest thing I find is that if somebody is curious, they don't want to just learn one thing, right? You need to have a rounded-out set of skills if you want to be a successful freelancer or agency. You have to do more with less.
To give an example, Jeff says: "If you want to learn Google Ads, about 10 minutes into learning it, you realize that Ads is better with Google Analytics because it gives you more complete data. And so you start to learn that. Then, you realize that GA is much better if you can track more and have control over your tags. So, you go and learn Google Tag Manager. Finally, you need some kind of place to pull it together. You want to pull your Google Ads and Google Analytics data together. Or maybe you want to pull data from your Facebook Ads and other ad platforms. So, you learn how to build dashboards on Google Data Studio to show your clients the results. And to do it efficiently, you need a tool like Supermetrics. It's a natural progression."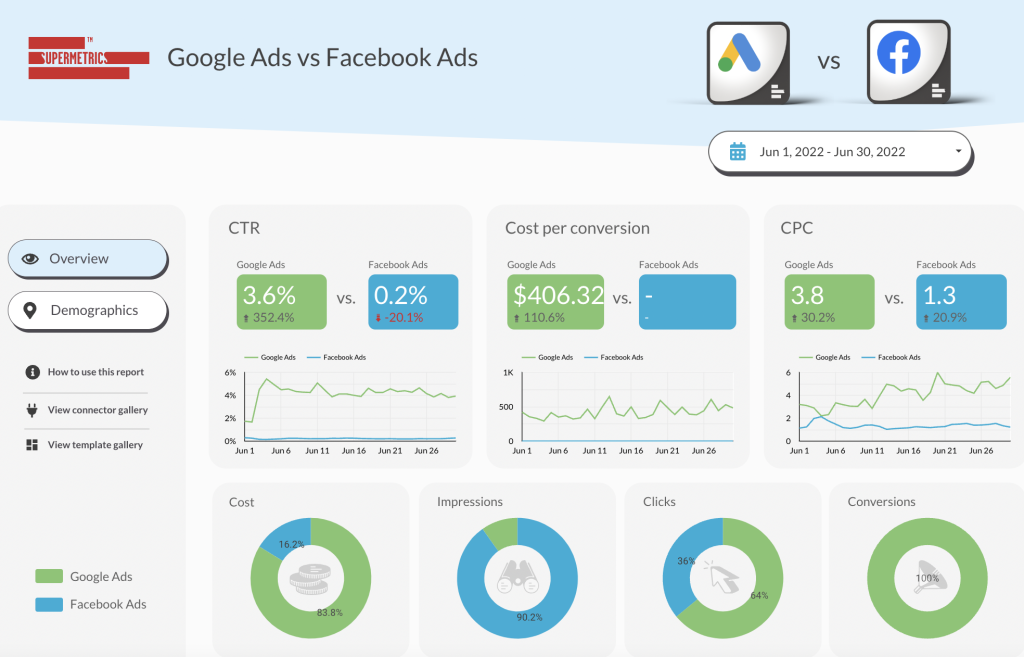 Future plans for the partnership
After the Supermetrics affiliate program merged with the channel sales program into one program, Supermetrics affiliates have been able to refer all products, including the data warehouse solutions. So far, Jeff's partnership with Supermetrics has revolved around the reporting and analytics tools, Data Studio in particular. But he thinks that data warehousing and integration could be a big opportunity for him.
Jeff explains: "One of the things that we're facing right now is that Universal Analytics is going away. And I think one solution is to move your Universal Analytics data into a data warehouse. So, you can retrieve it and do comparisons with GA4. I intend to teach people how to make it happen so that they can get all their data into a data warehouse."
Jeff predicts that we're going to see a lot of people who never thought about having a data warehouse looking for one. And for that, there needs to be people who can show how to do it right and how to take control over your data.
Turn your marketing data into opportunity
We streamline your marketing data so you can focus on the insights.