How Gapps & Supermetrics helped Bygghemma to optimize their data operations with Supermetrics for BigQuery
Key takeaways
Bygghemma is the leading hardware, decorating, and gardening retailer in the Nordics.

Bygghemma Group has always been led by numbers with paid advertising playing a key role in their growth.

They had a proof-of-concept BI-platform but soon required a more fully-fledged reporting solution to support the growing demand for their online store.

Bygghemma enlisted the aid of Supermetrics & Gapps (a Supermetrics channel partner) to help them build a wider view into their marketing performance.

With Supermetrics for BigQuery, Bygghemma is able to transfer data from their marketing sources, such as Google Analytics and Google Ads, where they can cross-analyze their overall marketing performance.

Supermetrics for BigQuery helps Bygghemma save time spent on configuring pipelines and helps them focus on making more strategic decisions.
Quick facts
Industry: Retail
Founded: 2006
Size: 1500+ employees
Markets: Nordic region
Products: Supermetrics for BigQuery
Bygghemma Group, the leading online hardware, decorating, and gardening chain in the Nordics, has historically been a very number-heavy organization. With their webstores, such as Netrauta and Taloon.com being one of key touchpoints, Bygghemma is constantly following the performance of their marketing and growth trends over time.
Bygghemma's internal traffic & analytics team is responsible for optimizing traffic to Bygghemma's ecommerce stores. The team is heavily involved in developing reporting ops and has the responsibility to keep data flowing. Their main target is to maximize traffic to Bygghemma's ecommerce store.
Heading the team is Juha Saarinen, Head of Traffic & Analytics. As part of Bygghemma's leadership team, Juha needs to make sure the rest of the company's leadership understands what the key metrics and marketing insights mean in terms of business impact. "With the amount of data going around, we want to be able to make sure that we get all of the insights needed," says Juha.
The starting point
When getting started with marketing reporting, Bygghemma started small by doing a BI platform proof-of-concept project. They got to the point where they could no longer rely on native reports provided by Google Analytics and Google Ads since they didn't provide enough insights. Juha shares that, "I downloaded a desktop BI tool to my laptop and started to work with that. With that small experiment, I was able to show that we could get better information by doing our own reporting. The native reporting in the tools was not sufficient enough and this exercise impressed our leadership."
Juha and his team immediately started to build their own solution for reporting. The solution started to provide them with data, but they soon found out it was very time consuming to maintain. "We were spending many hours keeping the data pipelines running. We had no opportunities to further develop this platform," Juha says. The need for a new solution was apparent after a large influx of new customers to their webstore. "We noticed that there was just too much data. Our solution could not handle it, so we had to look for something new." Juha adds.
Building a data warehouse
Bygghemma had already experimented with the Google Cloud Platform so they were familiar with Google BigQuery. "Google marketing tools are the most used tools in our team. With the synergies found with BigQuery and Google's other tools, we chose BigQuery as our platform and to power our machine learning algorithms," Juha says.
These machine learning models were used to combine online marketing data with Bygghemma's product data. "We needed a lot of data, much more than our solution could provide. These models require a bunch of data, so the need for a new ETL solution was really important," Juha continues.
To assist with getting their data warehousing running, Juha & Bygghemma enlisted the help of Gapps, a Helsinki-based Google Cloud and Supermetrics partner. With the help of Gapps' data engineering prowess, Bygghemma was able to get their data projects up and running. "From the first trial on, working with Gapps was easy and support was always there when we needed it," Juha says.
When it was time to start evaluating different ETL providers, Juha and Gapps went through a shortlist of different options. One important requirement was the need to get a high-degree of granularity and after researching Supermetrics, he found he'd be able to get the quality of data they needed. "We evaluated several solutions but many of them could not provide the data in the granularity we needed. That was a deal breaker. Supermetrics could provide us with the data we needed and then some," Juha adds.
Why Supermetrics
When Bygghemma wanted to find the perfect solution for getting all their marketing data into BigQuery, they found the right fit with Supermetrics for BigQuery. "We had an acute need to get data flowing reliably on a regular basis. On the tool-side, Supermetrics was the right choice. Their native connector for BigQuery helped us get data flowing like from a tap. Plus, we also wanted to have custom schemas for the solution," Juha says.
Since data granularity was listed of high importance, Bygghemma needed to customize their data extractions to their exact requirements. Juha says that, "Supermetrics was willing to offer us this option and help us get this feature kickstarted."
As Juha's team was working long hours to maintain the previous pipelines, they found Supermetrics to be helpful in freeing up their working time. "We now have all our data transfers automated, which frees up time for us. We can use that time to really focus on developing how we use data," Juha adds.
Working with Gapps
To get Supermetrics for BigQuery up and running, Juha and his team enlisted the aid of Gapps. Gapps provided their experience to ensure that their BigQuery environment was set up correctly and running smoothly.
"I think we would have been able to get something done ourselves but it was absolutely vital to have the data analytics experience of Gapps available so that we were able to move forward on a faster schedule. Gapps is bringing their architecture and development knowledge to help us get more out of our data. There are some integrations we need help with, so Gapps is a key partner helping us with that. We're already looking forward to working together to implement our finance and stock inventory data," Juha says.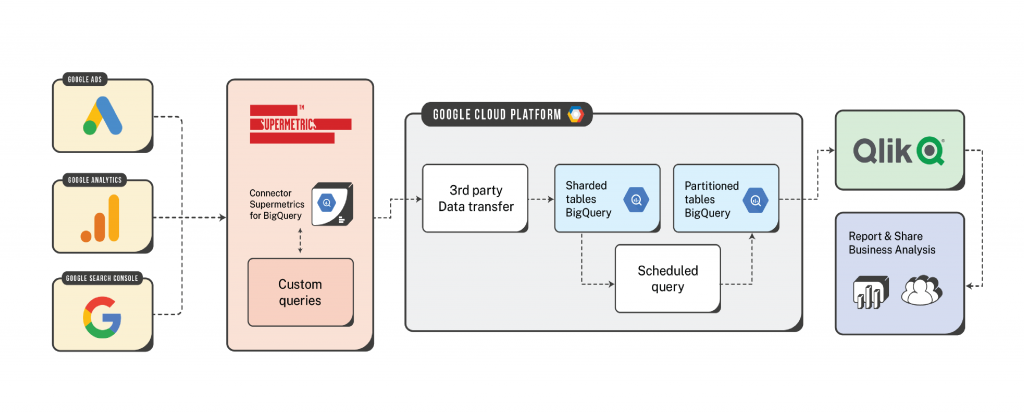 How Bygghemma uses Supermetrics & BigQuery
With the new data pipelines in use, Juha and his team have a whole new view on all of their data. "We have been able to take multiple marketing sources and attribute the whole sales process to them. This has helped us tremendously to optimize our digital marketing operations as we can combine marketing metrics with business dimensions and metrics," Juha says.
These changes have included optimizing the whole cost of sale process. "Comparing marketing data to final sales data helps us see what is the cost of a sale. We see how much a certain product is viewed as we can combine our marketing metrics with business level dimensions and metrics. We can derive instant insights on where to begin improving our digital advertising efforts and analyze and optimize our efforts all the way to actual profit," Juha continues.
"The data we produce is then distributed across the organization through our reporting tool. We can easily share that data with everyone in sales & marketing to help them understand how we are performing and where we should start focusing more. Everyone involved with our sales gets great insights from the data," Juha says.
Overall, the data provided from their marketing data warehouse serves the company as a whole. "We can easily target our marketing operations, as we have a system in place that helps us predict costs. We can see how many impressions we get with a specific online advertising budget. Combining this with our financial data gives us a wider view on our operations", Juha says.
Moving forward
With the initial phase proving to be successful, Bygghema is looking forward to building upon their existing data warehouse. "We're already fast at work at developing new things on top of our current platform. Our near term goals are to get as much data from other marketing sources to our data warehouse. Moving forward, we also want to move data from other sources like finance and customer service systems to further our reporting coverage," Juha adds.
Gapps is one of Supermetrics' channel partners. With the help of Supermetrics, they are able to provide their clients with customized data solutions and help them solve the clients data research questions more effectively. You can read more about our channel partner program here.
Turn your marketing data into opportunity
We streamline your marketing data so you can focus on the insights.