Building BisLenz: a customer experience suite powered by Supermetrics API
Key takeaways
BisLenz is a customer experience suite that helps business decision-makers track and improve customer journeys based on real-time data

Instead of building their own integrations to popular web analytics, marketing, and ecommerce data sources like Shopify, Google Analytics, and Facebook, BisLenz is powered by Supermetrics API

With the help of Supermetrics API, the BisLenz development team has been able to shave off at least a year and a half of their development time
Quick facts
Industry: Computer software
Founded: 1994
Size: ~10 employees
Markets: Global
Products: Supermetrics API
Tridea is the software company behind BisLenz, a customer experience suite that helps business decision-makers surface all the information they need to monitor and improve their customer journeys.
Marko Filenius founded Tridea in 1994 but the idea for BisLenz brewed until 2015. The software was inspired by the notion that the data needed to monitor and improve customer experiences and customer journeys is scattered across dozens of siloed platforms. Together with his small team, Marko wanted to bring all this data into a single tool that's easy for decision-makers to use.
The challenge: Bringing actionable insights to the fingertips of decision-makers
Marko and his team have years of experience in offering marketing services to companies in the travel industry. Over time, Marko noticed that most of his clients struggled with the same problem: limited access to the data they needed to make informed decisions.
Marko explains, "The one thing I heard over and over again is that these companies don't have access to the information they need. The data is siloed between internal systems."
When Marko and his team started looking into existing solutions that solve the data aggregation issue, they quickly realized that most tools favor customizability over ease of use.
Marko says, "I know from experience that implementing sophisticated analytics solutions can take a lot of work. With traditional tools, you need to understand the underlying data models, different technologies, and at least the basics of data visualization. But as you can probably imagine, most business people don't have time to learn these skills."
He continues, "That's why our mission is to make analytics accessible to decision-makers. The problem with most information is that it's siloed, difficult to aggregate, and even harder to analyze. That's exactly what we set out to solve by building BisLenz."
Custom software, powered by Supermetrics API
The BisLenz team found out about Supermetrics when a group of students from a local university were working on a project for them.
Marko says, "We were searching online for ready-made connectors to data sources like Facebook and Google Analytics when we stumbled upon Supermetrics API. Our development team tested it out and it was clear that we'd found exactly what we needed."
Fast forward five years, and BisLenz is a full suite of customer experience tools that consists of four main modules: the executive summary, the customer journey view, the voice of customer toolkit, and the marketing performance summary. Additionally, companies in the travel industry have their own, dedicated view. BisLenz also makes it possible to pull channel-specific data into a single page to e.g. present a summary of Facebook data in a single view.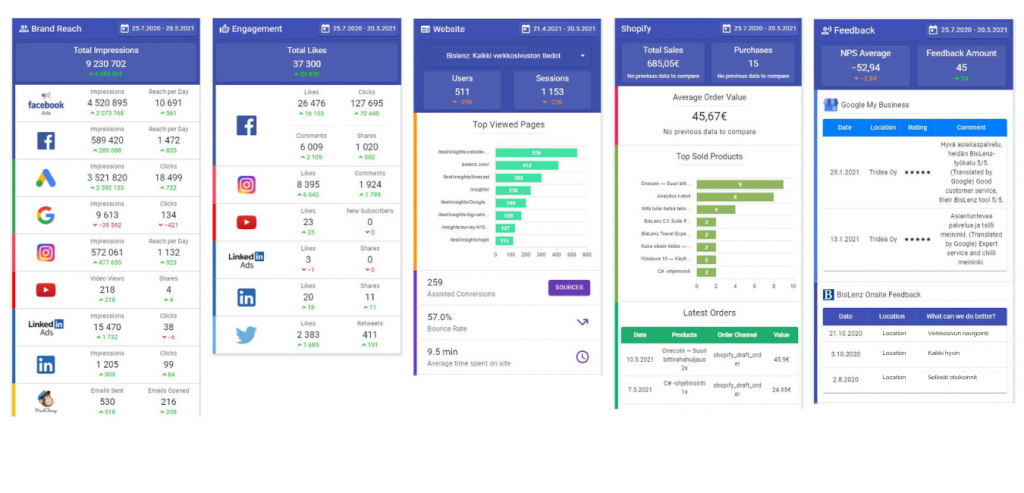 Marko says, "Supermetrics API has shaved off at least a year and a half of our development timeline. As a small company, it would've been very difficult for us to build our custom integrations to every single data source we want to pull data from."
He continues, "Supermetrics API is perfect for our needs because it's so flexible. The fact that we can pull data from dozens of different sources with the same logic makes it easy for us to expand the data sources we can integrate with BisLenz."
A single source of truth for travel and ecommerce businesses
Today, BisLenz serves two major segments: the travel industry and ecommerce.
Marko says, "Our clients in the travel industry have been ecstatic about all the things they can do with BisLenz. One of our newest clients even said that the platform 'saves their life'."
In addition to serving companies in the travel industry, Marko and his team have also more recently expanded into ecommerce.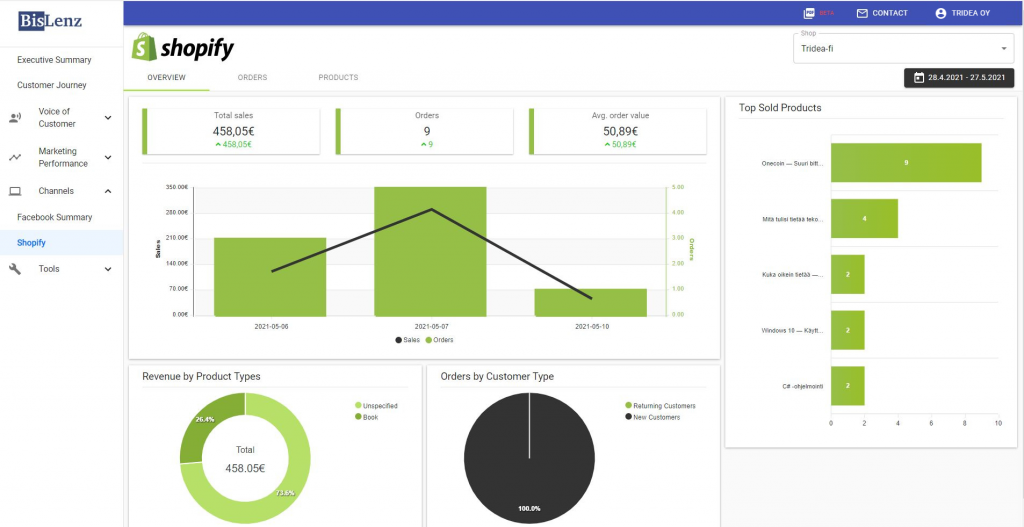 Marko says, "A while back, we started looking into integrating Shopify data into BisLenz. Getting Shopify data flowing into our reports only took a few hours with the Supermetrics API."
Improved customer and developer satisfaction as well as faster time to value
Overall, the BisLenz team couldn't be happier about their partnership with Supermetrics.
Recently, they even published a mobile application that brings BisLenz's executive summary to the pockets of business decision-makers.
Marko says, "Overall, our clients love the fact that we're now able to bring digital and social media channels together in a single view. This allows them to get a holistic view of their customer journeys."
When it comes to the future, the BisLenz team has a crystal clear roadmap. They're currently working on two major development projects:
An artificial intelligence solution that helps companies predict annual recurring revenue based on historical data
A language processing feature that helps with sentiment analysis for customer feedback
Marko says, "Supermetrics speeds up our new development initiatives. All we have to do is build a new visual view, and Supermetrics API takes care of feeding the data there. This way, we're able to innovate and meet new market demands quickly."
Turn your marketing data into opportunity
We streamline your marketing data so you can focus on the insights.