Google Sheets and Apps Script educator helps others take their data to the next level using Supermetrics
Key takeaways
Ben Collins was one of the first partners to join the Supermetrics affiliate program back in 2018

He offers a variety of video and live courses to help people from all over the world take their Google Sheets and Apps Script knowledge to the next level

Beyond connecting marketing platforms into his Google Sheets, Ben is able to leverage Supermetrics for content creation and recommend it to his course participants

He organized the world's first online conference dedicated to Google Sheets
Quick facts
Industry: Data analytics education
Founded: 2015
Markets: Global, the United States
Products: Supermetrics for Google Sheets
Ben Collins is a US-based Google Developer Expert and Data Analytics Instructor. Along with helping marketers and companies set up their first analytics dashboards in Google Sheets, Ben was one of the first partners to join the Supermetrics affiliate program back in 2018.
At that time, he offered consulting around data analysis and data visualization through his website. Nowadays, Ben provides a variety of video and live courses to help people from all over the world take their Google Sheets and Apps Script knowledge to the next level.
Looking for the perfect solution
About five years ago, after switching from working as an accountant to opening up his blog and online courses about Google Sheets, Ben was looking for a solution that would bring all his marketing data into one place. "Before Google Sheets, I had spent all my time in Microsoft Excel and that's where I learned how to get good with spreadsheets. I didn't enjoy being an accountant, but I did enjoy all the technical side of it, and I learned some coding along the way, and how to work with databases," he describes his journey.
It had become apparent to Ben that manually downloading CSV files and importing them into Google Sheets wasn't a sustainable solution. "It was prone to error and tedious," Ben says. He even had a go at using App Script to program some solutions. But there was a drawback—he had to maintain that code to keep it working in the future. "Sometimes it will go wrong for an unforeseen reason. Your data changes in some way from the third party and that breaks your connector. So it's not really like a hands-off approach," Ben explains.
Getting to know Supermetrics
Ben's acquaintance with Supermetrics started with setting up key connections. He got to know Zhao Hanbo, currently Head of Business Development at Supermetrics, and met Mikael Thuneberg, founder and CEO of Supermetrics, at Google Next Conference. After that, Ben became a Supermetrics friend, working together with us on several projects and later turning into an affiliate partner.
It was a perfect match for both. Ben says: "Beyond connecting some of the marketing platforms into my Google Sheets, Supermetrics also would give me excellent examples for content creation for blog posts and suggestions for people when they ask in my courses and things."
Ben found Supermetrics for Google Sheets to be a handy and advanced tool back then because not many companies focused on developing products for Google Sheets. He says: "It was great Supermetrics got onto that bandwagon way ahead of the curve and embraced Google Sheets. That was really smart. With Supermetrics, I could just focus on getting the data and doing whatever I want to do with it."
Becoming one of the first Supermetrics affiliate partners
It was soon after getting to know some of the folks at Supermetrics and engaging in a few projects together using the Supermetrics tool when Ben realized that there was a mutually beneficial relationship taking place.
Joining the program as an affiliate partner was a way of formalizing the relationship Ben had built with Supermetrics. He decided to place recommendations in a few blog articles and training materials on his website. Everything happened quite organically, according to Ben.
Recommending Supermetrics to course participants and blog readers
Ben has multiple training courses on his website, with topics ranging from advanced Google Sheets formulas, building dashboards and pivot tables to data analysis and Google Apps Script. These courses are not tailored to any specific industry but they are most suitable for people who are already competent with Google Sheets and want to take their skills to the next level. And for example, those participants with a marketing background are a prime audience for showing how to work with their data using Supermetrics. But they're not the only group taking Ben's courses.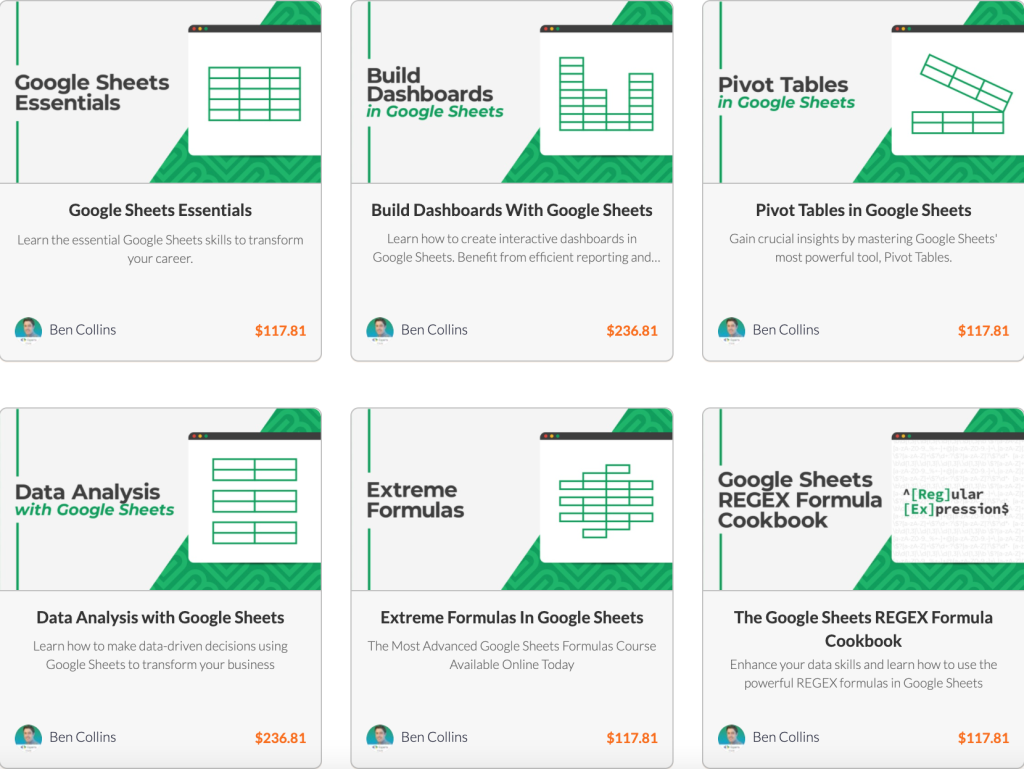 "Solo entrepreneurs, small and medium-sized companies, then some giant corporations with tens of thousands of people. A really interesting mix. And all across different industries as well: educators, digital markers, finance experts. It's good to bring those people together and let them share different ideas," Ben explains.
So, besides courses, how does Ben create content around Supermetrics? Sometimes, the process can start from a template. A couple of years ago, he built a dashboard for Facebook Ads that became popular. Then, he wrote a detailed blog post about it, explaining how you go from a blank Google Sheet, which is often daunting to people, to a finalized dashboard for your Facebook Ads. One of the steps involved was to connect the data via Supermetrics.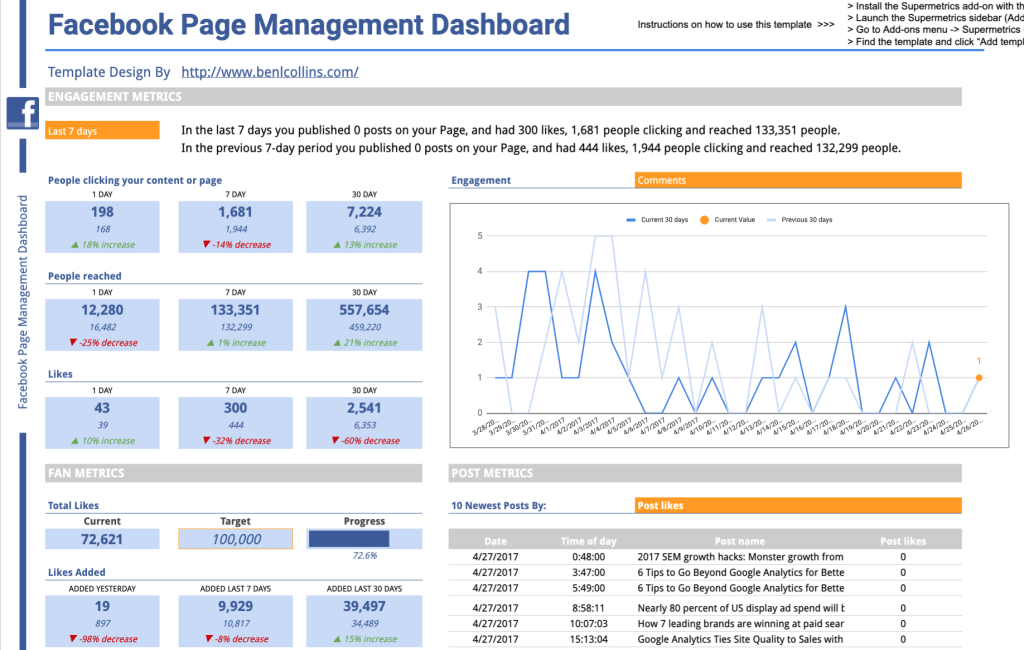 Other times, Ben simply recommends Supermetrics when chatting with people about analytics and how to connect and play with their data. While some might choose to go down the coding route and use App Script, there are also those who see the benefit of using a third-party tool like Supermetrics to connect their data to a spreadsheet without a need for any additional tinkering. And that's when Ben can put his expertise and trustworthiness into good use and endorse the tools Supermetrics has to offer.
Organizing SheetsCon
The world's first online conference dedicated to Google Sheets, SheetsCon, happened in March 2020. This was a side project Ben created and organized in an attempt to bring Google Sheets experts and enthusiasts together. And it turned out to be highly successful—over 6,700 people registered for the online event and thousands more logged in to watch the live stream presentations.
The event had many elements similar to an in-person conference. For example, there was a virtual main stage where all the presentations took place, video chat-based networking, roundtable discussions, and an expo hall where each sponsor had their own booth—a page where they could have a live video session and chat with the attendees. Supermetrics was one of the SheetsCon sponsors that supported the event and got exposure for its products.
And the timing at the beginning of the pandemic was incredibly convenient for a virtual event. It's as if Ben had some insight into the future when he scheduled the event half a year in advance. For now, SheetsCon is on hold but we recommend being on the lookout for news about its possible return later.
Plans for future partner activities
For the last two years, Ben has been focused mainly on creating and promoting the guides and courses around Google Sheets. He also has launched the SheetsCon event, which turned out to be a success.
For the upcoming year, Ben's plan is to keep on track with the courses and look into other products, like Data Studio. "There's still a few more courses with Google Sheets that I want to do. I think there's so much mileage, and it's the area I know, but I'm really interested in Data Studio. So I'd love to potentially do a course on it in the future," he shares.
Besides growing the existing knowledge base, Ben plans to expand his training to cover Google Workspace products like Slides, Forms, and brand-new projects like Google Tables. "There's all the Google Workspace stuff as well: like Slides, Forms, Docs, that I use every day that I might do some training around. Actually, I know that there are people who have asked me for it, and it's all limited by time," Ben clarifies.
As part of his future endeavors, Ben plans to keep up with the new courses and training as much as possible. He intends to create fresh guides about Supermetrics products and put extra effort into promoting them through various marketing activities. So, let's follow Ben's journey and see what kind of blog content and courses he comes up with in the future.
If you're interested in becoming a Supermetrics partner like Ben Collins, read more about our partner program and get in touch with us.
Turn your marketing data into opportunity
We streamline your marketing data so you can focus on the insights.