Jan 7, 2020
Voice search for affiliate marketers – Everything you should know
6-MINUTE READ | By Hetty Korsten
[ Updated Jan 31, 2023 ]
We are led to believe that voice commands will change digital marketing, but what will voice search mean for affiliate marketing? In this article, we discuss the impact of smart voice devices on affiliate marketing and share tips to prepare your website for the rise of voice search.
What is voice search?
Voice search is a way for people to search the internet with the use of voice command. It's also known as ''voice-enabled.'' In a broader sense, voice search includes Google Voice Search, Cortana, Echo, Amazon and Siri. It often involves a series of interactions to bring clarification to a voice command.
Voice search is growing in popularity fast
Voice search is increasing in global popularity. In 2018, shipments for voice command devices doubled. Amazon shipped the most, with Google as a close second. The number of households that have a smart speaking device is expected to increase in upcoming years.
Of all voice searches, most are made through Google Home, Amazon Echo, Siri or Alexa. Most searches are made at home or at work. Almost half of users (45%) find smart speaking devices reliable and usually able to answer their voice queries in 2 to 3 tries.
It is interesting to see that users of 65+ years old use smart speaking devices most often. Half of them even use their devices 1 to 3 times per day!
When you start preparing your affiliate marketing activities for voice commands, it's good to know if your target group is likely to use voice search. You can read more about different target groups for voice search in this article from Search Engine Land.
Affiliate marketing with voice search
To be successful in affiliate marketing, it's crucial to keep up with today's digital trends. In order to stay ahead of the competition, it's important to integrate changes to your website as soon as possible. Voice search might impact your referrals, due to its effect on direct purchases and Google Search.
Find other trending affiliate marketing strategies in this article.
Voice commands and direct purchases
Let's look at, for example, Alexa, Amazon's virtual assistant on the Amazon Echo device. Customers are able to make direct purchases by voice command through Alexa. Users can ask Alexa for products and receive options in the product category requested.
Now if you are enrolled in the Amazon Associates Program, the question is; will you lose referrals because voice command is on the rise? And the answer is yes and no.
As more people start using voice command to order products, this can affect people who would otherwise sit behind a desktop, find products on Amazon and look up some reviews online. This could be a review from your affiliate website, for example, in which case you would lose this referral due to voice command.
You can, however, argue that users who want to buy in this quick and convenient manner would be the ones that go directly to the purchase website without doing more research.
How much your site will be affected by direct purchase through voice command in the future will also depend on your niche. Some products are more suited for a quick purchase through voice command, while other products require more investigation before purchase.
Voice commands and Google Search
Traditional search through search engines is still going strong, regardless of the growth of voice search.
Certain processes of affiliate marketing will stay the same through Google Voice Search. After people reach a website, found with the help of voice search, they can land on your affiliate website and become a referral after clicking your affiliate link and purchasing a product.
However, SEO (Search Engine Optimization), will be a bit different. You will need to optimize your affiliate website for voice commands rather than typed keyword queries. Including questions in your content is one way of preparing your site for search commands, because many search commands are questions.
How to optimize your affiliate website for search commands?
Optimizing your affiliate site for voice commands seems logical but isn't something that the majority of websites are doing at the moment. This means you can have an advantage over your competitors by being one of the first to cater to voice commands.

Compared to text-based searches, voice-based searches are usually more specific. They often include more search words. For example: ''Where can I buy new headphones?'' or ''What tools can I use for email automation?''
Optimize your content for these questions and answers. Guides and FAQ sections tie into this idea perfectly, as they can contain keywords for different searches as well as questions.

One of the reasons people choose voice search over keyword search is to have an answer quickly. For that reason, your content should be pretty straightforward. This does not mean that content optimized for voice search is necessarily shorter than content for regular search. It just means that your content should be easy to navigate.
Voice searches are often done on mobile phone, so your page and content should look great on mobile devices. With less space compared to a monitor, you want to be even more to the point with your mobile affiliate strategy. Again, people who choose voice search often want to save time. They want to be able to find the information they're looking for fast, also on their mobile device.
Voice search is just one way of optimizing your content. You can find more tips to improve your affiliate content in our article: Affiliate marketing for content marketers.
Voice search for affiliate marketing – stay ahead of the game
Affiliate marketing is becoming more innovative and competitive than ever before. Stay ahead of the game and embrace the new development. Be creative, and think how voice search could work for your affiliate niche.
If you want to explore an affiliate partner program in the marketing niche, check our Supermetrics partner program and earn 20% recurring commissions from each sale you bring us. Or take a look at our guide for affiliates.
---
About Hetty Korsten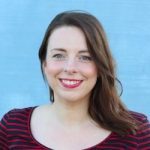 Hetty Korsten is a Partner Marketing Manager at Supermetrics. She has worked for fast growing SaaS startups in Copenhagen and Helsinki. Currently, she's growing the in-house partner program at Supermetrics. Feel free to connect with her on LinkedIn.
Turn your marketing data into opportunity
We streamline your marketing data so you can focus on the insights.