Sep 24, 2019
Ultimate guide to affiliate marketing
20-MINUTE READ | By Johannes Rastas
[ Updated Jan 31, 2023 ]
If you work in marketing, chances are that you have heard of affiliate marketing. But maybe you would still like to hear more before embarking on your affiliate marketer journey. Perhaps you're a blogger, an SEO or PPC professional, webmaster, or agency marketer. Or maybe you're just looking to make money from home. Either way, affiliate marketing allows you to generate passive income by recommending, sharing or promoting the products or services of a business. The business who's usually the creator of the product or service is also known as the merchant.
SaaS Scout reported that affiliate programs drive 15–30% of all sales for advertisers in their 2020 Industry Report. This is a good indicator of how much potential there is in affiliate marketing.
This ultimate guide introduces the ins and outs of affiliate marketing, covering everything you need to know before getting started. In case you're interested in reading more about the basics of affiliate programs, you may check our earlier post about the launch of our program.

Navigate this post:
How does affiliate marketing work?
Affiliate marketing is a performance-based model where a merchant rewards its affiliates for attracting visitors or customers. Affiliate management refers to the process of establishing and scaling relationships with a myriad of marketers that drive traffic and sales.
If you happen to be a blogger or social media influencer, you can leverage the value of your loyal community through affiliate marketing. When you have gained the trust of your audience, people are more likely to convert into customers which will bring you more commissions.
Instead of getting paid up front for their marketing efforts, affiliates only get paid when a desired action takes place. Typically, the desired action means sales. This is good for the merchant because it removes the uncertainty about whether a marketing investment is in fact profitable.
Affiliate programs and networks
Affiliates are managed within an affiliate program. This affiliate program is run on a platform where a business places its offers and affiliates sign up to promote these offers and bring new customers to the business. In return, affiliates receive compensation, usually a percentage of each sale or a fixed sum for bringing in new customers. For example, Supermetrics offers 20% recurring commissions for every subscription purchase made by your referrals.
Another important term in affiliate marketing is affiliate network. Put simply, it's a collection of both affiliate programs and affiliates. A major difference between the two is that within affiliate programs businesses only have affiliates that promote their products. In the network, affiliates are free to join and promote multiple products and services in different categories. The network manages all transactions internally and gets a share of the transactions. Therefore, by joining a network, a company needs to pay for both the network and the affiliates.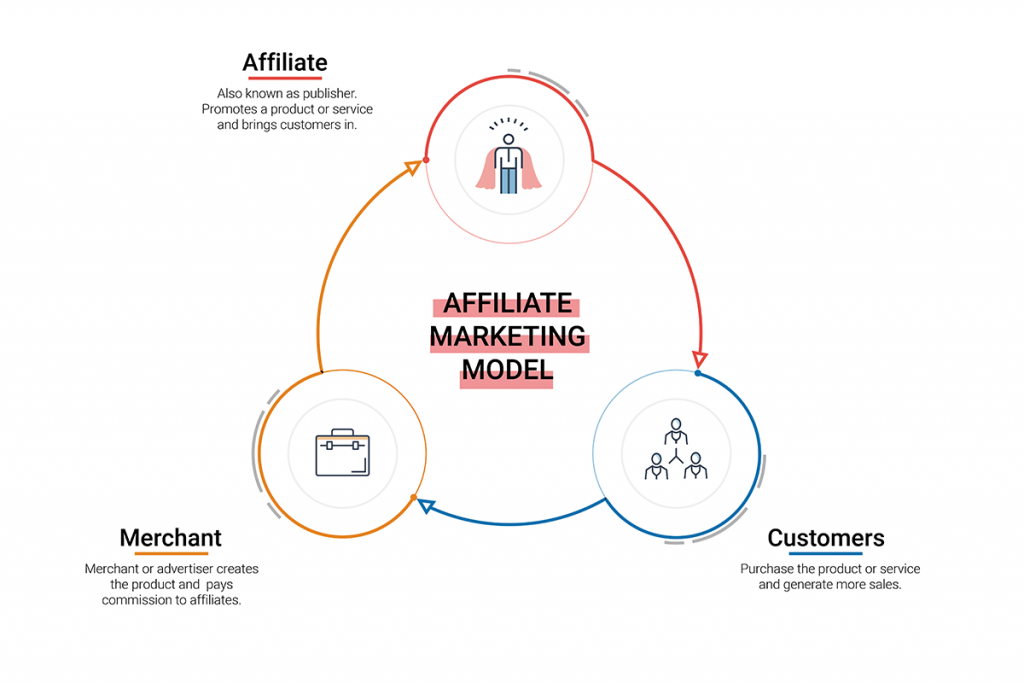 Who are the affiliates?
An affiliate can be any individual or company who helps promote a product or service for a business. The promotion can be done, for example, through paid advertising, direct referral or by creating content such as blog posts, videos, and newsletters. You may also compile an email list or try to capture search traffic to your website by using SEO techniques.
Given this, there is no one-size-fits-all characterization of an affiliate marketer. A common feature is that they receive a commission when their visitors create a transaction. This usually refers to sales but it can also mean signing up for a newsletter or clicking a link, for example.
For SaaS companies such as Supermetrics, most affiliates are marketing professionals such as agency marketers and marketing bloggers. However, it depends on the product being promoted. One of the main requirements is that as an affiliate you understand what you're promoting.
Who are the merchants?
The merchant is, in most cases, a business who is also the creator of the product or service. These merchants employ a revenue sharing model where they offer commissions to individuals and businesses who can promote their products. They can range from large enterprises to individual entrepreneurs, or even individuals, who are willing to pay for the affiliate transactions.
Affiliate marketing pros and cons
Affiliate marketing is not a shortcut to earning a high level of passive income. It requires a lot of effort and many unexpected obstacles may come your way. To better understand what you're getting yourself into, here is a list of the pros and cons of affiliate marketing:
Pros
Source of passive income – You're able to generate passive income. Once you create your optimized content and embed your links, you tap into a profitable source of passive income. This allows you to dedicate your time on your main source of income, whether it's a full-time office job or your own business.
No major investments – You don't need to make any significant investments with regards to money or time. Once you set up your website and join the affiliate programs, all you need is unique content and your referral links. Getting started doesn't require you to be a marketing professional with many years of experience under your belt.
Cons
High level of competition – Getting started with affiliate marketing is easy but it also means that competition can be intense between affiliates. You're competing for leads and clicks and trying to find the most promising affiliate programs, while avoiding those that are fraudulent.
No control over offers – As an affiliate marketer, your control over the products or services you're promoting only extends to choosing the affiliate programs. After that, you have no control over what you promote. That's why you should choose the affiliate programs carefully.
How to get started with affiliate marketing
In theory, being an affiliate marketer simply means joining the most promising affiliate programs you can find, inserting your referral links to your content and waiting for your commissions.
But if you want to earn proper income from affiliate programs, you need to follow certain guidelines. Here is a list of steps that will help you get started as a successful affiliate marketer: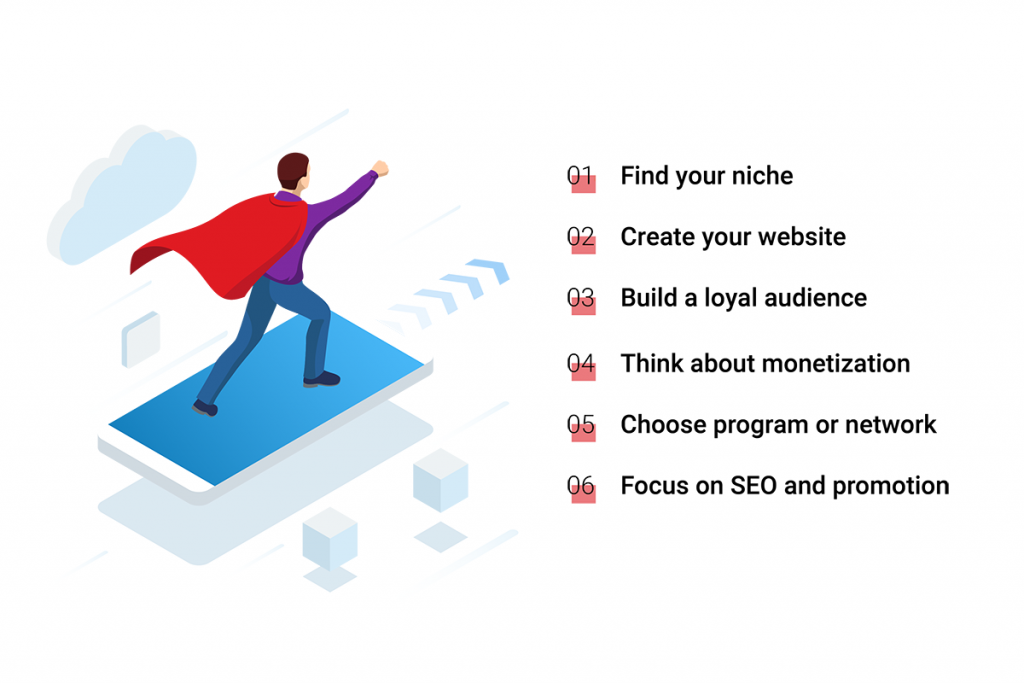 Find your niche
Decide which topics you feel passionate about and narrow it down to a specific niche. To make sure that your business is sustainable in the long term, choose a niche that you're already familiar with so that you have some expertise to offer for your audience. Focus on unique, valuable content that provides a solution to a problem.

Create your website
In case you already have a website, you can skip this step. Otherwise, start by choosing a domain and buying hosting services. These two often come in the same package as a bundle. Make sure that your domain is memorable and easy for people to spell.After this, all you have to do is choose the right platform. The easiest option is to install WordPress and pick a suitable theme for your website.

Build a loyal audience
You cannot expect your visitors to convert if you haven't offered them any value. It's important that you build a loyal audience before starting to monetize your content. Monetizing too early is actually one of the top 10 mistakes affiliates make when starting out.

You should think about affiliate marketing as an exchange. You provide valuable content to your audience, and in return your audience might consider any offers that you present. Of course, provided that these offers bring value to them by solving a problem they have.

Think about monetization
Once you have picked your niche and built an audience, think about how to monetize it. Whatever you choose to write about needs to bring you money in the long term. There can be a conflict between your passion and profitability. But since your primary goal as an affiliate marketer is to make money, the monetization aspect is important. Make your research to confirm that your niche has enough monetary potential.

Choose between affiliate programs and networks
Affiliate networks are more suitable for you if you have no particular strategy or clear idea about your niche. Maybe you just want to try your hand at affiliate marketing and see how it works out. If, however, you're determined that you prefer to work in affiliate marketing on a larger scale, it's better to consider, for example, SaaS affiliate programs. Software as a service (SaaS) has the potential for higher profits since the value of such software is higher. Many of them, including Supermetrics, sell recurring monthly licenses to their software which means recurring fixed commissions for you as an affiliate.

Keep offering unique value
For content affiliate marketers especially, it's crucial that you add uniqueness and originality to your content. You can do this by providing details such as examples and use cases or sharing the results of your own experiments. The majority of blogs recycle the same ideas, so there's less competition for entirely unique content. Uniqueness is your key to standing out, generating traffic, and converting your visitors.

Gather unique data, connect with experts, or present unique insights about your niche. You just need to carry out the research and have something unique to offer. For example, you could use free trials to test the products before producing a review or comparison post.

When you conduct any kind of research related to your topic, your content becomes harder to reproduce. Details add originality to your affiliate content and give your readers a reason to stay. After building content authority, you can focus on the intent of your audience and choose topics that are likely to convert but not too competitive to rank for. This way, you will maximize your potential to earn affiliate commissions.

Keep in mind that your main goal is to convert visitors instead of just attracting a large number of visitors to your site.
How to attract traffic: paid or organic?
As you probably know, traffic is the volume of visitors you get to your landing page. It's a determining factor in evaluating how many potential customers you can bring for the merchant.
A difference can be drawn between organic and paid methods of attracting traffic. Paid methods require actual money but they tend to take less effort and are easier to implement. And organic methods are not exactly free, either. They demand a considerable amount of time and effort even if you're not directly paying for anything.
Organic traffic
If we look at organic traffic, the most common methods include content creation and SEO.
You can create valuable content on different platforms such as social media channels, blogs, and YouTube. The key point here is that your content offers value to your audience. Converting them is highly unlikely unless you've established yourself as an expert in your chosen niche.
You can also post excerpts or snippets from your website content on social media and link to the original content. This content repurposing is a good strategy for affiliate marketers who want to direct traffic from social media to their website.
SEO refers to optimizing your website so that it ranks higher in search engines. There are many different SEO techniques, and if you want to read more about them, you may check our earlier post about SEO techniques on our main Supermetrics blog.
Paid traffic
Paid traffic means buying ad space to promote your affiliate offers. There are different ways to do this, too. For example, you may pay for conversions only, or you may pay for views or clicks. It all depends on your goals. But in most cases, merchants pay commissions only for conversions which is why it's the most common way of using paid ads as an affiliate marketer.
Deciding between paid and organic traffic is up to you. If you can afford using the paid methods, it can pay off since you get more instant results and you have a higher potential to earn a lot. And if you have the time, you might want to use both paid and organic methods to attract traffic.
How to find the best affiliate programs?
Finding the right affiliate programs is key to your success as an affiliate marketer.

1. Google search
The most obvious way to get started is to make a Google search. Simply search for ''affiliate program'' + ''your niche.'' Or if you have a specific product already in mind, search for ''affiliate program'' + ''product name.'' Ideally, you should use those products yourself so that you know what you're promoting. You can at least check if they offer free trials and test the product.
2. Affiliate directories
Affiliate directories comprise another way to find good affiliate programs. They're listings of affiliate programs used by both affiliate program managers and affiliates. Affiliate managers use them to get visibility for their program and affiliates use them as a database for finding new affiliate programs to join in their niche.
These directories are usually sorted by topic or type of commissions, which makes it easy to find multiple programs in the same category. You can find them by searching for affiliate directories on Google or find articles that mention and list different directories.
3. Competing products
You can also look for products that are competitors for the ones you're already promoting. Find out if they have an affiliate program. And if they do, consider creating a comparison article about the competing products, for example. Similar to reviews, comparison articles can provide your audience with value by helping them decide between multiple products. They're also good for targeting prospects who have a high purchase intent.
4. Affiliate links
Finally, an alternative way is to look for affiliate links on websites similar to yours. Start by making a list of such websites.

You can check the analytics for your domain and find both organic and paid competitors on tools such as SEMrush and Ahrefs. Or you can find top websites for topics in your niche using their keyword analytics. If you don't have access to these tools, you may use the free version of SimilarWeb, for example, to find similar websites.
The easiest way to find affiliate links on those similar websites is to use backlink analytics on any SEO tool and check their backlink profiles. Another option is to visit the websites and look for affiliate promotions on their pages. Click on the links and see if they have an affiliate ID at the end. The end of the link can similar to this: ''htm?id=1234.'' This affiliate ID is used for tracking sales from that link, and it indicates that the product is part of an affiliate program. Then, go to the product's website, sign up for the affiliate program and start promoting it.
Tips for preparing your blog for affiliate marketing
If you already have content on your blog, a good way to get started is to look at your top pages and see if they would lend themselves to affiliate promotion. You can also update your existing content, especially those articles with a promising keyword that are not ranking on the first page.

Just don't go overboard with the promotion. Only add affiliate links where it makes sense. For example, if you provide an overview on a topic, you can add depth to it by explaining how you handle that process yourself using those tools that you promote as an affiliate.
Your actual money pages are more likely to be reviews and comparisons that dig deeper into the products and their features. With these reviews and comparisons, you attract more bottom-of-the-funnel traffic that is more likely to convert than the traffic you get when you target more generic keywords.
Try to keep a balance between informational and transactional articles. Guides and tutorials bring value to your readers, even if they're not as conversion-focused as reviews and comparisons.
When adding promotions to your content, take advantage of the free marketing materials provided by the affiliate programs you've joined. Decide whether to use text ads, CTA buttons, banners, or a mixture of them. Align these ads with the design of your blog. And to maximize clicks and conversions, it's better to add them higher than only at the bottom of the page.
Once you've done all that, don't forget to promote your blog outside of your website. Use social media, guest posting, link building, content collaborations with other bloggers, and email lists to drive more traffic to your blog. To incentivize visitors to sign up for your newsletter, you can offer discounts or ultimate guides, for example.

Read more about how to prepare your blog for affiliate marketing.
How to build backlinks to your affiliate site?
Having a good backlink profile is vital for any affiliate who relies on content marketing to drive affiliate sales. To optimize your affiliate website for organic traffic, you need detailed and useful information that matches the intent of your targeted search query.
For organic results, your ranking depends mostly on the number and quality of backlinks and the relevance and quality of your content. That's why it's important for you to choose affiliate products based on your ability to rank for relevant keywords.
If you choose a saturated niche where all keywords have a high difficulty score, you will need a fair number of backlinks and referring domains pointing to your articles to be able to rank on the first page.
Below is the SERP overview for "best website builders," which is a popular keyword among affiliate marketers. It has a difficulty score of 77, which makes it hard to rank for, especially if your domain rating is not in the same range with them.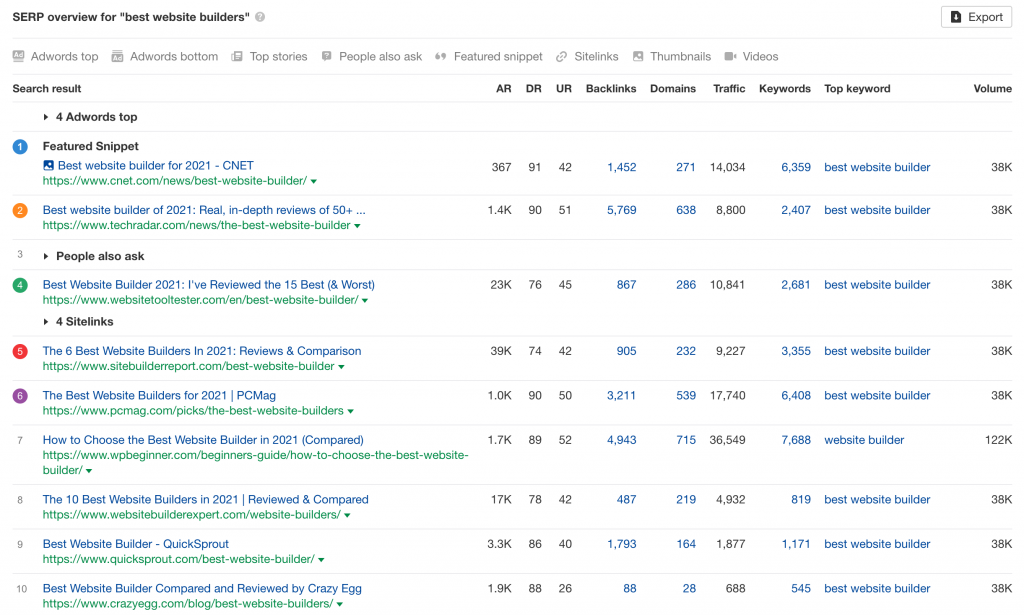 So, what's the best strategy to build backlinks to your affiliate site then? Well, creating detailed and useful content that's unique and relevant to your focus keyword is the starting point. And that's already plenty of work in itself. But it doesn't end there.
As pleasant as it sounds to attract enough backlinks organically, the reality is that you need to create a backlink strategy that involves link building partnerships with other bloggers. Reciprocity-based collaborations are an effective way to maximize your backlinks. These backlinks are incremental to the links you gain organically.
To get started with link collaborators, collect a list of potential link building partners in your niche and reach out to them. Join also some communities on social media for bloggers or create a new one. The benefit of these communities is that you don't need to contact the same collaborators one by one when you want to cooperate with them again. You can simply post your offer in the community and pick the ones whose articles match your content. Relevance is key in link collaborations, too. So, make sure each link actually adds value to your content.
On top of link collaborations, submitting guest posts and comments to roundups remain effective ways to build backlinks. And the benefit of guest posts and roundup insights compared to link collaborations is that you earn valuable links without having to link back to anyone's website. Once you get more credibility as a guest author, it becomes easier to pitch new guest posts to well-known and respected high DR websites.

For roundup insights, HARO is still the top platform, at least based on the number and range of queries. And similar to guest posts, it helps if your own website has a decent domain rating and if you possess some online credibility. But with platforms like HARO, those pitches that are not accepted will usually end up being wasted since each comment is tailored to a specific query.
How much money can you expect to make?
Given that affiliate marketing covers a variety of niches, it's difficult to give any accurate estimate of the average affiliate marketer revenue. In our affiliate statistics post, we mentioned a benchmark report by AffStat where 35% of the affiliates who participated in their poll disclosed an annual revenue of at least $20,000 resulting from their affiliate marketing efforts.
However, many affiliates use affiliate marketing only as an extra income stream and dedicate minimal effort on the channel. Some of them might simply recommend products to their friends and acquaintances, while others promote multiple affiliate products actively through different programs and networks and make it their primary source of income.
The wide range of affiliate commissions makes calculating the average commission amount redundant. Another influential factor is whether those are recurring or one-time commissions. In SaaS companies, the subscription-based pricing model allows recurring affiliate commissions, which adds to the cumulative earnings of affiliates working in that niche.
It's not uncommon for the smallest commissions to fall below $10, while some affiliates who manage to bring big clients can make thousands of dollars per commission. Aside from the total annual earnings per affiliate, estimating how much money you can make as an affiliate would require looking at the frequency of commissions and their modal value (most commonly occurring amount).
Top affiliate marketing mistakes
Considering that the most important factor for success in affiliate marketing is product-audience fit, it makes sense that a lack thereof is the top affiliate marketing mistake. To avoid promoting the wrong products, make sure your affiliate offers are relevant to your audience.
This brings us to another common mistake: monetizing too early, or promoting products to an audience that isn't there yet. The correct order of things is to first choose a niche and build an audience, then join affiliate programs and monetize that audience. For content creators, this means covering topics with informational intent before creating more transaction-focused content.
Don't bombard your articles with affiliate links from the get-go. Take your landing page experience seriously. It measures how well your page meets visitors' expectations and is one of the ranking factors used by Google's PageRank. Monitor the top search queries to your website and individual pages on Google Search Console, for example, to understand your audience better.

While product price matters, it's not the only factor you should take into account when choosing affiliate products. Choosing only high-priced affiliate products in the hopes of earning higher compensation and selling fewer items can be a mistake, too. Especially, if you choose an item that your audience doesn't need or if it has a too small pool of potential referrals.
On top of product price and audience fit, consider also market demand, level of competition, your own expertise, commission rate and type, sales cycle length, and additional incentives provided by the affiliate program.
Whatever affiliate strategy you choose, make sure not to violate the program's terms and conditions by trying to find loopholes. The most common examples would be self-referrals, coupon abuse, or bidding on the merchants' brand terms in paid ads and linking directly to their website. But none of these are good long-term strategies. They will ultimately only lead to the termination of your affiliate account.
So, don't try to be the middleman between the buyer and the seller without adding any actual value. And don't expect to achieve immediate results. Affiliate marketing is all about long-term payoffs.
Conclusion
We hope that this ultimate guide to affiliate marketing has improved your knowledge about affiliate marketing. The purpose of this blog is to bring added value to our audience and help you advance to the next stage on your affiliate marketing journey.
While it may take some time to get started, you will soon notice the vast potential of affiliate marketing as a source of passive income. And if you haven't joined our Supermetrics partner program yet, make sure to take a look. We offer 20% recurring commissions along with a 90-day cookie life and give you access to a range of marketing materials to help you with the promotion.
---
About Johannes Rastas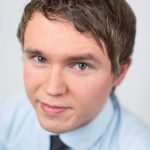 A Partner Marketing Manager at Supermetrics, Johannes focuses on expanding the Supermetrics partner program and collaborating with their existing partners. He also works with SEO and content on a daily basis. Feel free to contact him on LinkedIn.
Turn your marketing data into opportunity
We streamline your marketing data so you can focus on the insights.