Dec 8, 2020
How to track affiliate sales in Google Analytics
9-MINUTE READ | By Svetlana Gryaznova
[ Updated Jan 17, 2023 ]
Always Be Closing! The ultimate goal of any affiliate marketer is to generate conversions since that's what brings them affiliate revenue. The most common way to do that is to have a website, where an affiliate creates content to attract new leads. And a share of those leads end up converting.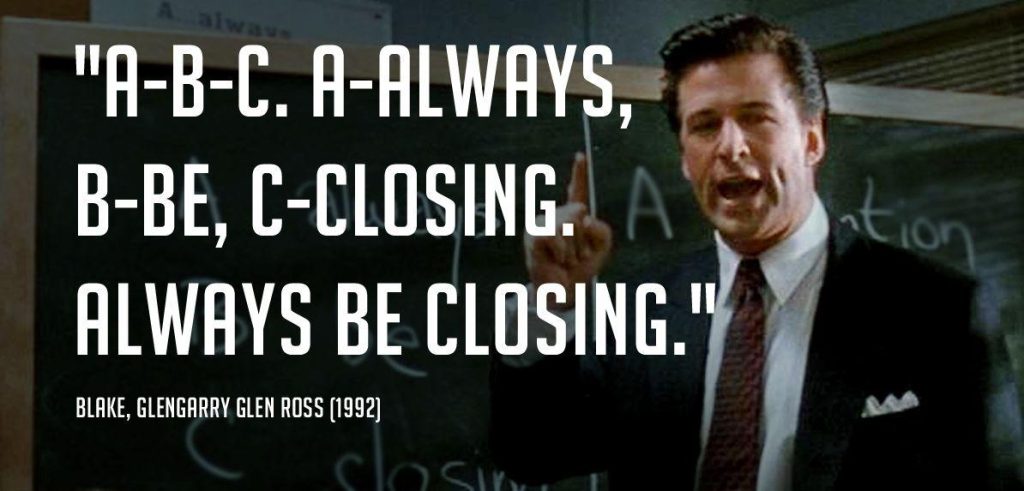 But how to make sure you get the most out of your content as an affiliate? Data is the answer. And Google Analytics is a powerful tool that'll help you collect and analyze it.
But first, before we dive into the world of tracking affiliate sales, let's agree on these:
Google Analytics is not an affiliate tracking software.
You have to be a website owner to track the performance of an affiliate link, as it is located on the company's property. Usually, some data, such as traffic logs and conversions, is available to you through your personal affiliate dashboard.
As an affiliate marketer, your website is where you insert affiliate links and create content to attract users and generate revenue. So, obviously, analyzing a website performance is an important part of your affiliate efforts. In this article, we'll focus on how to track, analyze, and report on your affiliate website visits and conversions.
Getting started
Let's start at the very beginning. Google Analytics is a free web analytics tool that lets you collect, track, and report information about your website visitors.
The very first thing to do is to have your affiliate website ready. Once settled, it's time to set up your Google Analytics account. Use your email to log into analytics.google.com, then go ahead and set it up for free.

As soon as you fill in the Google Analytics account name and decide on what data you'd like to share with Google, you'll be redirected to a Property details window.
Being an affiliate marketer, you're looking for website analytics only, as you don't have any app. So, to focus on that, I recommend you start by creating the Universal Analytics property that doesn't include app measurements.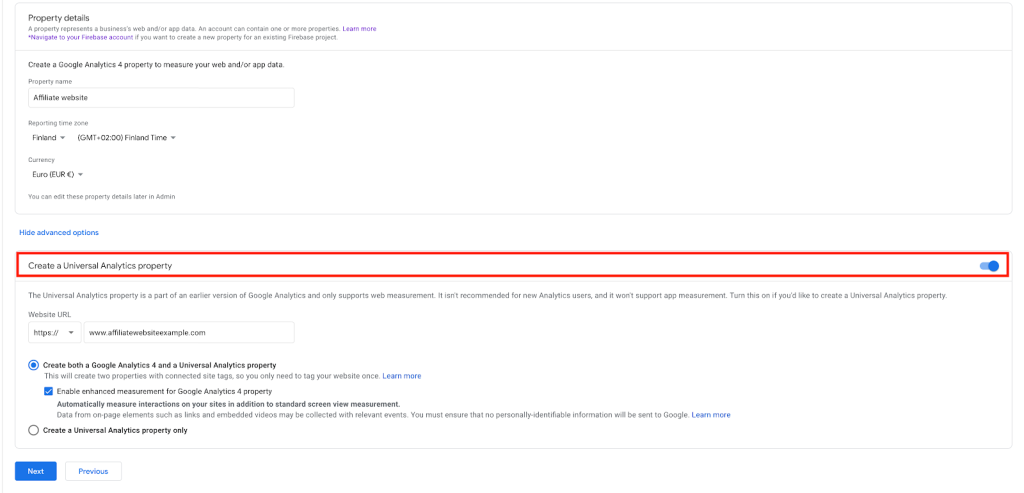 Then, fill in your business information and hit 'Create.' You'll finally get access to the tracking ID.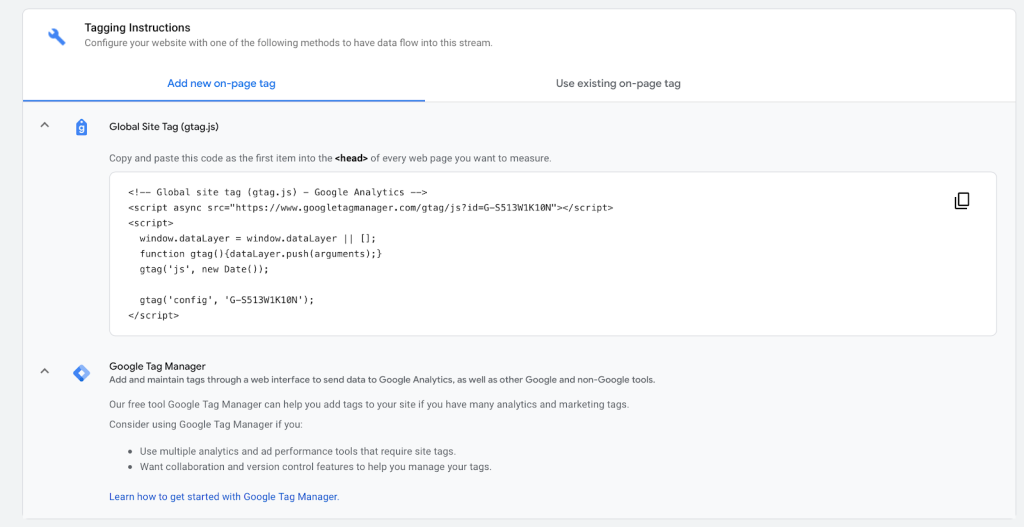 And here comes the most important part of the process – connecting your affiliate website to Google Analytics.
Every website is built differently, so if you don't know how the code of your affiliate website works, delegate this to your website developer or admin.
If you think you're good to set everything up yourself, you have two choices:
manually paste the code to your website's code, or
if you're planning to have a lot of tracking tags on your website, use Google Tag Manager to connect a website to Google Analytics.
For the first option, copy the tracking code provided by Google Analytics (as shown on the screenshot above) and paste it as the first item into the <head> of every web page you want to measure.
To make sure everything is working, come back to the Google Analytics home page and check user visits in the real-time report.
Understanding website users
The 'Audience' section in Google Analytics helps you understand who your website users are via segmented reports on demographics, location, and audience interests. Let's look closely at how to utilize each commonly used audience report to optimize your website for more affiliate sales.
Overview
Naturally, an overview report is a condensed report of the standard metrics such as users, new users, sessions, and bounce rate. It also provides a snapshot of the demographics, systems, and mobile reports.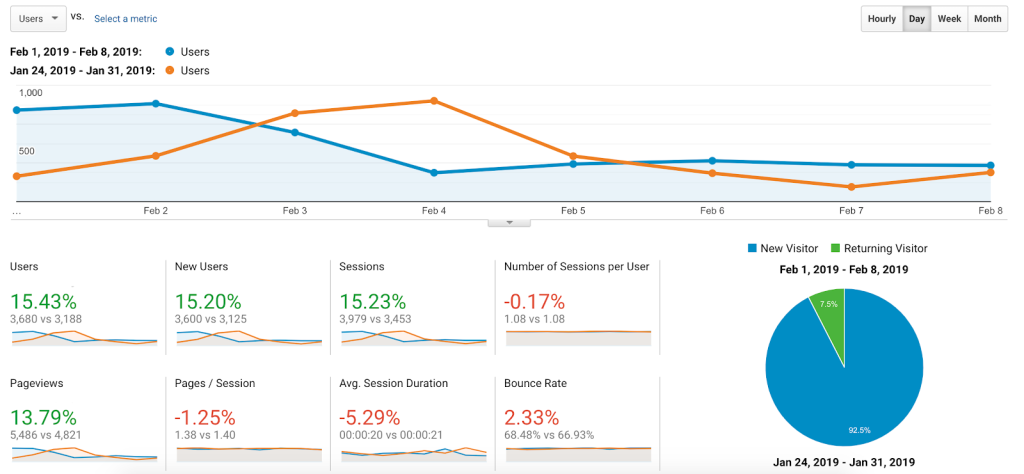 Example use case: to track your affiliate website users' performance with the overview report, use date range comparison. This allows you to compare the traffic (users, sessions, pageviews) and engagement (bounce rate, avg. session duration) metrics to the previous period chosen.
Demographics
The standard demographics report includes a user traffic bar chart split by age groups and a user traffic pie chart split by gender. You can easily change the metric from users to sessions or bounce rate, for example. Or you can add a specific audience segment and analyze it.

There are additionally two separate reports focusing exclusively on age and gender. Depending on the affiliate niche you're focusing on, your target audience demographics may vary.
Example use case: In a gender report, add age as a secondary dimension to further segment the data by gender and age to better understand your affiliate website visitors and optimize your content accordingly.
Geo
While many affiliate programs don't rely on one geographical location, it's still extremely important for affiliates to know where their website visitors are from. And that's what geo reports in Google Analytics allow you to do.
Example use case: Instead of choosing the 'users' segment for your location report, choose a per-user metric such as 'average session duration', which shows users who are more likely to convert. In case you're running paid ads to generate traffic to your affiliate website, allocate the budget to these best-performing geographical locations.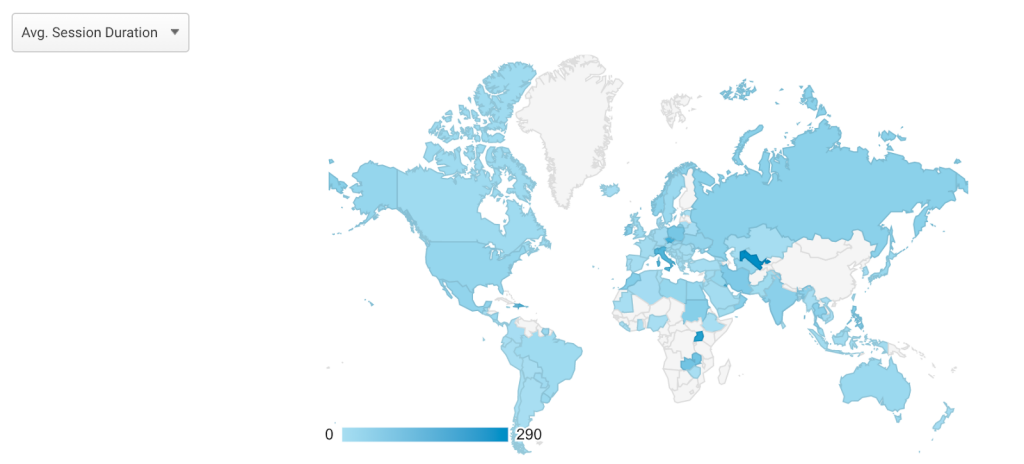 Where are website visitors coming from?
Great. Now we know who our audience is. So, it's time to learn where your users come from.
For affiliate marketers, it's common to utilize various ways of promotion such as social media posts, email newsletters, and YouTube videos. If you want to maximize your revenue, find out which channel brings the most traffic to your website.
Now, let's look at acquisition reports in Google Analytics.
Channels
This report answers the question: "What is your best-performing traffic source?" To do that, Google Analytics breaks up your audience by the most popular channels they come from. Here are several default channels:
Organic Search – organic traffic that arrives at your website through a search engine.
Direct – traffic that comes if a user enters your website URL directly into the browser's address bar or when there is no data on how a user landed on your website.
Paid Search – non-organic traffic to your website from paid ads.
Social – traffic that comes through social media channels.
Referral – visitors who came to your domain from other websites.
Source and medium
The source and medium report is quite similar to the channels report with one difference: instead of focusing on large traffic channels, it identifies specific sources and mediums that visitors come through.
The source is the origin of your traffic. For example, Twitter, Google, YouTube, etc.
The medium is the general category of the source, how the traffic got to your website, for example, organic, referral, email, or paid ads.
Campaign tracking
Campaign tracking report is where you finally understand the value of UTM parameters you created for your social, email, and paid campaigns. If you've set them up correctly, you'll see all your running campaigns here. Choose and click on one of them to see the breakdown into source and medium.
You can also filter the list by other UTM parameters that you may have used, for example term or content. With UTM tags, you can easily track and analyze the performance of various campaigns to see which ones are working and which are not.
Understanding users behavior
The behavior reports tell us everything about how website visitors engage with your content. Key metrics to look at include pageviews, unique pageviews, average time on page, bounce rate, and percentage of exists.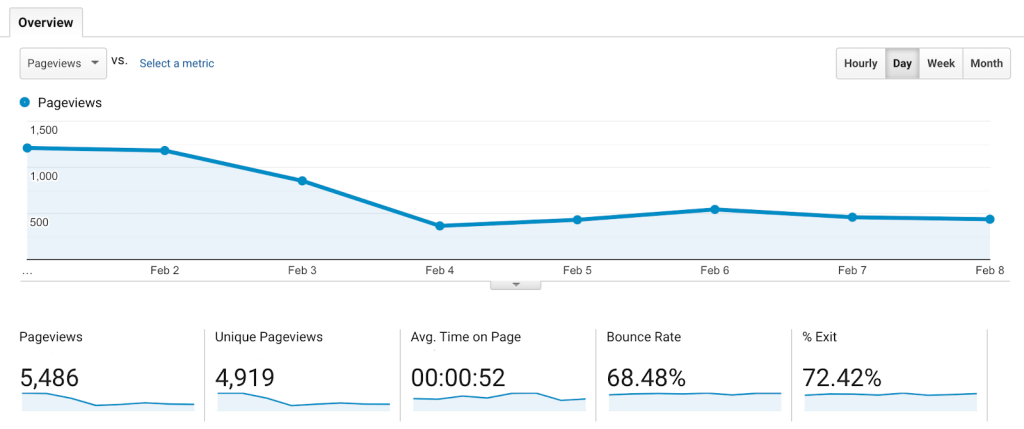 These reports are crucial in tracking affiliate sales because they help you figure out how to improve your pages for a better user experience and a higher conversion rate.
Site content
Site content report represents the drill-down of the performance of every page on your website. The primary dimension is the URL path to those individual pages. The default metric is pageviews, indicating how many times someone loads a page.
Example use case: Check bounce rates for individual pages to figure out the least engaging page. To do that, go to the comparison mode and select the bounce rate to get a visual representation of the data.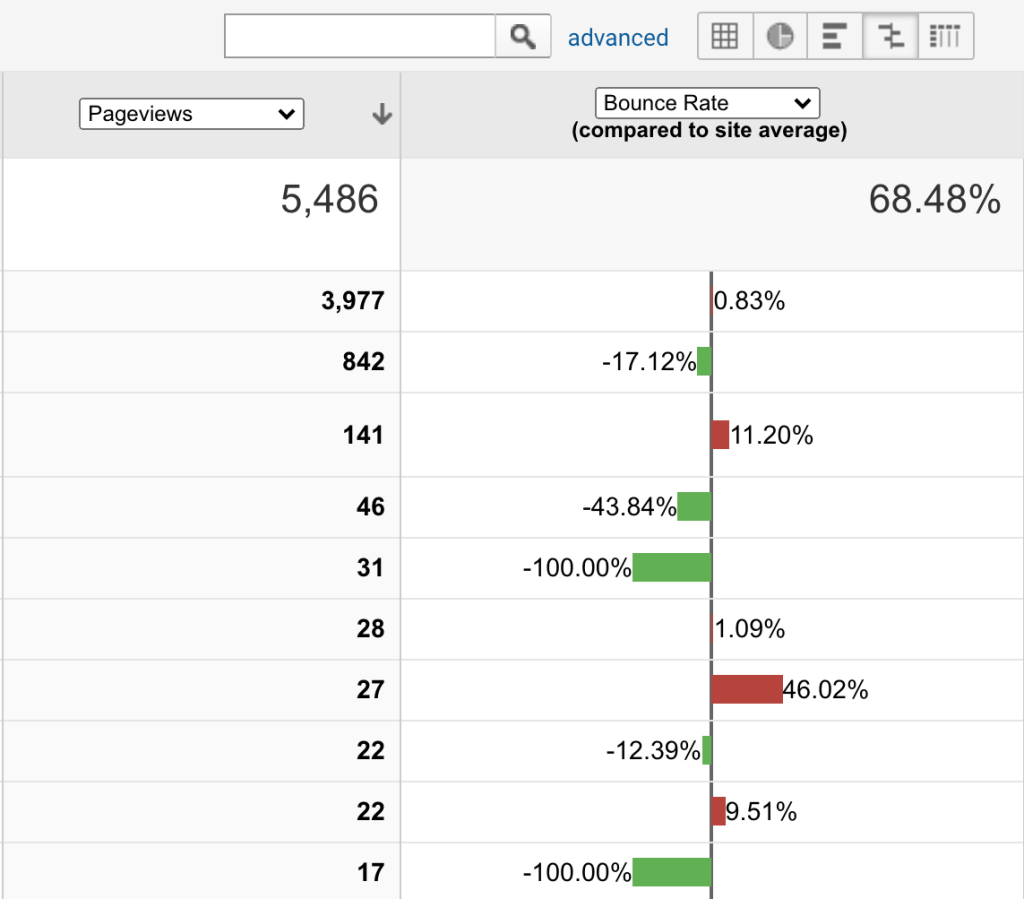 Events
Events allow you to track digital interactions, which don't fall under pageviews and sessions. Most common examples of such interactions are social button clicks, video plays, file downloads, scroll depth triggers.
To set up an event tracking, you should add JavaScript code to your website, so it sends out Google Analytics the details of every event triggered by website visitors. Alternatively, if you're planning to take full control of users' behavior on your affiliate website and create multiple events, consider using Google Tag Manager.
Example use case: Set up a tracking event of a number of clicks to outbound links (use your affiliate links for that). This event shows how many times website users click on your affiliate link. Combining this data with the number of conversions from the affiliate dashboard, you can calculate a conversion rate. Please, note, the conversion rate is just an estimate. We don't know how many users clicked the link but didn't stay on the page.
Conversions
How do website visitors convert? For every business, conversions are different, and Google Analytics doesn't know exactly, which is the right one for you. That's where goals step in.
To set up a goal, go to Admin section > View > Goals > New Goals. You can choose between standard goals and creating the custom one. Being an affiliate, the most logical goal for you to set up is a custom event goal of the number of clicks on your affiliate links.
So, in Google Analytics, conversions are goal completions. If you're not sure what your goal is, simply answer the question: "Why do I have a website?" and figure out how to track this data.
Example use case: Let's assume you've configured a goal, which is a click on an affiliate link that you add to your blog posts. Goal URLs report represents the goal completions broken down by the page. That'll allow you to figure out what kind of content is bringing you the most in affiliate conversions, not just pageviews.
All-in-one affiliate website dashboard
In this article, we've covered the fundamentals of affiliate tracking in Google Analytics. But if you're still confused and not sure where to start, you may want to use our website performance dashboard in Google Data Studio.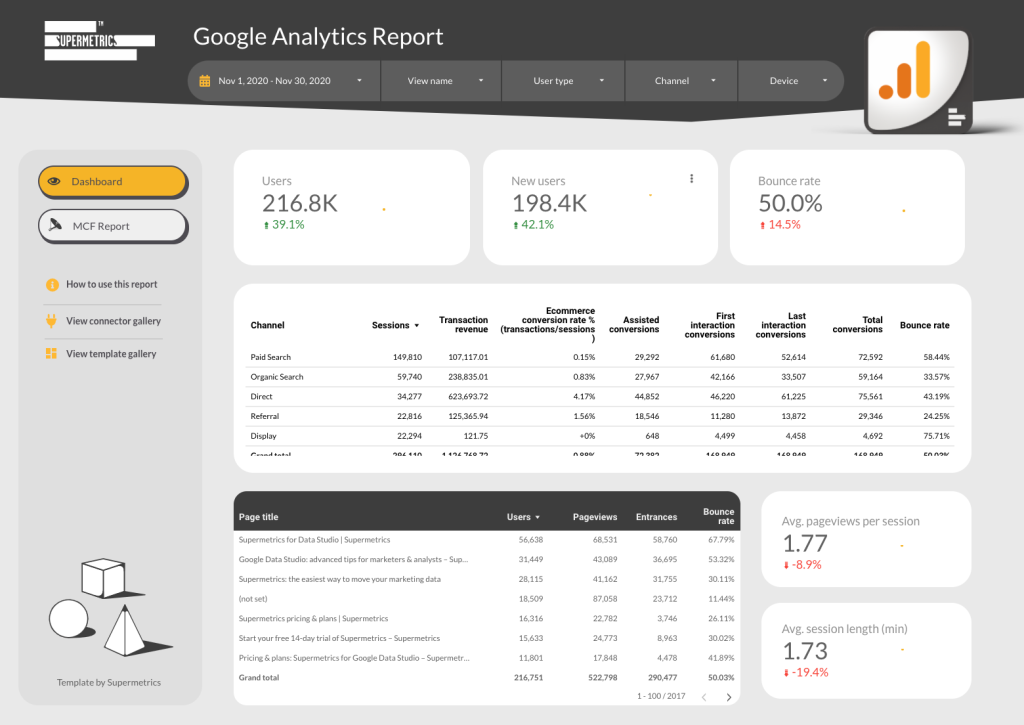 Get your Google Analytics website performance overview dashboard here >>>
Covering the main website performance metrics, this template will provide you with a summary of your work and help you compare what channel performs better, for example, paid vs. organic.
Final thoughts
To sum up, tracking affiliate sales in Google Analytics is not possible. However, you can leverage this tool to analyze what content on your website performs better or what promotion channel brings in traffic that ends up generating conversions.
Applying all the tips and recommendations listed in this article will help you make better decisions on your affiliate journey. And better decisions means fewer regrets.
If you want to dig deeper into the topic of affiliate conversions, check our guide on how to boost your affiliate business. And join our Supermetrics partner program to earn 20% recurring commissions from each sale.
---
About Svetlana Gryaznova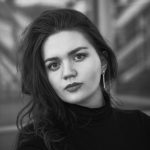 Svetlana is a Partner Marketing Manager at Supermetrics. By combining both her engineering and business education background, Svetlana has worked in several startups across Europe. At the moment, she is applying her knowledge and skills to help grow the Supermetrics partner program. Feel free to connect with her on LinkedIn.
Turn your marketing data into opportunity
We streamline your marketing data so you can focus on the insights.