Affiliate marketing is on the rise, with spending predicted to reach $8.2 billion in 2022.
As a result, everyone from big businesses with an online presence to the mommy blogger next door is chasing after a piece of the pie.
Whether you're an influencer, a small business, or your website already receives 100,000 monthly visitors, affiliate marketing is an excellent way of making extra money or even doubling your income.
And you don't have to start a blog, learn about SEO, invest in email marketing services, or battle the Google algorithm to have a shot at success, either.
It can be as simple as building a modest—but loyal—following on social media.
How to choose the best social media affiliate marketing platform
Picking out the right social media channel comes down to relevance. You need to match the affiliate product with the right audience. If you're promoting Supermetrics, you might not find the most relevant audience on TikTok, for example. So, here's how you can start narrowing down the best platforms for you:
1. Hang out where your audience does
If you want to be successful at affiliate marketing, you can't just rely on people to come to you. You have to be intentional and strategic about showcasing your affiliate products or services to your audience, and the best way to do so is to meet them where they already are.
There are countless social media platforms for you to use, but you'll never find success by experimenting on every single one.
While you might think you'd want to establish a presence everywhere possible, you'll have much better luck focusing your efforts on the few that one, most people are using and two, your audience is on.
To start, take a look at this graph that ranks social media platforms by their usage: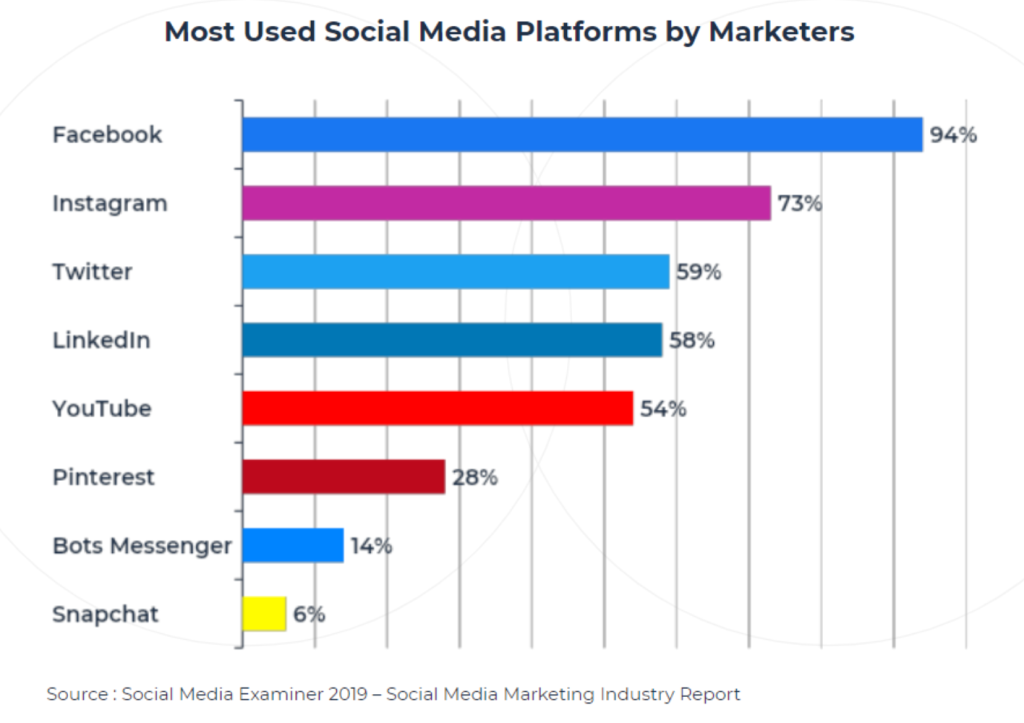 As you can see, Facebook is the most used of the platforms by most marketers, so it should be in your top three priorities. However, if you have a younger audience who likely uses Instagram more than Facebook, that high ranking doesn't automatically make it your number one choice.
2. Learn the features and limitations of each
The next step to narrowing down your list of platform choices is eliminating the ones that don't include the features you need.
Think about what you'd need in a social media platform, or what you'd like most. For example, if your business does better by posting long-form content or informational social media posts, Twitter—which limits the number of characters you can use drastically—probably isn't the best choice.
Or maybe Instagram's story feature bumps it up on your list because you like the idea of being able to interact with your audience via mentions, tags, and UGC—user-generated content.
Finally, you should also research each platform's rules and restrictions when it comes to advertising and affiliate marketing. Although similar, none are created equal, which means certain activities that are allowed on one platform could be prohibited on another.
Plus, the type of product you're promoting might also restrict your social media advertising liberties.
For example, wellness supplements are strictly regulated and must abide by specific wording. Affiliates need to avoid making health claims. This can make marketing on short-form content platforms like Snapchat and Twitter more difficult than Instagram and Facebook, which allows for lengthier posts.
3. Determine how you're going to promote affiliate links first
A content strategy is absolutely essential to the success of any social media or affiliate marketing plan. So before deciding which platform to use, determine what kind of content you want to post and which types of advertising campaigns if any, you plan to run.
This will narrow down your list even further. You'll have to research the trends and restrictions of each platform, some of which won't align well with your content goals.
The type of brand you are will also drastically affect your content strategy and the ways you can succeed in promoting affiliate links. For example, influencers whose entire presence revolves around social media will have starkly different experiences and needs than a company or small business whose traffic comes from organic search or paid ads.
Types of promotion on social media
There are two major types of promotion on social media, similar to search traffic: organic and paid.
By producing content and publishing it to your public pages, you're creating organic content that's discoverable because you've strategically followed the laws of an algorithm and optimized it, such as through the use of hashtags. You'll also be saving money on ad spending.
And of course, you can also run paid ads that direct traffic to any post or webpage. However, this requires much more time invested into researching the guidelines of each platform as well as analyzing risk vs. reward. For example, if an ad campaign falls flat, you've lost money and time.
If you own a website, you could direct visitors down a sales funnel that leads them to a blog post of yours that contains your affiliate links. So, an informative Instagram post could lead to a blog post that covers the topic in more detail and includes your relevant affiliate links.
From there, you can also try and convert visitors to subscribers via an opt-in form. This way your efforts have much more long-term value since your weekly email blast to these new subscribers could include affiliate links, promotions, and product updates.
This is a good route to explore if you are considering paid ads on social media. Linking directly to an affiliate product via a paid ad will normally not give you a very good ROI so you have to consider the money you are investing and make sure you profiting from that investment in paid ads.
Social media affiliate marketing: which platform should you use?
Still haven't made a choice? Let's take a deeper look into some of the most popular social media platforms and how you can use them for affiliate marketing.
Facebook
One of the oldest, yet still the most used. While not as popular with the younger generation, Facebook's user base is still active as ever.
In April 2022 alone, Facebook saw over 2.9 billion active users, which of course, awarded it first place. It's also estimated that 37% of the entire globe has a Facebook account and for three months leading up to April, its user base grew by about 24 million each month.
It's easy to see why Facebook is on many affiliate marketers' lists of priorities. With such a large audience, you can reach a significant portion of the globe with just one viral post. But when it comes to affiliate marketing, there are a few guidelines to abide by.
Always disclose posts with affiliate links
You should never sneak in affiliate links without adding a disclaimer somewhere in the content that it contains one (or more), especially because product endorsements are regulated by the Federal Trade Commission (FTC). However, if you've been in the affiliate marketing world for any length of time, you're likely already familiar with this golden rule.
Customize your links to be short and trustworthy
Long links with loads of special characters and "code-looking" language appear shady, which could lead to your viewers thinking its a spam.
Most affiliate platforms allow you to customize your links, but if yours doesn't, consider using a link masking plugin like Prettylinks, which is available on WordPress.
Take advantage of Facebook groups
Finally, a feature that sets Facebook miles apart from the other platforms is groups. And as an affiliate marketer, you NEED to take advantage of Facebook groups.
Join several groups that are highly relative to your niche, and you've already got potentially thousands of leads (or, people who would instantly be interested in your affiliate products). Of course, be sure to review group guidelines, as some may not allow the promotion of products or any links at all.
Instagram
Facebook's trendier, younger, more colorful sibling, Instagram is the perfect platform for independent creators or brands with audiences who love consuming aesthetic content and multi-media.
Instagram has rolled out many new features over the past few years, including the addition of stories, reels, and IGTV. This allows for limitless amounts of content creation when compared to platforms like Facebook.
Not only that, but Instagram is already a popular platform for affiliate marketing, as anyone with over a couple of thousand followers seems to have links and discount codes to products in their niche.
Example of affiliate marketing on Instagram
For example, take a look at this post created by The Anna Edit, who's advertising for the Armani Beauty. She has added a paid partnership tag to indicate that she is earning money through the post and has monetized her links using RewardStyle.
If it has made it to your top list of social media platforms, there are a few tips you should implement to make the most out of your Instagram affiliate marketing efforts.
First, do everything you can to make user-generated content (UGC). This is content made by fans and followers that you can easily reshare and is basically an online form of word-of-mouth marketing.
You can do this by keeping a close watch for mentions and tags, as well as inspiring your followers to create UGC by hosting giveaways, competitions, and other incentives.
Second, take advantage of ALL the features Instagram has to offer. Your content strategy should include as many forms as possible, from regular Instagram posts to reels, IGTV videos, stories, and even live streams. The more forms of media you offer, the wider your reach can get.
Lastly, consider collaborating with other influencers. Even if not to promote the product directly! Simply working with other brands or public figures on the platform can earn you loads more followers, as their fans would already be interested in what you have to offer. Considering you're in the same industry—which you should be!.
Twitter
Twitter is for those who can make a point in just a few words and who thrive off of humor.
It's not for the faint of heart, and it can be a powerful tool for brands and figures who wants the public perception of them to be humorous, witty, and to the point.
And since Twitter limits its users to just 280 characters, you kind of have to be.
One of the biggest tips for finding success on this ever-growing platform is strategically using hashtags.
Conversations happen on Twitter through hashtags, and they have the power to bring you thousands of views, new followers, and leads. Find trending tags and jump on the bandwagon, or simply do some research to find the most highly used tags in your niche.
Second, post a LOT—and not about your affiliate links.
Your followers won't buy anything if you haven't given them valid reasons to trust or like you. Plus, an increase in posting frequency almost always equates to an increase in followers. And the best part is that creating content on this platform takes no time at all.
Snapchat
Snapchat might be one of the hardest platforms to gain a following on, but its users are highly engaged.
The difficulty of growing a following on this platform is that most people use it primarily for keeping up with family and friends rather than following influencers (and even less so, brands). You'll likely find the most success in referring your followers from one of your other social profiles to your Snapchat, but the silver lining is that those who do subscribe are way more likely to engage with your content.
When it comes to affiliate marketing, you should first and foremost create high-quality content that's authentic.
People use Snapchat to get a look into their favorite influencer or brand's real lives, so give them just that. Say goodbye to using stock photos and hours of photo editing, and instead favor behind-the-scenes shots of your daily life or what goes on behind your brand.
Next, keep your links and CTAs extremely short.
Similar to Twitter, Snapchat limits the number of characters you can use before needing to start a new paragraph. And before you know it, your pictures will be covered up by walls of unattractive text.
Instead, opt for short and sweet CTAs (calls for action) that include your link and exactly what it is, preferably supplemented by a photo of you actually using it for that authentic feel.
YouTube
Last but not least, YouTube: the search engine and social media platform in one.
YouTube is a hotspot for affiliate marketing. Just think of how many videos you watch with paid ads, sponsors, and discount codes in them.
Most affiliates make money by adding their affiliate links to the video descriptions or by verbally mentioning them during the video. If you mention it verbally, make sure you display text somewhere in the video frame while you are mentioning the affiliate partnership.
This will help viewers visit the correct link. You could also combine the techniques- mention you have your affiliate link added to the description box during the video to make sure viewers check it out at the end.
Example of affiliate marketing on YouTube
A prime example of this is the channel LouisesJourneyxo, who's an affiliate for the supplement company HTLT.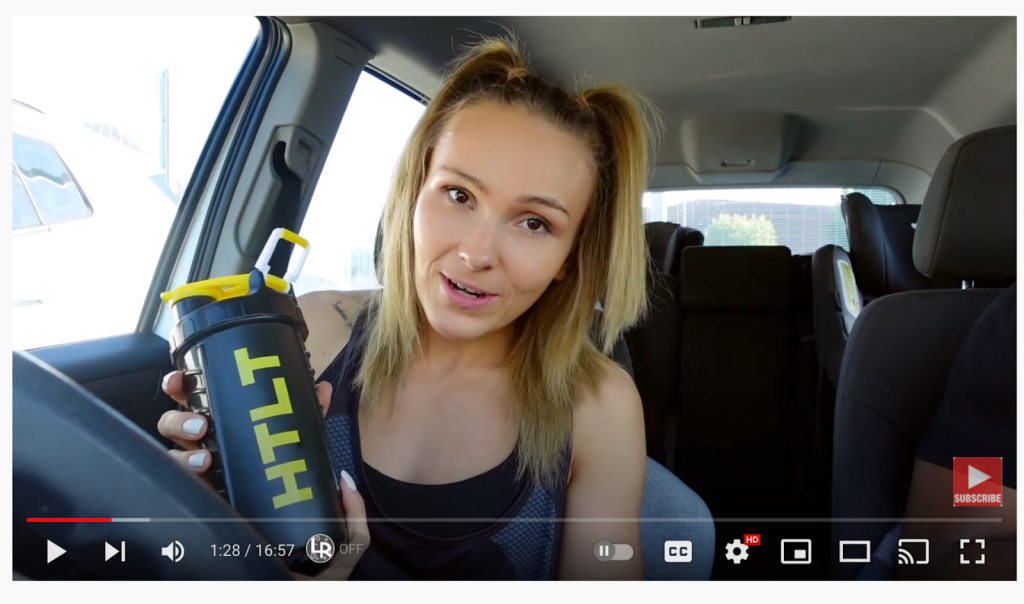 Since YouTube is a search engine like Google, you'll need to know the algorithm like the back of your hand when you start posting videos. This is ultimately how you'll gain subscribers and maximize the chance of being pushed by the algorithm to people who are likely to enjoy your content.
One way to grow your YouTube subscribers AND promote affiliate products is to create videos that are trending.
Keep an eye on the current trends, which you can easily do by navigating to YouTube's "trending" tab. Create a video that follows the same theme and use it as an opportunity to promote your links (with disclosure, of course).
And perhaps the best type of video content for affiliate marketers is unboxing and product review videos.
These videos give you the chance to easily promote your links in the most natural way possible. Plus, the people who choose to watch them are already interested in the products themselves.
About the author
Freya is a personal finance expert and founder of the CollectingCents website that teaches readers how to grow their passive income, save money, improve their credit score, and manage debt. She has been featured in publications like Business Insider, Fox Business, the Huffington Post, and GoBankingRates.
Turn your marketing data into opportunity
We streamline your marketing data so you can focus on the insights.