The concern for maximizing return on investment is common to all people in marketing, not least affiliate marketers. Every step you can take to get more return from your marketing dollars is a worthwhile stride toward success. Volumes can be written on this topic, but we wanted to talk about how the time of day impacts your PPC advertising performance and ROI.
Many affiliates use Supermetrics to save themselves from collecting and organizing data from multiple sources. It's all about optimizing their time and resources. And since many of them also work with paid ads, this article explains one strategy to boost the return on their ad spend.
In this article, we will cover:
what is dayparting;
what we learned from analyzing our time of day performance in Google Ads;
the 3 questions you need to answer to understand your time of day performance; and
recommendations based on our findings.
What is dayparting?
Dayparting, also called ad scheduling, is a pay per click (PPC) advertising tactic whereby you schedule your ads for specific times of the day or specific days of the week to target particular audiences more effectively.
Some audiences are more active, and more likely to convert, at specific times during the day. Dayparting optimizes your campaigns by allocating more budget for your ads to show at these specific times, increasing the likelihood for your potential customers to convert.
Dayparting isn't foolproof
Just like any other paid ad optimization strategy, dayparting and ad scheduling isn't foolproof, and may not be the best approach for your company or campaign. For brands that offer online products, where the time of day doesn't matter, they won't really benefit from dayparting. But, for companies that offer a service, especially that are local in nature or have specific hours of operation, implementing an ad schedule could be very effective in optimizing conversions.
Our time of day performance at Service Direct had huge implications on marketing ROI, as you can see from the chart below.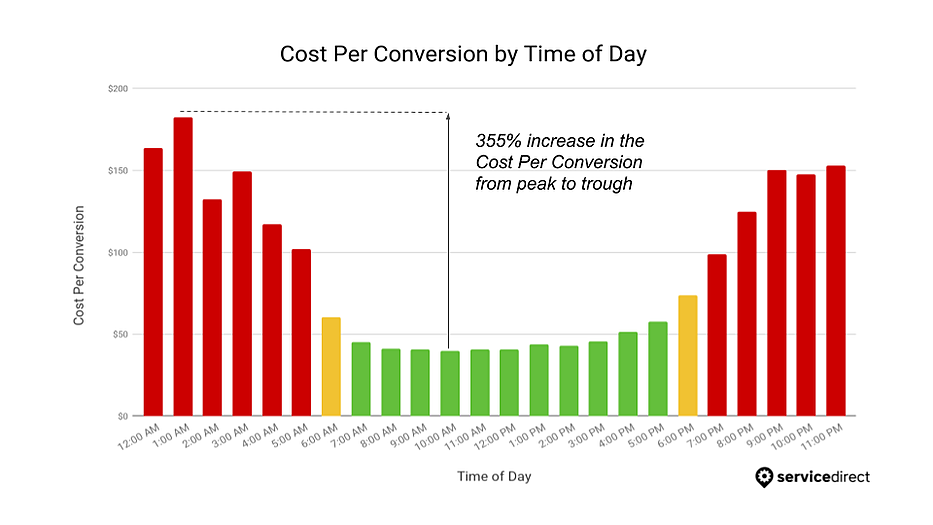 We work with about 1,000 home service businesses across North America, where we are responsible for generating leads through targeted search advertising. We wanted to take a look at our Google Ads data to understand how consumers are behaving based on the time of day. And, in turn, how does that behavior impact our ability to drive conversions and ultimately revenue.
We analyzed 16M searches and approximately 350K site visitors across 56 home service categories, representing roughly $1.8M in spend. In short, our data reveals that people searching after-hours for home improvement services are considerably less likely to convert, which as a result, can drive up the cost of marketing to levels that are not sustainable.
We were surprised to learn that the conversion rate from site visitors after business hours decreased a drastic 81% from peak to trough. And we then quickly learned that Google Ads doesn't automatically optimize based on these fluctuations. So, we had huge cost implications that made a big impact on our marketing ROI.
Adjust your Google bidding strategy based on your time of day performance data
You can understand your time of day performance better by answering these 3 questions:
What is your average conversion rate by hour for your campaigns?
What is your average cost per click by hour compared to your conversion rate by hour?
What is your average cost per conversion by hour?
Based on what you see by answering those questions, you should then adjust your bidding strategy to optimize when your target audience is most active, or at least lower your bidding when you know they aren't active. If you find that your conversion rates and cost per clicks are relatively steady, then maybe no change is needed. But, if you see wild fluctuations as we did in our analysis, you can consider doing the following.
Stop spending at low conversion times
It may be in your best interest to simply stop advertising after a given time of day. Whether you are bidding on ads on Google or another platform, you should be able to easily control when your ads are shown, and when they are paused. Turning off your late-night ads will reduce your spend immediately. Once that move is made, monitor your leads and conversions to see how much of an impact this change has made. Most likely, any reduction in new conversions will be easily offset by the savings in your marketing budget.
Try bid modifiers by hour
Should every business stop running ads late at night? Probably not. For some, it may be possible to turn this approach into a winner. But that won't happen automatically. There will be some tweaking and testing required to land on an approach that can continue to produce valuable leads while maintaining control over spending.
One obvious place to start is reducing the amount of your bids during off-peak hours. Try significantly slashing your bid values during less profitable times of day and examine the results. Is there a bid level where you can make the cost of customer acquisition work for you in the long run? It may or may not be possible, but testing is the only way to know for sure.
Adjust your messaging by time of day
For companies who decide to continue running their ads after the workday is over, altering the sales message could have a positive impact. Specifically, getting away from asking for calls and instead of asking for form fills or emails could be a better approach.
This is a tricky area for some businesses because many are available to answer the phone at all times of day and night. So, why not ask for calls? It's simple—customers aren't used to calling businesses after hours. They'll just assume no one is available, and they won't pick up the phone to dial. If you are running ads that suggest customers call for assistance, they might not be willing to take that action late in the day or overnight.
Filling out a form is a different story. No one will hesitate to fill out a form if they want more information, regardless of what it says on the clock. This subtle change in your call to action could help you get more out of your off-peak ad clicks. Even if you are only able to bump your conversion rate by a few points, that could be enough to turn the advertising venture into a worthwhile effort.
Conclusion
Understanding your time of day performance is the first step to deciding if you should try dayparting to help optimize your campaigns. Applying the insights from your PPC data will make it even easier to pinpoint your target audience and reach them with your ads.
When your data and performance supports it, dayparting can make a notable difference for your PPC campaigns, especially for campaigns that haven't received much attention.
But dayparting is just one of many ad optimization methods that can improve your advertising efforts. Test it and see what kind of impact it has on your PPC efforts.
If you're interested in improving your PPC reporting, you can find 30+ free report templates for Google Sheets, Data Studio, and Excel from this post.
Or continue reading about expert affiliate marketing strategies here. And join the Supermetrics partner program to earn 20% recurring commissions from each sale.
---
About Matt Buchanan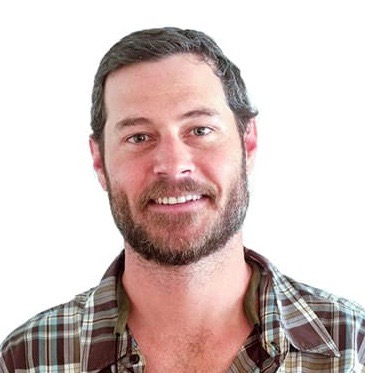 Matt is the Co-Founder and Chief Growth Officer at Service Direct, a technology company that offers local lead generation solutions for service businesses.
Turn your marketing data into opportunity
We streamline your marketing data so you can focus on the insights.