You probably know Pinterest as the go-to website for finding ideas and inspiration for your hobbies. Or maybe you're the one inspiring others. What if I told you that Pinterest is not just another social network.
Pinterest is a visual search engine and a powerful promotional tool used by many marketers. Search for any keyword on Pinterest and you'll most likely see something like this: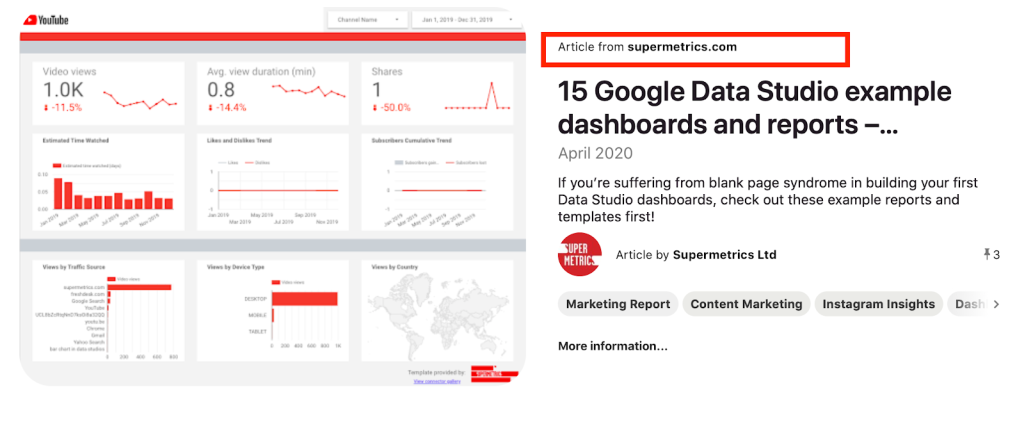 You can use Pinterest to feature your affiliate website and blog posts but can you link directly to your affiliate offers? How is Pinterest for Business different from your personal account and which one to choose?
In this guide, you'll learn everything you need to know about:
How Pinterest works and why this network is essential to your affiliate marketing mix
How to create engaging content on Pinterest and stay on top of trends
How to use affiliate links and drive traffic from Pinterest to your affiliate website
What is Pinterest and how it works
Pinterest is a social media network, although it's quite different from anything else on the web. Posts are called pins, and they are mostly pictures and videos. Sounds familiar, right?
So, how is it different from Instagram? The primary purpose of Instagram is to share your own photos, while Pinterest is used to save content uploaded by other users.
You can either upload your own pin you found elsewhere and share it with Pinterest or browse through the massive Pinterest library and pin them to your boards. Board is a collection of pins.
Similar to any other social network, Pinterest users can like, save and share Pins with friends. The more engagement metrics your pin gets, the higher position it takes in the search. Naturally, allowing you to attract traffic to your website.
Business accounts can run Pinterest Ads—these are native ads that direct clicks to a specific landing page. The only way to distinguish an ad pin from a regular one is the 'promoted by' disclosure. Native ads guarantee a high CTR and take banner blindness out of the advertising equation. Find out whether your affiliate program allows running paid ads on Pinterest before using them.
Why add Pinterest to your marketing strategy
Before diving into how Pinterest affiliate marketing works, let's first stop here for a minute and decide whether it's worth your time in the first place.
The first thing you need to know about Pinterest is that shopping is the primary intent for almost half of its users. This number differs significantly from other social media platforms like Facebook, Instagram, and Twitter.
Indeed, Pinterest is one of the most affordable and powerful tools for marketers looking to gain traffic, convert more leads, and build brand loyalty.
Another reason to promote your website and affiliate offers on Pinterest is that it's the only social media offering visual search. Pinners (Pinterest users) are specifically looking for products and brands. Being on Pinterest will allow your affiliate business to boost brand awareness, showcase the products, and most importantly, inspire.
Affiliate marketing on Pinterest
Here's an undeniable fact: the audience you're trying to reach is already on social media. The only question is which social media to focus on. If, after reading the previous paragraph, Pinterest is something you're interested in, let's dig into what Pinterest affiliate marketing really is.
You can make money on Pinterest and gain exposure to your affiliate website by creating beautiful photos, videos, schemas, and infographics for your affiliate offers and sharing them with others. To do so, you can either use some of the existing assets that an affiliate program provided to you or create brand-new visual content.
Before you begin affiliate marketing on Pinterest, you need to define your goal. Are you looking for leads who could convert into customers? Or is building a long-lasting relationship with your audience a priority to you?
So, how to build a Pinterest strategy that makes sense for your affiliate business? Creating a Pinterest profile that'll help you make money is a good starting point.
Your 7-step Pinterest affiliate marketing strategy
1. Launch a Pinterest business account
The only way to use Pinterest for commercial purposes such as affiliate marketing is to set up a Pinterest Business profile. You can either create a brand new account for a business or turn your private account into a business account with just two clicks.
A business profile unlocks new Pinterest features, such as Analytics, Ads, and Audience insights. If you have experience with Google Analytics or Facebook business page, these should already be familiar to you.
2. Keep up with the trends
It's your audience whose interests determine what you should promote. Follow boards with similar products or competitor brands and surround yourself with content that your target followers see when they browse Pinterest.
This way, you'll get to understand your competitors and set up a better content strategy. For example, you may notice that lay-down product photos are trendy in your niche, or doodle designs are getting viral once again.
3. Hit them with great visuals
Unlike Twitter or Clubhouse, Pinterest is a visual medium. It only contains pictures, videos, gifs, and infographics. So, a good way to get ideas for new content is to follow the general principles of design. If you are not ready to dive into color theory, rule of thirds, and typography, tools like Canva and Adobe Spark will help you get good results quickly.
4. Create valuable content
Informative content is popular on Pinterest. Infographics are one of the most common examples. The reason behind infographics' success is simple—they both look great and provide easily accessible information.
If you don't know anything about graphic design but are in dire need of an infographic, I would strongly recommend that you hire a designer to make one for you.
5. Don't forget about SEO
Here're some of the most effective actionable tips to make your pins more SEO-friendly right away:
Fill in all your profile sections.
Verify your website/blog in the settings' claim section.
Ensure you don't hide your profile from search engines—go to 'privacy and data preferences' in settings and uncheck the box.
Research relevant keywords using the Pinterest search bar to see which terms are most commonly used and add those to your pins' title and description.
Organize your pins and boards, so users and search engines can easily navigate and understand the structure.
6. Interact with other users
As in any social media, boosting your presence means that you have to increase your activities. Reply to users' comments under your pins, explore other boards in your niche, and repin or comment on the pins you like.
7. Analyze and adjust
As Peter Drucker said: "What gets measured gets improved."
To improve your marketing efforts, the first thing you have to do is analyze your results. Which pins and boards drive the most traffic to your website? Which pins engage with your target audience?
Pinterest Analytics tab is a good place to start but let's not stop there. Use traditional analytical tools. For example, you can use UTM links to track clicks from separate pins in Google Analytics.
Measuring what works and what doesn't will lead you to make better decisions on your Pinterest affiliate marketing strategy.
By the way, it just so happens that at Supermetrics, we've recently created a brand-new Pinterest template that'll help you quickly check the overall performance of your account.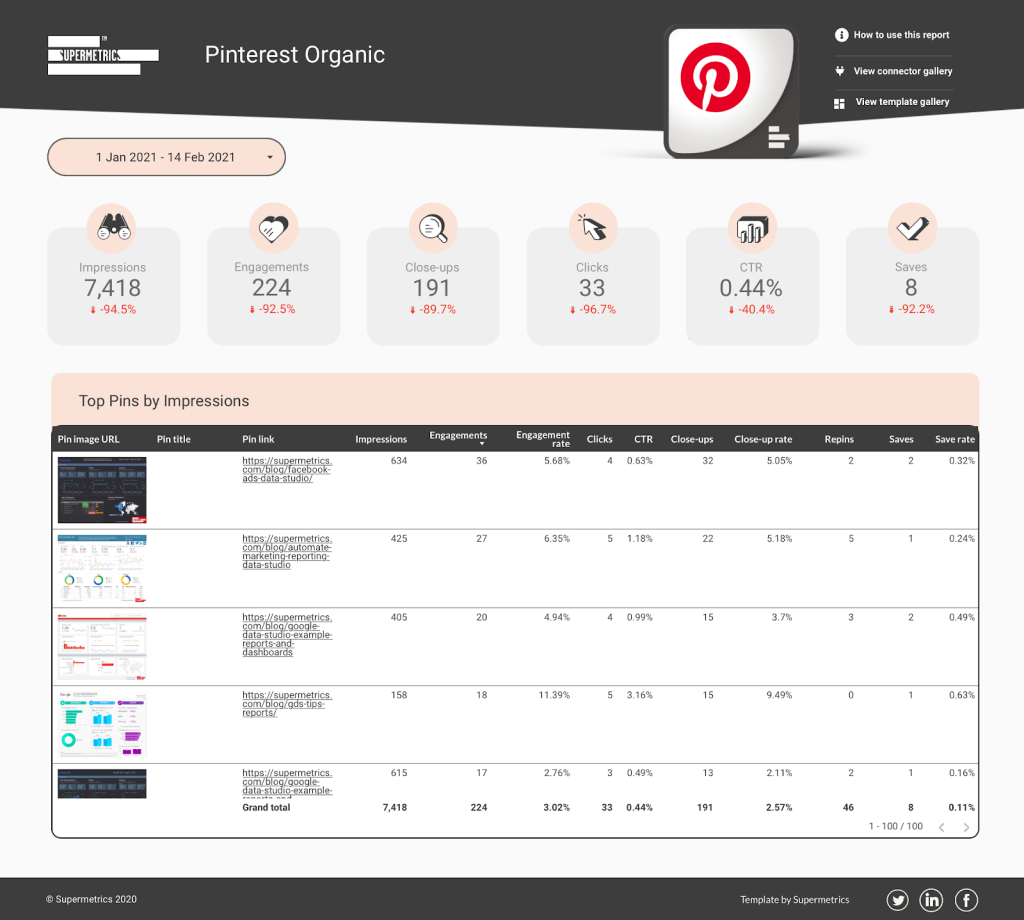 Get your Pinterest Organic reporting template here >>>
Can I use affiliate links on Pinterest?
Yes! And it's exciting to say this because most of the social media platforms we've already talked about on our Supermetrics blog don't allow direct linking in any way.
When it comes to Pinterest, affiliates need to choose between two options. You either link directly from your pins to the brand's website or drive traffic to your own affiliate website and then attempt to convert people from there.
Be careful, though. The choice mainly depends on your affiliate or partner program's terms. Many companies do not allow adding your affiliate links to Pinterest directly.
And remember, if your pin promotes a product or service you are affiliated with, you must disclose this in the description. Learn more about affiliate disclosure and how to use it here.
Affiliate marketing on Pinterest without a website
Generally speaking, if your affiliate program accepts direct linking on Pinterest, you don't need a website to promote an affiliate offer. As already mentioned, Pinterest allows the usage of affiliate links. However, we highly recommend highlighting that you're an affiliate partner of the brand you promote to build trust with your followers.
The requirement for quality content remains the same for every social media platform. This means your pins should drag attention and either inspire users or be useful to them. Avoid stuffing every post with an affiliate link, and be sure to disclose all affiliate partnerships to Pinners.
Best strategies to stay on top of trends (extra tips)
Add Pinterest to your website
Add functional Pinterest buttons to your affiliate website. This allows users to pin images to their boards with just one click or follow your Pinterest board.
To add Pinterest buttons to your website, follow the instructions here.
Use tools for marketing on Pinterest
Let's face it, we use marketing tools daily because they help us save time by automating part of our work and monetizing traffic faster. Here's a shortlist of the most useful tools to improve your Pinterest performance:
Canva and Adobe Spark to create catchy visuals
Hootsuite to schedule your pins
Supermetrics to analyze your performance
Don't add hashtags to your pins
Most of the articles written about Pinterest marketing best practices recommend adding hashtags to every pin you publish. But we don't. Why?
As of 2021, hashtags on Pinterest are no longer clickable, which means hashtag feeds no longer exist. Hashtags aren't differentiated from Pinterest keywords anymore, so don't waste your time on them.
Share your pins on other social platforms
Since the visual content you create on Pinterest is universal, it's a good idea to share your pins on other social platforms, too.
You can 'claim' other social media accounts in settings so that users can pin your Instagram posts (or any other social media of your choice) directly to their Pinterest boards.
Final thoughts
Pinterest is undoubtedly a remarkable social media. Even though Facebook and Instagram outshine it in the number of users, Pinterest is still the only one of its kind.
While it's challenging to run affiliate marketing on Pinterest, it has proportionally high return potential at the same time. That said, once you get decent traffic to your pins, all the hard work pays off.
Looking for ways to boost your affiliate business? Check this article about the best affiliate marketing strategies to earn more commissions. And join our Supermetrics partner program to earn 20% recurring commissions from each sale.
---
About Svetlana Gryaznova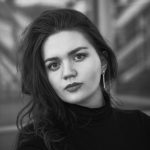 Svetlana is a Partner Marketing Manager at Supermetrics. By combining both her engineering and business education background, Svetlana has worked in several startups across Europe. At the moment she is applying her knowledge and skills to help grow the Supermetrics partner program. Feel free to connect with her on LinkedIn.
Turn your marketing data into opportunity
We streamline your marketing data so you can focus on the insights.