Oct 5, 2021
Ultimate guide to partner marketing
12-MINUTE READ | By Svetlana Gryaznova
[ Updated Jan 17, 2023 ]
Marketing partnerships help you grow your business. Like any other marketing strategy, partnerships evolved. In this article, we'll cover what partner marketing is and how you may benefit from it. We'll also look at the various types of marketing partnerships to help you choose the best one for you. As long as you follow the best practices highlighted in this article, you can use partner marketing to grow your business and brand or become a partner yourself.
What is partner marketing?
Partner marketing (also known as partnership marketing) is a strategic collaboration between parties, whether it is two businesses or a business and an individual, for example, an opinion leader or an influencer. The main purpose of these collaborations is to accomplish the key objectives of both parties.
What are these objectives? Partners are often seen as advocates of the business they cooperate with. All businesses need this trusted voice to communicate with existing and potential customers. Partners increase brand awareness and visibility, improve lead generation and help with reaching a wider audience.
Marketing partnerships vs. business partnerships
At its core, there is no significant difference between marketing and business partnerships. It still implies cooperation between two parties. However, there are several factors that also make these two terms distinct.
First of all, a business partnership is always a legal relationship tied with a written agreement between two or more businesses or individuals. There are three main types of partnerships: general, limited, and limited liability. And all of them mean officially registered partnerships in the states in which they do business.
Marketing partnerships, on the other hand, can be agreed upon just verbally, thus bypassing the legal part. In other words, a marketing partnership is better described as a collaboration in the form of marketing campaigns that may or may not involve the legal aspect.
Another prominent characteristic of business partnerships is taxation. Every partner pays an income tax on the earnings obtained through a partnership. Individual partners pay income tax on their share of the profit or loss. Whilst in marketing partnerships, this is not always the case. For example, in affiliate partnerships, affiliates are responsible for filing income tax returns. If we consider content collaborations as partnerships, no taxes are paid since the brand visibility is not always measurable in money.
To wrap it up, the biggest difference between business and marketing partnerships is the purpose, duration, and level of legal or contractual terms. While business partnerships aim to gain a mutual monetary benefit, marketing partnerships can be short-term and focus on long-term strategies with no immediate return, e.g., branding.
Purpose of marketing partnerships
Partner marketing is a powerful way for both parties to combine efforts and reach wider audiences. The reasons behind that vary on a case-by-case basis. Some businesses struggle to allocate enough resources for achieving outrageous growth, while others partner up to gain missing expertise. So, what factors drive businesses to partnerships?
The world is changing, and so is the business world. To adapt to these rapid changes, businesses increasingly admit the need for partnerships and mutual marketing campaigns. The most obvious reason for a partnership is to compensate for a lack of resources — whether it is money, performance, or even products and services.
The main benefits of partner marketing
The foremost benefit of partner marketing is money. Businesses partner up to get more customers and increase sales. However, we suggest looking at marketing partnerships beyond the monetary goals.
For well-established or fast-growing companies, marketing partnerships imply getting a more significant market share or better sales performance. And for smaller businesses, partnerships bring an opportunity to gain visibility in the industry they operate or target.
Most importantly, partnerships may create unique or additional customer value by combining the resources and skills of separate companies or individuals. This means creating new innovative solutions and products, providing a better and faster service, or even helping the whole industry develop. For example, many Saas companies focus on building and growing the product rather than providing the service itself. In this case, intermediaries can often provide these functions more effectively than the producer, increasing the product's overall value to the customer.
Marketing partnerships open up new areas for a business and impact the location and distribution of products. Many businesses start locally. Thus, the partnership is a great strategy to gain new customers in new market segments.
And last but not least, a marketing partnership is cost-effective. Fruitful partnerships bring a set of fresh ideas and skills together, so you save on external third-party services. Also, most partnerships such as affiliate or influencer marketing follow the model of pay-per-performance, where you only pay for the result.
Possible drawbacks of partner marketing
Any strategy is accompanied by possible drawbacks. By stepping into a partnership with a company or a person, there is always a risk of failure. So, what to take into consideration?
Strategic partnerships require a deep understanding of what responsibilities each collaborator has and what exactly is agreed upon. Without it, building and managing relationships with partners becomes challenging. The rule of thumb is: treat your partner the way you'd like your team or business to be treated by them.
Not all partnership agreements work as planned. While you can control business processes and resources from your side, it's impossible to manage the other entity the same way. That's why it's important that your partnership contract includes all details and required actions in case of such undesirable events. These could be missed deadlines, delays, failure to comply with what's been agreed upon, and so on. An unclear partnership agreement always leads to conflict.
Types of marketing partnerships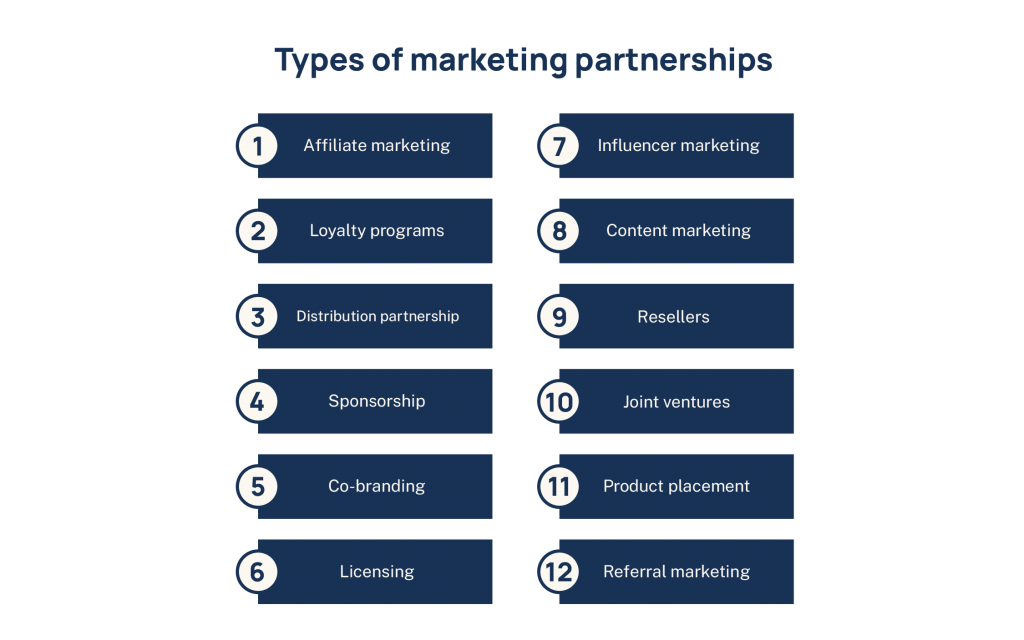 Partner marketing is an extensive term covering several different trends, which we can also refer to as strategies. The key to success in marketing partnerships is to choose the right one for your business. So, while they all have been proven to be rewarding, focus on the value this partnership brings to your clients and brand. Let's jump into the list and see what options you have.
Affiliate marketing
Affiliate marketing is a partnership where a business rewards its partners, also known as affiliates, for promoting and selling the company's products. This is a pay-per-performance type of partnership, meaning the partner gets paid when the desired action takes place — impressions, clicks, or sales. Common types of affiliate partners are bloggers, influencers, agencies, email marketers, PPC affiliates, coupon, and cashback websites.
Loyalty programs
Loyalty partnership is one of the more straightforward and transparent partnership types. Here, the brand partners with its customers directly, providing incentives and benefits for frequent or large purchases.
Bonuses collected through retail chain member cards, cashback, and "every 10th product for free" incentives are all examples of loyalty partnership programs.
A brand is free to choose the reward system, be it discounts, free products, or extra features.
Distribution partnership
Distribution partnership is used when one brand wants to utilize another brand's extensive distribution network in exchange for a fee. Usually, those products are aimed at the same target audience.
An example of such a partnership could be DJI drones available at Apple stores. Even though customers looking to purchase a drone may not own an Apple device, the DJI target group and overall branding align with Apple so well that it's seen as beneficial.
Sponsorships
Sponsorships are one of the oldest partnership types in the history of marketing. And so, there is a vast diversity of sponsorship types. However, one underlying common aspect among all of them is that a sponsor publicly supports the brand.
Brands can sponsor YouTube creators in exchange for product endorsement or sponsor a sporting event in exchange for viewability.
In all of these cases, both the brand and the sponsee are generating value. But at the same time, in case of bad publicity, both sides are taking a hit. Due to its very large application, sponsorship marketing can blend into other types of partnership marketing like product placement.
Co-branding
This marketing partnership involves two brands working together on one new or upgraded product to provide additional value to the customer. For example, in 2016, Apple and Nike introduced the Apple Watch Nike edition pairing an existing Apple Watch with Nike sport bands and apps.
Licensing
In a licensing partnership, one company allows another to manufacture and sell its product or services under its branding. It could be hard to wrap your head around, so here is a simple example.
Coca-Cola running a special edition "Stranger Things" beverage is a partnership marketing example between Coca-Cola and Netflix. The same goes for Ben & Jerry's famous "Netflix and Chilll'd" ice cream edition.
Influencer marketing
By definition, influencers have the power to influence someone's purchase decision. They don't have to belong to a certain profession, nor do they need a large following. But they do have to own their audience's support, trust, and respect.
Common influencers you come across today are actors, singers, bloggers, YouTubers, and Instagrammers.
The key to successful influencer marketing is honesty. It's easy to lose your audience's trust by recommending products or services you would not use yourself. This can not only hurt the influencer but also bring bad publicity to the product or service.
Generally, influencers are paid for the endorsement, but they don't earn any recurring commission as affiliates do.
Content marketing
Content marketing is a key part of almost every business, and content partnership certainly has its place in it.
It is easier to define content partnership by taking a look at what it tries to achieve. The end result is always a piece of marketing content that serves both brands regardless of how it was made or promoted. One example is guest posting in exchange for backlinks.
Resellers
Resellers or channel sales partners can easily be confused with affiliates. Although at their core, these two partnership types are similar, resellers are more involved with the merchant and in the implementation of the product. In most cases, their primary role is to help a merchant distribute the product to the market.
Joint ventures
A joint venture is a partnership in which two business entities decide to pull their resources together to achieve a specific task. It can be either a project or any other business activity.
As we are talking about marketing partnerships, joint ventures imply that both organizations combine marketing strategies to increase their revenues. These types of alliances increase brand awareness, allow access to new markets, and help reduce the cost of advertising.
Product placement
All of us have seen it on TV—an actor takes a sip of a branded beverage right in the middle of the episode of your favorite series. Coincidence? I don't think so.
The product placement can be either so subtle that you won't even recognize it or more direct; for example, the camera focuses on the advertised product. In the modern world, this looks a bit too promotional. Therefore, it usually is done in the form of native advertising.
Referral marketing
Referral marketing is closely related to affiliate partnerships but doesn't require so much commitment. It usually exists in the form of word-of-mouth referrals to friends, family, or colleagues. The reward is usually insignificant but nice enough to motivate people to spread the word about your brand and products.
Tips for building a successful partner marketing channel
Since employees are the most valuable asset of a business, it makes sense that choosing the right collaborators is your most important decision in a marketing partnership. Here's how you can approach that:
Choose the right partnership type for your business
Choosing the proper marketing partner ties into understanding your business goals. So, start with the following question: What are we planning to achieve? It is essential to find a marketing partner who can help you achieve your goals faster and more efficiently.
Not every business needs a marketing partner. Not all marketing partnerships are suitable for your business. While affiliate and influencer marketing may help reach as many customers as possible, these models won't work for everyone. The key is to understand what your business needs.
Select partners thoroughly
Finding a reliable partner is challenging. The partner should possess certain skills and experience, but how to discover that? There are several aspects to consider.
First, set up the list of requirements. What skills or experience are you looking for? What services should a company provide? Which country or area is this entity trusted in? What areas of marketing would you like to focus on but don't have enough resources for, e.g., content or social media exposure campaigns?
Secondly, once you think you've found a suitable partner, it's time to do the groundwork: check what industry the partner operates in and whether it aligns with your strategy.
Before the final decision, contact potential partners and ask for previous collaborations with other businesses and the results of these marketing partnerships.
Agree on all terms and conditions upfront
Never start any business or marketing partnerships without agreeing on terms, conditions, payment methods, and budget. This will help you resolve a conflict if something goes wrong. Of course, the form of such an agreement may vary. It can be a contract signed by both parties or general terms and conditions that the partner must accept before, for example, joining an affiliate program.
Reward and support your partners
Any partner marketing relationship should be rewarding. The biggest mistake is to start milking your partners instead of investing in building better connections with them. The way to reward your partners depends on the type of marketing partnership chosen. While for affiliate programs, this is usually a commission from every sale, sponsorships tend to imply a fixed fee.
Once the partnership is concluded, don't leave the partners alone. You should follow up during the process and be available for your partners whenever they need assistance. Make sure that your partners have easy access to the materials and resources they need and keep them updated on the changes from your side.
Set measurable goals and track your results
How are you planning to measure the success? Make sure your goals are measurable, and most importantly, communicate them to the partner. Do check the performance of your partners constantly, so you know where the marketing partnership is heading. Guarantee a reliable way to collect and track the data essential for your collaboration.
Final words
Partner marketing is too good for businesses to ignore. By all means, this is no cure to all the problems, but it may help you, for example, achieve faster growth, increase visibility, enter a new market, develop innovative solutions, and grow your customer base.
Partner marketing takes many forms, and it's crucial to find the one suitable for your business case. Make sure to communicate the terms and conditions to partners upfront and provide them with all the resources and support they need. Done right, the benefit of any partnership will save you time and effort, and success will have no choice but to follow.
If you are particularly interested in growing an affiliate channel, check our ultimate guide to affiliate marketing. And join our Supermetrics partner program to earn up to 20% recurring commissions from each sale.
---
About Svetlana Gryaznova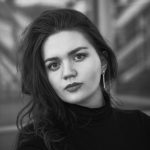 Svetlana is a Partner Marketing Manager at Supermetrics. By combining both her engineering and business education background, Svetlana has worked in several startups across Europe. At the moment she is applying her knowledge and skills to help grow the Supermetrics partner program. Feel free to connect with her on LinkedIn.
Turn your marketing data into opportunity
We streamline your marketing data so you can focus on the insights.