Not all links are created equal. Instead of improving your presence in the SERP, low-quality backlinks can actually damage your SEO. As an affiliate, you want to grow your website traffic and generate more conversions but bad links can sometimes pull your entire website down.
The purpose of link building is to increase the number and quality of inbound links to your website, and ultimately to improve your site's overall ranking. To achieve this goal, you should have your eyes on quality backlinks. These are links from relevant, high domain authority websites that are trusted by both Google and users.
In this article, you will learn how to identify low-quality links using different metrics and what actions to take in order to prevent any damage to your affiliate site's ranking from these links.
To get started, take a look at your backlink profile. It provides useful data on links that lead to your site. You can access this data using SEO tools such as SEMrush, Ahrefs or Moz.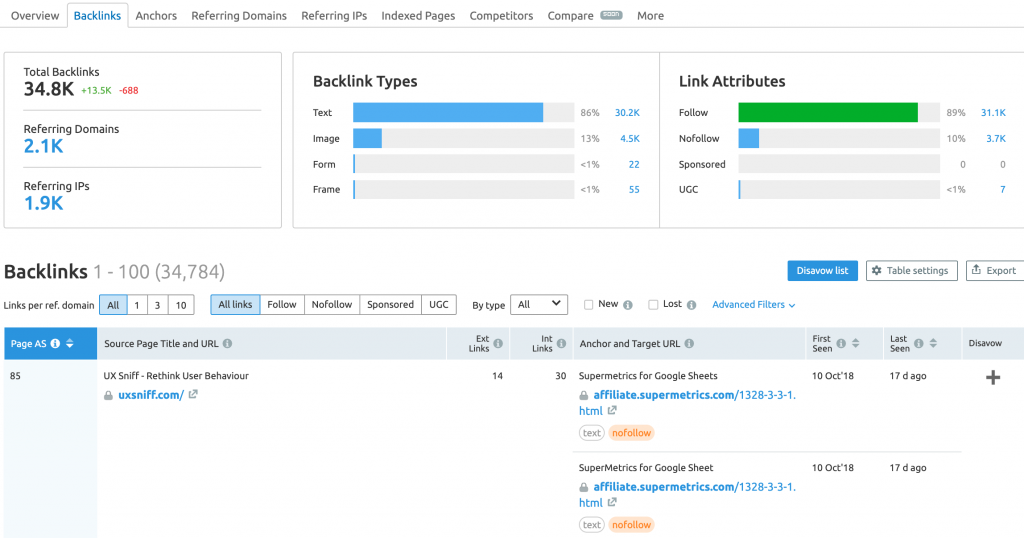 So, your goal is to eliminate low-quality backlinks. To evaluate which backlinks are the most harmful to your affiliate site, you can get a toxic or spam score for each of the referring domains. These scores are based on a scale of 0 to 100, with 0 being clean and 100 being full of spam.
Different SEO tools use rather similar markers to determine how spammy your backlinks are.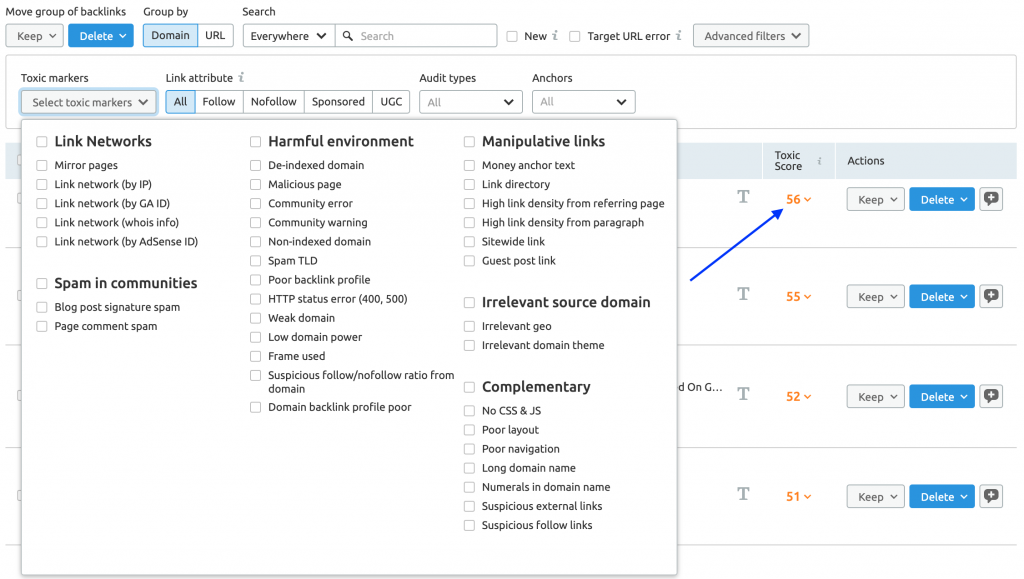 We can identify the following most common categories of websites that damage your ranking:
1. Penalized websites
These are websites that have received a penalty from Google for forbidden actions such as duplicate content and spammy, low-quality content that is over-optimized with irrelevant links. Penalties can be placed automatically by Google's PageRank algorithm or manually by Google's reviewers.
To avoid sacrificing your domain authority, you shouldn't associate yourself with these websites. In the worst case, your affiliate site could be given a penalty if you have backlinks from penalized websites.
If you want to find out whether you have backlinks from penalized websites without using SEO tools, you can do a simple site search of the suspected domain. This gives you the number of indexed results, i.e. how many pages are being ranked from that domain.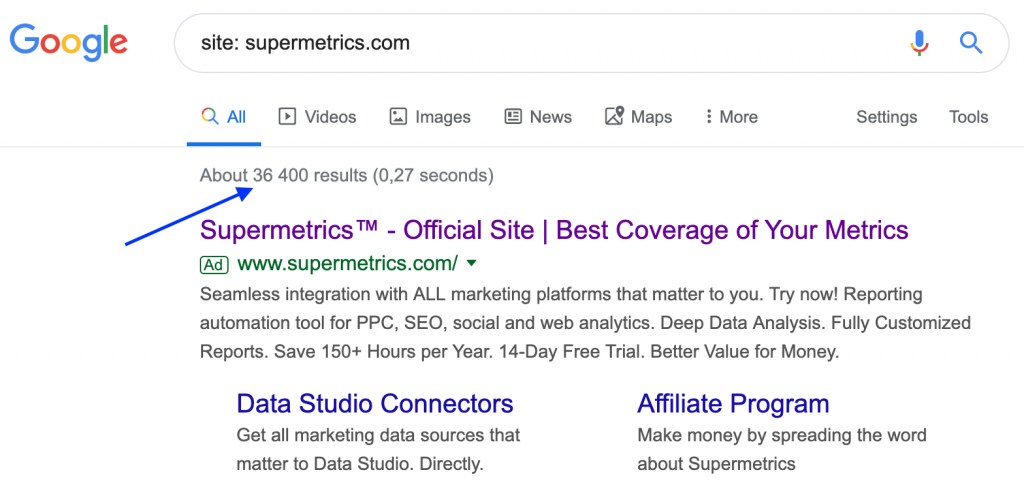 If the number of indexed results is zero, it means that the website has been excluded from the search results and has received a penalty from Google. A minimal number of indexed results can also indicate a potential penalty or at least a low-quality link.
2. Irrelevant websites
The websites that link back to your affiliate site should operate more or less in the same niche. If your site offers marketing services, your backlink profile should reflect that and consist of links from other marketing-related websites and blogs. And the more reputable and relevant these links are, the more authority your website will accrue in your niche.
SEO tools have a marker for irrelevant domain themes, which helps you filter out suspicious websites from your backlink profile. Alternatively, you may also look into your backlinks using Google Search Console and clicking through any suspicious links manually. Evaluate the theme of their domain and see which topics they cover.
3. Websites with low domain and page authority
While domain authority (DA) describes the entire website's ability to rank in the SERP, page authority (PA) is a similar metric used for scoring a single page on that website.
With SEO tools, you can organize your backlink profile according to domain or page authority. This facilitates the process of spotting sites with low domain or page authority.
You can also use a free domain authority checker and enter the URLs of your suspicious backlinks one by one. You get both domain and page authority scores that range between 0 and 100, with 40–50 considered an average and over 50 being good.
Consider your own domain authority when deciding which links are too low quality for your site. Ideally, you should try to collect links from websites that have a higher DA or PA score than your own website and eliminate those with a substantially lower score.
4. Websites with low traffic and engagement
Another common feature of low-quality backlinks is that they come from websites with low traffic and low levels of engagement. Links from low-traffic sites are unlikely to be seen by users, which is why they usually don't add much value your website.
After checking the traffic of your referring domains, take a look at the engagement metrics and traffic change over a given period of time. Alexa is a traffic data tool that may come in handy when evaluating these metrics.

Make sure that your referring domains have more than 1 pageviews per visitor and preferably at least 2 minutes as the average time spent on the site. A good bounce rate shouldn't be much higher than 50. But take the domain age into account when assessing these metrics and see if there are any positive trends in the scores.
When you check the traffic change, look out for any sharp downward trends. They may indicate a potential penalty from Google. Try to investigate their cause to determine whether you're dealing with a low-quality backlink that can potentially hurt your ranking.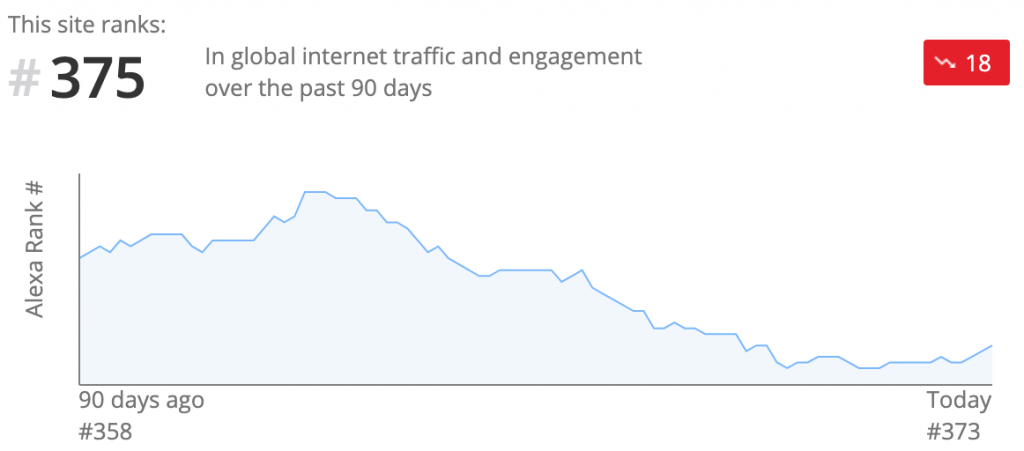 How to remove low-quality backlinks?
After the Penguin 4.0 update, it has been questioned whether there is any need to remove low-quality backlinks. After all, websites are not demoted anymore for having bad links but the low-quality links themselves are ignored and not counted towards the website's ranking.
Most successful websites have at least some shady links. Having a small proportion of them doesn't necessarily hold your SEO back. But if you come across links that make no topical sense in your backlink profile, you might not want your brand to be associated with them.
To avoid a potentially negative impact on your SEO signals, you should dissociate your affiliate site from those links. Your primary method to do that is by requesting a removal from the site owner. If that doesn't yield any results, you may resort to disavowing your low-quality backlinks.
It's up to you to decide what is your threshold of quality for your backlinks. However, Google encourages site owners to be careful with disavowing links and only doing so when the number of spammy, low-quality links is considerable and when your site is at risk of receiving a penalty.
SEO tools have a backlink removal feature that allows you to select low-quality backlinks and move them to a remove list. You will find a button that sends a removal request directly to the site owner. After sending the request, you can start to monitor the status of that link.

In case the removal request proves unsuccessful, you may disavow your unwanted links. This requires creating and uploading a properly formatted .txt file to the disavow tool on Google Search Console. SEO tools create this file automatically after you add all the suspicious links to a disavow list. Then, simply export your disavow file and upload it to Google.

Alternatively, you can perform this manually by reviewing each suspicious link and writing the disavow file yourself. List all the domains or URLs and add optional comments about the reasons for disavowal and attempted contact with the website owners.
Keep in mind that disavowing harmful, low-quality links should be your last resort, after you have requested removal from the site owners. Use it with caution, and only if necessary.
In conclusion
Now that you know how to deal with low-quality backlinks, you're able to focus on improving your affiliate site's ranking by building quality backlinks. Eliminating harmful backlinks is still relevant, especially if your affiliate site is at risk of receiving a penalty from those links.
Your affiliate site is better off when you remove links with a high spam score or those from irrelevant or shady websites. In some cases, your competitors might even point damaging links to your website in an attempt to bring it down. This is why you need to monitor your backlinks.
Being aware of how to prevent any potential damage to your site's ranking from bad links is important for all affiliates who want to grow their website traffic and generate more conversions.
Learn more about affiliate marketing by checking some affiliate marketing strategies. And join our Supermetrics partner program to earn 20% recurring commissions from each sale.
---
About Johannes Rastas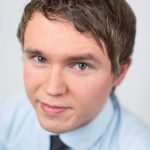 A Partner Marketing Manager at Supermetrics, Johannes focuses on expanding the Supermetrics partner program and collaborating with their existing partners. He also works with SEO and content on a daily basis. Feel free to contact him on LinkedIn.
Turn your marketing data into opportunity
We streamline your marketing data so you can focus on the insights.