Similar to any other economic activity, affiliate marketing is worth the effort when it's profitable enough. Every activity has an opportunity cost. So, the obvious question to ask yourself is whether your affiliate activities offer a higher return than engaging in an alternative activity. It's about making sure that you're using your scarce resources as efficiently as possible.
In this post, we'll first take a brief look at the affiliate industry. Then, we go through a list of requirements and considerations that help you evaluate if affiliate marketing is worth it for you.
About the affiliate marketing industry
Most of the online content on affiliate marketing is written for the purpose of promoting products to new affiliate marketers. No one is teaching how to make money online or become a successful affiliate marketer just to spread the good word. Typically, someone who's "made it" is promoting online courses, web hosting services, website builders, and SEO tools, for example. Anything that a new affiliate marketer might need to get started.
Once the new affiliates learn to master the industry secrets, they can eventually become teachers themselves. And so it becomes like an infinite loop where one cohort gains enough affiliate marketing knowledge to become experts, share their success stories, and pass the knowledge on to a new cohort who then repeats the same pattern.
A good question to ask is why so many affiliate marketing gurus focus on teaching affiliate marketing to new, aspiring affiliates by selling courses instead of doing actual affiliate marketing? Well, it's because people who want to quit their day jobs and make money online are an easier segment to target.
For disclosure, the main purpose of this post is to share useful information about affiliate marketing and to attract new affiliates and other partners to the Supermetrics partner program.
Affiliate marketing is not dead
It's worth pointing out that affiliate marketing is by no means dead. As long as there are marketers who can bring in customers to merchants in exchange for a commission, there is affiliate marketing. The numbers speak for themselves.
Below is a Google Trends graph showcasing global search interest in the keyword "affiliate marketing" in the past 5 years. There's a clear upward trend overall and a spike in 2021.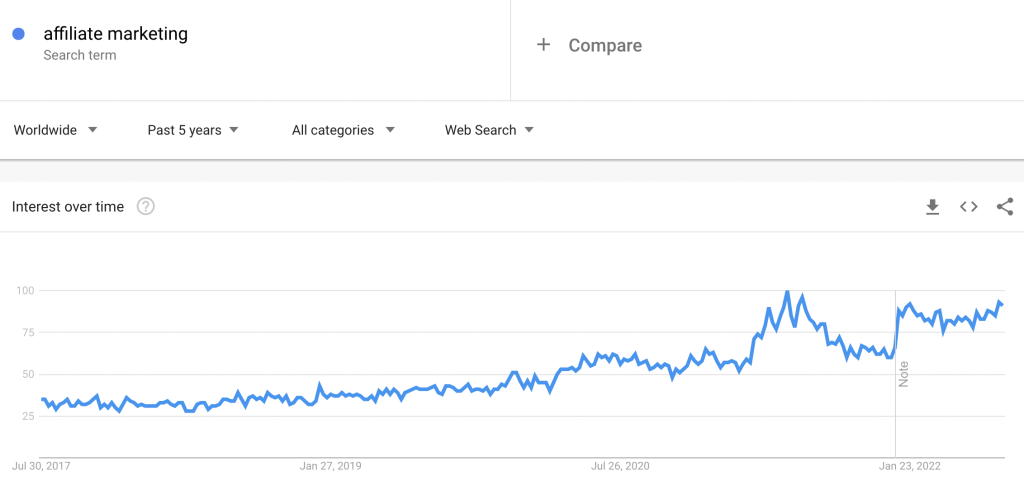 This of course says nothing about the amount of sales generated by affiliate marketers. How much you will earn depends on the commission structure you work with and the time and effort you dedicate to promoting affiliate products. This makes it hard to give an accurate estimate of the average affiliate sales. Based on an older benchmark report by AffStat, 35% of affiliate marketers disclosed an annual revenue of $20,000 or more derived from their affiliate efforts.
Generally, affiliate marketing is not a quick way to multiply your income. It requires an audience or network and expertise in the products you promote. It's a long-term strategy that can help you diversify your revenue streams. Especially with recurring commissions, you can build a more steady long-term revenue stream, which usually leads to higher cumulative earnings.
To give an idea of the size of the affiliate industry, here's a graph about affiliate marketing spending in the United States. The data is based on a 2019 forecast published by A. Guttmann on Statista.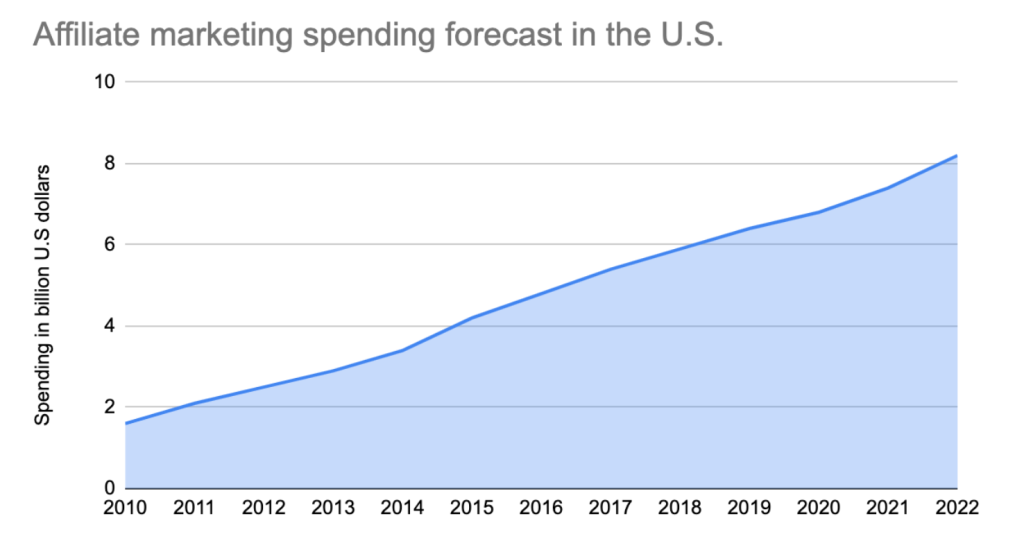 If the forecast turns out to be accurate and affiliate marketing spend reaches $8.2 billion by 2022, that means the size of the affiliate industry has more than tripled in 10 years in the U.S.
For more industry numbers, check our earlier post about affiliate marketing statistics.
When is affiliate marketing worth it
Affiliate marketing is often promoted as a low-effort alternative to earn additional income. And it's true that joining most affiliate programs is fast and easy. But generating the commissions requires much more than just getting your referral link and access to your own dashboard.
The risk and initial investments in affiliate marketing usually aren't monetary costs. But the time invested in building an audience and promoting the products is obviously worth something and has an opportunity cost. In this sense, it's inaccurate to say that there's no risk involved when starting out as an affiliate.
So, let's go through the most important prerequisites for making affiliate marketing worth your time and effort.
When you have a connection to the product
Being a successful affiliate marketer doesn't necessarily mean that you should be a customer of each product that you promote. But having deep knowledge of the products certainly makes it easier to convince your audience to purchase them. And if you're passionate about what you promote, it becomes natural for you to delve into each and every detail of the product.
For example, these guides created by our partner, Lachezar Arabadzhiev, present practical tips for new Supermetrics users:

By reading them, it becomes clear that the author has a solid grasp of our products. And in addition to his guides, Lachezar also offers an introduction course to Supermetrics for Data Studio and BigQuery on Udemy.
For affiliates who recommend products to their clients or course participants, it's crucial that they can showcase how the product works in practice instead of just talking about it superficially.
For this reason, it's not uncommon that many of the top affiliates are recruited from the merchant's own customer base.
When you have an engaged audience
Becoming an expert in using the products doesn't have to precede building an audience. But if we're talking about products with some level of complexity, it's usually better to start with developing that expertise. That way, you have some concrete value to offer and people have a reason to listen to your advice.
So, establish yourself as a trusted authority in your niche first. Your audience wants to know that you provide honest reviews. Despite being affiliated with the brand and profiting from the recommendations. That's why a good content strategy covers not only conversion-driven reviews and comparisons but also in-depth guides and tutorials that are informative.
Below is a screenshot from MeasureSchool's YouTube channel. They create extensive video tutorials, courses, and other useful resources for marketers who want to measure their performance and make data-driven decisions.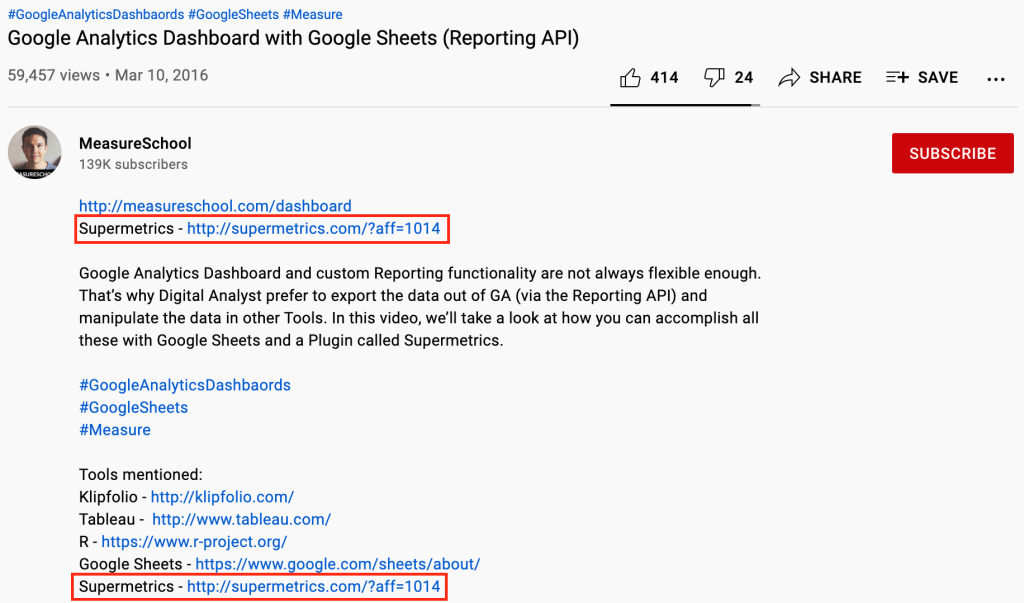 With their 139K subscribers and the thousands of views each of their videos attract, they've built a loyal following and established themselves as an authority in marketing analytics.
When you have a relevant client base
Since many people who do affiliate marketing work for agencies or offer consulting services, they work directly with clients. And those clients are their main "audience" for the affiliate products they promote. Just like bloggers need to write about topics and products that are relevant to their readers, agency marketers and consultants shouldn't sacrifice their long-term client relationships by choosing the wrong affiliate offers. Or by pushing it too hard.
But if done right, recommending affiliate products to your client base can be immensely effective. You've earned their trust by delivering good results, so your clients can count on your expertise. For example, offering bundle deals, where you sell your services together with the affiliate product is a popular way of transferring the product cost to your client. This is possible in our Supermetrics partner program, which offers both standard affiliate partnerships and reseller partnerships. Our partners are free to choose which model they want to work with. And it's also possible to do both. An overwhelming majority of our partners sell our tools to their own clients.
When you match the product with your audience or client base
Affiliate marketing is only worth it if you can match the right product with your audience. While it's recommended to choose a niche that you're passionate about, paying attention to the demand for products in that niche is also important.
Ranking for relevant keywords with purchase intent is how most content-based affiliate marketers earn commissions. But it isn't the only way to make affiliate sales. Once you have an audience, or client base if you're an agency marketer, it's possible to add a plug for an affiliate product at almost any touchpoint. For example, email newsletters, social media posts, webinars, client calls, and training sessions are all good channels for affiliate marketing. There's no one channel that's better than the rest. It all comes down to targeting and product-audience fit.
For someone specialized in paid social channels, posting on social media about an affiliate product that helps with reporting on those marketing channels doesn't come across as pure promotion.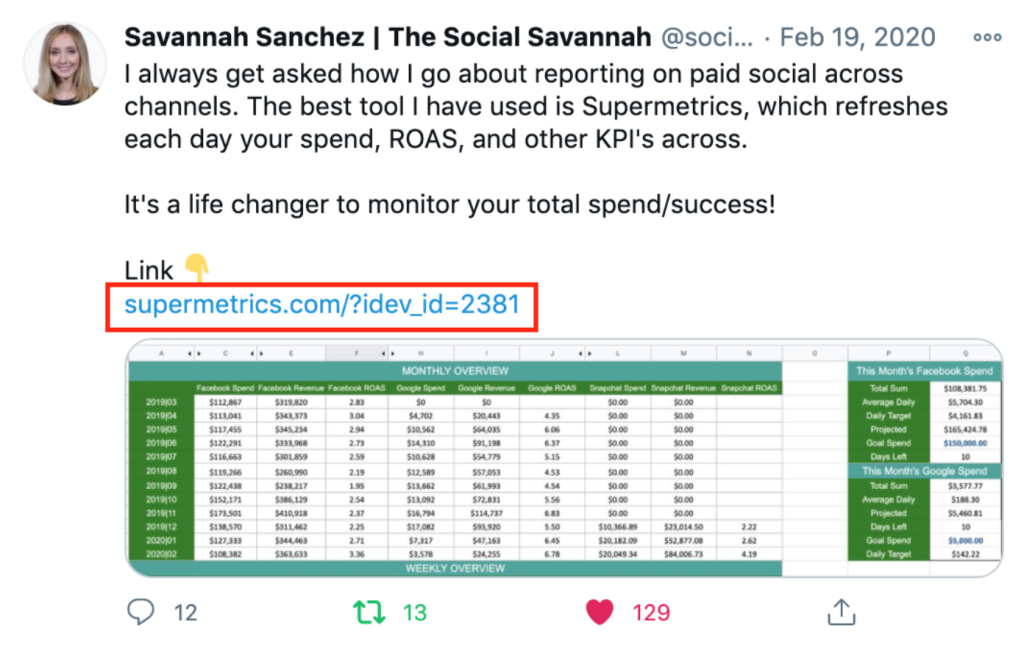 As an expert in paid social channels such as TikTok Ads, Savannah Sanchez, has chosen products that are relevant to her audience and can help them with reporting and analytics.
When you're a value-adding partner
A value-adding partner is someone who goes beyond just connecting the prospect with the merchant's product. While there's nothing wrong with being a traffic-focused affiliate who relies on ranking for the right keywords, the benefit of being a value-adding partner is that people start to trust your expert opinion and you become the go-to-person on a host of topics in that niche.
And it's certainly possible to do both. Create content around the right keywords that attract visitors with purchase intent. And develop an expertise in using the products and the topics related to them. This way, you become not only the connector but also an advisor whose words are followed carefully and who is known for passing on useful up-to-date information.
Josh Cottrell has been building data-focused products since 2014. Having worked with brands such as Google, Apple, Lego, Gatorade, Microsoft and Philips, he's developed an expertise in creating visually stunning performance dashboards like the one you can see below: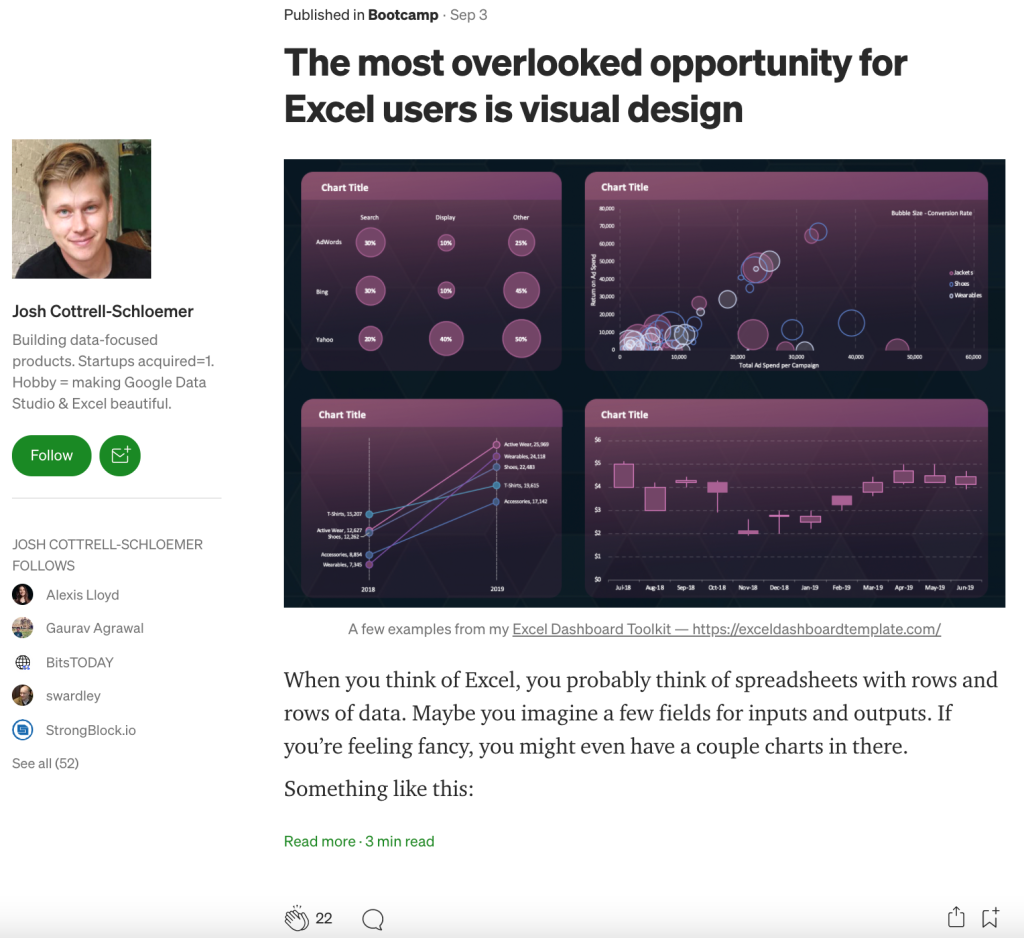 With his specialization in data visualization, Josh is not only able to recommend his clients to purchase tools like Supermetrics to connect their data sources to Google Data Studio. He can actually add value to his prospect's purchase by sharing his deep knowledge about the tool.
When is affiliate marketing not for you
Having explained how you can make affiliate marketing worth your time and effort, it should be clear by now that affiliate marketing is not for everyone. To fulfill all of the preconditions, you must be willing to dedicate enough time to it.
So, let's take a look at cases where you're probably better off without hopping on to the affiliate marketing wagon.
When you expect immediate results
Affiliate marketing is rarely a replacement for regular income. It's also a long-term game. Knowing that the majority of people who engage in affiliate marketing never generate any sales is worth taking into account.
But while profitability is a valid concern, it's also true that most affiliates who never make sales don't put in the effort that's required to be successful. As an affiliate, you add an extra stage to the product's sales funnel. So, you need to make sure that your input counts. In most cases, that input is your expertise and the trust you've built. But nothing comes overnight.
When you're looking for a shortcut to wealth
After dedicating a good portion of your time to building that expertise and audience, affiliate marketing allows you to monetize your hard work. But if you're looking for quick profits, it might be better to refrain from it altogether. Ideally, you want to focus on higher cumulative earnings by choosing affiliate programs that pay consistent recurring commissions.
A small percentage of the affiliate partners drive the majority of the sales in most programs. And if you intend to be among them, you need an effective long-term strategy that you can stick with.
When you want to repeat what everyone else is doing
In a saturated market, you have fierce competition among affiliates who promote the same product. So, you need to find a unique angle to the product. Let's say you check the SERP overview for relevant review and tutorial keywords. If you find out that you need more backlinks and a much higher DR than you currently have, it's easy to get discouraged.
But even with a competitive affiliate product, it's possible to find aspects about the product that haven't been covered by others. To identify that missing aspect, you have to look into the merchant's own marketing activities and see what topics other affiliates are addressing in their promotion. Simply repeating what has already been done serves no purpose.
When you're not willing to learn anything new
Affiliate marketing is a dynamic industry. What was an effective strategy to drive affiliate sales ten years ago isn't necessarily bringing the same results anymore. There's certainly more competition and regulation now. Launching a website focusing on teaching about conversion funnels, or the basics of SEO, or how to optimize Facebook Ads campaigns is a bit late to the party already. And using misleading claims about the products, publishing discount codes online, or resorting to any other forbidden strategies is much more likely to get you banned from affiliate programs and networks these days. Not to mention new data protection regulations that prevent affiliates from running aggressive campaigns that might have brought sales in the past.
Your willingness to engage in rigorous testing and learning new strategies through trial and error is the only way to prosper in this industry. Operating in the affiliate space means that your expected profit margins are thinner compared to creating and owning your own offer. When you work with a commission-based model, where you get a percentage of the purchase price, it requires a high level of creativity and relentless effort to be successful.
That's why constant learning is essential. Leveraging your existing resources, the knowledge and expertise you've already developed, and then fine-tuning them is your best bet. And the more niche you can go, the better.
When you're not willing to put in the effort
For your affiliate activities to bear fruit, you need more than generic reviews about the product. Consistent output and delving into the details takes more effort. But it's the only way to make affiliate marketing work in the long run.
Remember that a high commission rate or product price is not your ultimate goal or guarantee of success. What matters more is that there's demand for that product among your audience, network, or client base. And that you have something to say about the product that adds value.
Final thoughts
The short answer to the question presented in the title is that affiliate marketing can be worth it if you're willing to put in the effort. But make sure to test all products before you share any advice or recommend them to others. Take your time to gain knowledge first. Then pass it on to everyone else and make some money in the process. That's affiliate marketing in a nutshell. Don't expect financial independence right away and focus on generating long-term profit.
If you want to learn the basics of affiliate marketing, check our Ultimate Guide. And join our Supermetrics partner program to earn 20% recurring commissions from each sale.
---
About Johannes Rastas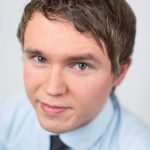 A Partner Marketing Manager at Supermetrics, Johannes focuses on expanding the Supermetrics partner program and collaborating with their existing partners. He also works with SEO and content on a daily basis. Feel free to contact him on LinkedIn.
Turn your marketing data into opportunity
We streamline your marketing data so you can focus on the insights.